Lauren Kate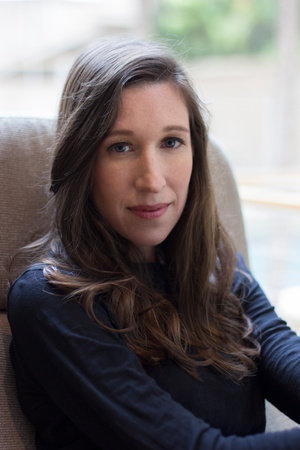 Photo: © Andre Vippolis
About the Author
People ask me: Why angels? Why paranormal? Why teens?
 
In the beginning, I'm not sure I knew I was starting down any of those twisted paths—paths that now seem so familiar to me that they are downright comforting. In the beginning, I was just writing about love.
 
Before Fallen, I'd written love stories and more love stories. I'd fallen in love with love stories—but they were also beginning to feel just a little bit too insular, too small. Maybe I was inspired by the lovers in my stories, but what was I saying about the world beyond them? Why should the love between two people matter to anyone else? In essence: How could love have larger implications?
 
That's when I read the line in Genesis about angels looking down from Heaven, finding mortal women beautiful, and ultimately falling for them—in two senses of the word, because (the story goes) the angels sacrificed their place in Heaven for that love.
 
Now that was a BIG love story. A big, complicated, fraught, and, most likely, doomed love story, which, I may have forgotten to add, is my favorite sort.
 
It started with Luce's character: What kind of girl would attract such heavenly attention? What wonderful secret did she hold inside? Once I knew that, I found Daniel, and the rest of the story unfurled from there, much like the way my angels' wings unfurl from their shoulders: in a great momentum-filled whoosh.
 
Luce and Daniel's love story led me deep into the world of angelology. It found me sitting in the office of a divinity scholar scribbling down which trilogy on the devil I needed to read next. It got me thinking about how very subjective the words "good" and "evil," "right" and "wrong" are and what that says about the way we see our world today. It led me into a dark place where I battled and struggled with my characters, wanting them to be things that, at the beginning of their story, they simply could not be. It blew up into four books and a saga I never could have anticipated about trust and betrayal, doubt and rejuvenation, ecstasy and loss.
 
In the end, at its core, the story all comes back to love.
 
And now, you may be wondering: Why love?
 
What else is there?
****************************************
LAUREN KATE is the internationally bestselling author of the FALLEN series: Fallen, Torment, Passion, Rapture, Fallen in Love, and Unforgiven. Her books have been translated into more than thirty languages. She lives in Los Angeles. Visit Lauren online at laurenkatenovels.com.