Kathleen Krull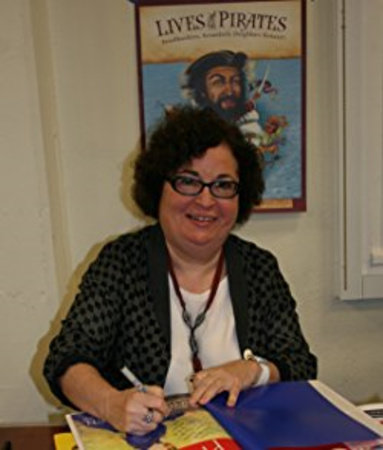 Photo: © Paul Brewer
About the Author
What a conversation starter for a classroom or the dinner table: Can you imagine life without TV?

 

I can't even imagine it, and I'm old. Not that old, but I'll admit to this much: I doubt very much that the Krulls were the first family on their block in Wilmette, Illinois, to get a TV. My mom was pretty sure TV rotted your brain, but once we got one, she did let us watch The Wizard of Oz movie every year and a few other shows. So we had a lot more time for that other thing . . . what is it called . . . oh, right—reading books.

 

Anyway, going all the way back to 1920—and it's really not that long ago—there was no such thing as TV. My new book is about a supersmart boy named Philo Farnsworth who came up with the idea for inventing one. Yes, a boy—he was only fourteen years old. In between chores on his family's farm in Idaho, Philo played with machines and followed the latest developments in science, such as electricity.

 

One day he was out plowing the potato fields, he looked behind him at the rows of dirt he was forming, and suddenly his quirky ideas all came together for a television using electricity. Amazing.

 

It took him several more years to build the first model, with a few explosions along the way, and there's a lot more to tell about his story. But I wanted to frame it by emphasizing just how drastically Philo Farnsworth changed the world. So I start by describing how harsh and lonely it must have been growing up in the American West of the early 1900s. Before Philo.

 

One of the many things I liked about him was that he genuinely wanted to help humanity, bring people closer together, maybe even bring about world peace, and he thought his machine was the way to do it.

 

What do you think—has TV helped or hurt humanity, and in what ways? As for me, there are some shows I believe to be the end of civilization as we know it. There are certain other shows I couldn't live without.

 

But I still think books are more important than TV. I say turn off the TV and read, read, read. My motto is "There's no such thing as reading too much."

 

Let the debate begin. . . .

 

 

 

 

Kathleen Krull is well known for her innovative approach to biographies for young readers. Her books include The Road to Oz: Twists, Turns, Bumps, and Triumphs in the Life of L. Frank Baum; The Boy on Fairfield Street: How Ted Geisel Grew Up to Become Dr. Seuss, the Lives of . . . series of collective biographies, the Giants of Science series; and more as featured at www.kathleenkrull.com. Kathleen lives in San Diego, with her husband, children's book illustrator Paul Brewer.