George R.R. Martin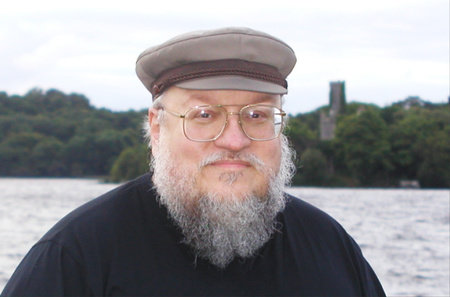 Photo: © Parris
About the Author
George R. R. Martin is the #1 New York Times bestselling author of many novels, including the acclaimed series A Song of Ice and Fire—A Game of Thrones, A Clash of Kings, A Storm of Swords, A Feast for Crows, and A Dance with Dragons—as well as Tuf Voyaging, Fevre Dream, The Armageddon Rag, Dying of the Light, Windhaven (with Lisa Tuttle), and Dreamsongs Volumes I and II. He is also the creator of The Lands of Ice and Fire, a collection of maps from A Song of Ice and Fire featuring original artwork from illustrator and cartographer Jonathan Roberts, and The World of Ice & Fire (with Elio M. García, Jr., and Linda Antonsson). As a writer-producer, Martin has worked on The Twilight Zone, Beauty and the Beast, and various feature films and pilots that were never made. He lives with the lovely Parris in Santa Fe, New Mexico.
______________________________________________

George R. R. Martin nació en 1948 en Bayonne, Nueva Jersey. Se licenció en periodismo en 1970 y publicó su primera novela, Muerte de la luz, en 1977. Tras una trayectoria deslumbrante como escritor de ciencia ficción, terror y fantasía, se convirtió en guionista de series televisivas como Dimensión desconocida y La bella y la bestia, además de realizar tareas de producción para diversos proyectos cinematográficos. En la actualidad es uno de los autores de mayor éxito en el mundo con la saga Canción de hielo y fuego, cuyas sucesivas entregas le han granjeado un puesto de honor en la literatura fantástica.