Julie Schumacher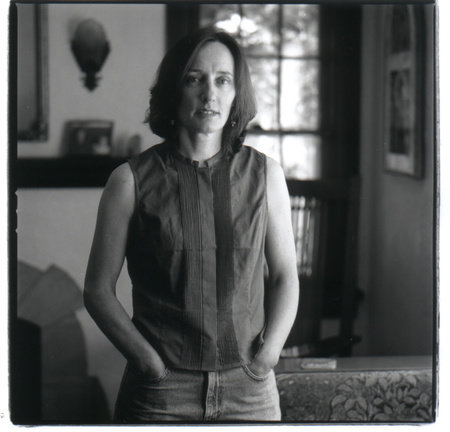 Photo: © Tim Fransisco Photography
About the Author
I was born and raised in Delaware, a place many people remember driving through on their way from Washington to New York. A few facts about Delaware: it was the first state to ratify the U.S. Constitution; at its narrowest point, it is approximately nine miles across; and its official state macroinvertebrate (huh?) is the stonefly.

I wasn't a very good reader when I was younger (my sister likes to remind me of the day when I came home from elementary school and said, "Hey, look! I got my report card and I only got three Ds!"), but I have always written things down. I started by keeping a diary in fifth grade. Then I moved on to writing poetry. I had a series of pets that kept dying–turtles, rabbits, fish–and I wrote sad rhymes about them when we buried them in the backyard.

In high school and college, I started writing fiction when I discovered that most of my poems were like tiny unsatisfying stories. At Oberlin College, I took a class in which the professor asked everyone to write a "family tale." I wrote a story that exaggerated a few curious and amusing details about my parents, and I turned it in. The professor suggested that I send it to a literary contest, which I did, and the story went on to be reprinted in The Best American Short Stories. By this time, I had graduated from college and was working as a secretary, and when the publication finally caught up with me I thought, I have to quit my job.

I did quit. I went to graduate school at Cornell to get an MFA degree in fiction. An MFA is what some people might call a useless degree. It doesn't get you a job as a business person and it doesn't make you a scholar. What does it do? It buys you encouragement and time. It helps you to believe that it might be possible to dedicate a significant portion of your life to forming sentences on a page. It motivates you to believe that spending a significant portion of your life forming sentences might be a good way to live. It's easy to sneer at an MFA. Sneering is easy. Writing good sentences is not.

At present I'm writing books for adult as well as younger readers, and I have found that there is not as great a difference between the two as most people might think. There is a greater directness and a stronger sense of story in books for younger readers. But children's literature is not necessarily simpler. As C. S. Lewis said, "I am almost inclined to set it up as a canon that a children's story which is enjoyed only by children is a bad children's story."

My books for younger readers include The Book of One Hundred Truths, The Chain Letter, and Grass Angel, a PEN Center USA Literary Award Finalist for Children's Literature. I live in St. Paul, Minnesota, and am the director of the Creative Writing Program and a professor of English at the University of Minnesota.