Acclaimed romance author Mary Balogh reflects on her writing, her influences, and the power of escaping to another time period. 
The Power of Love
I believe in love. I believe in the power and ultimate triumph of love even while the world is frequently engulfed in intolerance and hatred and violence and it seems ridiculous to hope. But we all know what happens when hatred has caused catastrophic death and destruction. People come together in a surge of unity and sympathy and generosity of spirit to those who are suffering. I have always been a writer. And what I should write has never been in question. I have to write about love and its triumph over adversity and all the outer and inner forces that would smother it if they could. I write love stories without apology and without self-doubt.
Why historical love stories?
Why historical novels, though? Perhaps the answer lies in the more common term for my type of story—historical romance. It's a lovely word, that—romance. It encompasses attraction and courtship and sex and love and yet sets an aura about them that transcends them and makes them irresistibly attractive. I don't preach love. Rather, I tell stories of love. And in order to do that well enough to draw readers in and convince them that yes, this is possible, this is how life and love can and should be, I try to hold them spellbound by the wonder—the sheer romance—of the love relationship that is developing between two people.
But again, why the historical setting? Why tell stories of another era when I am trying to make a point about life and love that is relevant today?
Readers like to be transported away from their everyday lives. They like to be taken to a different world even if they also want to read about people who are essentially like themselves. Past eras often seem more romantic than our own. Regency England, for example, can conjures marvelous visual images of fashions for both men and women that were perhaps the most attractive and sexy of any age; of stately country homes and the spacious parks surrounding them; of horse-drawn carriages bowling along the king's highway; of couples waltzing at grand balls in the light of dozens of candles in the crystal chandeliers overhead; of enchanted evenings strolling the lantern-lit walks of Vauxhall Gardens in London; of picnics and garden parties in rural surroundings; of drives in Hyde Park at the fashionable hour. The possibilities are endless, all coming with an aura of the romance of a bygone age. It is a happy illusion, of course. Most of us would not want actually to live in Regency England or any other bygone era, but we are quite happy to enjoy it from the comfort of our twenty-first century homes. That is the magic of reading.
Another attraction is that it is often easier to make sense of the past than of the present. One can look at Regency England, for example, and see a society that knew itself and the unwritten rules by which is functioned. A gentleman knew what was expected of him just as a lady knew what was expected of her. I love using such settings and deciding how much my characters will conform to expectations and how much they will assert their individuality and their personal principles if there is a conflict. I love having them act within the framework of their age without becoming mere puppets of the system. Jane Austen herself did this. Elizabeth Bennet in Pride and Prejudice maintained her integrity by refusing marriage offers from both Mr. Collins and Mr. Darcy despite the fact that a woman in her social position would normally accept any respectable offer to save herself from the social stigma of being a spinster and dependent upon her male relatives. And remember that this was a contemporary novel.
The Influence of Jane Austen and Georgette Heyer
When I read Jane Austen as a girl—and again and again as an adult—I loved her wit and wisdom and the elegance of her prose. Most of all, though, I was enchanted by the pure romance of the love stories, the quiet strength of most of her heroines and the gallant integrity of her heroes. I cannot claim she inspired me to write historicals because she was writing about her own world and her own time. What did inspire me was the work of Georgette Heyer, who wrote historicals superbly well. I will never forget my first Heyer—Frederica. I immediately fell under the spell of the romance and felt an almost overwhelming sense of nostalgia, as though I had discovered an era in which I had lived very happily once upon a time. I lapped up everything else she had written, and it did not take me long to know that I had found my own place as a writer. Heyer created her quite distinctive world based on a real historical era. I have created my own, happy to admit that I was inspired by her and influenced by Austen, who knew that world as it really was.
A Unique Voice and Vision
Every author is unique, however, even if she/he has taken inspiration from another. Each writer has an individual voice and vision. I have spent more than thirty years developing and honing my own while writing more than a hundred novels and novellas, most of them set in the Regency era. Yes, they are historicals, and yes, they are romantic. First and foremost, however, they are love stories. Or maybe that is a false distinction. Perhaps my stories are inextricably all three—romantic historical love stories. In fact, I hope they are. And perhaps they are best expressed in the words of the hero of my new book (Someone to Love, November, 2016). He is wealthy, titled, gorgeous, powerful, a bit dangerous, aloof, and self-sufficient. But when he is asked what he dreams of most in life, he admits that there is still something missing.
"Someone to love," he says.
Browse through Mary Balogh's books here and explore her Westcott series below. 
We know readers tend to be writers too, so we feature writing tips from our authors. Who better to offer advice, insight, and inspiration than the authors you admire? They'll answer several questions about their work, share their go-to techniques and more. Now, get writing!
Is there something you do to get into a writing mood? Somewhere you go or something you do to get thinking?
I find that I do my best work at the beginning of the day, but I'm rarely in a writing mood when I sit down.  I'm usually somewhat sleep-deprived, and I always have a long list of other responsibilities calling my name.
But if I can get myself into my chair with a cup of coffee, and start reading the last few days' work, I find myself making a few changes here and there.  Then I'm adding a few new sentences at the end, and before I know it, several hours have passed, I've written a few new pages, and I'm in a pretty good mood.
When I fall out of that flow, I get up and go for a walk, make another cup of coffee, and sit back down in my chair, just for another minute or two, and that's another few hours gone, and some more sentences stacked up to reread tomorrow.
Which is a long way of saying that the best way for me to get into a writing mood is to sit down and start writing.  And if I do it every day, it all gets easier.
What's the best piece of advice you have received?
The painter Chuck Close said, "Amateurs sit and wait for inspiration, the rest of us just get up and go to work."
He didn't say it to me, but I consider this good advice for anyone doing creative work.  Don't wait for inspiration.  Learn to cultivate it.  Write your own writer's manual.  Find the tools and mindset that help you move forward when things get difficult.  Because things almost always get difficult.  That's not necessarily a sign that the work is bad, it's just a part of the process.  Learning to understand and manage your own process is, for me, the secret to creative life.
I'm still working on it, by the way.  But I've found that when I show up and do the work on a daily basis, inspiration will eventually perch on my shoulder and begin to whisper in my ear.
What clichés or bad habits would you tell aspiring writers to avoid? Do you still experience them yourself?
I love the beautiful distractions of the world – television and movies, video games, the internet in general.  But I try really hard to avoid them, because they don't help me become a better writer.  They subtract hours from my day.  And a writer's main currency is time.  Time to daydream, time to walk and think, time to sit and do the work.
Reading good books is one distraction that will help you become a better writer.  And writing – that's the thing – writing is what will really make you a better writer.  Write bad stories until you begin to write so-so stories, which might, if you keep at it, turn to writing good stories.  So put down your phone and keep at it.
This is not a new idea, nor one exclusive to writing fiction.  The way to get good at playing the piano is to play the piano.  And play, play, play.
I tell myself this every day.
What are three or four books that influenced your writing, or had a profound effect on you?
Cormac McCarthy' Border Trilogy (All the Pretty Horses, The Crossing, and Cities of the Plain) had an enormous influence on me.  I love his prose, his use of place as character, and his vivid descriptions of character in action, but the most powerful effect of reading those books was that they freed me up to write about what really interested me.  At the most fundamental level, these are cowboy novels.  The fact that they also rank among the best of American literature somehow made genre distinctions irrelevant.
Elmore Leonard had a profound influence on me as well.  There are a few of his books I really love – Freaky Deaky, Stick, Glitz, Bandits.  But I love his dialogue, his humor, his small-time hustlers, and the economy of his prose.  He does a lot with a little, over and over.
The Writer's Chapbook is a collection of bits and pieces of writers' interviews culled from The Paris Review – a long list of great writers.  The book is organized by topic, so no matter what problem I'm having, I can find far better writers who've had the same problem.  It makes me feel better.   In addition to dipping in and out, I've also read it cover to cover about ten times in the last ten years.  I found it used in a clunky old cloth-covered hardback that makes me smile just to hold it in my hand.
Ask me this question next week and I'd probably give you a different list.
Learn more about the book below:
We know readers tend to be writers too, so we feature writing tips from our authors. Who better to offer advice, insight, and inspiration than the authors you admire? They'll answer several questions about their work, share their go-to techniques and more. Now, get writing!
How would you recommend creating and getting to know your characters?
Marilynne Robinson once told a class that I was in that "all character is just a sense of character." This feels very true to my experience writing fiction. I don't actively create my characters; instead, I get a feeling about them, and so I try to chase down this feeling and trap it in a scene in order to spend time with it, and hope that the feeling metamorphosizes into something I can see and understand. I don't build a character by thinking deliberately about the facts of that person, like what they want, what they look like, what they're interested in. Those details come later. I know that creating a character profile is a method that works very well for a lot of authors, but when I try to get to know a character, it's like I'm trying to get to know a shadow cast by someone I can't see, and maybe never will see, even when the story is finished. And the only way it works for me—the only way—is by building a scene around that shadow, that mere "sense." But even when a story or novel is finished, I don't actually ever see my character's faces. When I think of them, the feeling I get from them is distinct and very, very real, but I don't picture their facial structures, their hands, their clothes. Though those things are important, they are somewhat meaningless to me as I write; they feel like the only things that I straight-out "create." In fact, sometimes I forget basic facts and have to go back and check eye color to make sure it's consistent, or even check the age of my character. Those kinds of facts feel very separate of who the character actually is. There are certain aspects of them I can see. Their stances are often very distinct to me. So are the way their shoes look. The way their voices sound, and the way they speak. And sometimes hair color is clear to me, too, but not always. It's like when I try to visualize them, they are turning their faces away. They are always in motion. I realized recently that this is how I read, too. When I am invested in a novel, I don't actually "picture" the people in my head, even if their faces are intricately described. I just feel them. There isn't really something I can compare this experience to, because there is no experience to me that is anything like reading except for writing. And maybe having a dream, when you have such a strong sense in the morning of what occurred, and it really affects you, but you can't remember details. The faces are blurred. I don't know if this is useful or not. I guess what this boils down to is: When you are trying to get to know a character, maybe try not to see them so exactly. Trust your instincts, however fleeting and confusing they may be, and just try to build a scene around a feeling, or rather, let that feeling build the scene for you. It's the only way my characters ever feel real and honest. I hope this isn't too ethereal to be useful advice. Of course, there are many ways to get to know your characters, and I think other writers have a much more straightforward time getting to know them. I find it very difficult transcribing feelings into people. I think it's really hard.
Is there something you do to get into a writing mood? Somewhere you go or something you do to get thinking?
I like to write with animals around. My rabbit has an enormous pen which we built right in front of my window, so I am always looking inside of his pen, watching him and his squirrel visitors. In the morning, before I start writing, I go down to the river and call to my pet ducks. Usually, they fly right to me and have a treat from my hand. I hatched them in an incubator, so they are very tame, even though they have chosen to live in the wild now. When they were little, they would sleep on my lap, or else on my feet, as I worked on my computer. When they decided to fly to the river, I adopted kittens, in part so that I have something to summon onto my lap while I write. Even just having a bird-feeder out my window is very helpful to me. Often, I start by reading beautiful passages by authors I admire. My husband's office is just on the other side of mine, and often we start out our day by reading to each other what we'd written the day before, to get us going, to get our confidence up. It really helps to have someone pursuing the same things that I am. We help each other a great deal. He always has a cat on his lap, too.
Did you always want to write? How did you start your career as an author?
Yes, I have wanted to write since I was very young. Before I could write, I would often dictate stories or poems to my mom and dad, and they would write them down for me. I remember it seemed like the most magical thing to me, that the things I said could be saved forever simply by my parents making marks on a piece of paper. I was very lucky that I grew up in a house where writing was a natural part of life. My dad is a very prolific writer. Even with all he had to do when I was growing up—teaching, farming, gardening, taking care of children, chopping wood, building barns, managing money trouble—he still found time almost every single day to write, even if he was exhausted. And so it was a very natural part of my existence. I understood writing as a thing that people simply did, a crucial part of daily life. A few years ago, my dad gave me  suitcase full of poems. Fifty pounds of poems! I know it's exactly fifty pounds, because we didn't want to pay an extra fee at the airport when I was flying these poems from Idaho to Colorado, so we weighed it very carefully and had to remove quite a few to get the weight down. Hauling the suitcase from state to state, whenever I move, makes me feel very sentimental, like I have been given the gift of actually holding the weight of his imagination. Most of the poems are handwritten. Many of them are sonnets. Many of them are very beautiful. Those fifty pounds of poems are my favorite possession. I always wanted to follow in his footsteps, and so I wrote all the time, too. He taught me from a very early age. So I feel like my career never had a starting point. It was always what I was going to do, because it was always what he did.
What clichés or bad habits would you tell aspiring writers to avoid?
I do have a list of cliche's that I give to my intro-level creative writing students. It's called "The List." As a class, we build on it throughout the semester. It's very long, and I hope students find it funny as well as useful. It was made in good humor. It contains all the themes or situations that I have encountered many times in student writing. Some of the items on the list include: "No coffee shops; no waking up to begin a day; no college or high school parties; no awkward Thanksgivings; no storms that knock out electricity; no hospital beds; no hitmen; no kids kicking cans; no amnesia; no FBI agents; no CEO executives who suddenly quit their jobs and become free-spirits living on the streets playing music; no serial killers; no unwanted pregnancies if the central conflict is whether or not to keep the baby; no camping or hiking stories if the central conflict is getting lost or attacked by a wild animal; no stories whose energy comes entirely from a bitter or sarcastic voice; no grinning. A grin is so much less complicated than a smile." The list goes on and on. None of these things are absolute, of course. All of them have been written about very, very well. But it is a challenge I like to pose in my writing classes. I think students enjoy it. I hope so. Of course, I break these rules myself sometimes. One of the rules is, "No stories from an animal's perspective." And I definitely broke that rule in my novel. Also, my novel has storms knocking out electricity all over the place. And it also contains a hospital bed.
Do you ever base characters off people you know? Why or why not?
Yes and no. My characters are all their own selves, distinct from anyone I've met. But I do find that I give my characters many qualities of the people that I love. In my novel, the main characters resemble my family members. Not in their actions, or in their stories, just the sense I get of them. The best parts of my character Wade remind me of my dad. There is a moment in the first chapter when Wade knocks his knuckle on the piano as if to test the quality of its wood, and that moment is my dad exactly. Of course, they are very, very different, too. Similarly, I see my mom in both of my central female characters, Jenny and Ann. This may be a strange thing to say, considering I see my mom as the gentlest person on Earth, and yet I have given some of her kindest qualities to Jenny, who has committed an act of horrifying violence. But lending Jenny some aspects of my mom was a way of empathizing with Jenny, a way of complicating her, a way of loving her in spite of what she'd done, which I felt was very important. And I do love Jenny. I needed to, in order to continue this quite painful story. May, too, was inspired by my sister Mary. This is the closest that I came to writing about someone so directly, though it wasn't at all my intention. Mary came alive in May so quickly. I have hardly changed a word of the May chapters since their very first draft, because those chapters were almost written for me, by Mary's childhood voice. I have a photograph of my sister when she is young taking a "swim" in a garbage can filled with water that has been warming in the sun. When I look at that picture, I see both Mary and May, equally. It made writing May's perspectives both very natural and very painful. I feel May's loss even more deeply because of her resemblance to my sister. Some parts of the novel, in fact, are painful for me to return to because of that. June, also, reminds me a lot of what I was like when I was young.
What are three or four books that influenced your writing, or had a profound affect on you?
The Progress of Love by Alice Munro, and all of her other books, too. Beloved by Toni Morrison. Never Let Me Go by Kazuo Ishiguro. Lila by Marilynne Robinson. And Watership Down by Richard Adams.
Learn more about the book below:
Editors get very passionate about books they work on – the Editor's Desk series is his or her place to write in-depth about what makes a certain title special. Get the real inside-scoop on how books are shaped by the people who know them best.
When a surprising trend takes hold, it's easy to think of it as something unprecedented. But sometimes it seems that way due to our own limited perspective. Much of fashion in any field is the re-introduction of things that were popular once upon a time—and such is the case with the adult coloring book trend, which has so affected the publishing business in recent years.
Not long ago, a fellow editor shared with me an article in the New Republic about adult coloring books. Putting the fascination with meditative examples of the category in context, the article described a moment in the 1960s when grown-ups were crazed for coloring books, many of which were powered by provocative—even subversive—humor. I hadn't been around to witness the first big boom of adult coloring, so I was intrigued by the article. Then it identified the genre's genesis: an incendiary little thing called The Executive Coloring Book.

The Executive Coloring Book by Marcie Hans, Dennis Altman, and Martin A. Cohen was published in 1961. It begins this way: "THIS IS ME. I am an executive. Executives are important. They go to important offices and do important things." The work of three young advertising copywriters, it became a surprise bestseller and debuted on the New York Times list just a few slots down from Franny and Zooey and To Kill a Mockingbird.
On every page, the authors struck innocent-looking line drawings against deadpan captions. The spark that results is a fierce humor that skewers an era but also comments on the more general phenomenon of corporate culture that is alive and well today, 55 years later. The genius of the thing is that that humor feels perfectly current. So many of today's biggest companies could stand in as targets for these darts, and so many executives (from the commander-in-chief on down) could benefit from such needling.
So we saw it as our joyful duty to bring The Executive Coloring Book back. After all, while this book might not be a vehicle for meditation, in worrisome times what better therapy is there than humor?
The Executive Coloring Book is on sale March 28, 2017. Stay tuned for more on how to participate in the re-release of this classic coloring book!
It's been an amazing year for reading, and the The New York Times Book Review editors have selected some of their favorites.
Check out some of the most loved books of the year:
Major Key, Fan Luv, Bless Up, They Don't…I Like That! Take the quiz and find out which iconic DJ Khaled slogan speaks to you. Khaled reveals the major keys to success in his new book, 
The Keys
, available now.
Learn more about the book:

At Sunday's American Music Awards, Zayn Malik won the New Artist of the Year award!
Learn more about this beloved up-and-comer through his new book:
"This book is my diary of a period that I would like to share with you all. I hope that there are things in the book that contextualise some of the moments and memories we have all shared together. There are things I address in the book that are very personal to me, things that I have never told anyone, things I still find hard to talk about. It's a part of a journey I'm still on."—ZAYN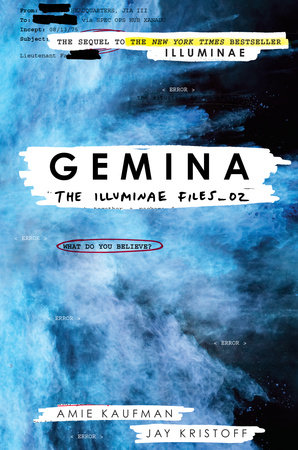 We're going deep inside the making of a book, with interviews from Penguin Random House employees in editorial, marketing, sales, and more.  If you've ever wondered about all the behind-the-scenes work that goes into making your favorite books, this is the series for you.  Take a look at the first post in this series here. 
Gemina is now on shelves! We're wrapping up this series with an interview with the authors! Amie Kaufman and Jay Kristoff stopped by the studio to talk about their book tour and much more. Listen here: 

"Getting out and meeting readers is honestly the best part of the job" – Jay Kristoff
Fans have been raving about Gemina, and book instagrammers have a lot to say!
From Hikari of Folded Pages Distillery:
"Gemina: 10/5 Stars. Explosive, Brutal, Hilarious, Unforgiving, Fist Pumping, Jaw Dropping. These are the words I'm using for Gemina. I started Gemina on Thursday and stayed up last night until 3 a.m. finishing it because I COULD NOT STOP."
From Vilma of Vilma's Book Blog:
"I think the whole world knows how much I loved #Illuminae and so far I'm loving Hanna and Nik's story too! Anddddd the book features illustrations by @marieluthewriter! How awesome is that?!!!"
From Ursula of ursula_uriarte:

"I present you guys my favorite book of the year!!! If you haven't read this series please do yourself a favor and get on it! If you do it simultaneously on audio is even better!"
Thanks for following along with Gemina's Life of a Book series!
Follow the authors on Twitter (@AmieKaufman, @misterkristoff) and Instagram (@amiekaufmanauthor, @misterkristoff)
Visit the website here: illuminaefiles.com
Check out more Young Adult books here. 
Get the book here: 
Editors get very passionate about books they work on – the Editor's Desk series is his or her place to write in-depth about what makes a certain title special. Get the real inside-scoop on how books are shaped by the people who know them best.
Last fall, we celebrated New York Times and internationally bestselling author of the Inspector Montalbano mystery series Andrea Camilleri's 90th birthday with the publication of A Beam of Light. This year we've hit another incredible milestone—A Voice in the Night is the twentieth novel in his Montalbano series.
Having the opportunity to work on a beloved cult classic like the Montalbano series is truly a privilege. The novels sensuously capture the sense of Sicily, from the sun-soaked buildings and seaside views, the simmering food on Montalbano's plate, to the do-as-you-please attitudes of its inhabitants. The books are translated from Italian, and Stephen Sartarelli's skill as a translator is on ample display in the ease and rhythm of the quick-witted and wryly humorous dialogue. In reading the first draft, I found it fascinating to consider the nuances of translating from the Italian, as Camilleri often employs several Sicilian dialects within a single novel. I do wonder what cultural idiosyncrasies are lost in translation, but am always pleased that the humor and warmth translate fully.
A Voice in the Night brings us back to the Sicilian town Vigàta, where Montalbano's moody demeanor has taken a dive as another birthday rolls around. To cheer himself up, he deals with a young driver's road rage in his own way, and surprisingly, finds himself confronting the young man once again, this time as the suspect of a gruesome murder. Many of the series' trademarks make a welcome appearance in A Voice in the Night—lighthearted spats and make-ups with Livia, Catarella's mispronunciations as unintentional linguistic jokes, the seemingly omnipresent influence of the mob in both the streets and halls of government. And of course, there is the food. (A particularly memorable scene casts a two-foot octopus as murderous foe before vengeful food dish.)
Camilleri's charming creation, Inspector Montalbano, continues to delight and surprise me. Flawed but lovable, the Sicilian Inspector is great company, and it's with a lot of enthusiasm that we get to share this series with English speaking readers. A Voice in the Night won't disappoint longtime fans of the books, but it's also a good jumping-off point for new readers to acquaint themselves with Montalbano's Sicily. Luckily for me, and for you, dear reader, this isn't Montalbano's last case.