Jane Simmons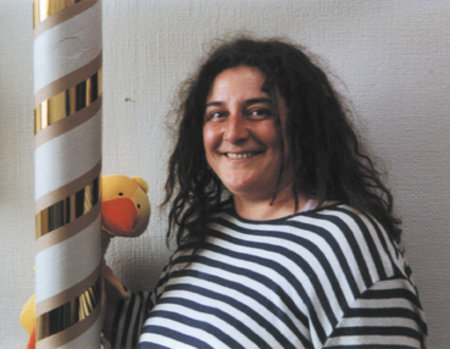 Photo: © Courtesy of the Author
About the Author
It's a funny thing, the very thing that got me into lots of trouble as a child has become my living as an adult. Creativity is a strange beast, sometimes a curse, sometimes a blessing, and I have no idea where it comes from, but it has stuck with me from the day I was born. Now I write and illustrate children's books, which helps keep the beast happy, as long as it's fed, it's content, which in turn keeps me out of trouble.

I went to a lot of schools in a lot of countries, and I didn't get on well in any of them. It wasn't because I didn't like school, I loved it, but they just didn't teach me enough. I cried after my first day in school because they hadn't taught me how to read and write yet. At school I was bored, I hadn't been bored before, but there, they made me sit and do nothing day after day. I was always full of ideas, but unfortunately they were not the sort of ideas that sat well in a school environment.

Later when I entered the world of work, the same applied. I tried lots and lots of jobs, factory work, shop work, office work, hotels, cafes, garages, railways, gardens, and lots more, but it just didn't feed the beast.

Eventually I came to a crisis and had to learn to embrace my creative beast and stop trying to subdue it. I realised it was here to stay and the sooner I made a place for it, the happier we both would be. It was hard for me, because although I had this beast that wouldn't disappear, it didn't necessarily mean I had the skill or talent to make it my living. I made the decision that it would be better to fail at what I loved, than to succeed at what I was indifferent about. I had nowhere else to go, so I gave in to my beast on every level. I went back to school and made them teach me what I needed.

I've given up trying to live a life that belongs to someone else and I'm busy living mine now. Mine is with the characters and stories I create day after day, on a boat because I don't like static houses, in the Mediterranean because I like the pace of life, with animals because they are funny, and Neil because he has a creative beast too.

My beast is at last content. I feed it with characters and stories, poems and paint. I feed it with the view from my window, which is constantly changing. I feed it with the strange characters I meet on my travels. I feed it with storms, sun, swimming, and life. It's a funny thing, I think the beast knew who I was all along.