We know readers tend to be writers too, so we feature writing tips from our authors. Who better to offer advice, insight, and inspiration than the authors you admire? They'll answer several questions about their work, share their go-to techniques and more. Now, get writing!  
Sparrow Beckett is the pen-name for two writers in two countries who combine forces and collaborate. Justice and Sorcha have both answered the questions below. 
What writing techniques have you found most important or memorable?
Justice: Someone once told me a good novel is made up of mostly strong, colorful nouns and verbs. As writers, we often hear the terms active writing versus passive writing. Filling a book with adverbs makes a story sound passive. So when I'm writing, I go for strong descriptive nouns and verbs.
Is there something you do to get into a writing mood? Somewhere you go or something you do to get thinking?
Sorcha: With an evil day job and a big family, I'm so busy that I'm exhilarated by every free moment to write. If I get stuck in one of my stories, I switch to one of my many others.
Justice: I get inspired from all sorts of things. Sometimes a movie, another book, or even a song I hear on the radio. When I'm feeling low on inspiration, I'll surround myself with different media and types of art. Usually something will jump out and the wheels will start turning.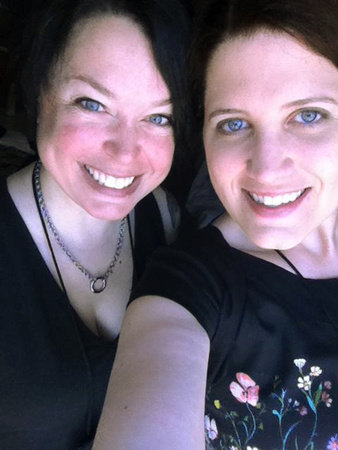 Did you always want to write? How did you start your career as an author?
Sorcha: I started writing a Black Beauty fanfic when I was seven. For Grade Ten English class, I wrote a novella, and then a novel for Grade Thirteen Creative Writing. My novel was so bad, that the publisher I submitted it to sent me a rejection with a blank space where my name was supposed to go. I quit writing after that. About two decades later, I started writing for fun. That was when I met Justice in an online group, and she introduced me to the modern world of publishing.
Justice: I was a writer before I was a writer, if that makes any sense. Writing is just in me. It's been a part of everything I've ever done, before I even realized it. So finally getting the guts to officially try writing a fiction book didn't surprise anyone. I started by self-publishing back when it was a budding development. I learned a lot and I think it better prepared me for the traditional publishing world.
What's the best piece of advice you have received?
Sorcha: Quit making excuses and write.
Justice: Find an amazing crit partner or group – the harsher the better.
What clichés or bad habits would you tell aspiring writers to avoid? Do you still experience them yourself?
Sorcha: I think stalling out of self-doubt is the biggest bad habit to avoid. Feeling like you'll never be as talented as your favorite author isn't a good enough excuse to give up. You owe it to yourself to work at it.
Justice: I have to agree with Sorcha. Self-doubt can be crippling and, unfortunately, something many authors, including myself, suffer from regularly. It's hard to stay positive among rejections and brutal reviews. I have to remind myself constantly that everyone has their own journey, comparing yourself to other authors is pointless, and that giving up just isn't an option.
What are three or four books that influenced your writing, or had a profound affect on you?
Sorcha: The Deed of Paksenarrion by Elizabeth Moon – The main character has an arc that fills me with hope and a sense of personal responsibility.
The Tiffany Aching series by Terry Pratchett – Like most of Pratchett's work, it shows human nature in a humorous yet poignant light. These books explore themes of power, respect, and responsibility.
The Jalav series by Sharon Green – Explores an interesting example of how a woman can still be strong while submitting to organic power exchange relationships.
The Steamwork Chronicles by Cari Silverwood – This series taught me to be unapologetically sexual in my work.
Justice: A Hunger Like No Other by Kresley Cole – This was the first romance I ever read. Oh the things it opened my mind to… Her mix of sexiness, humor, and adventure made reading fun for me again, and started my love of paranormal romance.
Revolution by Jennifer Donnelly – Wow, this book made me cry, made me think, and made me take an active interest in history. The writing and depth of emotion is beautiful and something I aspire to.
Forgive Me Leonard Peacock by Matthew Quick – This book gave me permission to write honestly. It is probably the most earnest, authentic book I've ever read.
Learn more about To Have and to Master here.
Ed Park, Executive Editor at Penguin Press, shares his insights into editing Elizabeth McKenzie's new novel, The Portable Veblen, which went on sale Tuesday, January 19. Take it away, Ed!
I joined Penguin Press in late 2014, and about two minutes later was sent Elizabeth McKenzie's novel The Portable Veblen. The title made me smile, I remember, and every sentence that followed felt unbelievably fresh to me. It's the story of a fraught engagement between seeming opposites: thirty-year-old Veblen, a down-to-earth office temp with a sideline in translating from the Norwegian, and Paul, an ambitious neurologist who's being wooed by Big Pharma and the Department of Defense. Will they make it to the altar? Everything from the Palo Alto setting to the soulful squirrel that Veblen connects with (and Paul wouldn't mind destroying) was at once strikingly original and true to life.
It's been such a joy to watch the excitement build for this one-of-a-kind novel, with sales falling under its spell, and booksellers singing its praises. Along with being an IndieNext pick, Veblen has also received three starred pre-pub reviews and been selected by prominent indies for their signed first edition book clubs.
Adam Kirsch's early Veblen review in Slate took the thoughts right out of my head: "No matter how many novels you've read, it's safe to say you've never read a novel like The Portable Veblen." It's true! Thinking about the list I've put together so far, I'm hoping something similar can be said for every title. For now, let's begin with a young woman named after the economist Thorstein Veblen, and a very charismatic squirrel…
Ever wonder what Penguin Random House employees are reading? We're a bunch of professionally bookish people, so you can always count on us to have a book on hand… or thirty piled on our desks. Our Bookspotting feature shows off the range of readers behind the scenes at Penguin Random House.
Kristin, in consumer marketing, is reading an advance reading copy of The Girls by Emma Cline
Find out more about the book here:
Ever wonder what Penguin Random House employees are reading? We're a bunch of professionally bookish people, so you can always count on us to have a book on hand… or thirty piled on our desks. Our Bookspotting feature shows off the range of readers behind the scenes at Penguin Random House.
Miguel, in consumer marketing, is reading Between the World and Me by Ta-Nehisi Coates.
Find out more about the book here:
The American Library Association (ALA) is joining with Penguin Random House to support the second annual National Readathon Day, which will take place on Saturday, May 21, 2016. It is a day dedicated to the joy of reading and giving, when readers everywhere can join together in their local library, school, bookstore, and on social media (#Readathon2016) to read and raise funds in support of literacy. This year, Readathon Day is presented as part of ALA's Libraries Transform campaign, and will benefit ALA's Every Child Ready to Read initiative, a program that supports the early literacy development of children from birth to age five in libraries across the nation. 
Sari Feldman, president of ALA, said, "We are thrilled to partner with Penguin Random House on National Readathon Day 2016.  Not only does Readathon Day present an opportunity to generate excitement amongst readers of all ages, but it also enables children and students everywhere to get involved in an effort that supports youth literacy. The transformational power of reading is fundamental to the value that libraries provide to their communities each and every day."
Penguin Random House is dedicated to creating lifelong readers by supporting programs such as ALA's Every Child Ready to Read. As part of its commitment to #Readathon2016, Penguin Random House has announced its Library Awards for Innovation, where libraries across the country will have the opportunity to apply for grant awards in support of creating the most innovative community-based programs in 2016. Libraries are encouraged to use Readathon Day as a jumping off point for submissions to the Library Awards for Innovation.
Leading up to and during #Readathon2016, individuals can contribute to ALA and Every Child Ready to Read by visiting the Firstgiving Fundraising page at www.firstgiving.com/5066/national-readathon-day and sharing with their friends and family.
All readers are encouraged to join in Readathon Day fun on social media, using the hashtag #Readathon2016. Visit the official website, www.readathonday.com, for more information on how to get involved online and in person, including sharing images and videos, and hosting local reading parties.
Last year's inaugural Readathon Day put the national spotlight on reading in support of the National Book Foundation's literacy programs. This year, #Readathon2016 shines a light on libraries and early childhood literacy through ALA and Every Child Ready to Read.
Visit www.readathonday.com for more information.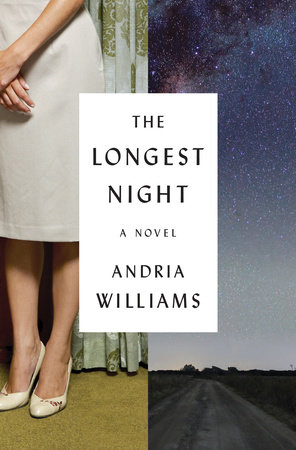 Editors get very passionate about books they work on – the Editor's Desk series is his or her place to write in-depth about what makes a certain title special. Get the real inside-scoop on how books are shaped by the people who know them best.
Andria Williams' debut novel The Longest Night is a book about many things—the Cold War, the American West, gender roles in the 1960s, the birth of nuclear power—but above all it is a portrait of a marriage and the forces that challenge it.  I was immediately drawn into the story by the opening scene of the novel—a man named Paul, racing through the night on a rural road, passing an ambulance and fire trucks that are rushing away from an accident that he is driving towards.  What is taking him there, compelling him to put himself in terrible danger?  Who is he trying to save?
Before we can get answers to this question the novel flashes back to a blindingly hot summer day, three years earlier.  A young family are driving cross-country from Virginia to Idaho Falls, where the husband, Paul, has been stationed for his next army tour.  They stop at a lake in northern Utah where local teenagers are diving from the rocks.  The wife, Nat, is desperate to cool off, and leaves her one and three year old daughters while she climbs to the top of the cliff and dives in, fully clothed.  When she emerges from the lake Paul is furious—embarrassed, ashamed, scared she could have hurt herself.  But as a reader, I was fascinated.  I wanted to know what Nat was looking for in that moment of freedom.  Did she just want to escape the demands of being a wife and mother for those brief seconds?  Did she want to show her husband that she was her own person, still?   Did she want to set an example of fearlessness for her daughters, or was she not thinking of them at all?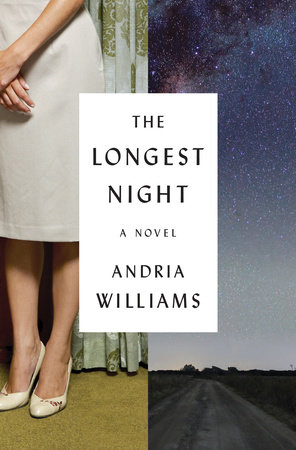 When I describe Andria's novel I often say that it reminds me of Revolutionary Road, if such a book were set in the American West.  That is to say—it is a story about frustrated ambition; domesticity; the stifling social norms of a small town, ruled by a cabal of wives who never fail to match the color of their centerpieces to the tablecloths.  Yet it is also a story about how love changes in a marriage—how it is shaped by distance and separation; the birth of children; by our challenges in reconciling our adult selves with our adolescent ones.  It is a story rooted in a uniquely specific time and place, that is utterly universal in its implications.  I hope you will enjoy reading it.
Read more about the book here.
Ever wonder what Penguin Random House employees are reading? We're a bunch of professionally bookish people, so you can always count on us to have a book on hand… or thirty piled on our desks. Our Bookspotting feature shows off the range of readers behind the scenes at Penguin Random House.
John, in online marketing, is reading The Hanging Girl by Jussi Adler Olsen.
Find out more about the book here:
With the Golden Globes coming up, it's time to check out all the books that have been adapted to nominated television shows and films. Keith Rice for Word and Film, dives in:
The best drama category highlights a wide swath of films covering a wider array of topics. "Spotlight," which is based on a series of Pulitzer Prize-winning articles from the Boston Globe that uncovered a pattern of sexual abuse and cover-ups by the Boston Archdioceses, is possibly the early favorite. However, there is strong competition on the adaptation front with "Carol," "The Revenant," and "Room" as contenders for the prize. "Carol" is based on the novelThe Price of Salt by Patricia Highsmith. "The Revenant" is inspired by true events and adapted from the novel of the same name by Michael Punke – although despite its quality, the film may prove too brutal for anything other than a nod. "Room" is based on the novel of the same name by Emma Donoghue. The nominees this year have really upped the game – and it could be anyone's win at this point.
Read the rest of the article on Word and Film here.
We're celebrating the 40th anniversary of Roll of Thunder, Hear My Cry with a beautiful new edition of the book, out now. Regina Hayes, Editor at Large of Viking Young Readers, wrote this letter to commemorate the day.
It is hard to believe that forty years have passed since the publication of Roll of Thunder, Hear My Cry.  It seems like only yesterday that I met Mildred Taylor, when the manuscript that became her first book about the Logan family, Song of the Trees, won a contest sponsored by the Council on Interracial Books.  Mildred was interviewing the editors who had expressed interest in her manuscript, and she came to our offices at Dial, a beautiful, shy, but very composed young African-American woman. Much to my delight, she chose Dial as her publisher, and I became her editor.

After working with her on the first book, I knew Ms. Taylor had enormous talent, but I was still stunned when the manuscript for Roll of Thunder, Hear My Cry arrived: a hugely accomplished, compelling, full-fledged novel with an unforgettable cast of characters. Reading it, I had shivers up my spine.  Could it really be as good as I thought it was? But subsequent readers confirmed my judgment.  There was such excitement in the office around publication. We firmly believed that this was an important book, and our faith was justified when the Newbery committee chose Roll of Thunder, Hear My Cry as the most distinguished contribution to literature for children that year. Today. generations of readers have agreed as they embraced the Logan family saga.

To celebrate the occasion, the wonderfully talented and award-winning Kadir Nelson has agreed to create new covers, not only for Roll of Thunder, Hear My Cry, but for all nine of Mildred Taylor's books about the Logan family, which will be reissued throughout the year. Mr. Nelson's work has been featured in numerous different outlets, including The New Yorker, a United States postage stamp, a Michael Jackson album cover, and numerous award-winning children's books, and his rich, inviting paintings are the perfect complement to Mildred Taylor's heartfelt stories.

And something more to look forward to:  2017 will see publication of the final book in the saga of the Logans, which follows Cassie Logan through the years after World War II,  as she attends law school and becomes involved in the momentous years of the early civil rights movement.

I hope you will join all of us at Penguin Young Readers in the year-long celebration of a ground-breaking writer, her memorable, moving books, and forty years of courage, love, and pride.

With best wishes,
Ever wonder what Penguin Random House employees are reading? We're a bunch of professionally bookish people, so you can always count on us to have a book on hand… or thirty piled on our desks. Our Bookspotting feature shows off the range of readers behind the scenes at Penguin Random House.  
Alissa, in Crown production, is reading My Brilliant Friend, by Elena Ferrante.