We know readers tend to be writers too, so we feature writing tips from our authors. Who better to offer advice, insight, and inspiration than the authors you admire? They'll answer several questions about their work, share their go-to techniques and more. Now, get writing! 
Did you always want to write? How did you start your career as an author? 
I started writing quite young. My mother worked in a deli in Montreal and when I was little, she would take me with her for the day. I would write monster stories and fairy tales for her (and me) on the backs of the paper placemats—mainly to entertain myself but also for the sheer pleasure and escape of building another world. I remember being flush with joy and excitement when I thought I had a novel on my hands at the age of 7 or so. Needless to say, that didn't pan out.
 Is there something you do to get into a writing mood? Somewhere you go or something you do to get thinking?
 My main routine is to write in the morning in silence. I make coffee and then I turn everything off, including my phone and Internet connection, for as long as I can either stand or get away with. If I write in the morning like this, then I'm able to return to the story at various times later in the day and work on it regardless of where I am or the level of distraction. But I need those anchoring morning hours of silence and focus with the story in order to do that.
I also love Aimee Bender's idea of the writing contract so I've done that with friends as well. You basically contractually promise to adhere to a certain number of writing rules that you determine (it could be a daily word count, or a number of hours per day) and then you check in daily via email with a 'mentor' (a friend) who confirms you're moving forward. You do it with an overall writing goal in mind—like a novel—to be achieved by the contract's end.  It's quite loose, but what I love is that you make your own writing goal, your own rules for how you'll reach it, and then you are required to follow through. I did it with a writer friend last summer, and we both completed drafts of our novels. And I'm doing one now with another writer friend for the revision. I like the collaborative aspect of it too—writing, while exhilarating, can also be quite a lonely, cave-dwelling business. It's nice to come out of the cave every day and check in with a friend. 
After developing an idea, what is the first action you take when beginning to write?
I'm often inspired by a moment of tension that I've either observed, experienced or imagined—being in a fitting room with a dress that doesn't fit, for example. I'll take that point of tension and I'll sit with it, trying to describe it with as much intimate, immediate and honest detail as possible. I'll scrutinize it, draw it out, let myself imagine around it. By exploring a moment of tension like this, I find it acquires more layers and consequence, and a story will often emerge. Once I have the story, I can push that tension further still—in some cases, to its limits.
What are three or four books that influenced your writing, or had a profound affect on you?
My favorite stories have always been the ones that felt very intimate, like the writer really gave something vital in themselves to the telling of the story. For that reason perhaps, I love all of the novels of Jean Rhys—I love how urgent her writing is, how her characters experience outsiderness and alienation in ways that feel so immediate and visceral. Russell Hoban is another favorite. Not only is he a beautiful writer, but I love how he conceives that space between what we perceive to be reality and reality—a space that is inherently fraught with our anxieties, desires and dreams—as truly imaginative. In The Lion of Boaz-Jachin and Jachin-Boaz, a son's anger at his father is an actual lion stalking the streets of London. Perhaps this is a throw back to my placemat writing days, but I've always been deeply inspired and excited by fairy tales and Alice in Wonderland narratives. I adore The Torn Skirt by Rebecca Godfrey, which is essentially a feverdreamy, high stakes Alice in Wonderland for adults. The first person voice is also incredible. And of course, The Winter's Tale by Shakespeare, which is a strange, rich and wondrous fairy tale. The wonderful thing about reading or seeing Shakespeare is that no matter what hot mess of emotions you're experiencing in your life—pettiness, hatred, fear, desire, joy, sadness, love, resentment—they become eerily performed by the play in question. Will's got you covered. Within the stories, the characters, the language, there's room for it all. Also, I love humor. Without writers like Dorothy Parker, Lydia Davis or Lorrie Moore, I would feel lost.
Learn more about Mona Awad's new book below!
We know readers tend to be writers too, so we feature writing tips from our authors. Who better to offer advice, insight, and inspiration than the authors you admire? They'll answer several questions about their work, share their go-to techniques and more. Now, get writing! 
What writing techniques have you found most important or memorable?
I write during the day, print out whatever I am working on in the evening and bicycle with those pages to my favorite Japanese restaurant where I alternate between a blue pencil and chopsticks. This transfer, from screen to paper, from solitary desk to public sushi counter, gives me the sense that I'm examining my writing with 'fresh eyes.' It is, of course, only an illusion that Tim Sultan, the writer, and Tim Sultan, the reader, are not one and the same but it's an illusion that works for me. Needless to say, I am a very popular customer at this restaurant.
Is there something you do to get into a writing mood? Somewhere you go or something you do to get thinking?
Some people walk their dogs before breakfast, I walk my coffee. Each morning year-round I put on a minimal ensemble—sneakers, a t-shirt or sweater, and shorts. Never trousers as being underdressed for the weather is of the essence. It's circulation–of blood, of thoughts, of images–I'm after, not snug comfort. I descend from hearty stock that encouraged this sort of thing. I walk the half-mile to my favorite coffee shop, order a cup to go and return home through the park. I call this surveying. I survey the exercisers, the pigeon feeders, the dogs racing around with clouds of breath coming from their snouts—and I survey my life, my writing, perhaps chewing on an editorial conundrum that had me in a jam the previous day. Whatever my mind alights on. If I'm lucky, I return home with a new turn of phrase, a fresh idea, a missing word, and I take it from there. I can affirm that waking up the mind in this manner beats turning on a screen in the morning.
What's the best piece of advice you have received?
"Look forward and don't be afraid."  I found this single sentence in a notebook that belonged to my mother. She had written it to herself not long before she passed away. The page leans against the wall by my desk where I regard that message and reinterpret its meaning every day. For writing, for life.
Describe your writing style in 5 words or less.
Thoughtful, digressive, occasionally extravagant, empathetic
What are three or four books that influenced your writing, or had a profound affect on you?
Disappearances by Howard Frank Mosher
I have read it more than any other book. I have read to myself, to friends, and at my father's memorial service. I admire it like no other. For its naturalistic prose coupled with a grand imagination. If Gabriel Garcia Marquez had been a Vermonter…
Between Meals by A.J. Liebling
I think it was John Irving who once said that he always carries on him 'a flood book.' Something to read if he finds himself unexpectedly marooned. This is my flood book and more often than not, I stick a copy in my jacket as I'm going out the door in the evening. It's the sort of book one can open to any page and begin reading without feeling one has missed a beat.   
Too Loud a Solitude by Bohumil Hrabal
A short masterpiece about an underground visionary with the tenderest of souls. Elegiac without being melancholy, profound without being solemn.
Dusk and Other Stories by James Salter
Sometimes one admires most the other. Salter's style here is terse, understated, disciplined. His characters share the world with Edward Hopper's subjects. We are ultimately on our own.
Learn more about Sunny's Nights here.  
Editors get very passionate about books they work on – the Editor's Desk series is his or her place to write in-depth about what makes a certain title special. Get the real inside-scoop on how books are shaped by the people who know them best.
The manuscript of Try Not To Breathe came in to me at about 9:30 one night and due to some happy intersection of title and description and still being too awake to go to bed, I made a cup of tea at about 10 and decided to glance at a page or two before turning in.  At about 1 a.m. I forced myself away from the book for the night but could barely fall asleep – so full was my head and my heart of the story of the two young women Holly Seddon had created.  When I was in the world on her pages I had that magical and delicious feeling every lifelong reader knows when your actual surroundings melt away and all you can see are the streets and houses the characters are seeing. I finished reading the manuscript the next night and for days after I couldn't stop thinking about Amy and Alex and what both joined and separated them.
Hopefully without giving too much away, the novel is about two women, Alex and Amy, both 30 years old and from the same area of England, where they grew up going to neighboring schools. Told in alternating points of view, their lives intersect in a way that will change everything for both of them. Alex is a journalist whose life has spiraled completely out of control. She had seen tremendous success as a writer very early in her twenties when she beautifully and movingly documented the last year of her mother's struggle with terminal illness. During this time she became incredibly sought after in London magazine circles and also married the love of her life. But when her mother dies, Alex loses her moorings and plummets into alcohol and reckless behavior, finally moving back to the house she had grown up in.
When Alex is at her local hospital one day working on a small, routine story (the only kind of writing work she can now get)about vegetative cases – she finds herself staring at a young woman, a patient, asleep. The girl looks familiar to her, and suddenly she realizes that  this is Amy Stevenson, a girl who had disappeared when both she and Alex were 15, only to be found near death in the woods. Amy has been in a coma ever since, and the police were never able to discover who had assaulted this girl. Amy's family and the whole town were left mystified and damaged.
Alex finds herself haunted by her own memories of that time and cannot stop herself from beginning to investigate the story. She realizes that in the fifteen years since the attack, Amy has gone from being at the center of notoriety to having been nearly completely forgotten.
Of the many themes explored by Holly in the novel, two are favorites of mine. One is the phenomenon of locked in syndrome, which Holly researched and uses so brilliantly for the character of Amy, showing us the heartbreak of a young girl trapped mutely within her body.  My other favorite is the music of the novel. From its title on, Holly has imbued her book with a perfect soundtrack as iconic song after song from the early to mid-90s seems to play in the background. And by the end one can see that Try Not To Breathe isn't just an R.E.M. song title but helps introduce one of the most compelling facets of the novel – the false promise of control, and the beauty and wonder of watching Alex measure out just enough courage each day to fight her demons one more time.
Listen to an excerpt from the book here:
Read more about Try Not To Breathe below.
Austin, in Knopf Production, is reading How to Set a Fire and Why by Jesse Ball.
Find out more about the book here:
Off the Grid, the sixteenth Joe Pickett novel by New York Times bestselling author C.J. Box, is being published by G.P. Putnam's Sons on March 8.  Strong advance buzz has been building for this book, which revolves around how terror is found – and fought – in the wild expanses of Wyoming.  Game warden Joe Pickett, his best friend Nate Romanowksi, and Joe's daughter Sheridan are embroiled in multiple plot lines that unfurl with urgency, harrowing suspense and surprising twists. 
The Joe Pickett character entered the literary world in 2001 and a reviewer for The New York Times once wrote, " … Box introduced us to his unlikely hero … a decent man who lives paycheck to paycheck and who is deeply fond of his wife and his three daughters. Pickett isn't especially remarkable except for his honesty and for a quality that Howard Bloom attributes to Shakespeare – the ability to think everything through for himself."  Fellow Penguin Random House author Lee Child has called Box "one of today's solid-gold, A-list, must-read writers."
Read on for a Q&A with C.J. Box. 
C.J.  Box agreed to respond to the following questions for Igloo:
 Sixteen novels in, what do you think accounts for the wealth of themes, storylines and characters that have kept your Joe Pickett series fresh and filled with surprises?
Although the first Joe Pickett novel (Open Season) was written as a one-off at the time, the characters, themes, location, and style introduced in that book provided a great framework for the series to grow.  I've never had to regret the foundation laid in that book.  Also, because the books take place in real time the characters mature and change from book to book.  For example, Joe Pickett's daughter Sheridan is seven years old in Open Season and now 22 in Off the Grid.  Because the characters get older and benefit (or not) from previous situations in the books I think that helps keep the series fresh.  Plus, since each book includes a theme or controversy unique to the story (endangered species, alternative energy, the ethics of hunting, or in the case of Off the Grid — domestic terrorism) they are all stand-alones in their own way.
A lot of your longtime fans will be happy that your character Nate Romanowski features prominently in Off the Grid.  From a writer's standpoint, what is involved in making Nate so interesting and unpredictable?
 Unlike just about every other character in the series, Nate Romanowski is based on a friend of mine although I've exaggerated (Thank God) his personality. The buddy I grew up with was a big blonde middle linebacker who later went on to join the military and special forces.  He took me falconry hunting and through him I was introduced to the very strange and fascinating world of falconers and the mindset that goes with it.  And, of course, Nate carries one of the largest handguns in the world and he's good with it.
For a reader coming to your Joe Pickett novels for the first time, which  of your backlist titles, from Open Season onward, would you recommend they check out first and why?
Tough question, since in their way each book stands alone.  No reader would be hopelessly lost starting with any book in the series.  Of course, those who've read them all say it's important to start with OPEN SEASON so the reader can experience Joe's family growing and changing, and I probably lean that direction.  But there are certain books —Winterkill,  Free Fire,  Breaking Point, andOff the Grid   – that I think could be good entry points into the series.
Find out more about C.J. Box's books below.
The wildly popular romantic novel, Me Before You, is coming to the big screen! Check out the newly-released movie trailer, starring Emilia Clarke and Sam Claflin.
Read more about the adaptation on Signature.
Editors get very passionate about books they work on – the Editor's Desk series is his or her place to write in-depth about what makes a certain title special. Get the real inside-scoop on how books are shaped by the people who know them best.
Green Island arrived in an email on January 29th 2014—just over two years ago—along with the usual enthusiasm of an agent doing his job. It was one of six manuscripts waiting for me to read. It turned out to be the best birthday present ever.
It was the end of January, and out of the blue I received a note from the agent extolling Green Island's virtues. "Put in on the pile," I said to myself. But something in the letter piqued my interest. Maybe the subject: Taiwan, otherwise known as "Formosa." A place that I vaguely remembered from my history classes and from current events. Chiang Kai-shek, the ruler in exile from mainland China, run off by communists. Or maybe the fact that the author had published a book called Water Ghosts that came with exquisite reviews… But those two things that intrigued me could also be negatives: Would American readers care about Taiwan? It was also the author's second novel, often a difficult sell to the booksellers. It would all depend on the writing, the story, the book.
I printed it out and promised to read it within a week or two, but I couldn't help taking a peek. I read a few of the opening pages and immediately put aside all my other work. I had to find out about the unnamed narrator, whose birth coincides with history being made with that famous day: February 28, 1947. I wanted to know more about her baba, who was one of many thousands who were disappeared by the KMT, and who eventually returns to his wife and children but discovers that survival comes at a cost. And I especially wanted to see how these issues followed the narrator as she journeys to America as a married woman. E.L. Doctorow once said that there is no difference between fiction and non-fiction, there's only narrative. And Green Island is a perfect example of an excellent narrative that combines history that foreshadows current events with a family that you really care about, whose lives are entwined with the fate of their country.
The writing took me into a world that I had no idea existed. It brought me into a period that I had only learned about in high school history and geography classes. Not since reading about the disappeared of Argentina have I been so drawn to the horrors of living in a place and time where one word spoken to the wrong person could result in death. Shawna received a Fulbright and used it to travel to Taiwan, where her mother had grown up, and became fluent in Mandarin to conduct research for this book. She uncovered the naked truth of how people had to live there for all those years under martial law, mostly unreported by the western press. But most importantly, she wrote a story of family, of love, of hard decisions, and of loyalty that simply tears your heart out. So I learned, I wept, and I couldn't wait to speak to Shawna and find out more about her. I couldn't wait to share this extraordinary book with others. Of course, as an editor, I had some comments: "Transitions need tweaking, some of the history could be clearer" But the emotional core the book was there, and Shawna was thoughtful, careful, and in command of her work. My assistant, Ruthie Reisner, and I worked with Shawna by email and dealt with complicated time difference between New York and Hawaii.
Finally, there was a manuscript that we could share with the publishing world. The response has been extraordinary. From a rave blurb from Viet Thanh Nguyen, author of The Sympathizer ("a tough, unsentimental and moving novel that is a memorial not only to the heroes, but also to the survivors"), to excellent pre-reviews ("epic" —Kirkus, "engrossing… absorbing and affecting" —Booklist) to bookseller support that resulted in an Indie Next Pick to an Amazon Top 10 Book of the Month pick for February. In addition, our international sales team selected the novel for their first ever "global title wave" campaign. It is a stealth publication where the book itself is driving the enthusiasm and on February 23rd, it will be available for the world to read. I can't wait.
P.S. The finished copies just arrived at my desk. This is one of the best moments in an editor's life, to see those manuscript pages in my inbox turn into a "real book." Even more thrilling is to get this picture from a happy author.
Learn more about Green Island here.
This is a very exciting year for romance fans – Nora Roberts, one of the best-known and most beloved authors of our time, is celebrating her thirty year publishing career.  From Irish Thouroughbred, her first book, to Stars of Fortune, the hit of Fall 2015, Roberts has earned every bit of her success and fandom.
In the coming months, we'll look back at Nora Roberts' impressive career and talk with readers and Penguin Random House employees who love her books.
"For the kind of books I write, character is key. Character is plot. Make them accessible to the reader. They may be a billionaire or they may be a half demon or they may be a gym teacher, but something about them has to relate so the reader can say, 'I understand them.'"
Do you have a favorite Nora Roberts or J.D. Robb book? Let us know by tweeting @penguinrandom.
Catch up with Nora Roberts' newest books below:
Ever wonder what Penguin Random House employees are reading? We're a bunch of professionally bookish people, so you can always count on us to have a book on hand… or thirty piled on our desks. Our Bookspotting feature shows off the range of readers behind the scenes at Penguin Random House.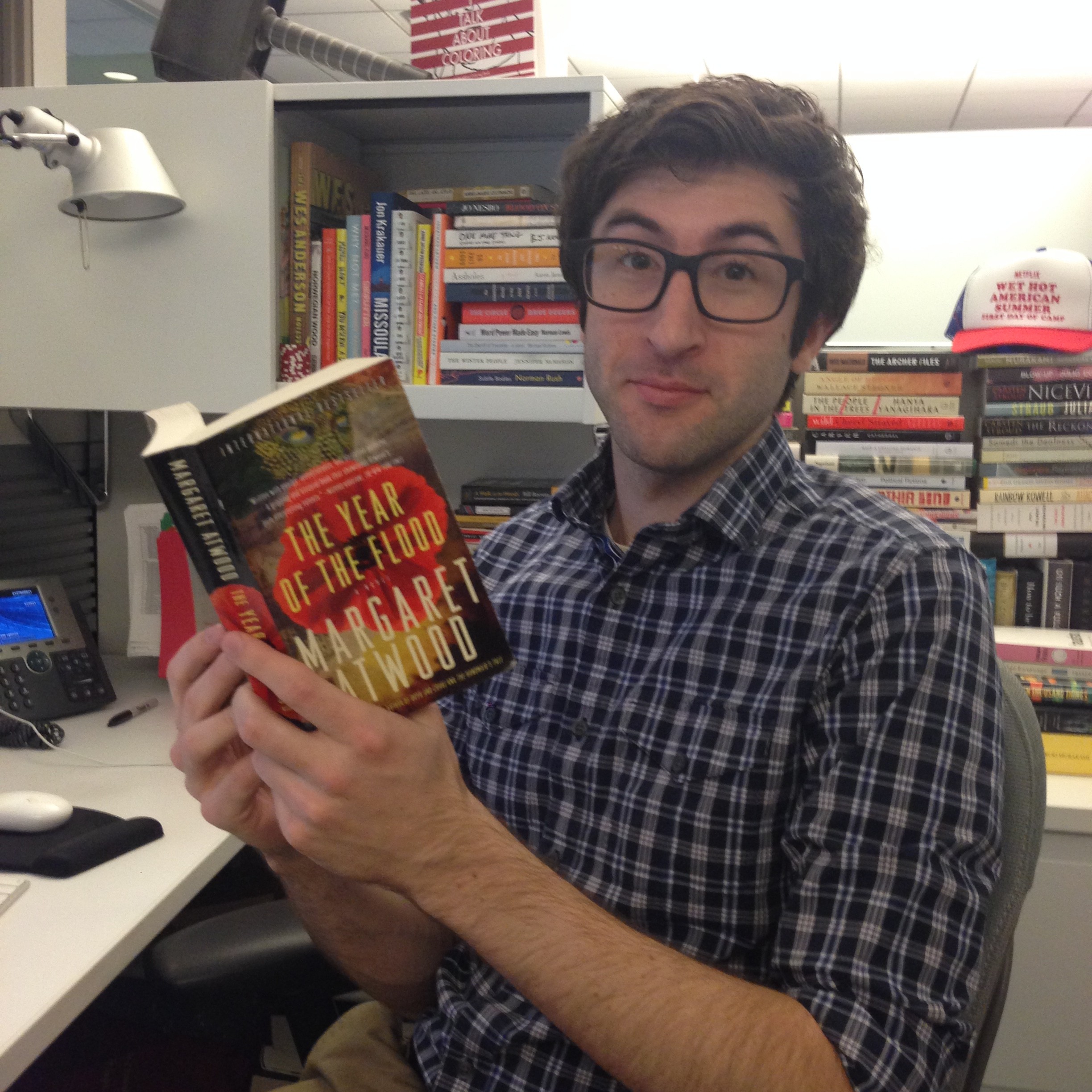 Adam, Social Media and Digital Publishing for Vintage and Anchor books, is reading The Year of the Flood by Margaret Atwood.
Find out more about the book here:
I have a confession to make:  reading isn't my favorite part of being an editor.
As much as I love discovering a wonderful manuscript, my favorite part of this job isn't the books—it's the authors.  I relish getting to know such a varied range of talented, creative people.  And they never fail to surprise me with their insights, their perspective, and the stories behind their stories.
Karen Bao intrigued me before I even met her.  I had just read Dove Arising, her debut young adult novel, and was struck by its preternaturally confident voice.
I had so many questions.  Had this chilling vision of the future really been woven by an eighteen-year-old?  How did she write a book this sophisticated—and during her senior year of high school, no less?  I'd been told she was also a concert violinist and was now at an Ivy League college studying biological sciences.  The book takes place on the moon, and I couldn't help but wonder, Where in the universe did this teenage, hyper-achieving, deft writer come from?
But when I first met Karen, it was clear she had both feet firmly planted on Earth.  Though she continued to shock me with her accomplishments (You wrote Dove Arising while waiting to hear back from colleges to take your mind off the anxiety?  This summer you read Anna Karenina for fun?), she was clearly, in many ways, a typical college student—hoping to get a good housing assignment, worrying about exams, and hanging out with her friends.
And the better I got to know her, the more I got to peek behind the curtain and see the inspiration for the book.  Set on the moon a few centuries from now, Dove Arising is filled with technology and scientific principles pulled directly from Karen's academic studies.  But the connection between real life and fiction goes even deeper than that.
Dove Arising is the story of an introverted girl who gets thrust into the spotlight when her mother is arrested by the moon's oppressive government. Karen told me she drew inspiration for the government of the Lunar Bases from her mother's stories about her father, Karen's grandfather.  When her mother was a young girl in China, her father, an academic, was sent to Mao Zedong's "reeducation" camps for several years.  He came home a different man, and it forever changed their family.
Karen's mother shared this with her when Karen was a teen, and the story made a lasting impression.  And, as so many powerful emotions often do, it found its way into her fiction.
This story moved me as much as the book itself.  And I thought, what an incredible tribute to Karen's grandfather, for her to share his story in this fictitious format—to express herself in a way he was never permitted to, and use this novel to honor the very real-life battles that so many people have fought against oppression in our world.
Hearing authors' stories is a privilege, one that makes me feel so grateful to have this special job of being an editor.
I'm thrilled to see Dove Arising take flight, but right now, Karen and I are focused on what's next for us both:  editing the sequel!
Start Reading an excerpt from Dove Arising!