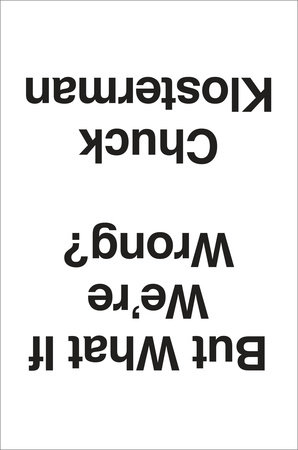 We're going deep inside the making of a book, with interviews from Penguin Random House employees in editorial, marketing, sales, and more.  If you've ever wondered about all the behind-the-scenes work that goes into making your favorite books, this is the series for you.  
Today we're featuring part two of our interview with the editor of But What if We're Wrong?, Brant Rumble. Rumble has worked with Chuck Klosterman for years, and has agreed to give us the inside scoop on editing a book. 
Q: Do you have a favorite part of the editorial and publishing process?
A: I have a few. First, there's the moment when you realize that you want to work on a book. It's not unlike the beginning of a romance, minus all of the untoward activities, of course. Then there's the editing. It's definitely work, and sometimes it's more work than anticipated, but, when you can shut out the world and really interact with what someone has written—ask them more questions, challenge them a bit, and just enjoy it like any reader would—that's entertaining. It's a heightened form of reading. And, last but not least, there are moments when you can tell that a reader (other than yourself) has genuinely loved a book. Whether it's a rave review or a crowd of people at an author's event who are obviously enjoying themselves, or someone on the subway reading one of your books with an intent (but not displeased) look on his or her face. I have a cynical side, like anyone else, but those are the things that have a way of eroding it, at least until the next moment of pain and disappointment comes along.
Q: Do you have a favorite section or quote from But What if We're Wrong?
A: More than any of the other nonfiction books that Chuck has written, this one is all of a piece. I think Chuck's reader have gotten used to reading his books like collections, reading some essays, but not others, and sometimes not in sequential order. Which is fine. But not for this book. It builds. The chapter on music is the first chapter I read because it was the first chapter draft Chuck shared with me. I enjoyed it, but I know now that I didn't fully get it, and that's because I wasn't reading it in the context of the book. (The chapter begins on page 59.) My early impression became problematic when I expressed some vague concerns about the piece, which I think alarmed Chuck, because—for anyone who knows me—music is my primary preoccupation, and, if I don't love reading something that a writer I enjoy reading has written about music, then there might actually be something amiss. But the only issue was that I wasn't reading the material within the flow of the book. Now the music chapter is definitely among my favorites, and, having said all of this, I'm sure the chapter will be excerpted somewhere, and therefore read in isolation. I'm not too worried. I look forward to seeing how readers react to it. The chapter about TV is a challenging one. Chuck makes an argument that I have a hard time understanding, or "buying" as some people like to put it. But that's why I like it. I don't just read books to agree with them. Towards the end of the book, there's a significant riff on the phrase "you're doing it wrong" that sums up quite a lot about the problem of our collective experience at this point in human history. 
Q: What do you want readers to take away from this book?
A: Humility and flexibility. There is not nearly enough of those two things in the world today, unless I'm wrong about that.
Read Part 1 of this Q&A here and the first post in this series here.
We know readers tend to be writers too, so we feature writing tips from our authors. Who better to offer advice, insight, and inspiration than the authors you admire? They'll answer several questions about their work, share their go-to techniques and more. Now, get writing! 
After developing an idea, what is the first action you take when beginning to write?
I don't usually develop an idea, and often when I do start with an idea, it falls apart in the writing. I typically have something much less than an idea that gives me the itch to write – a line, an image, an object (objects are compelling; I think of them as little pieces of grit that might accrue narrative mother-of-pearl). Lately, I have found myself writing stories inspired by titles – I get excited about something that sounds like an interesting title, and start to write a story off that excitement, and the stories often have only the loosest connection to the words in the title. I don't quite get it, honestly. I end up in places I didn't foresee.
A couple of months ago, I stopped at a Seven-11 that had a huge sign in the window advertising a combo meal of a hot dog and soda. Built around the smaller text in the sign were two huge phrases – "Super Hot" and "Extra Large." At a distance, they seemed to be combined into one phrase: Super Hot Extra Large. This is now the title of a story I am working on that I had no plans to write and no idea of before these magical words arrived in my mind and gave me an itch.
Is there something you do to get into a writing mood? Somewhere you go or something you do to get thinking?
I try to write regularly and steadily, whether or not I'm in the mood, and – like a lot of writers – I think it's a mistake to wait for or rely upon inspiration. Inspiration often arrives after I've started working. But I am also not rigorous about a writing schedule. I write every day, but I don't write fiction every day. My week is divided between writing newspaper columns at The Spokesman-Review in Spokane, and writing fiction and other work on the other days. I have come to feel that the time away from the current work in progress is crucial – time to think, to imagine myself more deeply into the characters and situations, and to begin to develop ideas for the next pages. This time away, thinking about the writing, is what energizes me most for the return, and so I cultivate it a little bit, and try to build that eagerness so I'm impatient to get started.
What clichés or bad habits would you tell aspiring writers to avoid? Do you still experience them yourself?
My worst habit is the desire to be done. I do enjoy writing, and I would even say I need to write on some compulsive level, but the sorry truth is that I am probably most motivated by the desire to have written, to have composed something worthy that I can try to swap for attention or vanity fuel. This has made me a reluctant reviser, and far too eager to consider a story or novel done when it still needs work.
I try to overcome this in a few ways. The main one is by relying upon a couple of key friends as readers/editors who help push me. It's also important for me to go through a kind of hot-cold cycle – a period of intense attention and effort to complete a draft (which will feel utterly complete and polished to me) followed by a stretch of ignoring the work until I can look at it again with fresh eyes and see some of the problems, so I am no longer reluctant to get in there and muck it up in an effort to fix it.
Describe your writing style in 5 words or less.
I often write a little long.
What are three or four books that influenced your writing, or had a profound effect on you?
So, so many. Here are a random few:
Vonnegut's Breakfast of Champions, which I read in my teens, gave me the idea that boundaries of what could be a book were much wider – and weirder – than I had realized.
DeLillo's White Noise, which I read as a young adult, impressed upon me a sense of the way both prose and ideas within a work could operate at slightly canted, surprising angles. I love the way his sentences move, the odd rhythms and combinations, and I love the way he incorporates bigger themes and ideas, in rhythms and combinations that are similarly unexpected.
McCarthy's Blood Meridian horrified me as it engrossed and captivated me, and while some of the book's philosophizing is less interesting to me than it once was, there remains something unique in the energy of that experience that draws me back – the grotesqueries of westward expansion cast in language that draws beautifully upon venerable old verbal rhythms. It's like a scripture telling the ugliest truth about Manifest Destiny.
Kelly Link's Magic for Beginners, which I read as a 40-something grad student, changed my attitude toward the literary possibilities of fantasy, science fiction, the surreal, magic, etc., and opened up a new and hopefully not-too-imitative strain in my writing. And then, when I had strayed perhaps too far from the here and now, Alice Munro's "Runaway," which I also read as a 40-something grad student, reminded once again of the possibilities for magic in lives that only seem routine.
Thomas Bernhard's Woodcutters is probably the book that's in my head the most now. Reading his feverish, run-on rants makes me want to produce prose that can do that – lift readers and carry them with such force that they can no longer get hold of the riverbank.
Learn more about Daredevils below.
Viking Vice President and Executive Editor Paul Slovak was honored with the  Poets & Writers 2016 Editor's Award on Tuesday night in New York.  Warm congratulations to Paul. He embodies every aspect of this award, which recognizes an individual who has "made an outstanding contribution to the publication of poetry or literary prose over a sustained period of time."  Viking Vice President and Editor in Chief  Andrea Schulz concurred — "Paul has made a substantial contribution to the Viking and Penguin lists and, indeed, to American literature, with his acuity of judgment, his passionate advocacy, and his steadfast faith in his remarkable list of writers".
Penguin Random House has been a longstanding supporter of Poets & Writers and was well-represented at this event, where Paul was surrounded by many of his closest literary colleagues from over the years, including such Viking/Penguin authors as Sue Monk Kidd, whose introductory remarks included these wonderful words: "When I started to think about how to describe my experience working with Paul, the first word that came to my mind was brilliant. Paul brings a prodigious amount of smarts to the table, and I'm not just talking about his intellect, his knowledge or his logistical thinking, I'm also talking about his very intuitive and inventive wisdom. The other word that comes to me when I think about Paul is thoughtful.  He's one of the most thoughtful people that I know, and by this I mean that he also brings a lot of sensitivity and availability and attentiveness to his authors, so his exceptional brilliance and his exceptional thoughtfulness combined with his very tranquil demeanor is just an exquisite combination. And I think it has helped my own writing to flourish, whether it's writing about something that keeps me up at night like American slavery or whether it's pursuing an idea for my next novel that is patently insane, I take comfort in knowing that Paul is there."
In accepting the Editor's Award, Paul was clearly moved, saying, in part, "I wouldn't be standing here tonight if it wasn't for the amazing authors that I've worked with over the last two decades. I feel very blessed about that; it's not a word I use very often, by the way.  To a one, they are writers who have very exuberant, distinctive voices, who are not afraid to take risks, who are interested in finding new and compelling ways of telling stories with fresh and surprising ways of imagining character … Nothing has been more gratifying to me than helping to bring these authors and their books into the world and working with them to shape their writing, and ensure that every word and every line they put to the page is exactly the right one. As all of you in this room know, publishing books that might be of permanent importance rather than ephemeral interest–to steal a line from the founding creed of Viking Press–has and will continue to be a challenge. But I feel like there has never been a better time to be an editor, I feel like there are as many great writers working today as we have ever seen and a wonderful flowering of all the communities that support them."
Danielle in Knopf marketing is reading Mothering Sunday by Graham Swift.
Find out more about the book here:
A note from Meg Leder, editor of THE WANDER SOCIETY by Keri Smith
In 2006, I had one of the most fortuitous lunches of my editing career with Faith Hamlin, an agent at Sanford Greenburger. We sat at the now-closed Steak Frites in Union Square and near the end of the lunch, she handed me a project in a manila envelope, telling me I should take a look at it when I was back at my desk.
That project was a one-of-a-kind Moleskine mockup of Keri Smith's Wreck This Journal, a magnificently and quietly subversive little book that we bought three days later, and that went on to sell several million copies worldwide, leading to eight subsequent books and legions of devoted Keri Smith fans.
In the ten years since, I've shared with Keri ideas and prompts for dream projects. However, in true subversive fashion, Keri always politely acknowledges them, then sends back completely different ideas that are more genuine and amazing than anything I could come up with on my own.
So it should have come as no surprise to me that when I asked Keri to consider writing a creativity manifesto—a way to share the integrity that drives her work—she came back to me with a manifesto actually written by someone else: a secret group called The Wander Society.
But it did surprise me, and in the most delightful ways imaginable. Because after signing up the book, I started receiving mysterious letters in the mail—strange musings typed on a real typewriter, an envelope of maple tree seeds, a small, badge with hand-embroidered with a lightning bolt.
The Wander Society was reaching out to me, inviting me to join—the lines between reader and editor and author and member starting to blur.
And so this summer I found myself on the shore of Lake Michigan, tying a small Wander Station filled with the society's pamphlets around a tree. This fall, on my sabbatical in Paris and London, I left behind stickers of Walt Whitman, the patron saint of the Wander Society. A few weeks ago, I spent the afternoon wandering through the Lower East Side, ambling down streets I'd never explored before.
I don't know who exactly The Wander Society is, but I know that Keri's a member now, and I am too. I know that the regular practice of wandering has opened me up to the possibility of surprise, newness, and the joy that come from discovering new places.
Turns out, I really like the freedom of not knowing exactly where we're going next—whether it's a literal journey or a publishing one.
Twitter: @WanderSpotters @PenguinPbks
Instagram: @PenguinBooks @WanderSpotters #TheWanderSociety
We know readers tend to be writers too, so we feature writing tips from our authors. Who better to offer advice, insight, and inspiration than the authors you admire? They'll answer several questions about their work, share their go-to techniques and more. Now, get writing! 
What writing techniques have you found most important or memorable?
I write really fast, not worrying about making mistakes when I'm working on a first draft. I think novice writers make a mistake when they worry too much about where their novel is going, or get buried in too much outline. Surprise yourself, sentence by sentence; don't worry about the next chapter. In reality, the first page of your novel is the most important of all. It's where you define the pace and mood of your story.
What's the best piece of advice you have received?
I was fortunate enough to study with the late Grace Paley. I remember showing her a story and she told me there was no conflict in it. I gave her this blank face, so she suddenly slapped her hands together, so that I could hear what conflict was. It was the simplest writing lesson I've ever had, but one that I've never forgotten.
What are three or four books that influenced your writing, or had a profound affect on you?
Isaac Babel's Red Cavalry is fantastic. These are connected short stories based on the civil war in Russia and he has this enviable minimalistic style. He doesn't waste a single word.
Where I'm Calling From by Raymond Carver. Carver is the American version of Babel to me. These were the stories that blew me away in graduate school, especially the way the morality of each piece ends up being thrown upon the reader. I love writers who don't tie things up neatly for the reader.
Crime and Punishment by Dostoyevsky was one of those books I read as a kid that put me in a trance. Movies never had the same levitating effect on me as a novel like that.
Describe your writing style in five words or less.
An endless sense of dread.
Learn more about The Winter Girl below: 
I've done dozens of interviews since Undaunted launched in early February and am occasionally asked: Why in the world would a woman want to go into combat?
The question always surprises me since the answer seems obvious, but perhaps that's because I've been around military people all my life. The military is a traditional place. Throw into the mix nonconventional women and things get interesting.  These women believe they can fight, lead and defend, despite conventional wisdom.
I answer the question by pointing out women serve for the same reasons as men, which ranges from patriotic duty, family tradition, money for college, or simply because it's a steady paycheck in a poor economy.
The performance of this generation of servicewomen is not only revolutionizing the military, but as evidenced by my talk radio discussions, is testing social views of traditional gender roles and norms.
It helps to keep society's broader context in mind. A century and a half ago married women couldn't own property in America. They achieved the right to vote only 93 years ago. The first female didn't become CEO of a Fortune 500 company until 1972, and two years before that women finally obtained the right to have credit cards in their own name.
Meanwhile, in the military, women couldn't exceed 2 percent of the armed forces and couldn't be promoted beyond the ranks of lieutenant colonel or commander until Congress changed the law in 1967.
By 1973 the Supreme Court ruled unconstitutional a law that denied servicewomen's dependents (her children and spouse) basic benefits such as housing and medical care—all the things authorized to military men's families. And by 1975 pregnant women were no longer kicked out of the service.
We've come a long way as a military and a society.
Yet, being asked on live radio why any woman would want to join the combat arms branches is a reminder that societal gender norms aren't always in line with official policy changes.
It's not unusual for the pushback to come from other women. Since the book came out, one of the main subjects in Undaunted, Major Candice O'Brien, has been accused by some for putting her career before her family.
A few days ago while visiting Fort Leavenworth, Kansas, I met a female officer who shared a similar story. A neighbor felt it was her business to tell the major: "You're failing your kids."
How did she respond?
With more tact than I could have mustered. She told the woman she saw herself as a role model for her children, a person they could look up to and admire, knowing that they, too, through hard work, could aspire to achieve and be whatever they set their minds to accomplish.
Such scrutiny is a reminder of just how courageous these women have to be off the battlefield.
The challenges, choices, and successes encountered by women throughout their military careers, from issues of discrimination to juggling family and a job, have far-reaching implications for all women in contemporary American society. Women in the military are on the cutting edge of gender debates. Their struggles and triumphs and the price they pay may point the way to the future.
Ottessa Moshfegh, author of Eileen, has won the 2016 PEN/Hemingway award for debut fiction!
Her novel is a dark and gripping story of a young woman in a dismal 1960s New England town. When a mysterious stranger enters Eileen's world, her life begins spinning into chaos.
The PEN/Hemingway Award is given for a novel or book of short stories by an American author who has not previously published a full-length book of fiction.
The award ceremony will take place April 10th, 2016 at the JFK library.
Listen to our interview with Moshfegh here.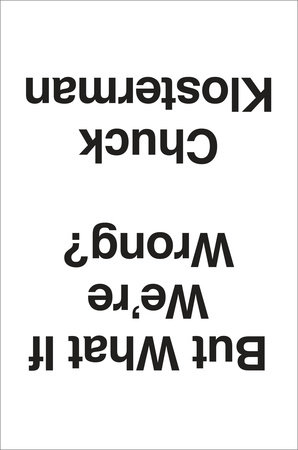 We're going deep inside the making of a book, with interviews from Penguin Random House employees in editorial, marketing, sales, and more.  If you've ever wondered about all the behind-the-scenes work that goes into making your favorite books, this is the series for you.  
Today we're featuring the editor of But What if We're Wrong?, Brant Rumble. Rumble has worked with Chuck Klosterman for years, and has agreed to give us the inside scoop on editing a book. 
Q: How would you describe this book to someone who's never read Chuck?
A: Imagine you're about to meet up at a bar (or any other kind of location where you can relax and enjoy yourself) with several of your best friends. You're going to discuss both important and completely unimportant subjects. You're going to play some songs on the jukebox, which might lead you to ponder the career of Gerry Rafferty. You're going to casually watch whatever games are on. You'll argue, you'll laugh—both with and at each other—and you might be surprised by a good friend's revelation or news. And, unless someone loses a tooth or a credit card, you'll have a good time, living in a world where not all times are good.
Reading Chuck is the literary equivalent of that night out. There's part of me that hesitates to characterize his work in that way because I fear it implies, to some people, a lack of quality, which is not what I'm trying to convey at all. In fact, if that's what you think it implies, then maybe you need some new best friends.
This book, specifically, asks—in every which way—what we, as individuals and as a society, might be wrong about. We look back in history and it's obvious to us that people have always been wrong about major facts or issues at any given time, yet it's difficult to apply that same scrutiny to the present. Chuck tries. He looks at art, science, politics, sports, dreaming, the fabric of reality, and just about everything else. He consults experts in each field, and he draws some fascinating conclusions about how we think about what we know, or don't know.
Q: What would surprise a layman about the editing and publishing process?
A: People who are unfamiliar with the publishing industry probably don't realize the extent to which editors are involved in a book at every step from signing it up to editing it (they probably can guess about that part) to publishing it to finding ways to promote it years later. Editors depend on countless colleagues in production, design, sales, publicity, marketing, rights, and legal—not to mention booksellers and media and partners outside of the publishing house—but an editor is generally involved throughout the entire process. An editor is the author's primary connection to the publishing house. Maybe a layman knows all of this. Sometimes that guy is smarter than we think.
Q: What do you look for when you acquire a book? How does that apply to But What if We're Wrong?
A: It's relatively simple: I look for books I love to read. Of course, I have particular interests in music, pop culture, sports, counterculture, and quirky/weird/wild subjects, so most of the books I look for relate to one or more of those realms, but I also love a writer who can pull me into a subject I was never expecting to want to read about. That takes a distinct voice and command of language, and usually some sense of levity, which can range from subtle to outlandish.
As for Chuck, I've been working with him since the beginning of his literary career, which was essentially the beginning of my career as an editor. In 1999, I was a novice editor, but I'd been trained to look for writers and books, applying the aforementioned principles, and I'm extremely fortunate to have been in the right place at the right time to start working with Chuck. The way in which he typifies the kind of writer I enjoy reading cannot be overstated.
Q: What's the first thing you do after acquiring a book? How do you start the editing process? How do you collaborate with Chuck? How has it changed since his first book?
A: Usually, in the process of acquiring a book, an editor has had some kind of conversation with the author. So, the first step is usually an extension of that conversation, and just getting to know each other a little bit. If the writer is in New York, I take him or her to lunch. We talk about logistics of the project and the general approach the writer is going to take with the book.
With Chuck, this is the eighth book we've worked on together, and we know each other well. We're pals who've watched approximately fifty college football games while sitting in the same room. But I still take him to lunch sometimes. We usually have three big conversations about a given book—one before he starts writing, one after he's been writing for a while, and one before he delivers the first complete draft. Then we have lots of little conversations and email exchanges until the book is ready to go to the printer. That hasn't changed a lot over the years.
Check back soon for Part 2., in which Rumble describes his favorite parts of the editorial process and the most striking chapters of But What If We're Wrong?. 
Read the first post in this series here.
Take our quiz and share your results witH US!