The Life of a Book: An interview with editor Brant Rumble, Part 2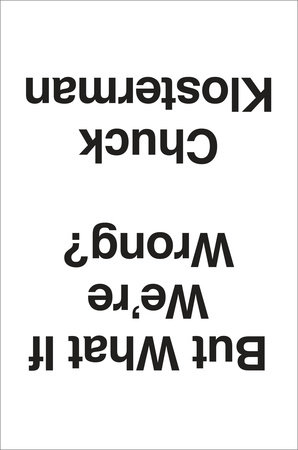 We're going deep inside the making of a book, with interviews from Penguin Random House employees in editorial, marketing, sales, and more.  If you've ever wondered about all the behind-the-scenes work that goes into making your favorite books, this is the series for you.  
Today we're featuring part two of our interview with the editor of But What if We're Wrong?, Brant Rumble. Rumble has worked with Chuck Klosterman for years, and has agreed to give us the inside scoop on editing a book. 
Q: Do you have a favorite part of the editorial and publishing process?
A: I have a few. First, there's the moment when you realize that you want to work on a book. It's not unlike the beginning of a romance, minus all of the untoward activities, of course. Then there's the editing. It's definitely work, and sometimes it's more work than anticipated, but, when you can shut out the world and really interact with what someone has written—ask them more questions, challenge them a bit, and just enjoy it like any reader would—that's entertaining. It's a heightened form of reading. And, last but not least, there are moments when you can tell that a reader (other than yourself) has genuinely loved a book. Whether it's a rave review or a crowd of people at an author's event who are obviously enjoying themselves, or someone on the subway reading one of your books with an intent (but not displeased) look on his or her face. I have a cynical side, like anyone else, but those are the things that have a way of eroding it, at least until the next moment of pain and disappointment comes along.
Q: Do you have a favorite section or quote from But What if We're Wrong?
A: More than any of the other nonfiction books that Chuck has written, this one is all of a piece. I think Chuck's reader have gotten used to reading his books like collections, reading some essays, but not others, and sometimes not in sequential order. Which is fine. But not for this book. It builds. The chapter on music is the first chapter I read because it was the first chapter draft Chuck shared with me. I enjoyed it, but I know now that I didn't fully get it, and that's because I wasn't reading it in the context of the book. (The chapter begins on page 59.) My early impression became problematic when I expressed some vague concerns about the piece, which I think alarmed Chuck, because—for anyone who knows me—music is my primary preoccupation, and, if I don't love reading something that a writer I enjoy reading has written about music, then there might actually be something amiss. But the only issue was that I wasn't reading the material within the flow of the book. Now the music chapter is definitely among my favorites, and, having said all of this, I'm sure the chapter will be excerpted somewhere, and therefore read in isolation. I'm not too worried. I look forward to seeing how readers react to it. The chapter about TV is a challenging one. Chuck makes an argument that I have a hard time understanding, or "buying" as some people like to put it. But that's why I like it. I don't just read books to agree with them. Towards the end of the book, there's a significant riff on the phrase "you're doing it wrong" that sums up quite a lot about the problem of our collective experience at this point in human history. 
Q: What do you want readers to take away from this book?
A: Humility and flexibility. There is not nearly enough of those two things in the world today, unless I'm wrong about that.
Read Part 1 of this Q&A here and the first post in this series here.