Sometimes a book is just too cute and funny to put down: Penguin Problems is out now! Check out the book for yourself here!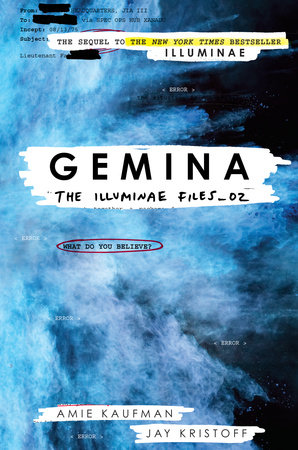 We're going deep inside the making of a book, with interviews from Penguin Random House employees in editorial, marketing, sales, and more.  If you've ever wondered about all the behind-the-scenes work that goes into making your favorite books, this is the series for you.  Take a look at the first post in this series here. 
Today, we're featuring an interview with Publicity Manager, Aisha Cloud. She joins us to talk about her career change, book tours, and being a cheerleader for Gemina. Read below for her inside scoop. 
What is your job title?
Publicity Manager
What does that mean for you on a day to day?
As a publicist, my main job is to create buzz and awareness for our books by securing media coverage across print, tv, radio and online outlets and to support our authors/illustrators throughout the process. Media coverage could be in the form of a review, interview, op-ed piece, and/or giveaway, and I work closely with reviewers/reporters and then back with the authors/illustrators to produce any necessary content or prepare for interviews. I also set up events with bookstores and other venues and these include signings, presentations and school visits. We also pitch authors and illustrators for public events like festivals and comic cons (cons depend more on the genre of the book). These are just some of the different platforms we use to get the word out there about our books. My role also encompasses social media, as that's a really important way to drive awareness today.
How is working with this book/series different from any other title?
The layout of the book is truly breathtaking, unique and seriously out-of-this-world. I enjoyed not only reading the book and experiencing the story unravel and how it is told in a different format, but also seeing people's reactions to reading it on social media. Next up for me is listening to the audio book of Illuminae. It has received a bunch of praise and I would love to experience the book in that way too.
What's the most surprising thing about this job?
Our connection to everyone and everything. When I describe what I do, it's sounds simple…manageable, but publicists are the go-to people not only for authors and illustrators, but within the company, we serve as a central hub for information that is needed by sales, marketing and editorial. Besides the author, we are a spokesperson and cheerleader for the books and we want everyone (I mean, everyone!) to know the next big book to read as it might very well change your life…or make your long plane ride more enjoyable! 
Describe Gemina in one sentence.
I called Illuminae a game-changer. But Gemina is more than a game-changer, it's revolutionary. Expect the unexpected and enjoy the ride!
Do you have a favorite part of the book? Favorite element or visual aspect?
My favorite part is yet to come…we've got surprises galore and I can't wait for fans to learn about them!
Readers can pre-order Gemina here, and  also see the rest of Marie Lu 's unbelievably beautiful and complex illustration of the Heimdall space station!
How did you get into publicity?
I use to work in advertising, I was completely miserable (used to imagine getting hit by a bus to get away from it all…horrible, I know) and it hit me (the idea, not a bus) one day that working at an advertising agency wasn't the right job for me. So I thought to myself, what do I like to do? I like to read books and talk about it afterwards with fellow book lovers. So I quit my job and took the NYU Summer Publishing Program. There I learned that reading and talking, aka promoting and publicizing a book, was basically the underlying core of a publicist. After I completed the course, I got my first job as a publicity assistant at Doubleday and knew it was the right career for me!
Do you have a favorite moment or memory of the authors?
I was lucky enough to tour with the authors during the first leg of the Illuminae tour which started in Seattle. During our down time, we were able to explore the city and visit the Space Needle, Chihuly Garden and Glass, and walk the Underground tour in their buried city. It was so cool to be a tourist with the authors. It was my first time visiting the city and meeting the authors and it's now a memory I will never forget! Also, Amie and Jay say that if they make fun of you, that for Australians means that they like you…so they love me a lot!
What are you looking forward to on this upcoming book tour?
I can't wait to see people's reaction when they meet the authors at their events and open the book for the first time. It's obviously not my book, I didn't write it, but being a part of this huge project is a reward in itself, especially being able to see the delight and excitement of fans when they finally have the book in their hands.
Follow along: #Gemina, #Illuminae, #IluminaeFiles
Follow the authors on Twitter (@AmieKaufman, @misterkristoff) and Instagram (@amiekaufmanauthor, @misterkristoff)
Visit the website here: illuminaefiles.com
Looking for inspiration? Take the quiz to find out which self-help book you should read next!
Penguin Random House authors Ron Chernow, James McBride, Elaine Pagels, Abraham Verghese and Isabel Wilkerson are among the recipients of this year's National Humanities Medals, and our author Sandra Cisneros is among the recipients of the National Medal of Arts, it was announced this week by President Barack Obama. These prestigious awards will be personally presented by the President in a special White House ceremony on Thursday, September 22.  The ceremony will be streamed live.

Our authors were recognized by the National Endowment for the Arts and the National Endowment for the Humanities as follows:
The National Endowment for the Arts and the National Endowment for the Humanities were established by Congress in 1965 as independent agencies of the federal government. To date, the NEA has awarded more than $5 billion to support artistic excellence, creativity, and innovation for the benefit of individuals and communities.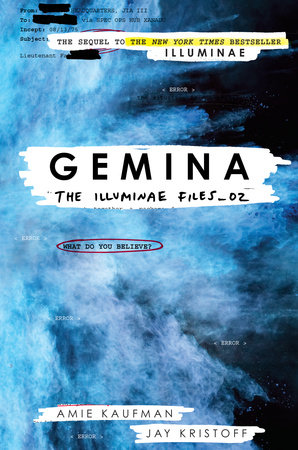 We're going deep inside the making of a book, with interviews from Penguin Random House employees in editorial, marketing, sales, and more.  If you've ever wondered about all the behind-the-scenes work that goes into making your favorite books, this is the series for you.  Take a look at the first post in this series here. 
Today, we're featuring an interview with Senior Account Manager, Kimberly Langus. She joins us to talk about sales, bookstores, and accounts. Read below for her inside scoop. 
How would you describe your job to a layperson?
The easy answer is that I sell books to Barnes & Noble, but it's a little more complicated than that!  It's about positioning Random House Children's Books in the market and making sure that each book has the best merchandising possible.  And then once a book is selling, it's all about trying to maximize those sales.  I work with Marketing, Publicity and Social Media to use every tool and opportunity available to drive consumers to buy our books. 
When you describe Gemina to the book buyers, what is your hook? What's memorable and unique about the book – why would they want to sell it to readers?
Well, Gemina wasn't too hard to pitch to the buyer because the first book, Illuminae, had done so well.  It was more of a challenge to position Illuminae when I sold it in last year.  On the one hand, it was really unique and Barnes & Noble is always looking for unique formats and different ways of storytelling. This was definitely that. There was nothing else like it in the teen marketplace in my experience. It had all these elements that they were looking for, but on the other hand, it's the sci-fi genre and that's a really tough genre in teen. 
Really? That's shocking! Why?
Yes, it is shocking. There are very few teen sci-fi books that have had wide commercial success in recent years. Fantasy, action, adventure, survival stories- all of those are popular for teens, but for some reason sci-fi has been slower to resonate. So the account was taking a flyer with Random House in supporting Illuminae in such a big way, and it definitely paid off. So, when I went in to sell Gemina it was a much easier sales pitch.
Why do you think it performed so well?
It's a combination of factors. First, there's the amazing story and unique format. It had a really striking package. It also had great positioning and merchandising in the stores. And you have this  amazing author team who were really involved in social media and also really successful on their tour. Then there's word of mouth combined with a great Marketing and Publicity campaign.  So you can't pinpoint any one thing that made the book a success. 
Speaking of amazing social media and exciting special features, readers can pre-order Gemina here, and  also see the rest of Marie Lu 's unbelievably beautiful and complex illustration of the Heimdall space station!
And when did you first hear about the book?
I know it sounds crazy, but I actually remember the editor's pitch of Illuminae. I'm going to paraphrase, but basically she said, "I'm not a fan of sci-fi but this book is so much more than that". I do like sci-fi and had just  read The Martian so I was already in the sci-fi mode.  It didn't take a lot of convincing for me to pick up Illuminae after hearing Melanie's pitch. I think one important thing to note is that when an editor is so passionate about a book and gives such a great pitch it really does affect how the sales team feels about that book and sells it to their accounts.  I remember the editor's pitch for The Book Thief and I heard that presentation over 10 years ago.   I remember the pitch for The Maze Runner. I remember these presentations because the editors were so passionate about the books that it seeps into how I feel about them too. 
What do you like about Gemina in particular?
Well I think what's amazing about Gemina is that it could have been a repeat of Illuminae because it's the same kind of storytelling conceit; It's told in texts, redacted transcripts and memos. The danger is that it might not feel as fresh as the first book.  Also it's a sequel and uses completely different characters, which is also a little dangerous  because readers get invested in the protagonists of the first book and they're expecting those same characters to be in the second book.  When they're not there, it's almost like starting the series again from the beginning.  But somehow the authors were able to pull it off and Gemina  is even better than Illuminae. I think they actually improved upon what they had done the first time. You get just as invested in these new characters. It's so fast-paced; you just can't stop turning the pages. I'm so in awe of their writing and imagination and storytelling and how they collaborate together.    
How do you work with editorial, marketing, and publicity?
I work with all those groups in the regular course of business-  talking to publicity about author events and working with marketing on sales materials and galley mailings. What I find most exciting about working with those groups is when you can create unique merchandising or marketing for the accounts. That gives me an opportunity to really be creative and to try to shape the B&N experience of the book that's different from the Amazon experience, or the Target experience, or the Indie experience.  Here's one example:  I had worked with B&N on B-Fest which was their nationwide  teen book festival this past June.  One of the items we created was a Penguin Random House 'Insider's Guide to B-Fest.  And it featured a lot of great content, including a piece from Amie Kaufman and Jay Kristoff. 
I was actually in the B&N in Yonkers on the first night of B-Fest and there was this group of teens that were looking in their guides and they turned to the Illuminae /Gemina  spread and one of the girls cries out , "Oh my God, Illuminae! You guys have to read this!" That is probably the best part of my job, it was like everything coming full circle. To set up Illuminae last year, to help position Gemina this year, to bring exclusive content to Barnes & Noble, and to get readers excited about it. It was everything that you could hope for as a Sales Manager.
That's great to hear! Do you have anything else you'd like to share?
I'd like your readers to know that what I love most about my job is being  surrounded by people who love books and who love to talk about books. I know everyone says that, but it's true. Also it's wonderful to be a part of bringing books to customers. To know that a book reached their hands because of something I contributed is really exciting and rewarding.   
Follow along: #Gemina, #Illuminae, #IluminaeFiles
Follow the authors on Twitter (@AmieKaufman, @misterkristoff) and Instagram (@amiekaufmanauthor, @misterkristoff)
Visit the website here: illuminaefiles.com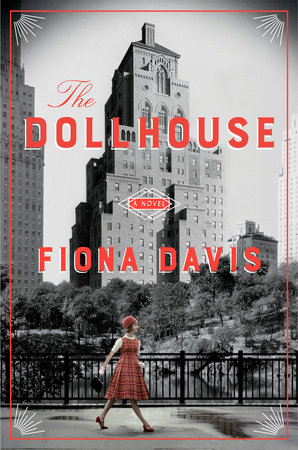 Editors get very passionate about books they work on – the Editor's Desk series is his or her place to write in-depth about what makes a certain title special. Get the real inside-scoop on how books are shaped by the people who know them best.
The concept isn't novel, yet it's still so often surprising—and always, always, important.
The Dollhouse by Fiona Davis embodies this theme in many different ways. Firstly, there's the title itself. "The Dollhouse" was the nickname for New York City's iconic Barbizon Hotel for Women– called such because of all the pretty young things that lived there. But the Barbizon housed more than pretty faces: from 1927 to 1981, the Barbizon was a safe, respectable haven for young women looking to make their mark on the city as models, actresses, editors, secretaries, or wives. Many were successful, including Joan Crawford, Grace Kelly, Sylvia Plath, and Candace Bergen– all residents of the Upper East Side's most coveted sorority.
It's a glamorous history, and what drew me to the novel in the first place. And in that regard, The Dollhouse delivered: I read it in one sitting, entranced by famous musicians in seedy jazz clubs, fashion shows in solariums, and the descriptions of delectable spice blends you can almost taste as you turn the pages. But looks can be deceiving, and The Dollhouse is so much more than glamorous. It's a mystery; it's an exploration of the changing rolls of women in the workplace, and what it means to be fulfilled as a woman; and it's an ode to the many sides of New York City. And for these reasons, the Dollhouse is a novel that has stayed with me ever since I first read it over a year ago– and I know will continue to stay with me for a long time to come.
The Dollhouse is a dual narrative, centering on three fictional women who are tied together not only by the Barbizon, but by a hidden tragedy that occurred there. There is shy Midwesterner Darby, who arrives at the famed hotel in 1952, determined to become a secretary and secure lifelong independence without a man. Instead (in scenes that highlight the power of female friendship), she befriends Esme, a Barbizon maid looking to become a star, in spite of prejudice against her as a Puerto Rican immigrant. Esme introduces her to another, darker side of the city— not to mention a boy who just might change Darby's mind about remaining single. Fifty years later, the Barbizon, now gone condo, is home to journalist Rose, until she is unceremoniously dumped by her live-in boyfriend, leaving her homeless as well as heartbroken. She crosses ethical boundaries in her desperation to distract herself with a juicy story: the truth behind her elderly neighbor Darby's rumored involvement in a deadly skirmish with a hotel maid back in 1952. The tension of the mystery simmers throughout the novel and kept me flipping the pages as Darby's and Rose's stories intertwine to reveal the shocking truth.
Rose's fascination with Darby opens her eyes to the rich history of the building, and her research into the elderly denizens of the Barbizon– like Darby, all single women who never left the former hotel, now in rent-controlled apartments on the fourth floor– inevitably causes her to look inward. Is this her future? Is she destined to be lonely and forgotten? Rose's story is one that resonates in today's world: What roles do relationship status, career, and autonomy play in living a fulfilling life as a woman? Can women "have it all" … and can they be happy if they don't? As Rose digs deeper, including talking to Stella, another Barbizon resident (and one of my personal favorite characters in the novel!), she is treated to a wealth of insights on life, happiness, female agency, and empowerment… from women she herself had dismissed for their age and single status, for how they appeared on the surface.
And then there's New York City. From the cloistered Barbizon ("God forbid we venture into the real world and buy something inap­propriate," a character named Charlotte wryly observes to Darby while they attend a fashion show within the hotel) to the uninhibited jazz clubs, from the city's charms to its dangers, from the 1950s to today, The Dollhouse truly captures the beautiful, fickle, and ever-changing heart of Manhattan. It's not an easy task, but Fiona's passion for research— she, too, is a journalist— and writing skill bring the city as alive as any one of her nuanced characters (another moment here to appreciate Stella, for it is not only the protagonists who are incredibly drawn in the novel. I could take the time here to tell you why Stella is so fabulous, but a character that wonderful is best experienced for yourself).
When I first received The Dollhouse on submission, I knew it was something special. But looks can be deceiving, and I didn't know just how special until I fell into its pages. I hope you too have a chance to read this glamorous, suspenseful, romantic, thoughtful, and affecting novel.
Learn more about the book below!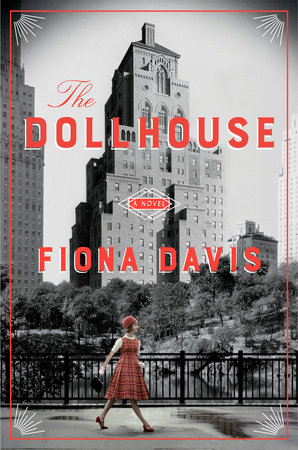 We know readers tend to be writers too, so we feature writing tips from our authors. Who better to offer advice, insight, and inspiration than the authors you admire? They'll answer several questions about their work, share their go-to techniques and more. Now, get writing!
How would you recommend creating and getting to know your characters? 
The most important task is to figure out what your characters' goals, history and personality quirks are – what they most want from life, and why. And for characters who live in an earlier time period, there's the additional task of conveying what life was like back then. Since part of my book takes place in the early 1950s, I headed to the library and read old newspapers and magazines, scrutinizing the advertisements as well as the articles. I also listened to the music of the time period, from bebop to Rosemary Clooney, to get a sense of popular trends.
Is there something you do to get into a writing mood? Somewhere you go or something you do to get thinking?
The Met Museum in New York City is a great place to be inspired. I was lucky enough to catch the designer Charles James's exhibit while working on The Dollhouse, and the fabrics and styles perfectly captured the essence of 1950s fashion. A run around the reservoir in Central Park can be helpful when I'm trying to solve a plotting problem or visualize an upcoming scene. I find I procrastinate for a good hour before getting down to the actual business of writing. This can include doing laundry, checking email, and reading the paper, until the guilt becomes inescapable. But once I start, I fall into that state of flow and become unaware of time passing. I love that feeling.
Did you always want to write? How did you start your career as an author?
I got a master's degree in journalism from Columbia University, which taught me how to research and do interviews and write on deadline, and all those skills transferred over to writing fiction. When you're used to writing every day, it's easy to power through the painful moments of the first draft, knowing you can clean it up later. The process isn't precious, it's just work.
What clichés or bad habits would you tell aspiring writers to avoid? Do you still experience them yourself?
I have a Post-it on the bulletin board above my desk with the heading "Bad Words" written on it: these include "realized, wondered, felt, saw, thought, and heard." Once I'm done with the first draft, I search for each bad word and instead use deep point of view. (For example, replacing "She heard the cat meow," with "The cat meowed.") Makes the writing simpler and more powerful. Luckily, I've gotten to the point where I usually catch myself before using them, but you can never be too sure.
What are three or four books that influenced your writing, or had a profound effect on you?
The Perfume Collector by Kathleen Tessaro is set in two decades, the 1950s and the 1920s, and her attention to detail and descriptions are breathtaking. The Lottery by Shirley Jackson, published in 1948, is eerily timeless, as is People of the Book by Geraldine Brooks. I swear Brooks traveled back in time to write that one, it's so rich in setting and character. In high school, I had a teacher who instilled an early love of Shakespeare, and the musicality of Macbeth definitely stuck with me.
Learn more about the book below:
What literary movement best describes your personality? Take our quiz to find out!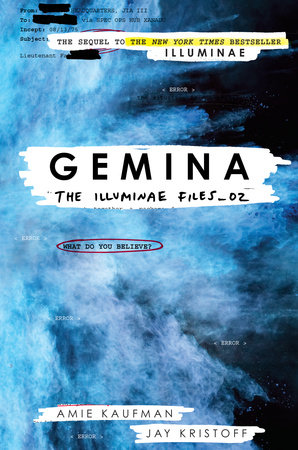 We're going deep inside the making of a book, with interviews from Penguin Random House employees in editorial, marketing, sales, and more.  If you've ever wondered about all the behind-the-scenes work that goes into making your favorite books, this is the series for you.  Take a look at the first post in this series here. 
Today, we're featuring an interview with the editor of Gemina, Melanie Cecka-Nolan. Read below for her inside scoop. 
This book is part of a very non-traditional trilogy. How would you describe Gemina to someone who has never heard of it before?
I would say Gemina is science fiction for people who don't think they like science fiction, and I say that because I don't think of myself as someone who likes science fiction. This is the series that really turned around my thinking about the genre. When The Illuminae Files was first pitched to me, the agents positioned it as Battle Star Galatica meets 10 Things I Hate About You. That did a really good job of setting up the story for me– action-based and stuck on a spaceship but with the intensity, the humor, the love and romance of a relationship story. When I read the manuscript for the first book, I felt like I'd ingested a drug. I was just bouncing off the walls. And I remember thinking, if I can have this kind of reaction to it as a non-sci-fi person, everybody would.
For those who don't know, an editor will have a relationship with an agent and the agent pitches manuscripts to the editor that they think they'll like. So why do you think that this agent sent you this book?
Knopf is known for being very literary, but also for taking chances with its books and authors. I think agents are always looking for someone who is going to respond with the right combination of vision and instantaneous love—especially with unusual projects.  So although The Illuminae Files may not have been my typical kind of book, I think the agents saw Knopf as the right publisher.
What's a book or a series that you've worked on that you think is more of your type or style?
I tend to be drawn to books that are girl-centric. I have a little boy at home who has opened my eyes to a much broader range of reading, but I'm always a thirteen, fourteen-year-old girl at heart. Mouse Scouts is one of my favorites; it's about a troop of little girl scouts who happen to be mice, that's kind of me in a nutshell. There are some editors who excel at really gritty things, edgy teen fiction, male-centric narratives—and that's not really my core strength. But the Illuminae Files was so immediately accessible and the female characters were so well-drawn and felt like friends – it broke though and worked, even for a "girl" editor.
What was your favorite part about Gemina or something that surprised or interested you about this second book?
Well it's a trilogy, and I knew the second book was going to introduce a new set of characters and situations as well as advance the larger story. I think what has surprised me is the way the authors continue to one-up themselves. There's are a couple of big plot twists in Illuminae and there are three or four twists in Gemina. As a reader I didn't see them coming, and even as an editor who went into the story with a sense of how events were going to play out, I still didn't see those things coming. That's  a huge treat– to go into a book with a certain set of expectations and having them completely blown apart because what comes in is so much more entertaining.  InIlluminae the protagonists are sort of like the hometown sweethearts: They are great kids, very engaging, very personable. InGemina the "heroes" aren't set up the same way. The female lead isn't particularly likable. She's spoiled, she's very pampered, she very me-centric. The male lead is kind of the lovable anti-hero. He's a gang member, he's covered in tattoos that allude to a violent history, he deals drugs, so on the surface he's not necessarily someone you see emerging as the hero. But you're so swept up in who they are and how they change and grow over the course of the story that it completely changes your perception.
People tend to think "editor" when they think of publishing, but many may not know the details of your job. So: when you get a manuscript what happens next? How do you start making a book?
It starts with a lot of dry administrative things; we sign the book up, we go to a contract, and then I start by working backward from when we anticipate that we want the book to come out. We work with our internal production and design groups to mastermind a schedule.
Because this is such a complex book visually, the design aspects require a lot more time than a typical book might, with its tidy lines of text on a page. For Illuminae and Gemina, literally every page is a different design. The authors were also heavily involved in the design inspiration for the book, so we had to factor them into the blueprint when we were setting up the schedules.
Once we had a schedule down, it was easier to address the more straightforward editorial things with the authors. We communicate primarily through email because they're in Australia, which is a fourteen-hour time difference. I went through the book with big-picture things in mind, like what could be improved and what did we have questions about.
Once we feel like we've really gotten a story in the best possible shape, it goes over to the copy editor who knows how to do everything I don't know how to do in terms of grammar and consistency. It's really cleaning the text for things we might not have caught in the editorial process. Copyediting a book of this size takes about four to six weeks. The manuscript then goes back to the authors so they can address any queries that the copy editor has found. They generally have about a month with it and then we send it to our design group. And from there, the book needs a minimum of ten months to come together before finally going to the printer, with numerous passes and reviews by everybody in between.
These are two original concepts we tried for the jacket: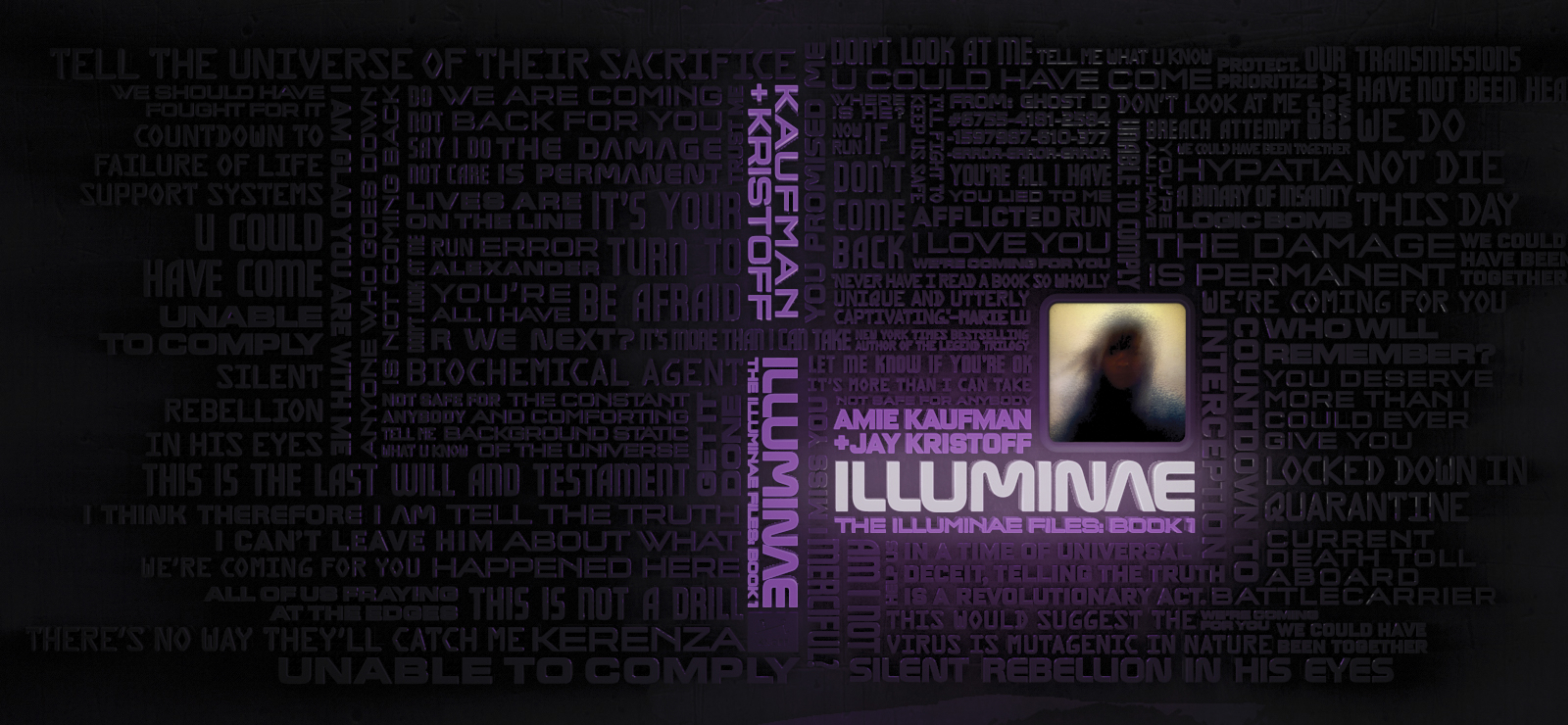 Given the non-traditional reading experience and the fact that the whole conceit of the book is based on  documentation, we wanted to find a way to present all of those documents visually. These ideas got dismissed very early on, but they ended up inspiring the case cover design, where designer Ray Shapell was able to let loose with the whole idea of redaction, leaking classified lines, and showing hand-written communications from the characters. Although abandoning the original jacket designs felt like a setback initially, the process brought us directly to final packaging.
These cover concepts look a lot more like traditional sci-fi to me.
They do. At the time the first book, Illuminae, was coming together, we hadn't really seen sci-fi break though on a young adult level, so we were trying to arrive at a cover look that wouldn't scare off readers who aren't traditional fans of the genre.  But I think these books have really broken the mold.
I think a lot of people wouldn't realize an editor not only deals with the content of the book, but that you have a say in the cover design and you're a big part of those discussions. Is there anything else that would surprise someone outside of publishing about your job?
I don't sit at my desk and edit. 99% of my editorial work takes place at my kitchen table or my couch on the weekends. Most of my editorial life in the office is spent at meetings or answering emails, and I need to disengage from the office in order to really get into a creative mind space.
Photo Credit: Christopher Tovo
Why do you think fans are responding so strongly to this series, outside of its non-traditional layout?
I think anybody who has met the authors in person feels like they've met characters from the book. Their personalities inform every single character in the story; they're funny, they're intense, their rapport together just makes you want to sit back and watch them talk to each other. Their writing process involved sending each other blind chapters, and they wrote some passages by text messaging each other rather than sitting side by side, nursing every line in a common voice. So their individual writing personas feel intact and their living, breathing process gets contained in the book.  I think that's something readers can sense when they read it – It's just a very personal reading experience, and they make it super accessible. I remember saying to someone, "it may be 600 pages long, but you could easily give it to a reluctant reader," because there are all these different visuals to break up the reading experience, and the humor and voices and the pace just sweep you along.
Is there anything else people might like to know about the book?
A slightly non-standard occurrence happened this summer when we sent the authors some pre-press pages to sign—4,000 pages, to be exact. UPS got the address wrong, and Jay was running around trying to locate the boxes. One thing you have to know about Jay is that he's a big guy and he does a really amazing job of pulling off a badass author persona, but the truth is he's a total sweetheart. So when he emailed to say that he had found the boxes and stole them off of someone's porch, I just had to laugh. That's the kind of stuff that happens working with these two: petty theft might be involved. There's always something slightly unusual that comes together.
Read more about Gemina and Illuminae below, and be sure to check back soon for more behind-the-scenes interviews!
Follow along: #Gemina, #Illuminae, #IluminaeFiles
Follow the authors on Twitter (@AmieKaufman, @misterkristoff) and Instagram (@amiekaufmanauthor, @misterkristoff)
Visit the website here: illuminaefiles.com
We know readers tend to be writers too, so we feature writing tips from our authors. Who better to offer advice, insight, and inspiration than the authors you admire? They'll answer several questions about their work, share their go-to techniques and more. Now, get writing! 
How would you recommend creating and getting to know your characters?
The absolute first thing I do is decide my main characters' names. I feel like I need to know someone's name before I can start to know him or her. My favorite place to figure out first names is the Social Security popular baby names website, where you can view name popularity by birth year (back to 1879) to see what common and (uncommon) names were in the year your character was born.
After I decide names, I'll start to make notes of other things, like birthdays/age or relationships to other characters, quirks, where a character lives, or things he/she likes or dislikes. But I start drafting pretty soon into this process. I mostly learn and get to really know my characters as I'm writing the first draft, thinking about what they do and how they react and speak when I put them in different situations. So I think the best way I get to know my characters is to write them. By the time I get to the end of the first draft, they're often different than what I started with (and I know them much better). But then I go back and revise.
After developing an idea, what is the first action you take when beginning to write?
The first line of novel is really important. It sets the tone for the entire book. I want it to show what the book is ultimately about, but also to be interesting and hook the reader. When I first start thinking about and developing an idea I always start thinking about first lines. I jot down ideas, often for weeks or months. But, I don't wait for the perfect first line before I start drafting a book. I begin with the first one that comes to me and then I keep writing from there to get my first draft going. So just the act of getting words and ideas down on the page is the most important action I take in order to actually start writing. I set a goal for myself – usually 3-5 pages a day – and I make myself sit down and write something, make some progress in the draft, even if it's ultimately terrible and will all be changed in revision.
Most of the time the first line that appears in the final draft of the book is not at all what I started with. I keep thinking on that first line, even as I keep writing the first draft. Usually I don't understand enough about the story myself until I finish or get most of the way through a first draft. So I start writing at the beginning, but 9 times out of 10 that beginning changes by the time I make it to the end!
Is there something you do to get into a writing mood? Somewhere you go or something you do to get thinking?
I always write at home, and I need quiet to write. I negotiate my writing schedule around my kids' schedules so I usually write while my kids are at school during weekdays, or very early in the mornings on the weekends or during the summer when my kids are home – really, whenever I can find uninterrupted quiet each day. I have an office in my house where I can shut the door, and I do write there, but when no one else is home I also write at my kitchen table.
I like to drink coffee while I write, and that always helps to get me thinking. Or when I get stuck, I'll exercise. Taking a long walk, run, or hike, often helps me work through a plot a point I was stuck on or figure out a problem in my story.
What's the best piece of advice you have received?
The best advice, and I got this from a writing professor in grad school, is simply, "butt in chair." As in, just sit down and force yourself to write something, no matter what it is or how terrible you think it is. The hardest part is making yourself sit down to do it. So I don't let myself make excuses – I put my butt in the chair every morning and write something.
What are three or four books that influenced your writing, or had a profound effect on you?
I read Bird By Bird by Anne Lamott in the first fiction writing class I took, and I still have a copy on the shelf in my office. I love what she writes about first drafts and I feel like it's still important to give myself permission to write something terrible the first time around as long as I write something. I'm a big believer in the importance of revision! Black and Blue by Anna Quindlen is one of my favorite novels, and the first I read by her. I come back to it, and her novels, again and again, because I feel like I learn so much about sympathetic character development from her. The Handmaid's Tale by Margaret Atwood, which I first read in college, always makes me think about writing characters in a world different from our own today (which is applicable for writing historical fiction as well) and the fact that characters still need to first be inherently human and relatable, no matter how different their world is from the one we know.
Learn more about the book below!