Penguin Random House mourns the loss of author, William H. Gass, who died on Wednesday at his home in Missouri. He was 93. Gass won numerous awards for his writings, including several Pushcart Prize awards, the 1997 Lannan Lifetime Achievement Award, and the PEN/Nabokov Lifetime Achievement Award. Knopf will publish The William H. Gass Reader in June, which includes his essays, stories, and more.
Gass was a leading experimental writer, known for abandoning traditional narrative, and whose style influenced other writers such as Jonathan Safran Foer and David Foster Wallace. His first novel, Omensetter's Luck, published in 1966, is now a classic in American Literature.
Browse more of Gass' works here.
Looking for a book to give to a loved one this season? We have a few suggestions for your friend with the travel bug, your aunt who loves knitting, and anyone else on your list.
Below is the complete list of all our holiday book guides for 2017:
Masha Gessen was honored Wednesday night with the National Book Award for Nonfiction for her book, The Future is History. 
This is the fifth consecutive year in which Penguin Random House authors have won at least one National Book Award as recognized by the respective panels of judges in each of the four categories.
Read more about our other finalists for the 2017 National Book Awards.
There are some cookbooks you reach for again and again. These vegetarian and vegan essentials are oldies but goodies – get inspired for a delicious plant-based life!
There's no denying that books and wine make a great pair (looking at you #bookstagram 👀). And what better way to enjoy both than with friends? We've teamed up with Winc to remind you just how easy it is to kick off that book club you've been meaning to start:
Step 1: Have a book club brainstorm. Think about what kind of books you'd like to read and how often you'd like your book club to meet.
Step 2: Once you've hammered out the details, invite some friends! Give your friends an overview of what they can expect –monthly meetups, discussion questions, and plenty of snacks and wine, of course!
Step 3: Select a book! Whatever book you select, make sure it's long enough to encourage a good discussion, but short enough for people to finish on time.
Step 4: Get busy reading! Reading a chapter or two] a night before bed is not only be a great way to wind down, but will also help you chip away at the book in time.
Step 5: Gather! As the founder of a book club, you may enjoy hosting the first meeting. But, though you might have started the club, you don't have to host every meetup. Change locations and take turns hosting amongst members.
Step 6: Let the discussion flow. There are no rules once everyone gathers, but it can be helpful to have a discussion guide to spark conversation. Come up with your own focus questions as a group or use a reading group guide. And don't forget the wine to fuel conversation!
Check out Winc.com for a complete guide on how to start a book club and, of course, for plenty of wine delivery recommendations! 🍷
George Saunders, famed short story writer, has won the Man Booker Prize for his first full-length novel, Lincoln in the Bardo.
From The Man Booker Prize website:
The 58-year-old New York resident, born in Texas, is the second American author to win the prize in its 49-year history. He was in contention for the prize with two British, one British-Pakistani and two American writers.
Lola, Baroness Young, 2017 Chair of judges, comments:
'The form and style of this utterly original novel, reveals a witty, intelligent, and deeply moving narrative. This tale of the haunting and haunted souls in the afterlife of Abraham Lincoln's young son paradoxically creates a vivid and lively evocation of the characters that populate this other world. Lincoln in the Bardo is both rooted in, and plays with history, and explores the meaning and experience of empathy.'
Lincoln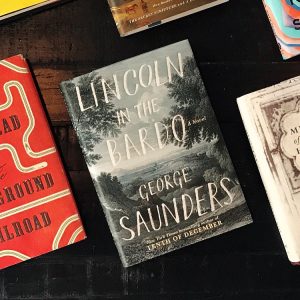 in the Bardo focuses on a single night in the life of Abraham Lincoln: an actual moment in 1862 when the body of his 11-year-old son was laid to rest in a Washington cemetery. Strangely and brilliantly, Saunders activates this graveyard with the spirits of its dead. The Independent described the novel as 'completely beguiling', praising Saunders for concocting a 'narrative like no other: a magical, mystery tour of the bardo – the "intermediate" or transitional state between one's death and one's next birth, according to Tibetan Buddhism.' Meanwhile, the Guardian wrote that, 'the short story master's first novel is a tale of great formal daring…[it] stands head and shoulders above most contemporary fiction, showing a writer who is expanding his universe outwards, and who clearly has many more pleasures to offer his readers.'
-Read the rest here.
Browse below for Saunders' rightfully beloved works:
The 2017 Nobel Prize for Literature has been bestowed upon our author Kazuo Ishiguro. His beloved fiction, which includes The Remains of the Day, Never Let Me Go, and The Buried Giant, has been published in the U.S. by Knopf, Vintage, and Random House Audio since 1989. Ishiguro is among more than 60 of our authors to receive the Nobel Prize.
See below for a few of his novels.
So many wonderful books were published this year, and we're honored to celebrate the finalists for 2017's National Book Awards. Browse below to see these must-read books!
The Man Booker, one of the most influential annual English-language international literary fiction honors, has revealed the 2017 shortlist with six titles. See all the Penguin Random House titles that made the longlist here.
Learn more about our three books in the shortlist: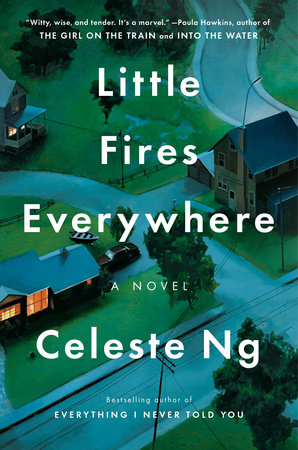 Ever wonder how a book makes it from the author's mind to a reader's shelf? We've we delved deep into two very different books before: But What If We're Wrong? by Chuck Klosterman and Gemina by Amie Kaufman and Jay Kristoff.
This time, we're so excited to host an interview series all about Little Fires Everywhere, the second book by Celeste Ng. Her first book, Everything I Never Told You, was a smash hit and ever since fans have been waiting with bated breath.
This final post in the series features a podcast interview with Celeste Ng all about her book, and the designer responsible for the beautiful cover, Jaya Miceli.  
Listen to Celeste talk about family, secrets, empathy, and activism: 

A Q&A with the designer behind Little Fires Everywhere's beautiful cover art: 
Did you interact with Ng when planning your design?
I worked closely with the art director, Darren Haggar. We bounced around ideas and tried to figure out a mood/setting that would best capture the closeness and secrets in this particular town. I came across Amy Bennett's artwork and we both felt we'd hit upon something.
What were some ideas for this book that you didn't end up using?
Some of the ideas were very abstract and some were too specific to the book. I painted some tudor homes. 
What is your favorite part of your job? What's the hardest?
I love reading the manuscripts. The hardest part is creating a cover that fits the tone of the book and that is also visually striking.
How has your approach to designing covers changed over time? What did you most want this cover to convey?  
I was especially pulled into Ng's book. I really loved the compellingly intricate and complex storyline and characters. The hard part is the process. I do a lot of art/photo research and sometimes create my own illustrations or hand-lettering, which can all take time. For this particular cover, finding Amy Bennett's artwork was a perfect fit for Ng's book. The evening hues, the aerial view of winding roads and the light in the homes, the idyllic sweet suburban street. You know that all can't be right here. 
Thank you so much for following along with The Life of A Book! Be sure to grab a copy of Little Fires Everywhere, especially now you know all the behind-the-scenes work that has shaped it.