Who better to give book recommendations than the bookish experts? Penguin Random House employees are sharing their favorite reads every month. Browse below!
Raleigh is a Sales Coordinator for the Online and Digital Sales team. He likes when a book can surprise him, frighten him, or change how he thinks.
Check out the books he's excited for that will be published in early 2019:
To kick off the season of giving while also celebrating National Family Literacy Month in November, zulily, the online retailer obsessed with bringing special finds to its customers every day, is teaming up with Penguin Random House to help provide books to children in need across the U.S. 
Zulily is leading its third annual holiday giving campaign, launched November 1 and planned through December 12, 2018. Special sales events during the campaign will feature a curated selection of children's books and each Penguin Random House book purchased labeled with the "BUY 1, GIVE 1" badge will trigger a new children's book donation, up to 100,000 books, from Penguin Random House to First Book, a nonprofit social enterprise that provides new books and other essentials to children in need nationwide.
Visit here for full campaign details.
Who better to give book recommendations than the bookish experts? Penguin Random House employees are sharing their favorite reads every month. Browse below!
Leigh Marchant is SVP, Director of Marketing and Business Development at Random House.
Amazon.com announced its selections for the Best Books of 2018, naming Tara Westover's Educated (Random House) the #1 pick for best book of 2018 and Kekla Magoon's The Season of Styx Malone (Wendy Lamb Books) the editor's pick for best book in the children's category. 
Amazon's annual list features the Top 100 books of the year plus Top 20 lists across various categories ranging from biography, literary fiction, and mystery to children's and young adult. All lists are hand-selected by Amazon's team of editors—first by choosing the best books of every month and then, finally, the best books of the year. To see the full lists of Amazon's Best Books of 2018, click here.
The Amazon Editorial Team's Top 10 Picks of 2018 list also includes  Esi Edugyan's Washington Black (Knopf), Francisco Cantú's The Line Becomes a River (Riverhead), and Tommy Orange's There There (Knopf).
See the winners below:
Every writer is asked, "Where do you get your ideas?" Writers create people and worlds in a way that hints of magic, making things seemingly real that didn't exist before. This mystery intrigues readers, who enjoy the final result but wonder how it came about.
I suspect every writer has his or her own pathway to creation. One of the best explanations I ever read, and the one that comes closest to what happens to me, was described by C.S. Forster (author of the Horatio Hornblower novels) in his autobiography Long Before Forty. He said various random ideas would come to him, some stronger than others. He would let them rest — he compared it to sinking a log into water and then pulling it up later to see if moss was growing on it. If there was, it was a viable idea.
A writer has many ideas but only a few take root and grow. For every one of my eight novels, I must have had ten other tentative novels that didn't 'grow.'
Readers, editors, and friends often make suggestions; those are treated to the 'log submersion' test; sometimes these bear fruit and sometimes not. My Nero novel came about from a casual question at dinner: "Have you ever thought about the emperor Nero?" My Henry VIII novel came from a trip I made to Hampton Court, where I was struck with the realization that everyone knew about Anne Boleyn but few knew about his fifth wife, Catherine Howard. My Helen of Troy novel came about because I wanted to see what it would be like to be the most beautiful woman in the world. Ideas and inspirations can come from all quarters; they come best when I am not actively searching for them.
Ray Bradbury said all writers should write a thousand words a day. That seems a little extreme to me — that's about five pages. But I do think the better advice is 'keep the pilot light lit.' You should write something on your project every day just to sustain it in your mind, to keep it alive. Email and Facebook don't count. If you really want to be superstitious about it, make sure to write at least a paragraph on your work on New Year's Day because the folklore is that whatever you do on New Year's Day you will continue to do all year long. Conversely, whatever you don't do, you won't do all year long.
It helps to keep a log of when you wrote and how much you wrote; otherwise you forget and in planning a new project, you tend to overestimate the amount you actually can do at a reasonable pace. I can normally do about twenty-five pages a week. That's one hundred pages a month. Others, of course, can write more or less.
Drafts — ah, drafts! That's such an individual choice. Some people write best what they write first, and subsequent drafts get paler and paler and dwindle away in power. Other people write sprawling first drafts that have to be corralled and pounded into shape. The only rule is, please know which category you are in!
Ideally some time should elapse before you start editing your work. Let it sit — this is sometimes called 'the icebox method.' Then you can read it in a more detached manner.
Some people — like me — have a hard time editing their own work. I see it from the beginning as if it is a fixed thing rather than still in progress. (Along the same line, I have trouble visualizing the furniture in a room in any other arrangement.) If you have this problem, enlist the help of a friend whose reading tastes are like yours.
The first feedback I get tends to make me nervous, but apparently even Stephen King suffers from this, as he awaits his wife's first read-through. It is the first time anyone has seen our 'darling' besides us, and of course to us she is beautiful, but what if she isn't to anyone else?
This is as good a time as any for me to say I have heard the advice 'read through your manuscript and every time you see a phrase that is fine and lovely, strike it through.' That seems silly to me — why shouldn't it be fine and lovely? You are not writing a newspaper, but a work of art. Would you follow the advice to open your closet and take your most flattering clothes out, leaving only the dull ones?
Finally, the most useful advice I can give is to develop the ability to sit still and see a project through, and to ruthlessly avoid the distractions that can derail the project. It is hard — it feels like entering a monastery sometimes, but in the end you will thank yourself.
Check out Margaret's books here: 
This interview was done at New York Comic Con 2018.
We caught up with Sylvain Neuvel to discuss the Themis Trilogy, alien languages, and a bit of cosplay.
Keith Rice:  All right, so Only Human came out in May and it closes out the Themis Files trilogy.  How does it feel to be done?
Sylvain Neuvel:  Weird.  It's very weird.  Finishing that book was an emotional moment.  There was  a lot of crying involved in the last chapters, just knowing that I might never see these characters again. And it's kind of stupid, because they were there, they will always be there.  They're in the books, they exist.  But it was strange, and also Sleeping Giants was my first novel, so I've spent my entire writing career in that universe.  Getting out of it is a scary thing, though it's also exciting.
KR:  Did you envision the story as trilogy when you started or did that come about – –
SN:  Well, originally, I thought it might be more of an open series, but It's a rarer thing in publishing nowadays to have just a like a real open-ended series like, say, James Bond.
KR:  Sure.
SN:  And so, well, quickly I figured out it would be a trilogy and I kind of knew how I wanted it to end, so I went for it.
KR:  Given that do you plan to go back into the world of Themis Files at any point? Is that something you've thought about?
SN:  I would love to someday.  There are other things I want to do.  I'm working on something now and so it's nice to take a break and just let the story do its thing.  I'm not there [on revisiting Themis Files].  But if people want it, if there's a demand for it, I'd love to come back to it someday.
KR:  How would you describe the Themis Files to readers that haven't had a chance to pick it up yet?
SN:  It's a strange one to describe.  It's science fiction but it's also very grounded, it happens here, and the format is, I think, as important to the experience as the story itself.  It's told in the form of interviews, between a mysterious interviewer and the main characters of the book.  So, it's pretty much three books of nothing but dialogue. It's a very different reading experience than what most people would be used to.  In terms of story it's like everything I do, it is grounded in science fiction. Book one is a search for giant metal body parts buried underground by an unknown civilization thousands of years ago.  And it has a lot to do with first contact, but it's also an exploration of what it means to be human.  Human nature in general, or what makes you you and not me, and identity, and other themes that are very human.  So, even though there is alien life involved, it's very much about us and not them.
KR:  Your take on aliens was one of the more fascinating aspects for me.  They aren't that different from us.
SN:  No.
KR:  What led you to that?
SN:  Well, there's advantages in making aliens closer to us, there's a reason why, you know, every alien on a TV show, you know has at least two arms and legs, because we can hire an actor to do it.  This particular case I wanted them to be among us.  So, they had to be hiding in plain sight, it's kind of difficult if you're a giant amoeba or big blob of goo.
KR:  And I know you're a linguist as well.  Do you have any plans to dive into a language for any of your books?
SN:  Well, Only Human does have some alien language bits in there.
KR:  True, but I meant on a larger, or I guess more Tolkien-esque scale?
SN:  Actually, I did write grammar and a lexicon.
KR:  Oh?
SN:  Well, I know that I'm a freak and I couldn't just improvise those like ten lines [laughs].  So, I pretty much wrote the whole language just so I could put those two lines in the book.  Someday I'd like to share that lexicon and grammar with the world. For example, they could read the dedication at the end of the trilogy, which is in the language.
KR:  I know you're a big cosplay fan and we are at NYCC.
SN:  Yeah.
KR:  What's your favorite or your best costume?  One that you've put together?
SN:  That I made? I will say my Grandizer robot costume.  It was super fun.
KR:  I imagine the proportions were a bit tricky on that one.
SN:  Yeah, I mean, I made a Vader costume that I spent about a year on, but with Vader you have a costuming group, you can go with references online, you can know which actual parts of what were used to make it.  It gets tons of references, so you know things basically down to the millimeter. With Grandizer you're looking at an anime made in the 70's.  If you look at the show, in one scene, you'll have say, seven spikes on his fist, and in another scene you'll have nine and in another there'll be three.  Because the guys drawing it, they're just going super-fast. Plus there were a lot of technical challenges.  He has a tiny head, so, I managed to get the proportions better.  I realized that with a head so little my costume shoulders are about at my chin level, and I see through the mouth of the robot so the head can be higher, and it makes it more proportional, plus I have to build it from scratch.  There's no references, no nothing. So, it was a lot molding, and sculpting, and fiberglass.  It was a lot of fun to make.
KR:  Sounds like it.
SN:  Yeah.
KR: I'm going to put you on the spot just a little bit.  If you had to recommend three novels , three books, for fans of the Themis Files what would they be?
SN:  Well if you're in it for the giant robots, Mecha Samurai Empire by Peter Teiryas just came out and it's actually pretty fantastic.  It's book two of a series, but it's more of a standalone novel. If you're in it for the science, because there's a lot of it in the Themis Files, I really like the The Flicker Men by Ted Kosmatka. It's based on a simple sci-fi premise, but I really wish I'd come up with it.  I was jealous of the idea.  It's a great, great book.  Similarly, Quantum Night by Robert Sawyer is another book with tons of science. Sawyer sort of researches everything.  He has a bibliography at the end if you want further reading on brainwaves and all sorts of interesting things.   The Gone World, by Tom Sweterlitsch, it's a great book. It's really a great book.  I was kind of wary at first because it involves time travel and it's not usually my favorite, but it's so well done, I think everyone should read it.
Check out Sylvain Neuvel's Only Human!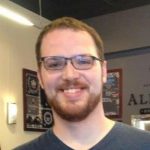 Keith Rice is a West Virginia native and a freelance writer residing in Philadelphia with his lovely, if oft exasperated wife and three cats. Keith fosters an enthusiastic appreciation for beer and scotch, collects comics, and most importantly is an avid reader and movie lover. Oh, he's a pretty big fan of sci-fi and fantasy as well. Drop him a line @Keith_Rice1.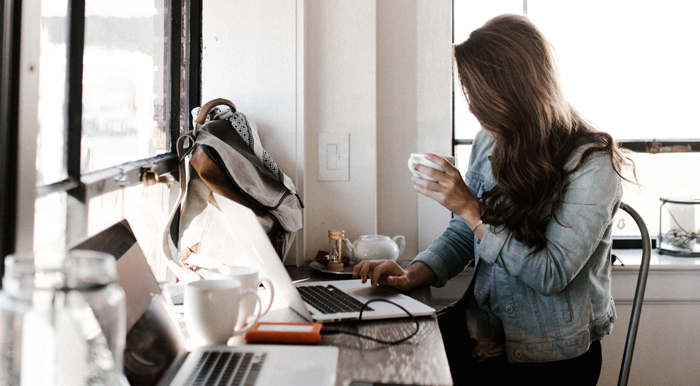 This article was written by Lorraine Berry and originally appeared on Signature Reads.
As writers, we can be our own worst enemies. We may have dozens of reasons why we are not writing.  Sometimes, these barriers may feel insurmountable, but James Clear argues in Atomic Habits that those barriers can be breached through a series of one percent changes to our habits. "The most practical way to change who you are is to change what you do," he says, and he offers a series of small steps to developing a writing habit.
Clear provides methods that help pinpoint those habits that are ineffective, and a large variety of tactics to create effective habits that will change what we do. His book contains clear instructions on how to develop writing as a habit, one that will feel as automatic as brushing your teeth or that first cup of coffee in the morning.
Here are five effective habits.
Habit #1: In order to encourage inspiration to strike, set up a time to meet with it.
James Clear cites a British study that showed that those who write down specific times when they will practice their new habit have the highest success rate. For writers, creating such an "implementation intention" would involve writing down a sentence that looks like this: "I will write for (period of time) at (time of day) at (location)." So, for example, "I will write for 30 minutes at 3 p.m. at the kitchen table." By sitting down each day at 3, you accustom your brain to this new habit. Once your brain can count on you to keep your new habit, you may find that new ideas and inspiration are waiting for you.
Habit #2: If writing is important to you, create an environment that encourages you to write.
Our environment can create barriers to practicing our new habits. If your habit is to sit on the sofa to watch TV, and you had intended to write while sitting on the sofa, then the TV may prove to be too big a temptation. Instead, choose a place to write that isn't associated with another habit. If you live in a tiny space with few options, then designate a specific place to write. It doesn't have to be a different room. In a studio apartment, you may decide to use a different chair or to set up a small writing corner. You will attach writing to that particular place, so if you're in that space, your brain will expect you to write. Environmental clues can be used to help reinforce your new habit.
Habit #3: Create temptations that reward you for your new habit of writing.
Habits are developed because our brain has a dopamine-driven feedback loop. It is the anticipation of the reward that causes the release of dopamine that makes us feel good. In fact, anticipation releases more dopamine than actually doing the thing we craved or wanted. You can use a habit you already have (getting up early, taking the dogs for a walk, drinking coffee in the morning) to attach the habit you are trying to develop to a reward that your brain anticipates. In this way, the habit you are developing is sandwiched between a daily habit you do anyway, and is followed by something you want. Clear provides readers with methods for identifying both the already established habits and also the things that individuals consider to be rewards. His system might look something like this:
After (current habit), I will (habit I need to develop).
After (habit I need to develop), I will (habit I want).
So, if you walk your dog every day after breakfast, and you need to write, but you also want to spend time on social media, you could do this:
After I walk the dog, I will write for 30 minutes.
After I write for 30 minutes, I will go on social media.
If going on social media has kept you from writing, this creates a system where social media is the reward you use to encourage yourself to write.
Habit #4: Make it easy to practice the habit of writing.
Wasting time is easy: we carry distractions in our pocket or give it pride of place in our living rooms. If we want to develop the practice of writing, we have to remove barriers to our practice. One way is to prime your environment with cues to your habit. So, if your intention is to write in the morning at the kitchen table, before you go to bed at night, lay out your writing implements —laptop or pen and paper. I take it further by making writing easier all the time: I carry a small notebook in my purse, have one in my car's glove box, and leave several throughout my house. This way, it's as easy to write as it is to pick up the phone.
Habit #5: Start with the Two-Minute Rule for new habits and continue from there.
Maybe you're afraid that you'll fail in some way because your committed writing time is too long. Clear suggests creating a ritual and following the Two Minute Rule as a way to prime yourself for your new habit. If your goal is to write at night, you can help to cement the habit into your head by attaching it to a ritual of your choosing, whether that's a cup of herbal tea or changing into comfy clothes.  Each evening, as you engage in the ritual, your brain will anticipate that you are about to sit down and write. Your ritual primes your habit. Next, write for two minutes. If you feel done, stop. Clear argues that two minutes is usually enough to get past any initial resistance.
Clear has filled Atomic Habits with hints like these that enable us to change the habits we dislike and replace them with habits that show who we are. In order to be a writer, you must develop the habit of writing, even if it's one word at a time. As Margaret Atwood reminds us, "A word after a word after a word is power."
Writing at the table © Andrew Neel/Unsplash.
This article was written by Jayne Ann Krentz and originally appeared on Signature Reads.
Give the same plot to ten different writers and you will get ten very different stories. No two will sound alike. Why? Because every author brings a unique voice to the craft of writing. Voice is everything when it comes to telling a story.
It isn't clever plot twists or deep character insights or detailed descriptions that draw a reader back again and again to a particular writer — it's the writer's voice. Just to make things even more complicated, the truth is that no two people respond to a writer's voice in exactly the same way. Some readers will never be compelled by your voice. With luck, others will fall in love with it.
Voice is hard to define because it's a mix of so many things — your core values, your world view, your personality, your sense of optimism or cynicism or despair or anger or bitterness or hope — all those things are bound up in your storytelling voice.
And then there's the craft aspect.
You can write successfully for your entire career without giving a moment's thought to your voice. But just as knowing and understanding your core story can be extremely useful at various points in your career, so, too, is having a clear sense of your voice. If you comprehend its strengths and weaknesses, you will be able to figure out how to sharpen it and make it more powerful.
How do you identify your writing voice? Here's a simple exercise: Write a scene from start to finish. It should be a scene that is infused with the emotions, themes, or conflicts that compel you as a writer.
It is helpful to think of scenes as short stories. They have a beginning that engages the reader, a middle in which emotional and often physical action takes place, and an endpoint that either resolves the narrative or provides a cliffhanger that leads into the next scene.
Give your scene to a couple of people to read. These should be people you trust. Make it clear that you do not want a writing critique. You are not interested in their opinion of your characters or your plot. You want one response, and one only, to the following question: "What is your emotional takeaway from that scene?"
Did you make your reader's pulse kick up? Did you arouse curiosity? Anger? Sympathy? Did you scare your reader? Did you make that reader want to know what happens next? Your goal is to identify the single strongest emotion that the reader experienced while reading your scene. That response will help you analyze the strengths and weaknesses of your voice. The worst possible reaction from a reader is no emotional reaction at all. There is nothing that will kill a writing career faster than storytelling that bores the reader.
Put the most engaging elements of your voice on display in the very first sentence of your book. Readers will not give you a few pages or a couple of chapters to get the story going. You must draw the reader into your world from the very first sentence, and you do that with your voice.
Listen to your writing voice. It will tell you what kinds of stories you will write with the most power. Once you have figured out your voice, do everything you can to strengthen it and make it more compelling.
Voice is your superpower. Discover it.
Photo by Elijah O'Donnell on Unsplash
This article was written by Keith Rice and originally appeared on Unbound Worlds.
We caught up with Katherine Arden at New York Comic Con for a quick chat about how it feels to finish up the Winternight Trilogy, Russian fairy tales, and cupcakes.
Unbound Worlds: The Winter of the Witch arrives January 8th — what can you tell us about it?
Katherine Arden: Well, it's the third book in the Winternight Trilogy; it ends the story of Vasilisa Petrovna and her colleagues and relations. It takes place in medieval Russia and, as far as specific plot points, not everyone lives. But it does what I hoped this series would do and it brings Vasilisa from childhood to adulthood. Fully, I think. And that was the most important thing I wanted out of the series, to show the coming of age of this young woman in medieval Russia, and it did. And it was a huge amount of work, and I spent two weeks in a basement to finish it eating only cupcakes. And there were many somewhat angsty calls to my editor in the realm of, like, "It's not working, it's not working." Then it did work and I finished it, and I am so excited to present it to you guys in January.
UW: How does it feel to finish up the trilogy?
KA: I have mixed feelings. It was huge focus of my life for five years, so letting it go is bittersweet, but I'm also excited to do a non-medieval Russia book. Very excited. And just to have it be over, and to have everyone be able to know what I was planning on doing from start to finish.
UW: Did you intend it as a trilogy when you started?
KA: I did, although the trilogy that I wrote bears no resemblance to the trilogy that I thought I was going to write however many years ago. Seven now, I think. No resemblance whatsoever. It has the same start point that I intended and the same endpoint. But, the points in between are stranger than I could've imagined. I always meant to have it as a trilogy from day one. And I did, so that was good. One point for planner. The only point for planning really.
UW: So what peaked your interest in Russia and Russian folklore? You have your degree in Russian, correct?
KA: Yeah, in Russian from Middlebury College. I spent a year in Moscow when I was 19, and I went back to Moscow my junior year of college. I'd always loved books based on folklore. I was a huge Robin McKinley fan growing up, and I always loved Russian fairy tales. When I was a kid I had a book of them, illustrated. And then when I was in Russia, one way I learned to speak Russian and to read it was to read fairy tales to myself. And so, I have this kind of background of fairy tales when I started casting about for a book idea. And I was like, oh, I love fairy tale books, I love Russian fairy tales. So a book based on Russian fairy tales just made sense. And then the rest kind of just grew in the telling.
UW: Setting the Winternight trilogy in medieval Russia was an interesting choice. What led you to that?
KA: Well, at first it was going to be a more fantasy-type setting influenced by Russia. But then it didn't feel focused and real enough. So, the historical setting, I thought, would ground the fantasy elements, and make them more resonant than just having a sort of abstract fantasy world. I also felt that the medieval Russian setting is not very common in literature, and it would be interesting to show Russia before all the things that we think of as Russian existed. There was no troika or samovars, no tsars, empire, Communism — all those things hadn't happened yet. I wanted to show the Russia that I'd experienced, free of stereotypes that we have in the West. Part of it was that, was bringing it into a place that was realistic but not weighted with preconceptions.
UW: Can you recommend any books on Russian Folklore and mythology for anyone who's interested in looking into what underpins your trilogy?
KA: Absolutely. If you want the master tome, it'd be a book of fairy tales by Alexander Afanasyev. In translation, obviously — they're written in Russian, but get them translated. It's a tome of dozens of Russian fairy tales. I would also try Pushkin's Fairy Tales by A.S. Pushkin. They were written by him, they're not folklore in the old tradition. But they draw upon oral traditions and they're very beautiful. I would say Pushkin and Afanasyev are two great go-to's for Russian Folklore 101. I would also put in the illustrations of Ivan Bilibin, which are incredible sketchings of Russian folklore, like three different fairy tales.
UW: Any new projects under way you can tell us about?
KA: I'm actually working on something and I'm really excited about. But, I can't say anything specific right now. There will be news soon, though.
---
Editor's note: Want to start at the beginning of The Winternight Trilogy? Grab a copy of The Bear and the Nightingale! If you're looking for something for a younger audience, be sure to check out Katherine's new release, Small Spaces — a creepy ghost story for middle grade readers.
Cover detail from The Winter of the Witch, courtesy of Penguin Random House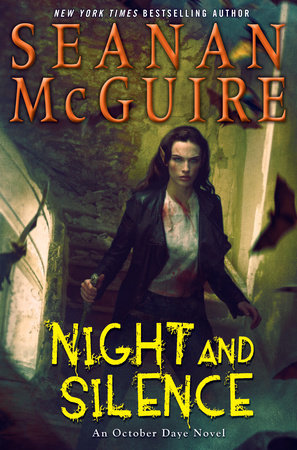 This interview was done at New York Comic Con 2018.
We sat down for a quick chat with Seanan McGuire about her October Daye Series, Thylacine's, and the Halloween when she formed the basis for an actual local legend.
Keith Rice:  The October Daye series is sitting at, like, 12 volumes now. Right?
Seanan McGuire:  Right.  13 will come out next year.
KR:  Great.  Okay. So, how would you describe it for readers who haven't had the chance to pick it up yet?
SM:  October Daye is what happens when you give a trained folklorist an urban fantasy series and no hard limits.
KR:  What was your inspiration for Toby Daye, for the character?
SM:  So, the very first book in the October Daye series, Rosemary and Rue, starts out with Toby being turned into a fish and left in a pond at the Japanese Tea Gardens in San Francisco for 14 years.  And that inspiration for that was that I got stuck on top of one of the moon bridges in the Japanese Tea Gardens. They are basically direct, straight up and down circles and I climbed one like a fool and then could not get down and was just watching this one very large Calico koi swim back and forth and thinking, gosh, that fish must have a very peaceful life.  It's not afraid it's going to die on top of this bridge.  It can do whatever it wants.  Wouldn't it suck if that fish used to be a person?  And the whole series kind of unspooled from that point of how miserable can I make this fish that is way too happy when I am frightened.
KR:  So, October Daye, the InCryptid series, they all fall pretty broadly under urban fantasy.
SM:  Really broadly, yeah.
KR:  What draws you to that niche of writing fantasy?
SM:  As I mentioned, I am a trained folklorist.  I went to the University of California Berkeley–Go Bears–for a folklore degree.  And fairytales, if you look at them in the context of the time when they were first being told, are the urban fantasy of their day.  When Little Red Riding Hood was a new story that people hadn't heard before, you probably did have a grandparent or other relative who lived on the other side of a big forest.  You probably had heard of people walking into those woods alone and getting savaged by wolves or bears or something else that lived there.  It was an immediacy in the same way that Charlene Harris's vampire books have an immediacy because there were these vampires.  They might be living next door.  There are these wolves.  They might be living in the forest between you and your grandma. So, I just really like fairytales and wanted to write today's fairytales.
KR:  So, your first novel was published in 2009 and you've been going at a dizzy pace ever since.  How do you juggle your long running series, your music, sleep?
SM:  I don't sleep much.  When "Hamilton" was big, literally every single person I have ever met in more than an immediate and casual sense, sent me a copy of "Nonstop" because they thought that was very funny.  And that I hadn't heard it 90 times by that point.  It helps that when I was making choices about my life, I said I am a better aunty than I would be a mom.  I don't want children of my own.  So, I have cats but no kids.  I also am not married at this time.  I think it's absolutely possible to maintain my level of output with children, but you have to have a spouse that'll be up for at least 50% of the child-rearing duties.  So, there are juggling acts I don't have to perform.  And that's not better or worse than anyone else's choices.  That's just–you don't want to leave me alone with the baby.  I would do something silly like assume it was a cat and just leave it on the floor with a bowl of Captain Crunch while I went off to write a novel.  I don't sleep enough.  I get yelled at a lot for not sleeping.  I don't play enough Overwatch, but I do my best.
KR:  I know you love travel.
SM:  I do.  Well, love is a strong word sometimes.
KR:  What's the one place you want to visit and haven't had the chance?
SM:  I have not yet been to Tokyo which is a little silly when you consider that Tokyo contains everything I love.  It has a Disneyland that I haven't been to.  It has Pokémon Centers and I own so many Pokémon plush that my friends joke that going into my bedroom is like stepping into the tall grass.  It has entire stores devoted to fancy dolls and I'm a fancy doll collector.  So, Tokyo is really on the big bucket list.  Second on the list is wherever in Australia I can actually finally find a live Thylacine to prove that they are still out there.
KR:  Okay.  So, last question.  We're coming up on Halloween.  What's your all-time favorite horror story?
SM:   My all-time favorite horror story?  My all-time favorite horror story is actually the one I pulled off accidentally.  I grew up very, very poor. I grew up so far below the poverty line that you couldn't see it on a clear day.  And this meant that Halloween was serious business because for Halloween I could get candy the same as the kids whose parents could afford to buy them candy.  And this means I planned for Halloween like I was planning the siege of a small fictional nation.  I drew up maps.  I would actually and creepily – and I acknowledge as an adult that this was a creepy thing for child-me to do – I would sit in the grocery store and watch to see who bought the good candy and see if I recognize them as the parents of any of my classmates, so that I could prioritize their neighborhoods.
I would generally leave the house about six p.m. and stay out until all the pumpkins were off.  And my mother was very distracted.  I had two sisters, one 6 years younger and one 7 years younger.  So, by the time I was nine my mother was not keeping a very close eye on what I did.
So, the Halloween when I was 11, I got this long white, nightgown from the Goodwill.  I painted every exposed inch of my body with talcum powder and then went over that with craft glitter.  And it turns out that while I did not quite glow in the dark. I came very, very close to glowing in the dark.  This was not good enough for me, so I mixed up some fake blood and pretty much painted myself in fake blood from the knee down and from the wrist down.  And I had flip-flops on, so it looked like I was barefoot.  So, you have this glowing white, blood-dripping figure.  And that might still have been okay except for the part where to get from the last good neighborhood, which was Bel Air Heights, back to the neighborhood where I live, which was Maclear Courts, I decided it would be a really good idea to walk through the dry storm culverts because it hadn't rained in a while.  And that would cut off four or five blocks of my trip and a good deal of traffic.
So, I went under the road, walked through the storm culvert and then popped up as if from the ground on the side of the creek that faced the Court.  And the man who had been coming around the curve up the street, saw me suddenly appear with no warning whatsoever, not looking like a small child trick or treating, but looking like the dead person from the culvert.  And he crashed his car into a tree.  And it was in the papers the next day.  This man was contesting a drunk driving charge because he hadn't been driving drunk.  He literally saw a ghost come out of the storm culvert.  And that is my favorite horror story because the kids in that neighborhood still tell it, like there's a whole urban legend now that this one storm drain is haunted by the ghost of a girl who was killed by a car.  I'm like, no, it's haunted by a candy hungry 11-year-old and a five dollar nightgown from Goodwill.
Check out Seanan McGuire's Night and Silence!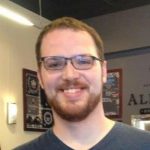 Keith Rice is a West Virginia native and a freelance writer residing in Philadelphia with his lovely, if oft exasperated wife and three cats. Keith fosters an enthusiastic appreciation for beer and scotch, collects comics, and most importantly is an avid reader and movie lover. Oh, he's a pretty big fan of sci-fi and fantasy as well. Drop him a line @Keith_Rice1.