We're happy to announce that Michelle Obama's memoir, Becoming, will be published November 13, 2018.
In Becoming, Michelle Obama reflects and recounts the  experiences that have shaped her. From her Chicago upbringing, her time at the White House, and her role as mother and First Lady of the United States, she tells her personal story with wit and honesty. As First Lady, Michelle Obama was known for her powerful advocacy for women and girls, her health initiatives, and her leadership in creating one of the most inclusive White Houses in history.
Said Mrs. Obama, "Writing Becoming has been a deeply personal experience. It has allowed me, for the very first time, the space to honestly reflect on the unexpected trajectory of my life. In this book, I talk about my roots and how a little girl from the South Side of Chicago found her voice and developed the strength to use it to empower others. I hope my journey inspires readers to find the courage to become whoever they aspire to be. I can't wait to share my story."
At the time of publication, Mrs. Obama will embark on a U.S. and international book tour. Information about the book is available to consumers at www.becomingmichelleobama.com.
Becoming will be published by Crown Publishing Group and available in 24 languages worldwide. Penguin Random House will donate one million books in the Obama's family's name to First Book, a nonprofit which provides new books to children in need in the U.S. and Canada.
 Whether you're celebrating Valentine's Day with a romantic partner, a best bud, or with the greatest love of your life (you!), we've got you covered.  Winc wine delivery club has chosen some  great book and wine pairings to cuddle up with. 
For example…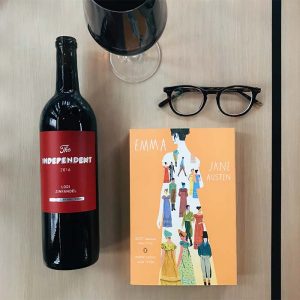 The Sweethearts

Emma: Jane Austen said, "It's such a happiness when good people get together." So, grab your sweetheart this Valentine's Day and snuggle up with Austen's classic, Emma, a sparkling comedy of love and marriage. Nothing delights Emma Woodhouse more than interfering in the romantic lives of others. And we bet nothing with delight you more than curling up with this witty, charming novel and an equally complex and delicious wine, like The Independent Zinfandel.
See all the wine and book pairings here!