The Man Booker Prize is one of the most influential annual international literary fiction honors, open to writers of any nationality, writing in English. Congratulations to these six books published by Penguin Random House for making the longlist!
The longlist includes 13 total titles published in the UK and Ireland between October 1, 2017 and September 30, 2018.
Learn more about our six books in the running:
This article was written by Jaime Green and originally appeared on Unbound Worlds.
Almost four years ago, Justin McElroy was about to become a father. He knew he'd need at least a few weeks of paternity leave from the comedy/advice podcast he makes with his brothers, My Brother, My Brother, and Me, but the McElroys didn't want to leave their listeners in the lurch. So, as a lark, they recorded a couple of hours of themselves playing Dungeons and Dragons with their dad.
Griffin, the youngest brother, DMed [editor's note for the uninitiated: a DM is a Dungeon Master, the game organizer for a Dungeons and Dragons ongoing game, or campaign]. But they didn't just play for a few hours—what began as a paternity leave place-holder soon became its own podcast, The Adventure Zone, and eventually evolved into something bigger and more powerful than any of the McElroys imagined.
Justin has previously described the experience as thinking you're driving a car and then discovering the car has wings. The Adventure Zone never lost its initial goofiness, but as Griffin quickly moved away from a pre-made Dungeons and Dragons quest and into crafting his own adventures, the world developed a rich mythology—and a compelling overarching story for the three adventurers to discover, play out, and shape. That first massive storyline, called Balance, wrapped up last August, and the show is now about a dozen episodes into its second story, Amnesty, set in present-day West Virginia (the McElroys' home state), where a small town is shaped by its proximity to a gateway to a mystical world.
Now, the winged car is metamorphosing again, into a graphic novel co-authored by the McElroys and illustrator Carey Pietsch. It covers the first chapter of the Balance arc, called Here There Be Gerblins, maintaining the D&D set-up by making Griffin, as game-master, a meta-character in the story as well. I spoke to Justin, Griffin, and Carey about adapting a podcast into a graphic novel, their relationship with fans, and the story behind the podcast's most shocking moment.
Jaime: What were the logistics of this adaptation? There are five of you and you all have very busy lives, many jobs, and podcasts, and that's a lot of cooks in the kitchen. How did you go from this audio record of a D&D game to a graphic novel?
Griffin: Dad has a background in comics, so he spearheaded the script drafting process. After he would finish, we would go over some changes. Then the rest of the creative team would go over some changes. Then we'd have a new draft of the graphic novel. Then it would go through another. Each time that we knocked out some things that we felt didn't make for a very good graphic novel, we would read through another draft and then find more of them. There's a lot of table talk, or out-of-character humor, or jokes that only work if you can hear them. There aren't drastic story changes, but we did change some things, especially since this first arc in the podcast is fairly light in terms of overarching themes and world development and the plot of what the story turned into.
Jaime: When you were making those changes, from the podcast to the graphic novel, did you have an eye on making it accessible or inviting for readers who haven't listened to the podcast?
Justin: Yeah—it's an easier ask. [The podcast] is a long commitment just to see if you like something or not. We're talking six or seven hours just in the first arc. I really like that now you can get into the story in just however long it takes to read the graphic novel.
Jaime: Carey, how did you get involved with The Adventure Zone?
Carey: I started out, back in 2015, drawing fan art when I was listening to the show as a way to keep myself happy and engaged while working on a whole bunch of other freelance projects. I was so struck by the charm and joy evident in it. It made me want to try to figure out how it could look in a visual setting. I got to know a bunch of the fan community and chat with the McElroys a little bit when I co-ran The Adventure Zine [a collection of fan art of the show, the proceeds of which went to charity] with Megan Raley a year or so after that.
Jaime: What was it like shifting from a fan to a collaborator?
Carey: I've had to take a step back from being as active in fan communities, mostly because I've gone from "Oh, this is a fun thing that I can spend some free time on" to "All of my time is working on this book." I've also tried to be mindful the fact that the McElroys have talked a lot about how important all the various visual interpretations of the podcast characters are. So the graphic novel canon can be the graphic novel canon, which is something we all developed together through collaboratively talking about what we want these characters in this world to look like, in this particular graphic novel interpretation.
Jaime: Do you all see this as a separate canon from the podcast story?
Griffin: Yeah. We feel very strongly the canon of the podcast is only within the podcast. So this is one visual representation of what the world looks like. One thing that was important to us for the podcast is that there is such a huge array of interpretations of the world and the characters, and we didn't want to shut that down by saying, "No. This is actually what it is. This is actually what it looks like."
Jaime: As the Balance arc went on and as you moved from working out of a D&D campaign into crafting this whole epic story yourself, you had a different kind of authorial hand in this from the players as the DM. Did working on the graphic novel feel like a shift in authorship?
Griffin: I was not hesitant to sort of give up the reins. I hadn't solely had the reins of the podcast, because things would change based on the decisions that Justin and Travis and Dad made and how the dice played out. The bigger change had to do with understanding what makes something good for a graphic novel, what things work visually. That was entirely Carey's work and it was one of the best things for us, getting new drafts of the art and seeing visual gags of things that happened on the podcast.
Jaime: Carey, what was it like coming into this collaborative group? Not only are you working with a family, but you're working with people who've been making podcasts and videos together for a really long time.
Carey: It feels really lucky that this was a real collaboration. Despite the fact that the McElroys have so much else that they're juggling, they really were dedicated to bringing their full knowledge of this story and care for these characters to the table and really sitting down not just at the start of the script, but checking back in at thumbnails, at pencils, at inks and colors, to really make sure that the book was shaping up to be something that the entire team could be proud of. The whole team was really generous about letting me contribute to things about pacing on the page and timing and adding some room for things to breathe.
Justin: I think that we're also at an advantage over other creators who might be adapting something, where if we'd [originally] written this entire thing down word for word, then we would have chosen everything very carefully. We would have been very deliberate. But I think about what we put in the podcast, and we were just creating in the moment. So [when it came to adapting it for the graphic novel], we were precious about some character-related stuff, but in large we were probably more willing than a lot of creators would be to go like, "If it doesn't work, cut it. I came up with that in ten seconds."
Jaime: On the podcast, you've moved into the next big story of The Adventure Zone. But Balance is still a big part of your lives, in live shows and the graphic novel. People are still making fan art and cosplaying. What does that feel like, for that first story to still be so big?
Justin: I vacillate. The overriding thing I feel is gratitude. The idea that we created something that means something to a lot of people will always be very precious to me. But there is a side of me that does feel like, "I hope we didn't make just one thing that people really like, and they still like other stuff that we make as well." But that's my crappy human vanity. You hate to think that you peaked with the very first swing at something. But even if we never approach the level of passion that we have gotten from Balance, I will still consider the entire venture a success just because the it's been so lovely that so many people brought that story into their hearts. You can't really ask for more.
Griffin: When we decided to wrap up Balance and move on to a completely new story, we were straight-up terrified of leaving the world behind. We all knew that it was time to do it—it was important to all of us to have a conclusion for that story and not just let it go on and on—but we were, I think understandably, afraid that we would not be able to ever capture that again. I do feel like Amnesty, the story that we're telling now, is growing. I've seen some cosplay of Amnesty characters at cons and at live shows, which is very exciting. This campaign is still finding its footing a little bit, but the investment is there from all of us in this world. We're excited to see where it goes, because we saw the same transformation happen when we did Balance.
Jaime: My last question is for Justin. [Apologies to anyone reading this who hasn't listened to Balance. And: podcast spoilers ahead.] How far in advance did you plan the buying of the Flaming Poisoning Raging Sword Of Doom?
Justin: About 30 seconds.
Jaime: You are fucking kidding me. Seriously?
Justin: If you go back and listen to the audio, Griffin told us that The Slicer of T'pire Weir Isles existed in that episode. So it was—
Jaime: But didn't Griffin used to send you guys a list of the Fantasy Costco items so you could plan your purchases? You really decided while you were recording?
Justin: Yeah, Griffin sent us a lot of things. And I'm a very busy man. I have a lot of kids and a lot of email and I don't always have the time. So yeah, it was formulated in the moment. And I wish more people knew just how impressive I am in ways like that. Thank you so much for giving me the opportunity to talk about it, because you'd be shocked how rarely the interviews pivot into like the craftiness and innovation, the wit, the emotion. I want history to make sure that they've noted my genius, I guess.
---
All images © Macmillan
Who better to give book recommendations than the bookish experts? Penguin Random House employees are sharing their favorite reads every month. Browse below!
Today, we spotlight Ron, who works as Retail Chain Manager for Adult Mass Merchandising. He also volunteers for Camp Kowakan and has kindly shared some of his experience. Learn more about Ron's service time by reading his story below:
Just over 1 million acres – – 1,090,000 to be specific.  So many lakes it's almost as if they had help from Dr. Seuss in naming them – – there really is a Lake One, Lake Two, Lake Three and Lake Four.  That's the Boundary Waters Canoe Area Wilderness. (BWCA) There's no other place like it on earth and its located in Northern Minnesota.  Since about 2004 I've been on the leadership team for a wilderness canoe base called Camp Kowakan.
To keep it a wilderness experience, the U.S. Forest Service limits groups to nine including a guide and chaperone. We ask them to leave behind smart phones and take off watches – – they won't be needed.  We teach them to live with the natural rhythm of life: eat when you're hungry; sleep when you are tired; get up when it feels right, or when the canoe guide rousts you.  Group members learn teamwork and leadership skills, along with the rigors of life on the trail while, hopefully, seeing the beauty surrounding them. The resulting experience isn't for everyone, but you'd be surprised at how many kids take to it.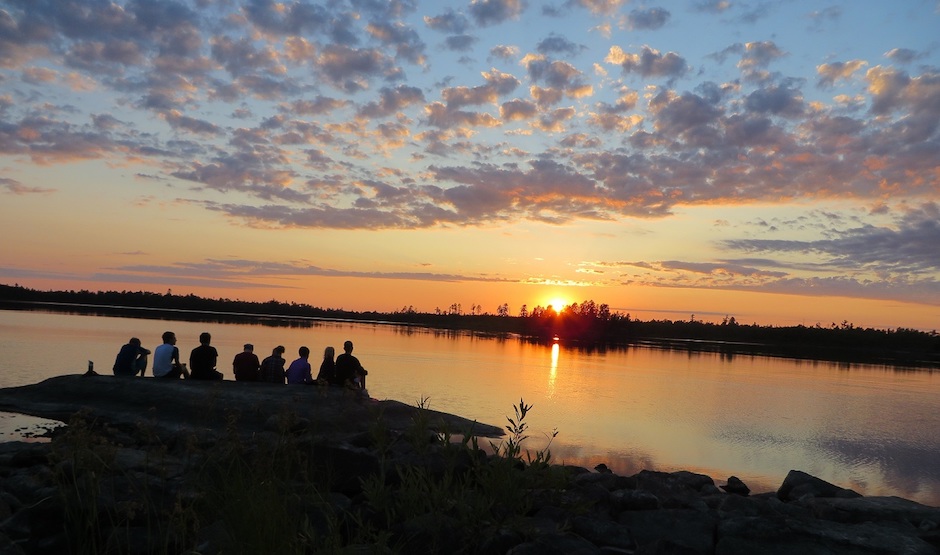 My next trip is in August.  All of the kids have gone on trips with me before and for two of them this will be their fourth time.  I always tell the kids that my job is to keep them safe and theirs is to make sure we have fun.  They are good at that.  I try.
Penguin Random House author Michael Ondaatje has won the Golden Man Booker Prize for his classic novel THE ENGLISH PATIENT.  This one-time prize was awarded for the best work of fiction from the last five decades of The Man Booker Prize, one of the world's most prestigious annual fiction awards, as chosen by five judges, and then voted on by the public. 
Upon receiving the news, Mr. Ondaatje said, "I am honored as well as very surprised to receive this award for THE ENGLISH PATIENT, as I was to be in the company of the other remarkable nominees. It feels the book was written so long ago! I would like to thank all who have supported me and been involved in my work over the years."
Ondaatje, published by Alfred A. Knopf, Vintage and Everyman's Library in the U.S., and McClelland & Stewart in Canada, has written several award-winning novels, as well as a memoir, a nonfiction book on film, and several books of poetry. His latest novel, WARLIGHT, was published earlier this year by Alfred A. Knopf in the U.S. and McClelland & Stewart in Canada.  Born in Sri Lanka, Ondaatje currently lives in Toronto. Read his works here.