This article was written by Karen White and originally appeared on Signature Reads.
I always get a little squirmy when I'm asked to give advice on writing. I mean, what makes me an authority on the subject? Sure, I've written a bunch of books, but the only "training" I've had in my chosen vocation is the thousands of books I've read in my lifetime so far.
I'd like to think that despite not having a lot of experience or knowledge about the whole writing thing when I started, surely I've learned something along the way. And I have.
In that vein, here are a few nuggets of wisdom I've gleaned in my nearly twenty years of being a published author. No, I haven't figured out the magic formula that will grant a writer instant success. But I have accumulated a nice list of what not to do if you're planning on having a career as a writer.
Do not spend all your writing time making excuses as to why you can't write instead of actually writing. Excuses will not write a book. Finding the perfect time to finally start a book is like choosing the right time to move to another country and start a new life. There will never be a perfect time, as there will always be reasons why the timing isn't optimal. If you have a burning desire to write a book (or move to another country), make it a priority. The rest will fall into place, and you'll be a lot happier with yourself.
Do not take to heart everyone else's writing style/advice/methods before you've given yourself a chance to figure out your own. Writing is incredibly personal. There are as many writing techniques and styles as there are writers. It's what gives us our individual writer's voice. It's precious and unique and you need to own it and not dilute it with external influences before you've given it a chance to sprout. If I'd listened to all the well-meaning advice when I started (don't write in first person, never start a sentence with "and," outline everything before you write the first sentence), I would never have written my first book.
Do not surround yourself with naysayers. For whatever reason, there will always be people in our lives who will attempt to discourage us from our pursuits. Either family members, friends, or other writers will have negative things to say about our talent (or lack thereof). Don't listen to them. It's always easier to be a critic than the warrior fighting the battle. Just remember that it's not about them. Your writing is between you and the words on the page. And nobody else.
Do not wait until the muse strikes before you sit down to write.This one always makes me laugh. I would have written exactly three pages in my entire career if this were true. In my previous life in the business world, I don't imagine I would have lasted in any job very long if my attitude had been that I'd only show up for work when I felt like it. There are usually about a million other things I'd rather be doing than gluing myself to my chair and getting to work. Since I consider writing my career and not just a hobby, I treat it with respect.
Do not say my family/job/life isn't conducive to writing a book.News flash: unless you're independently wealthy and your family is entirely self-sufficient, this will never change. I wrote my first books in my SUV at the football field and horse barn while my children practiced. My husband traveled about ninety percent of the time for his job so I was basically a single mom for most of the week. Instead of chatting with the other mothers, or reading a magazine, or napping, I used that time to write. There are pockets of time in each of our lives that we can prioritize as writing time. Expect to let go of a few things (binge watching on Netflix, hanging out on Facebook, sleeping in on weekends) to find the time. But the time is there if you're willing to make your writing happen.
Do not expect that the hard work is over after you sell your first book. It's only just beginning. To prepare yourself for your writing career, start thinking about your next book as soon as you send your first book proposal to prospective agents and editors. You've got momentum so make the most of it.
Writers write. It's what we do. We turn off the negative voices, we create the time and the place, and we write. To borrow words from Nike, Just Do It.
Writing/Photo by Lubomyr Myronyuk on Unsplash
Penguin Random House is #1 on the newly released Forbes list of "America's Best Midsize Employers 2018." Forbes annually recognizes and ranks U.S. employers based on an independent survey that evaluates the attitude of employees toward their own company and the public perception of the company by industry employees.
Heralding this year's list with a prominent feature article, Forbes staff writer Vicky Valet focused on Penguin Random House, noting that "the company is celebrated by its workforce for being an employer that values freedom." Madeline McIntosh commented: "People are given a great deal of ownership to make independent decisions. If you do the right thing by the books and by readers and by authors, you're rewarded by being given new challenges."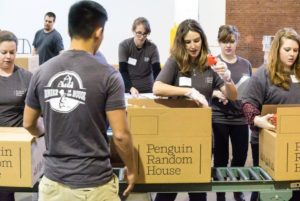 Forbes further recognized that "the entrepreneurial spirit that shapes the employee experience at Penguin Random House has proven key to the publisher's recruiting efforts, much of which focus on college campus outreach and the company's internship program. It has played an important role in retention, too. Access to online courses and a mentoring program allow Penguin Random House's 5,000 North American workers to take career development into their own hands, as do events like Company Week, an annual series that invites employees and authors to gather for days of panels, presentations and community service. This culture of empowerment—coupled with unique benefits like a sabbatical program, student loan repayment assistance and, yes, free books—helps turn entry-level hires into lifetime employees. 'So many have risen through the ranks,' says Madeline. 'I was an assistant 24 years ago, and I'm not an unusual case.'"
Penguin Random House's commitment to the communities it serves was also acknowledged, including literacy sponsorships and the more than $2 million in creative writing scholarships our company awarded to New York City public high school students over the past 25 years. Looking globally, Forbes referenced our ongoing partnerships with worldwide organizations like Save the Children, and employee volunteers who journeyed to Rwanda in January.
In addition, Penguin Random House was on Forbes' Best Employers for Diversity list for the first time this year, placing at #64 overall for both large and midsize employers.
The Forbes feature concludes with these words from Madeline: "We're not just a bunch of people who like to read. We believe books have the power not just to help people's days through entertainment or inspiration, but to really change the conversation and the culture at large."
In compiling this list, Forbes worked with market research company Statista, which surveyed 30,000 Americans working for businesses with at least 1,000 employees. All the surveys were anonymous, allowing participants to openly share their opinions. The respondents were asked to rate, on a scale of zero to 10, how likely they'd be to recommend their employer to others. Statista then asked respondents to nominate organizations in industries outside their own.
To view the complete Forbes list and article, click here.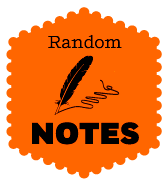 In the ongoing spirit of us giving back to our communities, Penguin Random House has been a longtime supporter of Shakespeare in the Park, one of the cornerstones of the Public Theater's mission to bring performing arts to the people of New York City.  Since 1962, over five million people have experienced more than 150 free productions of Shakespeare and other classical works and musicals.  As New Yorkers waited in line this summer for tickets to watch free performances of Twelfth Night at the Delacorte Theatre in NYC's Central Park, our Penguin Random House employee volunteers cheerfully distributed free books on three different August afternoons. Penguin Random House gift bags and Hogarth Shakespeare totes were filled with such titles as Judy Blundell's THE HIGH SEASON , Christina Dalcher's VOX (distributed in advance of the book's 8/21 pub date), Shakespeare's TWELFTH NIGHT, Margaret Atwood's HAG-SEED,  Edward St. Aubyn's DUNBAR and Jo Nesbø's MACBETH.  
Volunteers had the opportunity to talk with Shakespeare fans from all walks of life, including an educator from New Jersey who shared that she would assign an acting session from VOX for her class.  A librarian from Yonkers also shared her excitement about receiving a second copy of VOX (she had already pre- ordered one).  Another group of women announced that they would start a book club with all the books they received.
Volunteer Matt, Academic and Library Marketing Assistant, Penguin Young Readers, said, "While the perks of a morning in the park and two free tickets to see Shakespeare can't be understated, what really made this a pleasure was seeing the enthusiastic responses to the books we handed out, as well as the love and recognition of Penguin Random House as an institution."
Penguin Random House imprints continue to publish the full range of Shakespeare's plays, as well as books inspired by of The Bard's works, such as SHAKESPEARE BASICS FOR GROWN-UPS  by B. Caotes  and E. Foley, and THE GAP OF TIME   by Jeanette Winterson, a re-telling of Shakespeare's play The Winter's Tale  and part of the Hogarth Shakespeare series, an international Penguin Random House publishing initiative.
Penguin Random House volunteers in action: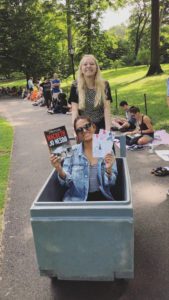 This article was written by Swapna Krishna and originally appeared on Unbound Worlds.
Oral histories have become increasingly popular ways to tell the story of important moments in pop culture. They take away the barrier between writer and storyteller; it makes you feel closer to the narrative because all you're seeing are people's own words, arranged in a way that tells a coherent story.
However, despite the fact that an oral history may seem like an easy endeavor, it's anything but. That aforementioned arrangement is key to being able to follow the narrative and understand opposing points of view. Mark A. Altman and Edward Gross have become experts at the enormous work that goes into these books; they edited a two-part oral history of "Star Trek," The Fifty-Year Mission, an oral history of "Buffy the Vampire Slayer" and "Angel" with Slayers and Vampires, and now they've moved onto the sci-fi classic "Battlestar Galactica" with So Say We All, out August 21st from Tor Books. Unbound Worlds spoke with Mark Altman on how exactly they put these enormous books together and where they might head from here.
Unbound Worlds: What first made you interested in conducting and compiling oral histories?
Mark A. Altman: It all began with the 50th anniversary of "Star Trek." We felt we in a unique position to tell the history of "Star Trek" in a way that no one else could. Even then, it took some convincing from Ed to bring me around. It wasn't till after reading the wonderful oral histories of "Saturday Night Live" and MTV that I realized this was a great format to chronicle the history of Trek that had never been done and also be true to the Rashomon-like history of the franchise. To Ed's credit, I'm delighted I did do the book with him and I keep trying to get out, but he keeps pulling me back in.
UW: What's the research and interview process like? What about the process of putting it all together into one coherent story?
MAA: Years of intensive research and hundreds of hours of interviews are where we start. But you're absolutely right, perhaps the biggest challenge is taking literally hundreds of thousands of pages of transcripts and turning them into a coherent narrative. We always say it's like attending the greatest dinner party in the world with 200–300 people and then getting them to tell these amazing stories they've never shared before and prodding them to tell you more, even the things they don't want to or might have forgotten about.
UW: Is it ever hard to decide what makes it in versus what to cut?
MAA: Yes, because these books could be thousands of pages instead of hundreds if we used all the great stories we had. Thankfully, Macmillan indulged us on the Trek book and let us bifurcate it into two volumes to do justice to the entire 50 years, and I couldn't be more pleased with the reception we received. Otherwise, that would have been hard to distill down and we would have lost some amazing stories and anecdotes. Buffy and Galactica have been easier to keep at less than 1000 pages, but it's still a challenge given the bountiful material we've had access to in terms of the candor and passion of the people we've spoken to.
UW: You work with a co-author, Edward Gross. How is the work divided between the two of you? How do you collaborate?
MAA: It depends on the subject. In the case of the first Trek volume, we really built on each others' work and interviews. For the second volume, we divided up the series but then flipped everything. There was no way I was doing "Voyager," I was very insistent on that fact. For Buffy & Angel, Ed primarily took "Angel" and I did "Buffy" but there was definitely a cross-over in interviews and we revise each others sections.
BSG was definitely the most clearly defined. I did 1978 and 1980 primarily and he did Ron Moore's series, which isn't to say we didn't both contribute to each section, but he did the heavy lifting on his section and vice versa. And when I was finished I was really unhappy with the 1980 section. I didn't feel I had really added anything new to the story and I knew no one was ever likely to write about the subject of this dreadful series again, so I started from scratch intending to really do a deep dive, did a ton more interviews, and it's one of my favorite chapters in any of the books now.
UW: You've done oral histories for "Star Trek," "Buffy"/"Angel," and now "Battlestar Galactica." Was there one that was your favorite? Not because of the property, but because of process or uncovered secrets?
MAA: I agreed to do all these books, first and foremost because I'm a fan of all these shows. These books are primarily a hobby for me, my day job is as a writer/producer for film and television series which is quite time consuming so if I'm going to give up my hiatus, weekends, and nights for a book, it has to be something I'm passionate about. "Star Trek" was no-brainer, but "Buffy" was super fun because it not only gave me a chance to write about a show I loved as well as my family, but also talk to several people I worked with in my other capacity like Felicia Day and Sean Astin, who were guest stars on an episode of "The Librarians" I wrote and, of course, Christian Kane.
But then "Galactica" was also a big deal for me because I grew up on the 1978 series and always felt it was the Rodney Dangerfield of sci-fi series. Despite its many flaws, it was a really significant and impressive series that had a lot to do with influencing the future of television, even if people don't recognize that. And, of course, Ron Moore's series is just a major milestone in genre storytelling and one of the greatest TV series ever produced so to have the kind of access we had thanks to Ron and tell the real story behind this show was really remarkable and we were honored to do so.
UW: "Battlestar Galactica" had a long-lasting impact on science fiction as a genre. What does it mean to you personally, and how do you interpret its legacy?
MAA: It was the sci-fi "Sopranos." Ron and David Eick created a series that will stand the test of time and really was part of the dawn of peak and binge-able television. It's very significant and a really remarkable accomplishment. The original series deserves more respect but is often derided because it was perceived as a "Star Wars" rip-off. But it actually, if sometimes clumsily, dealt with some very heady themes and had some of the most remarkable production design and visual effects in any genre film or TV series ever.
It was also a show about a literal family unlike "Trek," which was a figurative one, which made it unique as well and there are some remarkable episodes and an ingenious premise that made "BSG" 2004 possible. It was one of the few sci-fi series to deal with theology and spirituality as well. What we also chronicle is the unique place Universal Television was at the end of the '70s in the waning days of the studio system when talent was under contract and half the show creators were either drunk or on drugs, and work was done by a small coterie of largely white men who all knew each other and would all get hired on each others shows. I found that period absolutely fascinating and it's amazing to see how dramatically TV has changed.
UW: You've traced quite a bit of Ron D. Moore's career through "The Next Generation," "Deep Space Nine," "Voyager," and now "Battlestar Galactica." What was it like to work with him, and what do you think these books say about his career?
MAA: Ron is a remarkable talent. That's no secret. But what people might not know is what a great guy he is. A total mensch. I first met Ron back in the heyday of "TNG" when I used to interview him for the late, great Cinefantastique magazine. He has remained steadfast and loyal even when I was less than effusive with my praise for his films like "Generations" (which I savaged) and yet he remained very supportive of my own career. I think he's incredibly savvy and smart and has a passion that is unparalleled among genre creators. He has been incredibly supportive of Ed and I. With the "Trek" books, he spent literally tens of hours on the phone with Ed speaking to him with complete candor and thoughtfulness.
When it came time to do So Say We All, he literally reached out to the entire cast and crew on our behalf and told them to speak to us honestly about the show and it really opened the floodgates so that we were able to talk to everyone involved in the new series from Eddie on down to the grips — okay maybe not the grips, but mostly everyone.
UW: This is the last book in your oral history trilogy. Why is that, and if you could open the door to exploring more shows and properties, what might they be?
MAA: Well, that's not quite true. When I wrote [the introduction to So Say We All], I thought it would be. That I said everything I had to say. And while it's likely to be our last oral history of a genre TV show—although never say never again—we're already committed to another oral history of a major film series for Tor that we're writing now and have a few other projects that we're discussing so like I say; I keep trying to get out, but they keep pulling me back in.
A big part of this is how much I enjoy my working relationship with Ed Gross as well as my fantastic editorial team at Tor, but also how much I love these TV series and films we're writing about. There's a great line in the mediocre Michael Crichton film "Looker," when Albert Finney is asked to do plastic surgery on a really beautiful girl and he wants to turn down the assignment and he's advised by a colleague, "You better do it or someone less competent will." That's kind of how I feel about these oral histories too.
---
Photo by Felix Mittermeier on Unsplash
Who better to give book recommendations than the bookish experts? Penguin Random House employees are sharing their favorite reads every month. Browse below!
Jenny, Production Manager, Crown Publishing
Jenny, a production manager at Crown, is convinced she was born with a book in her hand. She lives in her houseplant forest/apartment and spends all her free time drinking tea and rearranging books.
This article was written by Christina Dalcher and originally appeared on Signature Reads.
A quick Google search for 'writing advice' tells me there can't be much left that hasn't already been said. Nobel Prize winners offer tips. Forty experts tell beginners what to do. Bestselling authors give us insight into their creative processes. And so on, ad infinitum. Then there's that perfect book, half craft, half writer's memoir: Stephen King's On Writing. If I could only have one how-to manual on my shelf, it would be that one.
Where does this leave us, then? What guidance can I, a debut novelist and writer of flash fiction, possibly offer the world, or the emerging writer? I've thought about it over and over, and finally came up with two words:
Be fearless.
We know writing takes work, and skill, and talent, and perseverance. There's the old 'Butt-in-the-chair, honey!' mandate (with its cute acronym) — a writer's corollary to the athlete's 'Just Do It' mantra. You want to run? Run. You want to write? Write. There's something so plainly tautological about it all. And there can be beauty in tautologies.
But I think fearlessness is the single quality we as writers need to cultivate, and I mean this in multiple ways.
We need the bravery to pour our emotions out, spilling ink onto paper with a little of our own blood mixed in. That's no small trick. We need the courage to send our words into the world, knowing that once we do, a part of us is gone, floating in the public sphere, no longer under our control. If one accepts Roland Barthes' notion that the author is dead, we authors must embrace the concept that we're killing some portion of ourselves the minute our work leaves us. And, of course, we need the self-esteem and thick, carapace-like skin to hang on and persist when the inevitable rejections hit our inboxes. Believe me, they will hit — hard. A bland form rejection from an agent or editor can carry all the pain of bludgeon to the face, a direct smack to our very soul. Everyone who writes, or who wants to write, requires a ring fighter's determination, a Rocky-esque willingness to go the distance, and to keep going.
Being fearless also takes us in new directions, allowing us to experiment with previously unknown forms, new characters, and diverse points of view. One of my favorite things about writing flash fiction — tightly condensed stories often under 500 words — is exactly this: Within the space of a day, I can be a cranky old man on a front porch in Mississippi, a young housewife, or a sneaky feline. Fearlessness is a gift, a license to try something different and liberate ourselves from any habitual ruts. And it need not be limited to our writing lives. We can extend it to our whole lives: to our relationships with ourselves and others, to our careers (and the changing thereof), and to how we interact with the world.
Finally, we need to forge some armor of another sort — the kind that protects us from dissatisfied readers. It's useful to remember that old John Lydgate saying about not being able to please everyone all of the time. Every once in a while, our words may not even reach the point of unpleasing, instead inspiring far less positive reactions. Still, they're our words and our thoughts, and we have to steel ourselves against ugly feedback. (Hint: read your reviews, or not. Then go back to doing what you do.)
When I teach writing classes, the very first thing I tell my students is to prepare for rejection and failure. Both are going to happen, sometimes much more frequently than we'd wish. The rejection and failure aren't the focus, though; it's what we do afterwards that counts. And what we, as creators, should do afterwards is simple: get up and do it all over again.
Would I call myself fearless? Would I use that label? I don't know; I haven't walked through the world with a superhero cape on my back. I do know that others have said this about me, starting with my first professor in graduate school twenty years ago. That man is gone now, and I can't pick up the phone and say, "Hey, guess what? I believe you." So instead, I write, a little or a lot every day, and try to live up to the descriptor. I try to fear nothing, even when that seems impossible.
Maybe you were expecting a writer's user manual. A list of do's and don'ts full of perennial tips like 'show, don't tell' and 'avoid adverbs.' Something along those lines. But the best advice I can give, and — in my mind — the only advice worth its salt, is encapsulated in two words.
Be fearless.
Then sit back and watch what happens. I have a feeling what happens will be good.
Be Fearless/Photo by Evan Kirby on Unsplash
This article was written by Lorraine Berry and originally appeared on Signature Reads.
Every now and then, my Facebook friends will have a nostalgia moment and post a cultural artifact from our cohort's past. One television staple from the 1970s that we remember with affection was the educational videos that were shown as commercial breaks during Saturday morning cartoons. "Schoolhouse Rock" debuted in January 1973 on ABC. The first season was devoted to teaching children the basics of mathematics. The second season, which started in September of that year, took on the challenges of grammar, focusing much of its attention to the parsing of sentences. I admit that when I encounter certain words for parts of speech, I still hear the lyrics. And when I am copy editing, those song lyrics have actually helped me do my job. For example, "Interjections show excitement or emotion and are generally set apart from a sentence by an exclamation point, or by a comma when the feeling's not as strong," and "Conjunction junction: what's your function? Hooking up words and phrases and clauses," both set to memorable tunes, have saved me from bone-head errors. (Though not all, as my editors can affirm.) When "Constitution Rock" debuted two years later, it helped me to succeed in seventh-grade social studies. I still remember that the test asked us to write the words to the Preamble; I heard nearly everyone in class singing the song as we wrote the words.
I mention how valuable these learning tools were because another of my favorite ways of approaching language has been turned into a creative work of art. Call Me Ishmael is a collection of postcards that illustrate the opening lines from great works of literature through sentence diagrams. I loved those days in class that we spent diagramming sentences. And while sentence diagrams may have been declared as having "no educational value," I would argue that they impressed on your memory how the different parts of speech operated in sentence construction.
Sentence diagramming is a means by which a sentence is parsed and represented by a structure of lines that establish the relationship among the words in the sentence. Perhaps the best way to envision it is as a "map" of a sentence. In 1847, Stephen Watkins Clark published a book in which he showed a sentence map as a series of bubbles. His rendering looked inelegant, and in 1877, Reid and Kellogg changed the bubbles to a series of lines. (For a detailed history of the various types of sentence diagrams, go here.) The Reid-Kellogg system was adopted by school districts across the country and for decades afterward, schoolchildren were drilled on parts of speech through the construction of diagrams.
To demonstrate how to diagram sentences, consider the following examples. (For further information on sentence diagramming, see these directions.)
The beginning of a diagram is the straight line.
The first objective is to establish the subject and the predicate, that is, who is doing the action and the action being performed. Draw a line between the noun and the verb, as I have done with this simple sentence comprising a noun and a verb.
Sergio Agüero scores.
On the left subject side is "Sergio Agüero." On the right is "scores."
The verb, to score, can act as an intransitive verb that needs no object to which to do the action, or it can function as a transitive verb, where the verb takes an object to which the action is done.
So, if we change the sentence to "Sergio Agüero scores goals," it can be diagrammed with the straight line, with a second vertical line placed after the verb. The direct object is on the same line as the noun and the verb.
Diagrams become more complicated with the addition of words that modify other words in the sentence. Adjectives modify nouns, so in order to indicate an adjective that is modifying the subject, draw a diagonal line and write the adjective(s) on the diagonal line(s).
Possessives act like adjectives and are indicated in the same way. On the predicate side, if adjectives are used to describe the direct object, draw diagonal lines to indicate those adjectives below that part of the diagram.
Manchester City's brilliant Sergio Agüero scores many creative goals.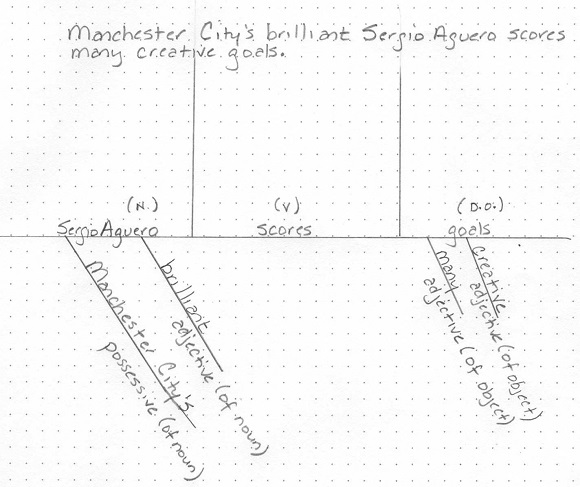 Here, "Manchester City" is the possessive. "Brilliant" is the adjective. And "goals" is the direct object of the verb, which itself is described by the two adjectives "many" and "creative."
When constructing sentences with direct objects, the item to which the action is being done may itself be affected by whether another person is also interacting with the object. For example, "You may give a gift to your friend," in which "gift" is the direct object that is being given to "friend," which functions as the indirect object. Thus the verb "to give" takes both a direct object and an indirect object. The indirect object would be shown on a sentence diagram by a diagonal line coming off the verb.
Sometimes, rather than an indirect object, however, that action may be further modified through the use of a preposition. It is a modification of the verb. For example, in modifying this sentence, observe what the preposition is doing:
Manchester City's brilliant Sergio Agüero scores many creative goals against other Premier League teams.
Here, the preposition "against" modifies the verb by indicating that the action is done to something, but it has an impact on the verb through what is called the "prepositional phrase."
To indicate a prepositional phrase, write a diagonal line off the verb with the word "against" on it. The object of the prepositional phrase is "teams," and the adjectives that describe teams are the adjectives "Premier League" and "other."
Sentences can also contain more than one subject, or there can be more than one verb. I looked to literature for an example of a more complex sentence, one that I must admit took me a while to break down so that I understood how each word was functioning within this sentence from P.D. James's The Children of Men. 
Western science and Western medicine haven't prepared us for the magnitude and humiliation of this ultimate failure.
Here there are two subjects — Western science and Western medicine — and two objects of prepositions, which themselves have a prepositional phrase that modifies them. Consider this diagram of the way I parsed James' sentence.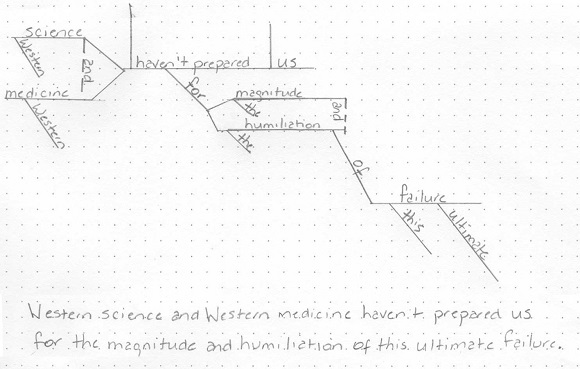 To diagram this sentence, I used a dotted line to indicate the conjunction — "and" — that connects the two nouns. The verb is followed by a direct object. The prepositional phrase that begins with the preposition "for," has a double object of the phrase with "the magnitude and the humiliation." Again, a dotted line is used to indicate the conjunction. That prepositional phrase is itself modified by the prepositional phrase "of this ultimate failure," which is diagrammed by drawing a diagonal line off the double object.
Sentences can be further complicated with the addition of subordinate clauses, independent clauses that are connected with conjunctions or punctuation, or declarative sentences and multiple other examples where some part of the sentence is unspoken. And the more complex the sentence, the more complex and beautiful the diagram that maps the sentence.
It's why Call Me Ishmael's collection of postcards, which contain the opening sentences from twenty-four great works of literature, make a great gift for language lovers. The sentences themselves are revered for the beauty of their construction, choice of words, and rhythm created when they are read out loud. Seeing them as multi-layered diagrams becomes another way to appreciate the geniuses behind the words.
This article was written by Elyssa Friedland and originally appeared on Signature Reads.
Lately I've been thinking about the difficult balance an author needs to strike between writing what we are familiar with, and therefore helping to unsure an authentic voice, and creating characters totally apart from ourselves in settings we may never have visited.
The former might seem easier and the safer route to go. "Write what you know;" it's a familiar refrain and popular advice given to aspiring writers. But even that can be fraught with difficulty. In writing characters, places, and events from our own lives, we can all too easily fall into the trap of sharing too much detail. When setting a novel in New York City, where I live, it's critical that I don't mention every restaurant and boutique name that I frequent. When I find myself writing more of a guidebook to New York City than a novel, I ask myself: Is that extra detail propelling the story forward? If not, it should be cut. I certainly don't want to limit the audience for my books to readers who live within a ten-mile radius of me looking for a great hat store.
On the other hand, there is value in sharing the nooks and crannies of a setting we know intimately well. It is the ultimate way to invite the reader to join us in the pages. Reading fiction is nothing if not an escape, and the more specificity provided, the more easily a reader can Photoshop themselves into the novel and feel the humid air, taste the freshly picked tomato, and smell the lavender — whatever atmosphere the writer is trying to suck the reader into comes alive the more detail we give.
A quick anecdote. In my latest novel, The Intermission, a critical scene takes place at a Chinese restaurant on First Avenue called Wa Jeal. This would be a case of providing too much in the minutia department. It didn't matter that it was on First Avenue and it certainly didn't matter what the restaurant was called. The only upshot of providing that detail were the numerous texts I got from local friends: Is Wa Jeal really good? What do you order there? Do they deliver? Yeah… you get the idea.
Setting is not the only trap where writing what you know can lead to extraneous detail. Too often we as writers like to share experiences from our former professions — probably because we are scarred by them. There are a lot of lawyers-turned-writers and much as we may want to tell our readers about the gloom and doom of law firm life, from the tedious document review at three A.M. to the hours spent waiting in the printing office for four-hundred page contracts to be bound, we need to remember: there's a reason we switched gears. Being a lawyer was boring! And so is writing about it.
In The Intermission, I attempted to strike a nice balance between writing what I knew and writing what I wanted to know about. I refused to make either of my husband and wife pair attorneys. Instead, I made Jonathan a hedge funder — a world that is somewhat elusive to me but is prevalent in my hometown of New York City. For Cass, I decided to put her in the world of Broadway marketing. I love theater but knew very little about the behind-the-scenes making of a show. So I was able to bring my passion for the stage to the novel but also explain the mechanics of marketing a show in outsider-not-insider terms.
Likewise with the plot. Half the novel is set in New York, but half the story is in Los Angeles. I've visited LA many times but don't know it nearly as well as my hometown. Having a split-setting kept my overflow details in check. I needed to make sure LA came alive just as much as New York did in the book.
Not overwriting what I know continues to be a struggle I face as a writer, but I'm certainly aware of the pitfalls. And I welcome reader feedback on the subject, as that is truly the test of whether I'm striking the proper balance.
Photo by Kelly Sikkema on Unsplash
Who better to give book recommendations than the bookish experts? Penguin Random House employees are sharing their favorite reads every month. Browse below!
Megan, Assistant Editor, Audio
Megan is the friend who's reading a book when you show up to dinner and recommends no less than six others over the course of your meal. If you can't find her in a book or at a restaurant, she's likely listening to a podcast on her commute or up in the air en route to her next trip.
Megan is also a member of Read Ahead's Junior Board and has been a volunteer for four years. Read Ahead is a charitable organization that matches mentors with children to foster a love for reading and promotes literacy. Read below for Megan's interview about her volunteer work!
RA: What is the most rewarding part of volunteering with Read Ahead?
MM: The most rewarding part of my experiences volunteering have been with my student, Yetzibeth. She brings so much excitement and enthusiasm to every kind of book that we read together. We've read books that range from Barbie princesses to non-fiction books about bees. It's incredible to see her excitement grow with each session – she is just so imaginative. When we start to get into a book she really likes, she can't wait to turn the page and see what's next. I learn as much, if not more, from her than she does from me.
RA: How has your relationship with her grown?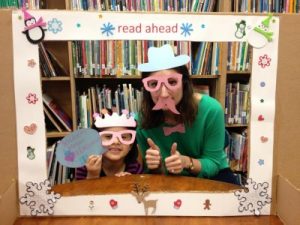 MM: We understand each other more as we continue to get to know each other. We aren't just reading together the whole time. When we first started she would come in and we would sit down and read together, but as we've gotten to know each other we've become a lot more comfortable, spending more time talking and learning about each other.
RA: Is there a book you've read together that has been particularly successful?
MM: She has such a range of interests – we're always reading about something new. One book that she really loved was "The Day The Crayons Quit" by Drew Daywalt – it really is a great story and she was so excited by it.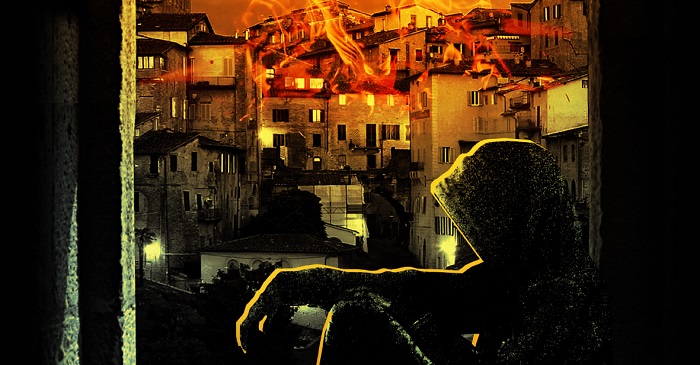 This article was written by Robert Jackson Bennett and originally appeared on Unbound Worlds.
One of the problems I had with magic as a young reader was that it was never clear how it worked.
Despite whatever exposition or worldbuilding the author put me through, at the critical moment magic usually boiled down to a word, a gesture, the right ingredients, and the proper stance. Why this combination of disparate if not random elements satisfied the rules of the world to force reality to change was always a mystery to me.
"Why did they have to prick themselves with a needle?" I would ask myself. "Why did they use an onion? Why a candle made of black tallow? Why were the ladies always either naked or wearing gauzy robes when they did magic, but men wore giant black cloaks?"
I understood that the reason why magic worked is that… well, it's magic. But often at some plot-critical point in the story, the magic would wind up not working, and this often flew in the face of what had been established before.
Loopholes and exceptions abounded, seemingly invented on the fly. Magic wasn't a system, it was just the fuel the author used whenever they needed to make the plot go.
It was while I was staying at a rather drab and dreary hotel that I had the idea… what is magic, I thought, but a command? A direction? An order? If magic were real, I thought, it wouldn't be some hidden mystery – it would be a series of instructions given to the world to make it be different, to distort reality into something it wasn't.
I complicated it further – what if it wasn't instructions, but rather an argument? Reality, like any natural phenomena, wouldn't want to change: it'd have gravity, momentum. It would have to be convinced, and magic would be the language you'd use to convince it to change.
"So reality is stupid," I thought. "You'd have to give it a very specific, detailed argument as to why it needed to be totally different. If you want to tell a ball to roll forward very fast like it was flying down a hill, you'd have to define what a ball was, what a hill was, and then what 'fast' meant."
And then I thought to myself, "Magic is just a way of programming reality like one might write code for an application."
And that blew the whole thing wide open in my mind.
In the world of Foundryside, there are naturally occurring elemental sigils in the world, sigils for anything and everything: for water, heat, motion, gravity, for "stone" and "night" and "wind" and "flesh." When you inscribe these sigils on an object, you change its reality, but only very slightly – if you write, say, the sigil for "clay" upon a stone, it becomes slightly, slightly softer… but not that much.
Yet if you combine the sigils… if you put them together to make what is essentially a script that can be executed on command… then you can change much, much more. You'd just store the pre-written scripts in a bank of some kind – like a database, or lexicon – and whenever you needed to alter reality, you just called up the right script, and….
Abracadabra.
Foundryside is a world very different from our own, but also very much alike: it is a world in which some very, very smart people have found a way to write code to change reality, thus making themselves and their culture massively powerful almost overnight, creating an industrialized city of corporate espionage, reality-altering magic code, obscenely wealthy tycoons, and ancient secrets.
It is a world in which someone figured out how magic works. And such a world, it turns out, can be very nasty indeed.
---