This interview was done at New York Comic Con 2018.
We caught up with Sylvain Neuvel to discuss the Themis Trilogy, alien languages, and a bit of cosplay.
Keith Rice:  All right, so Only Human came out in May and it closes out the Themis Files trilogy.  How does it feel to be done?
Sylvain Neuvel:  Weird.  It's very weird.  Finishing that book was an emotional moment.  There was  a lot of crying involved in the last chapters, just knowing that I might never see these characters again. And it's kind of stupid, because they were there, they will always be there.  They're in the books, they exist.  But it was strange, and also Sleeping Giants was my first novel, so I've spent my entire writing career in that universe.  Getting out of it is a scary thing, though it's also exciting.
KR:  Did you envision the story as trilogy when you started or did that come about – –
SN:  Well, originally, I thought it might be more of an open series, but It's a rarer thing in publishing nowadays to have just a like a real open-ended series like, say, James Bond.
KR:  Sure.
SN:  And so, well, quickly I figured out it would be a trilogy and I kind of knew how I wanted it to end, so I went for it.
KR:  Given that do you plan to go back into the world of Themis Files at any point? Is that something you've thought about?
SN:  I would love to someday.  There are other things I want to do.  I'm working on something now and so it's nice to take a break and just let the story do its thing.  I'm not there [on revisiting Themis Files].  But if people want it, if there's a demand for it, I'd love to come back to it someday.
KR:  How would you describe the Themis Files to readers that haven't had a chance to pick it up yet?
SN:  It's a strange one to describe.  It's science fiction but it's also very grounded, it happens here, and the format is, I think, as important to the experience as the story itself.  It's told in the form of interviews, between a mysterious interviewer and the main characters of the book.  So, it's pretty much three books of nothing but dialogue. It's a very different reading experience than what most people would be used to.  In terms of story it's like everything I do, it is grounded in science fiction. Book one is a search for giant metal body parts buried underground by an unknown civilization thousands of years ago.  And it has a lot to do with first contact, but it's also an exploration of what it means to be human.  Human nature in general, or what makes you you and not me, and identity, and other themes that are very human.  So, even though there is alien life involved, it's very much about us and not them.
KR:  Your take on aliens was one of the more fascinating aspects for me.  They aren't that different from us.
SN:  No.
KR:  What led you to that?
SN:  Well, there's advantages in making aliens closer to us, there's a reason why, you know, every alien on a TV show, you know has at least two arms and legs, because we can hire an actor to do it.  This particular case I wanted them to be among us.  So, they had to be hiding in plain sight, it's kind of difficult if you're a giant amoeba or big blob of goo.
KR:  And I know you're a linguist as well.  Do you have any plans to dive into a language for any of your books?
SN:  Well, Only Human does have some alien language bits in there.
KR:  True, but I meant on a larger, or I guess more Tolkien-esque scale?
SN:  Actually, I did write grammar and a lexicon.
KR:  Oh?
SN:  Well, I know that I'm a freak and I couldn't just improvise those like ten lines [laughs].  So, I pretty much wrote the whole language just so I could put those two lines in the book.  Someday I'd like to share that lexicon and grammar with the world. For example, they could read the dedication at the end of the trilogy, which is in the language.
KR:  I know you're a big cosplay fan and we are at NYCC.
SN:  Yeah.
KR:  What's your favorite or your best costume?  One that you've put together?
SN:  That I made? I will say my Grandizer robot costume.  It was super fun.
KR:  I imagine the proportions were a bit tricky on that one.
SN:  Yeah, I mean, I made a Vader costume that I spent about a year on, but with Vader you have a costuming group, you can go with references online, you can know which actual parts of what were used to make it.  It gets tons of references, so you know things basically down to the millimeter. With Grandizer you're looking at an anime made in the 70's.  If you look at the show, in one scene, you'll have say, seven spikes on his fist, and in another scene you'll have nine and in another there'll be three.  Because the guys drawing it, they're just going super-fast. Plus there were a lot of technical challenges.  He has a tiny head, so, I managed to get the proportions better.  I realized that with a head so little my costume shoulders are about at my chin level, and I see through the mouth of the robot so the head can be higher, and it makes it more proportional, plus I have to build it from scratch.  There's no references, no nothing. So, it was a lot molding, and sculpting, and fiberglass.  It was a lot of fun to make.
KR:  Sounds like it.
SN:  Yeah.
KR: I'm going to put you on the spot just a little bit.  If you had to recommend three novels , three books, for fans of the Themis Files what would they be?
SN:  Well if you're in it for the giant robots, Mecha Samurai Empire by Peter Teiryas just came out and it's actually pretty fantastic.  It's book two of a series, but it's more of a standalone novel. If you're in it for the science, because there's a lot of it in the Themis Files, I really like the The Flicker Men by Ted Kosmatka. It's based on a simple sci-fi premise, but I really wish I'd come up with it.  I was jealous of the idea.  It's a great, great book.  Similarly, Quantum Night by Robert Sawyer is another book with tons of science. Sawyer sort of researches everything.  He has a bibliography at the end if you want further reading on brainwaves and all sorts of interesting things.   The Gone World, by Tom Sweterlitsch, it's a great book. It's really a great book.  I was kind of wary at first because it involves time travel and it's not usually my favorite, but it's so well done, I think everyone should read it.
Check out Sylvain Neuvel's Only Human!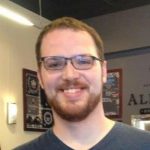 Keith Rice is a West Virginia native and a freelance writer residing in Philadelphia with his lovely, if oft exasperated wife and three cats. Keith fosters an enthusiastic appreciation for beer and scotch, collects comics, and most importantly is an avid reader and movie lover. Oh, he's a pretty big fan of sci-fi and fantasy as well. Drop him a line @Keith_Rice1.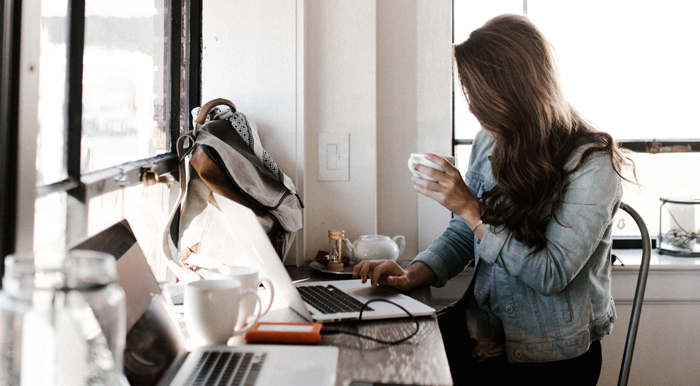 This article was written by Lorraine Berry and originally appeared on Signature Reads.
As writers, we can be our own worst enemies. We may have dozens of reasons why we are not writing.  Sometimes, these barriers may feel insurmountable, but James Clear argues in Atomic Habits that those barriers can be breached through a series of one percent changes to our habits. "The most practical way to change who you are is to change what you do," he says, and he offers a series of small steps to developing a writing habit.
Clear provides methods that help pinpoint those habits that are ineffective, and a large variety of tactics to create effective habits that will change what we do. His book contains clear instructions on how to develop writing as a habit, one that will feel as automatic as brushing your teeth or that first cup of coffee in the morning.
Here are five effective habits.
Habit #1: In order to encourage inspiration to strike, set up a time to meet with it.
James Clear cites a British study that showed that those who write down specific times when they will practice their new habit have the highest success rate. For writers, creating such an "implementation intention" would involve writing down a sentence that looks like this: "I will write for (period of time) at (time of day) at (location)." So, for example, "I will write for 30 minutes at 3 p.m. at the kitchen table." By sitting down each day at 3, you accustom your brain to this new habit. Once your brain can count on you to keep your new habit, you may find that new ideas and inspiration are waiting for you.
Habit #2: If writing is important to you, create an environment that encourages you to write.
Our environment can create barriers to practicing our new habits. If your habit is to sit on the sofa to watch TV, and you had intended to write while sitting on the sofa, then the TV may prove to be too big a temptation. Instead, choose a place to write that isn't associated with another habit. If you live in a tiny space with few options, then designate a specific place to write. It doesn't have to be a different room. In a studio apartment, you may decide to use a different chair or to set up a small writing corner. You will attach writing to that particular place, so if you're in that space, your brain will expect you to write. Environmental clues can be used to help reinforce your new habit.
Habit #3: Create temptations that reward you for your new habit of writing.
Habits are developed because our brain has a dopamine-driven feedback loop. It is the anticipation of the reward that causes the release of dopamine that makes us feel good. In fact, anticipation releases more dopamine than actually doing the thing we craved or wanted. You can use a habit you already have (getting up early, taking the dogs for a walk, drinking coffee in the morning) to attach the habit you are trying to develop to a reward that your brain anticipates. In this way, the habit you are developing is sandwiched between a daily habit you do anyway, and is followed by something you want. Clear provides readers with methods for identifying both the already established habits and also the things that individuals consider to be rewards. His system might look something like this:
After (current habit), I will (habit I need to develop).
After (habit I need to develop), I will (habit I want).
So, if you walk your dog every day after breakfast, and you need to write, but you also want to spend time on social media, you could do this:
After I walk the dog, I will write for 30 minutes.
After I write for 30 minutes, I will go on social media.
If going on social media has kept you from writing, this creates a system where social media is the reward you use to encourage yourself to write.
Habit #4: Make it easy to practice the habit of writing.
Wasting time is easy: we carry distractions in our pocket or give it pride of place in our living rooms. If we want to develop the practice of writing, we have to remove barriers to our practice. One way is to prime your environment with cues to your habit. So, if your intention is to write in the morning at the kitchen table, before you go to bed at night, lay out your writing implements —laptop or pen and paper. I take it further by making writing easier all the time: I carry a small notebook in my purse, have one in my car's glove box, and leave several throughout my house. This way, it's as easy to write as it is to pick up the phone.
Habit #5: Start with the Two-Minute Rule for new habits and continue from there.
Maybe you're afraid that you'll fail in some way because your committed writing time is too long. Clear suggests creating a ritual and following the Two Minute Rule as a way to prime yourself for your new habit. If your goal is to write at night, you can help to cement the habit into your head by attaching it to a ritual of your choosing, whether that's a cup of herbal tea or changing into comfy clothes.  Each evening, as you engage in the ritual, your brain will anticipate that you are about to sit down and write. Your ritual primes your habit. Next, write for two minutes. If you feel done, stop. Clear argues that two minutes is usually enough to get past any initial resistance.
Clear has filled Atomic Habits with hints like these that enable us to change the habits we dislike and replace them with habits that show who we are. In order to be a writer, you must develop the habit of writing, even if it's one word at a time. As Margaret Atwood reminds us, "A word after a word after a word is power."
Writing at the table © Andrew Neel/Unsplash.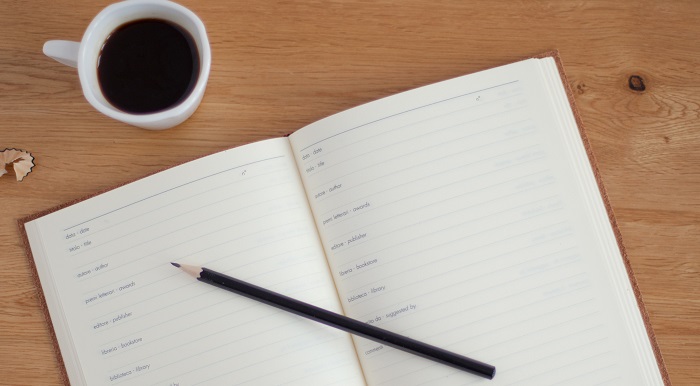 This article was written by Ryder Carroll and originally appeared on Signature Reads.
When I was young, I loved looking at ancient astrological maps that seemed more like celestial bestiaries than effective means of navigation. The skies were teeming with terrifying ancient creatures ranging from giant scorpions, to centaurs, to beasts whose names have been long forgotten. Each born from man's attempt to make sense of the breathtaking chaos of light that revealed itself on the darkest nights. Most cultures developed long elaborate stories that buried their heroes and demons in the stars, all to make some sense of the world around them.
If you've ever stared up at a night sky, clear of clouds or city lights, you can't help but architect your own existential explanations just to cope with the shimmering abyss. It's estimated that each year, 100 billion stars are born and die in the observable universe. That's 247 million a day! Yet, even in this age of Google Maps, stars continue to serve as a fundamental way to understand our place.
Stars have safely guided explorers across the hungry depths of alien oceans for centuries. But how? It all started by jotting down what we saw, one star at a time until it began to make sense. We found patterns, and identified relationships. From centaurs to quasars, each generation refined their knowledge and understanding to better help contextualize the stars as they related to us.
Writing can feel very much like setting out on a journey into the unknown. But rather than stars, we're reliant on the glittering constellation of ideas scattered across the vast darkness of our minds. Buried somewhere up there are parts of all the stories we will ever tell. It's important that we figure out a way to makes sense of our thoughts, and it starts with cataloging them, one thought at a time.
Be it for the next story, or the last, journaling can serve as a form of mental cartography. Your journal can be a mental atlas, which can be referenced as you set sail or when you get lost at sea. Like stars, thoughts can be used as waypoints. Stories are simply sequences of curated thoughts, which are plotted out to guide your audience safely through your tale. Without them, there are only dark shoreless oceans. 
The beauty of keeping some kind of journal is that it can live in a vacuum. It simply serves as a repository for ideas, waiting to be used. Some are hesitant to journal because they're only aware of long-form journaling, which can seem time consuming. True, but the process of drawing your ideas out by hand can be an incredibly effective practice to capture and refine your thoughts. 
If you're not convinced it's worth the effort, short-form journaling is a perfect alternative – or addition to – long-form journaling. In both cases, the point is to cultivate a map of your thoughts and insights. Isn't there an app for that? Sure, but writing your ideas out by hand will make them seem far more tangible and real. This practice also allows you to capture ideas in all their many forms. A nascent idea could begin as an image or a shape. 
Notebooks have stood the test of time as the ultimate traps for capturing thoughts, no matter how exotic. Over time, they become maps. Like stars, ideas without maps, no matter how bright, remain meaningless. And, like stars, ideas fade. There really is nothing more frustrating than losing a brilliant thought before you had the chance to find its purpose. Each thought has the promise of functioning as your north star, so be sure you keep track of it. 
Photo by Hope House Press – Leather Diary Studio on Unsplash
This article was written by Jayne Ann Krentz and originally appeared on Signature Reads.
Give the same plot to ten different writers and you will get ten very different stories. No two will sound alike. Why? Because every author brings a unique voice to the craft of writing. Voice is everything when it comes to telling a story.
It isn't clever plot twists or deep character insights or detailed descriptions that draw a reader back again and again to a particular writer — it's the writer's voice. Just to make things even more complicated, the truth is that no two people respond to a writer's voice in exactly the same way. Some readers will never be compelled by your voice. With luck, others will fall in love with it.
Voice is hard to define because it's a mix of so many things — your core values, your world view, your personality, your sense of optimism or cynicism or despair or anger or bitterness or hope — all those things are bound up in your storytelling voice.
And then there's the craft aspect.
You can write successfully for your entire career without giving a moment's thought to your voice. But just as knowing and understanding your core story can be extremely useful at various points in your career, so, too, is having a clear sense of your voice. If you comprehend its strengths and weaknesses, you will be able to figure out how to sharpen it and make it more powerful.
How do you identify your writing voice? Here's a simple exercise: Write a scene from start to finish. It should be a scene that is infused with the emotions, themes, or conflicts that compel you as a writer.
It is helpful to think of scenes as short stories. They have a beginning that engages the reader, a middle in which emotional and often physical action takes place, and an endpoint that either resolves the narrative or provides a cliffhanger that leads into the next scene.
Give your scene to a couple of people to read. These should be people you trust. Make it clear that you do not want a writing critique. You are not interested in their opinion of your characters or your plot. You want one response, and one only, to the following question: "What is your emotional takeaway from that scene?"
Did you make your reader's pulse kick up? Did you arouse curiosity? Anger? Sympathy? Did you scare your reader? Did you make that reader want to know what happens next? Your goal is to identify the single strongest emotion that the reader experienced while reading your scene. That response will help you analyze the strengths and weaknesses of your voice. The worst possible reaction from a reader is no emotional reaction at all. There is nothing that will kill a writing career faster than storytelling that bores the reader.
Put the most engaging elements of your voice on display in the very first sentence of your book. Readers will not give you a few pages or a couple of chapters to get the story going. You must draw the reader into your world from the very first sentence, and you do that with your voice.
Listen to your writing voice. It will tell you what kinds of stories you will write with the most power. Once you have figured out your voice, do everything you can to strengthen it and make it more compelling.
Voice is your superpower. Discover it.
Photo by Elijah O'Donnell on Unsplash
This article was written by Keith Rice and originally appeared on Unbound Worlds.
We caught up with Katherine Arden at New York Comic Con for a quick chat about how it feels to finish up the Winternight Trilogy, Russian fairy tales, and cupcakes.
Unbound Worlds: The Winter of the Witch arrives January 8th — what can you tell us about it?
Katherine Arden: Well, it's the third book in the Winternight Trilogy; it ends the story of Vasilisa Petrovna and her colleagues and relations. It takes place in medieval Russia and, as far as specific plot points, not everyone lives. But it does what I hoped this series would do and it brings Vasilisa from childhood to adulthood. Fully, I think. And that was the most important thing I wanted out of the series, to show the coming of age of this young woman in medieval Russia, and it did. And it was a huge amount of work, and I spent two weeks in a basement to finish it eating only cupcakes. And there were many somewhat angsty calls to my editor in the realm of, like, "It's not working, it's not working." Then it did work and I finished it, and I am so excited to present it to you guys in January.
UW: How does it feel to finish up the trilogy?
KA: I have mixed feelings. It was huge focus of my life for five years, so letting it go is bittersweet, but I'm also excited to do a non-medieval Russia book. Very excited. And just to have it be over, and to have everyone be able to know what I was planning on doing from start to finish.
UW: Did you intend it as a trilogy when you started?
KA: I did, although the trilogy that I wrote bears no resemblance to the trilogy that I thought I was going to write however many years ago. Seven now, I think. No resemblance whatsoever. It has the same start point that I intended and the same endpoint. But, the points in between are stranger than I could've imagined. I always meant to have it as a trilogy from day one. And I did, so that was good. One point for planner. The only point for planning really.
UW: So what peaked your interest in Russia and Russian folklore? You have your degree in Russian, correct?
KA: Yeah, in Russian from Middlebury College. I spent a year in Moscow when I was 19, and I went back to Moscow my junior year of college. I'd always loved books based on folklore. I was a huge Robin McKinley fan growing up, and I always loved Russian fairy tales. When I was a kid I had a book of them, illustrated. And then when I was in Russia, one way I learned to speak Russian and to read it was to read fairy tales to myself. And so, I have this kind of background of fairy tales when I started casting about for a book idea. And I was like, oh, I love fairy tale books, I love Russian fairy tales. So a book based on Russian fairy tales just made sense. And then the rest kind of just grew in the telling.
UW: Setting the Winternight trilogy in medieval Russia was an interesting choice. What led you to that?
KA: Well, at first it was going to be a more fantasy-type setting influenced by Russia. But then it didn't feel focused and real enough. So, the historical setting, I thought, would ground the fantasy elements, and make them more resonant than just having a sort of abstract fantasy world. I also felt that the medieval Russian setting is not very common in literature, and it would be interesting to show Russia before all the things that we think of as Russian existed. There was no troika or samovars, no tsars, empire, Communism — all those things hadn't happened yet. I wanted to show the Russia that I'd experienced, free of stereotypes that we have in the West. Part of it was that, was bringing it into a place that was realistic but not weighted with preconceptions.
UW: Can you recommend any books on Russian Folklore and mythology for anyone who's interested in looking into what underpins your trilogy?
KA: Absolutely. If you want the master tome, it'd be a book of fairy tales by Alexander Afanasyev. In translation, obviously — they're written in Russian, but get them translated. It's a tome of dozens of Russian fairy tales. I would also try Pushkin's Fairy Tales by A.S. Pushkin. They were written by him, they're not folklore in the old tradition. But they draw upon oral traditions and they're very beautiful. I would say Pushkin and Afanasyev are two great go-to's for Russian Folklore 101. I would also put in the illustrations of Ivan Bilibin, which are incredible sketchings of Russian folklore, like three different fairy tales.
UW: Any new projects under way you can tell us about?
KA: I'm actually working on something and I'm really excited about. But, I can't say anything specific right now. There will be news soon, though.
---
Editor's note: Want to start at the beginning of The Winternight Trilogy? Grab a copy of The Bear and the Nightingale! If you're looking for something for a younger audience, be sure to check out Katherine's new release, Small Spaces — a creepy ghost story for middle grade readers.
Cover detail from The Winter of the Witch, courtesy of Penguin Random House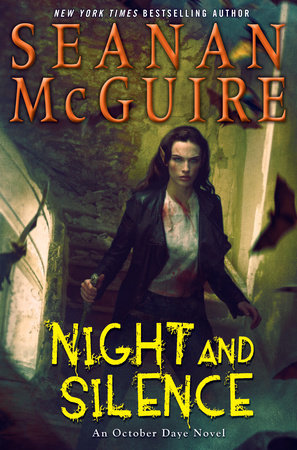 This interview was done at New York Comic Con 2018.
We sat down for a quick chat with Seanan McGuire about her October Daye Series, Thylacine's, and the Halloween when she formed the basis for an actual local legend.
Keith Rice:  The October Daye series is sitting at, like, 12 volumes now. Right?
Seanan McGuire:  Right.  13 will come out next year.
KR:  Great.  Okay. So, how would you describe it for readers who haven't had the chance to pick it up yet?
SM:  October Daye is what happens when you give a trained folklorist an urban fantasy series and no hard limits.
KR:  What was your inspiration for Toby Daye, for the character?
SM:  So, the very first book in the October Daye series, Rosemary and Rue, starts out with Toby being turned into a fish and left in a pond at the Japanese Tea Gardens in San Francisco for 14 years.  And that inspiration for that was that I got stuck on top of one of the moon bridges in the Japanese Tea Gardens. They are basically direct, straight up and down circles and I climbed one like a fool and then could not get down and was just watching this one very large Calico koi swim back and forth and thinking, gosh, that fish must have a very peaceful life.  It's not afraid it's going to die on top of this bridge.  It can do whatever it wants.  Wouldn't it suck if that fish used to be a person?  And the whole series kind of unspooled from that point of how miserable can I make this fish that is way too happy when I am frightened.
KR:  So, October Daye, the InCryptid series, they all fall pretty broadly under urban fantasy.
SM:  Really broadly, yeah.
KR:  What draws you to that niche of writing fantasy?
SM:  As I mentioned, I am a trained folklorist.  I went to the University of California Berkeley–Go Bears–for a folklore degree.  And fairytales, if you look at them in the context of the time when they were first being told, are the urban fantasy of their day.  When Little Red Riding Hood was a new story that people hadn't heard before, you probably did have a grandparent or other relative who lived on the other side of a big forest.  You probably had heard of people walking into those woods alone and getting savaged by wolves or bears or something else that lived there.  It was an immediacy in the same way that Charlene Harris's vampire books have an immediacy because there were these vampires.  They might be living next door.  There are these wolves.  They might be living in the forest between you and your grandma. So, I just really like fairytales and wanted to write today's fairytales.
KR:  So, your first novel was published in 2009 and you've been going at a dizzy pace ever since.  How do you juggle your long running series, your music, sleep?
SM:  I don't sleep much.  When "Hamilton" was big, literally every single person I have ever met in more than an immediate and casual sense, sent me a copy of "Nonstop" because they thought that was very funny.  And that I hadn't heard it 90 times by that point.  It helps that when I was making choices about my life, I said I am a better aunty than I would be a mom.  I don't want children of my own.  So, I have cats but no kids.  I also am not married at this time.  I think it's absolutely possible to maintain my level of output with children, but you have to have a spouse that'll be up for at least 50% of the child-rearing duties.  So, there are juggling acts I don't have to perform.  And that's not better or worse than anyone else's choices.  That's just–you don't want to leave me alone with the baby.  I would do something silly like assume it was a cat and just leave it on the floor with a bowl of Captain Crunch while I went off to write a novel.  I don't sleep enough.  I get yelled at a lot for not sleeping.  I don't play enough Overwatch, but I do my best.
KR:  I know you love travel.
SM:  I do.  Well, love is a strong word sometimes.
KR:  What's the one place you want to visit and haven't had the chance?
SM:  I have not yet been to Tokyo which is a little silly when you consider that Tokyo contains everything I love.  It has a Disneyland that I haven't been to.  It has Pokémon Centers and I own so many Pokémon plush that my friends joke that going into my bedroom is like stepping into the tall grass.  It has entire stores devoted to fancy dolls and I'm a fancy doll collector.  So, Tokyo is really on the big bucket list.  Second on the list is wherever in Australia I can actually finally find a live Thylacine to prove that they are still out there.
KR:  Okay.  So, last question.  We're coming up on Halloween.  What's your all-time favorite horror story?
SM:   My all-time favorite horror story?  My all-time favorite horror story is actually the one I pulled off accidentally.  I grew up very, very poor. I grew up so far below the poverty line that you couldn't see it on a clear day.  And this meant that Halloween was serious business because for Halloween I could get candy the same as the kids whose parents could afford to buy them candy.  And this means I planned for Halloween like I was planning the siege of a small fictional nation.  I drew up maps.  I would actually and creepily – and I acknowledge as an adult that this was a creepy thing for child-me to do – I would sit in the grocery store and watch to see who bought the good candy and see if I recognize them as the parents of any of my classmates, so that I could prioritize their neighborhoods.
I would generally leave the house about six p.m. and stay out until all the pumpkins were off.  And my mother was very distracted.  I had two sisters, one 6 years younger and one 7 years younger.  So, by the time I was nine my mother was not keeping a very close eye on what I did.
So, the Halloween when I was 11, I got this long white, nightgown from the Goodwill.  I painted every exposed inch of my body with talcum powder and then went over that with craft glitter.  And it turns out that while I did not quite glow in the dark. I came very, very close to glowing in the dark.  This was not good enough for me, so I mixed up some fake blood and pretty much painted myself in fake blood from the knee down and from the wrist down.  And I had flip-flops on, so it looked like I was barefoot.  So, you have this glowing white, blood-dripping figure.  And that might still have been okay except for the part where to get from the last good neighborhood, which was Bel Air Heights, back to the neighborhood where I live, which was Maclear Courts, I decided it would be a really good idea to walk through the dry storm culverts because it hadn't rained in a while.  And that would cut off four or five blocks of my trip and a good deal of traffic.
So, I went under the road, walked through the storm culvert and then popped up as if from the ground on the side of the creek that faced the Court.  And the man who had been coming around the curve up the street, saw me suddenly appear with no warning whatsoever, not looking like a small child trick or treating, but looking like the dead person from the culvert.  And he crashed his car into a tree.  And it was in the papers the next day.  This man was contesting a drunk driving charge because he hadn't been driving drunk.  He literally saw a ghost come out of the storm culvert.  And that is my favorite horror story because the kids in that neighborhood still tell it, like there's a whole urban legend now that this one storm drain is haunted by the ghost of a girl who was killed by a car.  I'm like, no, it's haunted by a candy hungry 11-year-old and a five dollar nightgown from Goodwill.
Check out Seanan McGuire's Night and Silence!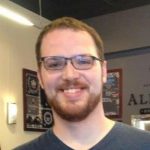 Keith Rice is a West Virginia native and a freelance writer residing in Philadelphia with his lovely, if oft exasperated wife and three cats. Keith fosters an enthusiastic appreciation for beer and scotch, collects comics, and most importantly is an avid reader and movie lover. Oh, he's a pretty big fan of sci-fi and fantasy as well. Drop him a line @Keith_Rice1.
This interview was done at New York Comic Con 2018.
We sat down with Peter Tieryas to talk about Mecha Samurai Empire, alternate history, and what to eat when fighting Nazis.
Keith Rice:  So Mecha Samurai Empire just came out, what can you tell us about it?
Peter Tieryas:  So, it is a book about giant Mechas fighting big Nazi monsters.  And it's a very personal story in that it's about being Asian-American, and sort of growing up in a place where, literally, on the other side of the continent there is a group of people who want to see their destruction solely based on their ethnicity.  Anyone who doesn't fit the Aryan Nazi mold should be eliminated.  How do you grow up in that world, right?  Like, what is your view of the world when you're acutely aware of your race.  And that became the central metaphor.  The best alternate history gives us a different context and a different view of our own world. There's a lot of entertainment, there's a lot of action, but also, hopefully there are deeper questions about identity, about ethnicity, and about diversity.  It's also loosely inspired by Man in the High Castle.
KR:  Okay, so this is set in the world of The United States of Japan?
PT:  Yep.
KR:  What led you to expand on that world?
PT:  When I wrote The United States of Japan, I had a deep desire to sort of explore World War II from the Asian side. Growing up I heard all these stories about World War II from the Asian side.  Just really fascinating things.  And when I came to America there was nothing about this perspective, just no information available. It was always focused on more of the European side, you know?  Like what happened with the Nazis, and General Eisenhower and Hitler. I kind of challenge people, how many generals do you know on the Asian side?  Who were fighting the Chinese, who were fighting for the Philippines, right?  Even on the American side, for the average person, there's very little actually known about World War II.  What battles do you know about? I had this desire to tell a story about that.  So when I wrote it, it was very structured.  It takes place over a couple of days it's a roller coaster.  You just start and it keeps on going.  But when I was finished, I kind of wanted to know more about the world.  What happens after those days are, right?  What do people eat, how do people hang out, what's day-to-day life in that alternate history like?  That reminded me – that's what I really wanted to know about in  Man in the High Castle as well.  What is this world about?
Mecha Samurai Empire initially began as an attempt to just explore the world and see what it's about.  The very first thing I wrote was the alternate history Pledge of Allegiance, which is like, "I pledge Allegiance to the United States of Japan, and to the Empire for…"  When I first wrote that, it kind of became a guiding philosophy for me.  So, you'll see, it's like America, and it'll feel very familiar, but at the last minute there'll be a little twist and where you're like, "Whoa, this is a completely different world."  They completely distorted or misinterpreted, or reinterpreted what we view as certain ideas and philosophies. That, to me, was really fascinating. So, for example, one idea that came up is that they look at The Great Gatsby, which was written in the twenties, and it was an indictment of that era, right. But in normal history, after World War II there was the boom, and everything recovered and America became a behemoth.  In the alternate history of The United States of Japan, America lost, so there was never that boom.  So, they look at Fitzgerald as almost a prophet of the end of the America.  It's stuff like that, those weird little details.
KR:  Okay, so there are a lot of moving parts under the hood here.  You've got alternate history, there's gaming, there's mecha. What were your biggest influences coming into this story?
PT:  There's a bunch, but I think the biggest from a story-telling perspective was Hideo Kujima.  He did Metal Gear Solid, Zone of the Enders, but what fascinated me about Metal Gear, was that despite the title, it's not really about metal gear.  It's about the people involved, and how they're going to use metal gear.  That, to me, was really  important when I was writing about the mechas.  When you watch a really good mecha movie, if it's just about the action, the first minute is really exciting.  Then after a while you start going, "Oh, I'm used to this."  And it almost becomes boring.  It's like mecha porn.  Or you just become so inured to it. What really differentiates it is if you care about the characters.  And I think with Metal Gear, you go find a boss and the boss has this very strong personality and you remember their personality as you're fighting them. In the same way I wanted these characters to be memorable.  So that's where I spent a lot of time – just really focusing on the character interactions.  What does each battle mean? The way they fight, how does that represent who they are?
I also took a little bit of inspiration from "Mike Tyson's Punch-Out!!" – the original game- because each of those characters had so much personality.  So, there's a character named Honda.  He has big bushy eyebrows that he moves.  And for people who know "Mike Tyson's Punch Out!!" they know when he does the his hurricane charge, he actually takes four steps.  So, they actually analyze this mecha data, and they realize, "Oh, every time he does that charge he takes four steps," They use that to beat him.  And in a little ironic twist, the "Punch Out" referee is Mario, right, he's Italian.  in the Axis world, Germany and Japan are at odds with each other, but Italy always plays the peacemaker.  In the mecha tournaments, there's an Italian guy who's the peacemaker. That's a nod to Mario and "Punch Out".  From a literary perspective, obviously Phillip K. Dick, that just goes without saying.  Cordwainer Smith is another one, I just love his storytelling.  Rieko Kodama is another.  She did "Phantasy Star II." It was one of my very first exposure to science fiction, through that video game.  Where it's actually about a Utopia that's really cool and amazing, and then the whole Utopia starts falling apart, and then you find out at the end that humans are the bad guys.
KR:  Right.
PT:  That's one of the very few instances – in a movie, book, or whatever – that I can remember, where the villains are ultimately humans.
KR:  Are you planning to explore more of Mac's story, or moving on to something else within the world of United states of Japan? 
PT:  Yeah, so I actually turned in the first draft of the next book to my editor.  It's a completely different story, completely new characters.  It is following the aftermath of the Berkeley massacre, and the whole battle.  It's basically a revolution takes place within the United States of Japan.
KR:  What three books would you recommend for fans of Mecha Samurai Empire? 
PT:  I would say Sleeping Giants is a big one.  I really like the works by Project Itoh.  He did the adaptation of "Metal Gear Solid IV", but also Project Harmony and Genocidal Organ. Those are just really great.  But between those three, maybe I'd say Genocidal Organ. It really stands out.  And then, while I don't know if it is necessarily connected to the United States of Japan and Mecha Samurai Empire but, Cameron Hurley's work. I really love her work, Apocalypse Nyx is great. And then obviously Man in the High Castle, but, you know, that goes without saying.
KR: I'm going out on a limb and assuming you're a gamer.
PT:  Yep.
KR:  What are you playing right now?
PT:  We recently had a baby, so I've had to stop.  But the last game that I played was "Spec Ops: The Line.".  That was an intense experience.  That was, just, like, wow, you know?  Just the world-building and everything.
KR:  And that twist is just killer.
PT:  Yeah, yeah.  I think I finished it the week before our baby came.  "Persona V" was the big one I played before that.  That just took forever but I really wanted to enjoy it. I actually played through with my wife.  I was very influenced by "Persona".  What I love about the world-building in "Persona" is that you have to save the world and everything's going to chaos, but you can also go find a really good ramen, or you can go on a date at a carnival. I love that.  So, in Mecha Samurai Empire, there are food excursions.  Sure, there are Nazis, but you still have to eat, right?
Check out Peter Tieryas' Mecha Samurai Empire!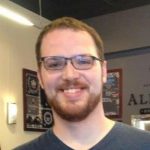 Keith Rice is a West Virginia native and a freelance writer residing in Philadelphia with his lovely, if oft exasperated wife and three cats. Keith fosters an enthusiastic appreciation for beer and scotch, collects comics, and most importantly is an avid reader and movie lover. Oh, he's a pretty big fan of sci-fi and fantasy as well. Drop him a line @Keith_Rice1.
This essay was written by Josh Malerman and originally appeared on Unbound Worlds. Josh Malerman defines the new generation of horror writers as only he can in this inventive essay. Unbury Carol is out now, and Inspection is coming in April 2019.
---
Oh, poor horror, misunderstood.
Mother says you're made up of witches and woods, brutal bloodletting, slashers in hoods. But I know better, having eaten my share, saved some for later, stashed under stairs.
Mixed 'em and matched 'em and made new pairs.
Mother doesn't like you. She says you are trite! I try to convince her night after night. I beseeched her, "Dear Mother, open thy mind. Horror is no longer a word you will find so neatly packaged with stuffing and twine."
"Leave me, dark child, with a full foamy stein.
And take your common monsters, speckled with teeth
Used so often they put me to sleep.
Take your old bones lying out in the rain
While I read something compelling and sane."
Oh, poor horror, misunderstood.
I continued with Mother, as well as I could. My argument expanded to include books she deemed good. "Some say Jane Eyre is as much of a fright as Tanith Lee's Dreams of Dark and Light. And some cite Melville as a man of such tales, for what could be scarier than a giant white whale? But never mind the classics, fuddy mother of mine, horror no longer grows on the vine Here, let me show you one of mine."
Here I showed Mother Inspection of mine.
She huffed and she hawed until halfway she knew it, she lifted the book and she almost threw it, then brought it back down to the yarn on her knees, and read the second half at her ease.
"But this isn't horror, rotten child of mine, for it has no vampires or inverted nines."
"But Mother, you see! The word is elastic, and all us new writers are made of new plastic! We'll write of such things, but not cause they're gaudy, we're interested in both the mind and the body. We thrill but we think, we're intellectually naughty. We're interested in both the mind and the body."
Dear Mother then frowned and dismissed me again. But she hadn't yet thrown the book in her hand.
"What does your kind know of the ways of the soul? Coming of age? Quality control? Leave me, braindead child, and take with you your trolls."
Oh poor horror, misunderstood.
I took leave as she ordered but for only so long, and returned with a stack of new songs.
A tower of books, a stack of new songs.
"Horror has changed, Dear Mother it's true, it's not the same now as it was for you. The genre is present as the ice in your drink, it's come up through the pipes and the sink."
Here Mother looked to the kitchen, to the sink, and I felt I'd made progress, had got her to think.
"The genre has fled from the castles of yore and is no longer steeped in bones and gore–though we love such elements, we love them, it's true! But did you know the color blue could be as much monster as the thing in the brew? Did you know we see monsters in even baby blue?"
"The way you talk, it's as if you see scares everywhere."
"That's it! That's right! Even over there!"
I pointed to a corner where nothing was there.
Mother shook her head and pointed, too, a long wrinkled finger and said, "You, oh you. Do you think me so vulgar to believe such a thing? That your genre might be found on a butterfly's wing?"
"But what better place–do not make a face–for your likeness may match the pattern of lace in the curtains of this room in which we debate, or the pattern indeed of the butterfly's mate."
"Oh!" Mother said, shaking her head. "Leave me, gross child, and take your undead. You speak as though you'd marry Dreary and Dread."
Oh poor horror, misunderstood.
"I'll leave you, Dear Mother, I'll go up to my bed. But not without repeating the things that I've said. For horror has risen from the graves of yore and can be found now in places never heard of before, or perhaps even the corners of this very room! A brand new monster in this very room!"
She looked to the corner and I felt I'd scored, but I'd need to describe what stood where the walls met the floor.
"Do you see it, Dear Mother? The crown of its head? Why, it's not even a ghost, it's not even dead. Nor is it invisible, as you've read of before. What stands in this room is More."
"More as a monster?" Mother laughed at me so. "But what sort of horror does More have in store?"
I crossed the room then.
"The livers are living but they still want More.
The lovers are loving but they still want More.
Mothers are presented with examples but they still want More.
Do you see, Dear Mother, we've made a monster of More?"
Mother seemed to consider, but did not look resigned.
"I told you," I said, "the body and the mind."
She set down my book, took the yarn from her lap, rose to a standing, and clapped a lone clap.
"Bedtime for me, ugly child of mine." And she made for the staircase of antique pine.
Her opinion, I thought, as hard as the wood.
Oh poor horror, misunderstood.
But as she took the first step, and the step did shriek, she paused without turning to speak: "The way you see it, stairs could be horror. And a person who takes them, an explorer."
She did turn then, and gave me a wink, nodded her head as if to rethink, then climbed the stairs and called over her shoulder, "Interesting child, you simmer and smolder–do all you new writers think this way? Horror in all things, every day?"
She stopped outside her bedroom up there, perhaps pondering a brand new scare.
"Yes, Dear Mother," Dear Mother, I swore.
And she whispered, "Not bad," before closing the door.
---
Photo by W A T A R I on Unsplash
We are excited to announce that Penguin Random House has become the first book publisher to sign onto the Renewable Energy Buyers' Principles, part of the Renewable Energy Buyers Alliance (REBA), which informs utilities and other suppliers what industry-leading, multinational companies are looking for when buying renewable energy from the grid. The program, which is supported by the World Wildlife Foundation (WWF), launched in July of 2014 with just 12 signatories. Penguin Random House is now the 78th company to sign.
Through our paper certification process, LED lighting program, and energy offset programs, among other programs, Penguin Random House continues to improve and implement "green" practices across our operations. Since 2014, we have already reduced our carbon emissions by 10%, and we remain committed to reducing carbon emissions by 10% by 2020 and 20% by 2025 through improvements to our company's infrastructure and energy-saving capacity.
This article was written by Francesca Hornak and originally appeared on Signature Reads.
This year, with the deadline for my second novel in sight, plotter's block descended. Plotter's block is different from writer's block. Writer's block, as I see it, is when you have a story but the words aren't flowing or behaving. Plotter's block is when you're itching to write, perhaps you're already writing — except you have no story. Nothing to reel your readers in. All you have is a jumble of settings, characters, conflicts, scenes. Nothing, in short, that is actually going to hold that blurb. The tricky thing is that actively searching for ideas can feel contrived, and paralyzing. So there's definitely a case for putting everything on hold, while your subconscious chews things over. But if you're as impatient as I am, you'll want to help your subconscious out in the meantime. These, then, are the three places I look for stories (without telling myself I'm looking).
Read the local news
Unlike the global or national news, local papers are mines of small-scale human-interest stories. And these stories, the family feuds, the individual tragedies, the community uprisings and the everyday heroes, are exactly the material a novelist needs. It worked for me, anyway. The plot I've ended up with for my second novel is based on a story in my local rag about 'Patient X' — a mysterious man who had been lying unconscious and unidentified in hospital, for thirty days. The paper's focus was on the man: Who was he, and how could someone go un-missed 'in one of the most connected cities in the world'? My focus is going to be on the patient's neighbors, who find him, call him an ambulance, and are then brought together by the puzzle he presents.
Conversations with strangers
Everyone has something for your novel, if you let them talk. Case in point: after I'd found Patient X, I met someone at a wedding who told me about a strange man in her very bourgeois street in West London. His house, which he has apparently lived in since birth, looks derelict with boarded up windows. He barely speaks to anyone (although you can faintly hear him playing the violin through those window boards). But every morning he goes to the local tube station, collects a load of free papers, and delivers one to every house on the street. Immediately I thought of Patient X, and what great details these would be for the local 'loner' — possibly even details the plot could twist or hinge on. Then there was the man I sat beside on a plane who told me how his mother, sick of making packed lunches every morning, hit on batch-freezing industrial quantities of sandwiches every few months instead. He and his siblings would then get these frozen sandwiches — usually only half defrosted — in their lunchboxes. Admittedly it didn't spark a whole novel, but something in its muted, suburban madness really appealed to me. And unlike a friend or relative, a stranger is unlikely to find out you plundered their life. If they do, you've obviously written a bestseller.
Existing stories
If you're really stuck, it's worth considering any myths, parables, or fairy tales that caught your imagination as a child. I've always loved the story of The Prodigal Son — I like the way its themes of sibling rivalry and unconditional parental love are so enduring, and the fact that everyone behaves badly or rashly at some point. I used it to structure my first novel Seven Days of Us, because I knew I wanted to write a family story about one rebellious sister and one who was very attached to her parents. The key to making this method feel fresh and inspiring, I think, is to reverse one aspect of the existing story. In my case, the 'errant' sibling was off doing good deeds, rather than squandering her inheritance, while the stay-at-home sibling was very frivolous. I don't see any shame in this tactic — apparently there are only about seven stories in the world anyway, so it's no wonder we all get plotter's block from time to time. Good luck.
Plotter's Block / Photo by Kelly Sikkema on Unsplash