How to Deal with Plotter's Block (Which Is Worse Than Writer's Block)
This article was written by Francesca Hornak and originally appeared on Signature Reads.
This year, with the deadline for my second novel in sight, plotter's block descended. Plotter's block is different from writer's block. Writer's block, as I see it, is when you have a story but the words aren't flowing or behaving. Plotter's block is when you're itching to write, perhaps you're already writing — except you have no story. Nothing to reel your readers in. All you have is a jumble of settings, characters, conflicts, scenes. Nothing, in short, that is actually going to hold that blurb. The tricky thing is that actively searching for ideas can feel contrived, and paralyzing. So there's definitely a case for putting everything on hold, while your subconscious chews things over. But if you're as impatient as I am, you'll want to help your subconscious out in the meantime. These, then, are the three places I look for stories (without telling myself I'm looking).
Read the local news
Unlike the global or national news, local papers are mines of small-scale human-interest stories. And these stories, the family feuds, the individual tragedies, the community uprisings and the everyday heroes, are exactly the material a novelist needs. It worked for me, anyway. The plot I've ended up with for my second novel is based on a story in my local rag about 'Patient X' — a mysterious man who had been lying unconscious and unidentified in hospital, for thirty days. The paper's focus was on the man: Who was he, and how could someone go un-missed 'in one of the most connected cities in the world'? My focus is going to be on the patient's neighbors, who find him, call him an ambulance, and are then brought together by the puzzle he presents.
Conversations with strangers
Everyone has something for your novel, if you let them talk. Case in point: after I'd found Patient X, I met someone at a wedding who told me about a strange man in her very bourgeois street in West London. His house, which he has apparently lived in since birth, looks derelict with boarded up windows. He barely speaks to anyone (although you can faintly hear him playing the violin through those window boards). But every morning he goes to the local tube station, collects a load of free papers, and delivers one to every house on the street. Immediately I thought of Patient X, and what great details these would be for the local 'loner' — possibly even details the plot could twist or hinge on. Then there was the man I sat beside on a plane who told me how his mother, sick of making packed lunches every morning, hit on batch-freezing industrial quantities of sandwiches every few months instead. He and his siblings would then get these frozen sandwiches — usually only half defrosted — in their lunchboxes. Admittedly it didn't spark a whole novel, but something in its muted, suburban madness really appealed to me. And unlike a friend or relative, a stranger is unlikely to find out you plundered their life. If they do, you've obviously written a bestseller.
Existing stories
If you're really stuck, it's worth considering any myths, parables, or fairy tales that caught your imagination as a child. I've always loved the story of The Prodigal Son — I like the way its themes of sibling rivalry and unconditional parental love are so enduring, and the fact that everyone behaves badly or rashly at some point. I used it to structure my first novel Seven Days of Us, because I knew I wanted to write a family story about one rebellious sister and one who was very attached to her parents. The key to making this method feel fresh and inspiring, I think, is to reverse one aspect of the existing story. In my case, the 'errant' sibling was off doing good deeds, rather than squandering her inheritance, while the stay-at-home sibling was very frivolous. I don't see any shame in this tactic — apparently there are only about seven stories in the world anyway, so it's no wonder we all get plotter's block from time to time. Good luck.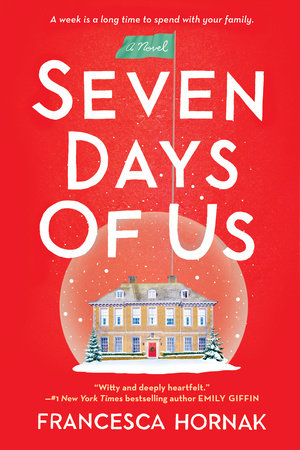 Only the most extraordinary circumstances can reunite the Birch family for the holidays… Read more >
Plotter's Block / Photo by Kelly Sikkema on Unsplash