Katherine Arden on Russian Fairy Tales and Finishing Her Trilogy
This article was written by Keith Rice and originally appeared on Unbound Worlds.
We caught up with Katherine Arden at New York Comic Con for a quick chat about how it feels to finish up the Winternight Trilogy, Russian fairy tales, and cupcakes.
Unbound Worlds: The Winter of the Witch arrives January 8th — what can you tell us about it?
Katherine Arden: Well, it's the third book in the Winternight Trilogy; it ends the story of Vasilisa Petrovna and her colleagues and relations. It takes place in medieval Russia and, as far as specific plot points, not everyone lives. But it does what I hoped this series would do and it brings Vasilisa from childhood to adulthood. Fully, I think. And that was the most important thing I wanted out of the series, to show the coming of age of this young woman in medieval Russia, and it did. And it was a huge amount of work, and I spent two weeks in a basement to finish it eating only cupcakes. And there were many somewhat angsty calls to my editor in the realm of, like, "It's not working, it's not working." Then it did work and I finished it, and I am so excited to present it to you guys in January.
UW: How does it feel to finish up the trilogy?
KA: I have mixed feelings. It was huge focus of my life for five years, so letting it go is bittersweet, but I'm also excited to do a non-medieval Russia book. Very excited. And just to have it be over, and to have everyone be able to know what I was planning on doing from start to finish.
UW: Did you intend it as a trilogy when you started?
KA: I did, although the trilogy that I wrote bears no resemblance to the trilogy that I thought I was going to write however many years ago. Seven now, I think. No resemblance whatsoever. It has the same start point that I intended and the same endpoint. But, the points in between are stranger than I could've imagined. I always meant to have it as a trilogy from day one. And I did, so that was good. One point for planner. The only point for planning really.
UW: So what peaked your interest in Russia and Russian folklore? You have your degree in Russian, correct?
KA: Yeah, in Russian from Middlebury College. I spent a year in Moscow when I was 19, and I went back to Moscow my junior year of college. I'd always loved books based on folklore. I was a huge Robin McKinley fan growing up, and I always loved Russian fairy tales. When I was a kid I had a book of them, illustrated. And then when I was in Russia, one way I learned to speak Russian and to read it was to read fairy tales to myself. And so, I have this kind of background of fairy tales when I started casting about for a book idea. And I was like, oh, I love fairy tale books, I love Russian fairy tales. So a book based on Russian fairy tales just made sense. And then the rest kind of just grew in the telling.
UW: Setting the Winternight trilogy in medieval Russia was an interesting choice. What led you to that?
KA: Well, at first it was going to be a more fantasy-type setting influenced by Russia. But then it didn't feel focused and real enough. So, the historical setting, I thought, would ground the fantasy elements, and make them more resonant than just having a sort of abstract fantasy world. I also felt that the medieval Russian setting is not very common in literature, and it would be interesting to show Russia before all the things that we think of as Russian existed. There was no troika or samovars, no tsars, empire, Communism — all those things hadn't happened yet. I wanted to show the Russia that I'd experienced, free of stereotypes that we have in the West. Part of it was that, was bringing it into a place that was realistic but not weighted with preconceptions.
UW: Can you recommend any books on Russian Folklore and mythology for anyone who's interested in looking into what underpins your trilogy?
KA: Absolutely. If you want the master tome, it'd be a book of fairy tales by Alexander Afanasyev. In translation, obviously — they're written in Russian, but get them translated. It's a tome of dozens of Russian fairy tales. I would also try Pushkin's Fairy Tales by A.S. Pushkin. They were written by him, they're not folklore in the old tradition. But they draw upon oral traditions and they're very beautiful. I would say Pushkin and Afanasyev are two great go-to's for Russian Folklore 101. I would also put in the illustrations of Ivan Bilibin, which are incredible sketchings of Russian folklore, like three different fairy tales.
UW: Any new projects under way you can tell us about?
KA: I'm actually working on something and I'm really excited about. But, I can't say anything specific right now. There will be news soon, though.
---
Editor's note: Want to start at the beginning of The Winternight Trilogy? Grab a copy of The Bear and the Nightingale! If you're looking for something for a younger audience, be sure to check out Katherine's new release, Small Spaces — a creepy ghost story for middle grade readers.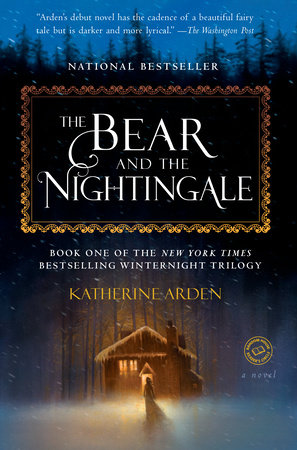 Katherine Arden's bestselling debut novel spins an irresistible spell as it announces the arrival of a singular talent with a gorgeous voice. Read more >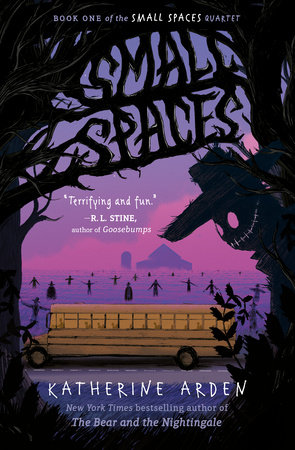 When Ollie happens upon a crazed woman at the river threatening to throw a book into the water, Ollie steals the book and running away. She discovers a chilling story about a girl and a peculiar deal made with "the smiling man," a sinister specter who grants your most tightly held wish, but only for the... Read more >
Cover detail from The Winter of the Witch, courtesy of Penguin Random House