To highlight some great moments and voices during Black History Month, we're teaming up with StoryCorps. If you're not already familiar, StoryCorps is a wonderful organization focused on capturing the wisdom of humanity through interviews and stories in order to create a more just and compassionate world.  Learn more about their mission, history, and impact here. 
In this video, Theresa Burroughs recalls her persistence to claim her right to vote during the Jim Crow era in the rural South.
Inspired to learn more? We've got themed lists to help you find your next read – from fresh new authors, to canonical greats.
Head over to StoryCorps to find more oral history and amazing storytelling.
Who better to give book recommendations than the bookish experts? Penguin Random House employees are sharing their favorite reads every month. Browse below!
This month, we're featuring Alex Hill, Corporate Communications Assistant. When she's not stuck on the Subway, Alex can be found in the East Village where, regardless of the season, she'll be drinking iced coffee and discussing her two greatest loves: books and Broadway.
Check out the books she recommends:
Mary Oliver, beloved poet and bard of the natural world, died on January 17 at home in Hobe Sound, Florida.  She was 83.
Oliver published her first book, No Voyage, in London in 1963, at the age of twenty-eight. The author of more than 20 collections, she was cherished by readers, and was the recipient of numerous awards, including the 1984 Pulitzer Prize for American Primitive, and the 1992 National Book Award for New and Selected Poems, Volume One. She led workshops and held residencies at various colleges and universities, including Bennington College, where she held the Catharine Osgood Foster Chair for Distinguished Teaching until 2001. It was her work as an educator that encouraged her to write the guide to verse, A Poetry Handbook (1994), and she went on to publish many works of prose, including the New York Times bestselling essay collection, Upstream (2016). For her final work, Oliver created a personal lifetime collection, selecting poems from throughout her more than fifty-year career. Devotions was published by Penguin Press in 2017.
Her poetry developed in close communion with the landscapes she knew best, the rivers and creeks of her native Ohio, and, after 1964, the ponds, beech forests, and coastline of her chosen hometown, Provincetown. She spent her final years in Florida, a relocation that brought with it the appearance of mangroves. "I could not be a poet without the natural world," she wrote. "Someone else could. But not me. For me the door to the woods is the door to the temple." In the words of the late Lucille Clifton, "She uses the natural world to illuminate the whole world."
In her attention to the smallest of creatures, and the most fleeting of moments, Oliver's work reveals the human experience at its most expansive and eternal. She lived poetry as a faith and her singular, clear-eyed understanding of verse's vitality of purpose began in childhood, and continued all her life. "For poems are not words, after all, but fires for the cold, ropes let down to the lost, something as necessary as bread in the pockets of the hungry."
When Death Comes
When death comes
like the hungry bear in autumn;
when death comes and takes all the bright coins from his purse
to buy me, and snaps the purse shut;
when death comes
like the measle-pox;
when death comes
like an iceberg between the shoulder blades,
I want to step through the door full of curiosity, wondering:
what is it going to be like, that cottage of darkness?
And therefore I look upon everything
as a brotherhood and a sisterhood,
and I look upon time as no more than an idea,
and I consider eternity as another possibility,
and I think of each life as a flower, as common
as a field daisy, and as singular,
and each name a comfortable music in the mouth,
tending, as all music does, toward silence,
and each body a lion of courage, and something
precious to the earth.
When it's over, I want to say: all my life
I was a bride married to amazement.
I was the bridegroom, taking the world into my arms.
When it's over, I don't want to wonder
if I have made of my life something particular, and real.
I don't want to find myself sighing and frightened,
or full of argument.
I don't want to end up simply having visited this world.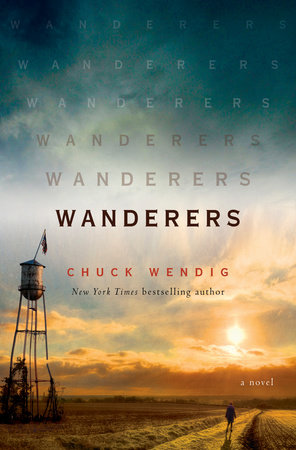 This interview was done at New York Comic Con 2018.
We caught up with Chuck Wendig, author of the Star Wars Aftermath Trilogy, to chat about Star Wars, Cantina Bartenders, and, of course, sandwiches.
Keith Rice: Can you share what you are working on now with us?
Chuck Wendig: Sure, sure. I have a stand-alone in 2019, in July, with Del Rey – who published me for Star Wars. I guess we can call it a sci-fi/horror epic kind of thing. Think of it as a little bit of Stephen King, a little bit of Station Eleven, a little bit of The Stand, with a vein of Michael Crichton throughout.
KR: You're speaking my language.
CW: Good, good! It's epic. It's a big book. I think in manuscript form, it's almost 1200 pages. It's called Wanderers, and I am very excited about that. Then this weekend [October 6th, 2018], I have the premiere of "You Might Be the Killer" on Syfy which I wrote with Sam Sykes. We randomly tweeted back and forth this slasher/serial killer story, we improved it and it got optioned for film. So, the lead characters are Sam and Chuck and Chuck is being played by Alyson Hannigan – of all the things in the world.  That's happening, just proving that 2018 is truly the dumbest timeline.
KR: You wrapped up the Aftermath Trilogy last year, how would you describe the series for readers who haven't picked up it yet?
CW: Aftermath is a new trilogy set between the end of Return of the Jedi and the beginning of The Force Awakens. It takes us up to and includes the Battle of Jakku. And it's about that sort of slow collapse of the Empire and the rise of the new Republic. And it sort of has a vibe in there that speaks to the Nazi hunters after World War II who tracked down all the Nazi war criminals across world. There is a group that takes on the task of finding some of the fallen Imperials and they get caught up in all of the dynamics with the new Republic and falling Empire.
KR: What was it like taking on such a pivotal time in the Star Wars universe?
CW: Awesome. It was amazing. It was great. I really don't know what to say beyond that.  Like I have no complaints other than the surprise that they let me do it.
KR: What was the process like coming into something as well-established as Star Wars?
CW: It wasn't just that Star Wars is so well-established because in some ways it wasn't, and that sounds strange given what we know about Star Wars. But Star Wars, after it was picked up by Disney, was a cleaner slate than it was five years previously. So, that actually allowed me more freedom in many ways than if we had been constrained by 100, 200, 500 books and other properties. The TV shows, films, and one or two books were able to kind of inform what we did. But of course the other trick was because we were building into The Force Awakens, there were issues there with secrecy about what they could tell and what they couldn't tell. For instance, we had the character of Temmin Wexley in Aftermath who eventually becomes Snap Wexley – Snap being a nickname – in The Force Awakens.  It was sort of like playing chess with someone that you can't see. So, you're always trying to figure out what you're allowed to do and what you're not allowed to do, so it's kind of a neat process of discovery.
KR: What made you want to take on the Cantina Bartender for A Certain Point of View?
CW: I was always fascinated because we didn't really get a good sense of why droids were a problem until the "Clone Wars" – you know the films and the "Clone Wars" show. This guy seem to hate them; he was very mad at droids. So, I thought this is a good opportunity to connect those two eras, but obviously there is some grave distrust with droids that has been sewn across the galaxy and this guy is real salty about it.
KR: So you've been crazy busy since the debut of your first novel. Between novels, comics, your blog, sandwich making …
CW: Yeah, sandwich making, that's really taking over [laughs].
KR: How do you balance everything?
CW: I am fortunate in that this is my full time job, so all of my time is there to devote. I mean, outside of like my son and my wife and whisk(e)y, and also sandwiches. I have a lot of time to devote to doing this stuff. Mostly it's just trying to strategize going forward, having a long plan forward and a long tail behind that sort of keeps me going.
KR: So mostly it's just …
CW: Having time to strategize, going forward, and having a long plan forward and a long tail behind me and that sort of keeps me going.
KR: Okay, so I have ask how did the Wendigo come about?
CW: There was an article in the New York Times that I think was just like "bleh."  You know the New York Times will do things like "Wow, let's make guacamole out of peas," and everyone's like "bleh." And I'm on board with the "bleh," but I also feel like you should keep an open mind about things. They were like "a new, cool sandwich is this old sandwich with peanut butter and pickles."  I mean, my grandmother used to eat this sandwich. And then I was like "that sounds sort of disgusting." But, then I thought, "well, maybe it's not, though."  When you think about Thai food it has that sort of sourness and then the peanut sauce. Eh, yeah, I thought it could kind of work. So, I try it and it was delicious. Then I was discussing it with other people, and they were asking "what if mayo was involved" because mayo is food lube. Really its only function is helping food slide down your gullet.  Peanut butter can be a little forbidding, so I added the mayo.  Then I was like, "well, this does need bacon because why not." It really becomes almost like a Thai sandwich. You got all these taste factors going into it. Really, you know, that's where it was. I put it out there and people were like "you're disgusting" and I'm like "well, try it" and they're like "well, that's disgustingly delicious!" Yep.
Check out Chuck Wendig's Wanderers, out in July 2019!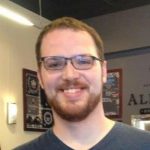 Keith Rice is a West Virginia native and a freelance writer residing in Philadelphia with his lovely, if oft exasperated wife and three cats. Keith fosters an enthusiastic appreciation for beer and scotch, collects comics, and most importantly is an avid reader and movie lover. Oh, he's a pretty big fan of sci-fi and fantasy as well. Drop him a line @Keith_Rice1.
There's something enticingly ambiguous about characters who hover on the fringes of social groups. They're not strangers — they have a perfectly legitimate reason for being there — but they're excluded from the inner circle. They don't quite belong, and this can lend them a certain invisibility.
The neighbor who smiles over the fence; the intern who arrives at work first and leaves last; the acquaintance who joins the camping trip to make up numbers… these characters are finely positioned to observe the action and make their plans without having to reveal their own flaws in return.
 When we encounter one of these characters lurking on the social margins, delicious questions arise. Do they resent being overlooked, or are they revelling in the lack of scrutiny — even taking advantage of it? Does their position make them vulnerable, or powerful? Sometimes, as readers, it's our desire to discover which of these outcomes will triumph that keeps us hooked.
If we're sympathetic to our doesn't-quite-belong character, we might worry about the illusion of safety. An observer is only one step away from being a witness. An inadvertent glimpse of something wrong, or an overheard revelation, might catapult our outsider into a moral dilemma or a life-threatening situation. Will they choose to become a whistle-blower, or an accomplice? Will they intervene despite great personal risk, or will they flee?
Yet, with a few subtle words from the writer, how easily our sympathy slides into suspicion. Is our interloper hiding a murky background, an ulterior motive? Do they plan to stroll, unremarked upon, amongst the main players, right up until the moment they drop their mask and show who really has the upper hand?
The suspense created by these questions has a unique flavor. This is not stranger danger, nor does it focus on close personal betrayal, but it combines elements of each into something all the more slippery and unpredictable.
The balance between vulnerability and power in these characters can push a plot along at a rapid pace. And how much more claustrophobic it becomes if they take up a role inside our homes. Literature is rich with butlers and governesses, cooks and housekeepers, all afforded a unique view of — and unique access to — their employers' private lives.
Is there an ultimate position that one of these characters can inhabit? How about caring for our most precious 'possessions' — our children? A nanny is often the person who keeps the family's life running smoothly, who holds the very family unit together. Almost, you might say, one of the family. Yet working under contract, of course, and subject to the whims of their employer, like anyone else.
I'd like to suggest that an au pair could claim an even more almost-integrated role whilst still hovering on the social fringes. The name itself comes from the French for on a par with, emphasizing their equal status within the host family. An au pair is there to help with light childcare and household duties, in return for a pocket money-level of payment and the chance to experience a different way of life. The employer-employee relationship is blurred into something more personal, more familial, more altruistic. For a character who doesn't properly belong, this might be as close as they can get to pretending that they do.
In real life, of course, the relationship between au pairs and their host families is frequently a happy one. In fiction, however, we are instantly alert. Here is a seemingly defenseless character sleeping under a stranger-family's roof. Here is a character pottering around that family's home while the adults are busy elsewhere. Here is a character who hears the late-night quarrel, who sees the unguarded flash of emotion, who empties the trash can and closes the laptop and passes on the phone messages. Here is a character glimpsing — and hiding — secrets.
Here is a character both powerful and vulnerable, and we want to know how their story ends.
Check out Emma's book here: 
I frequently say that the most predictable part of my writing process is how unpredictable it is. As a writer, I'm a "pantser" — someone who drafts without plotting a great deal. Instead of utilizing an outline as I write, I favor following where the story takes me with a general idea of the book's conclusion. The journey is different for each book I write, and I frequently find surprises along the way. However, as unpredictable as penning the first draft of my novel is, my revision process never varies, and that reliable system is a source of great comfort as I hone my novel.
Once I've finished the first draft of my manuscript, I implement my tried and true system. I always start with a revision pass on my computer. Since I often take months to write the initial draft, I read through the entire manuscript with the aim of getting a holistic view of the book. I'll frequently discover that something I wrote when I started the book needs to be tweaked to fall in line with where the story took me later on. This revision pass helps me gain a better sense of how the overall story is working and whether any plot holes exist or character development is needed. I'm also fixing obvious flaws that jump out at me.
After I've reacquainted myself with the book and tweaked the plot and characters as necessary, I print out a hard copy and pull out my red pen. For me, this is where the magic happens. There's something about editing your work in print that really helps you polish your writing. I spend a lot of time at this stage working on sentence structure, word choice, and adding layers and depth to the story.
When I've finished this second pass, I email the updated manuscript to my e-reader. I've found that I am much more likely to catch typos, mistakes, and awkward phrasing when I change the medium with which I view my book. If I'm used to looking at it a certain way, it's easy to skip over things, but with variety, it feels fresh each time I revise. At this level, I'm mainly doing the never-ending typo search as well as cleaning up any awkward phrasing. I'll also look for any formatting issues that jump out at me that make the manuscript less readable in a digital format, like unwieldy paragraphs.
Following these three revision passes, I usually take a step back and decide if I'm happy with the book, or if it needs more tweaking. The digital pass really informs that decision, because it's the draft when I truly read the book as a reader would. If there are still things that are pulling me out of the story, or something isn't working for me, I'll restart the revision process and go through each step again. Some books only need three revision passes before I'm comfortable sending them to my editor (and then we start the editorial process); others need nine or more revision passes. The goal is to reach the point where I'm not making significant changes at the e-reader stage.
Because I often start writing a book with a skeleton of an idea and I love the freedom of being able to explore the direction in which my characters and plot take me, the structure of my revision process really works as a safety net. Whenever I feel stuck in the drafting process or realize something isn't working in the book, I push through with the knowledge that the revision process will provide an opportunity to make the book shine. Whether you're a plotter or a pantser like me, I recommend taking the time to revise your work across different mediums. It offers a fresh perspective — and you'll be surprised what you find!
Check out Chanel's books here: