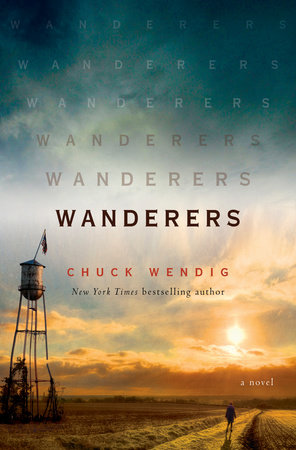 This interview was done at New York Comic Con 2018.
We caught up with Chuck Wendig, author of the Star Wars Aftermath Trilogy, to chat about Star Wars, Cantina Bartenders, and, of course, sandwiches.
Keith Rice: Can you share what you are working on now with us?
Chuck Wendig: Sure, sure. I have a stand-alone in 2019, in July, with Del Rey – who published me for Star Wars. I guess we can call it a sci-fi/horror epic kind of thing. Think of it as a little bit of Stephen King, a little bit of Station Eleven, a little bit of The Stand, with a vein of Michael Crichton throughout.
KR: You're speaking my language.
CW: Good, good! It's epic. It's a big book. I think in manuscript form, it's almost 1200 pages. It's called Wanderers, and I am very excited about that. Then this weekend [October 6th, 2018], I have the premiere of "You Might Be the Killer" on Syfy which I wrote with Sam Sykes. We randomly tweeted back and forth this slasher/serial killer story, we improved it and it got optioned for film. So, the lead characters are Sam and Chuck and Chuck is being played by Alyson Hannigan – of all the things in the world.  That's happening, just proving that 2018 is truly the dumbest timeline.
KR: You wrapped up the Aftermath Trilogy last year, how would you describe the series for readers who haven't picked up it yet?
CW: Aftermath is a new trilogy set between the end of Return of the Jedi and the beginning of The Force Awakens. It takes us up to and includes the Battle of Jakku. And it's about that sort of slow collapse of the Empire and the rise of the new Republic. And it sort of has a vibe in there that speaks to the Nazi hunters after World War II who tracked down all the Nazi war criminals across world. There is a group that takes on the task of finding some of the fallen Imperials and they get caught up in all of the dynamics with the new Republic and falling Empire.
KR: What was it like taking on such a pivotal time in the Star Wars universe?
CW: Awesome. It was amazing. It was great. I really don't know what to say beyond that.  Like I have no complaints other than the surprise that they let me do it.
KR: What was the process like coming into something as well-established as Star Wars?
CW: It wasn't just that Star Wars is so well-established because in some ways it wasn't, and that sounds strange given what we know about Star Wars. But Star Wars, after it was picked up by Disney, was a cleaner slate than it was five years previously. So, that actually allowed me more freedom in many ways than if we had been constrained by 100, 200, 500 books and other properties. The TV shows, films, and one or two books were able to kind of inform what we did. But of course the other trick was because we were building into The Force Awakens, there were issues there with secrecy about what they could tell and what they couldn't tell. For instance, we had the character of Temmin Wexley in Aftermath who eventually becomes Snap Wexley – Snap being a nickname – in The Force Awakens.  It was sort of like playing chess with someone that you can't see. So, you're always trying to figure out what you're allowed to do and what you're not allowed to do, so it's kind of a neat process of discovery.
KR: What made you want to take on the Cantina Bartender for A Certain Point of View?
CW: I was always fascinated because we didn't really get a good sense of why droids were a problem until the "Clone Wars" – you know the films and the "Clone Wars" show. This guy seem to hate them; he was very mad at droids. So, I thought this is a good opportunity to connect those two eras, but obviously there is some grave distrust with droids that has been sewn across the galaxy and this guy is real salty about it.
KR: So you've been crazy busy since the debut of your first novel. Between novels, comics, your blog, sandwich making …
CW: Yeah, sandwich making, that's really taking over [laughs].
KR: How do you balance everything?
CW: I am fortunate in that this is my full time job, so all of my time is there to devote. I mean, outside of like my son and my wife and whisk(e)y, and also sandwiches. I have a lot of time to devote to doing this stuff. Mostly it's just trying to strategize going forward, having a long plan forward and a long tail behind that sort of keeps me going.
KR: So mostly it's just …
CW: Having time to strategize, going forward, and having a long plan forward and a long tail behind me and that sort of keeps me going.
KR: Okay, so I have ask how did the Wendigo come about?
CW: There was an article in the New York Times that I think was just like "bleh."  You know the New York Times will do things like "Wow, let's make guacamole out of peas," and everyone's like "bleh." And I'm on board with the "bleh," but I also feel like you should keep an open mind about things. They were like "a new, cool sandwich is this old sandwich with peanut butter and pickles."  I mean, my grandmother used to eat this sandwich. And then I was like "that sounds sort of disgusting." But, then I thought, "well, maybe it's not, though."  When you think about Thai food it has that sort of sourness and then the peanut sauce. Eh, yeah, I thought it could kind of work. So, I try it and it was delicious. Then I was discussing it with other people, and they were asking "what if mayo was involved" because mayo is food lube. Really its only function is helping food slide down your gullet.  Peanut butter can be a little forbidding, so I added the mayo.  Then I was like, "well, this does need bacon because why not." It really becomes almost like a Thai sandwich. You got all these taste factors going into it. Really, you know, that's where it was. I put it out there and people were like "you're disgusting" and I'm like "well, try it" and they're like "well, that's disgustingly delicious!" Yep.
Check out Chuck Wendig's Wanderers, out in July 2019!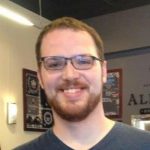 Keith Rice is a West Virginia native and a freelance writer residing in Philadelphia with his lovely, if oft exasperated wife and three cats. Keith fosters an enthusiastic appreciation for beer and scotch, collects comics, and most importantly is an avid reader and movie lover. Oh, he's a pretty big fan of sci-fi and fantasy as well. Drop him a line @Keith_Rice1.
I frequently say that the most predictable part of my writing process is how unpredictable it is. As a writer, I'm a "pantser" — someone who drafts without plotting a great deal. Instead of utilizing an outline as I write, I favor following where the story takes me with a general idea of the book's conclusion. The journey is different for each book I write, and I frequently find surprises along the way. However, as unpredictable as penning the first draft of my novel is, my revision process never varies, and that reliable system is a source of great comfort as I hone my novel.
Once I've finished the first draft of my manuscript, I implement my tried and true system. I always start with a revision pass on my computer. Since I often take months to write the initial draft, I read through the entire manuscript with the aim of getting a holistic view of the book. I'll frequently discover that something I wrote when I started the book needs to be tweaked to fall in line with where the story took me later on. This revision pass helps me gain a better sense of how the overall story is working and whether any plot holes exist or character development is needed. I'm also fixing obvious flaws that jump out at me.
After I've reacquainted myself with the book and tweaked the plot and characters as necessary, I print out a hard copy and pull out my red pen. For me, this is where the magic happens. There's something about editing your work in print that really helps you polish your writing. I spend a lot of time at this stage working on sentence structure, word choice, and adding layers and depth to the story.
When I've finished this second pass, I email the updated manuscript to my e-reader. I've found that I am much more likely to catch typos, mistakes, and awkward phrasing when I change the medium with which I view my book. If I'm used to looking at it a certain way, it's easy to skip over things, but with variety, it feels fresh each time I revise. At this level, I'm mainly doing the never-ending typo search as well as cleaning up any awkward phrasing. I'll also look for any formatting issues that jump out at me that make the manuscript less readable in a digital format, like unwieldy paragraphs.
Following these three revision passes, I usually take a step back and decide if I'm happy with the book, or if it needs more tweaking. The digital pass really informs that decision, because it's the draft when I truly read the book as a reader would. If there are still things that are pulling me out of the story, or something isn't working for me, I'll restart the revision process and go through each step again. Some books only need three revision passes before I'm comfortable sending them to my editor (and then we start the editorial process); others need nine or more revision passes. The goal is to reach the point where I'm not making significant changes at the e-reader stage.
Because I often start writing a book with a skeleton of an idea and I love the freedom of being able to explore the direction in which my characters and plot take me, the structure of my revision process really works as a safety net. Whenever I feel stuck in the drafting process or realize something isn't working in the book, I push through with the knowledge that the revision process will provide an opportunity to make the book shine. Whether you're a plotter or a pantser like me, I recommend taking the time to revise your work across different mediums. It offers a fresh perspective — and you'll be surprised what you find!
Check out Chanel's books here: