Write What You See: Writing Advice by Alyson Richman
"It's so fine, yet so terrible, to stare in front of a blank canvas." — Paul Cezanne
Every morning, an empty white page appears on my computer screen, waiting to be filled in with sentences that will eventually become a novel. This blankness can be both intimidating and exciting, a paradox I wrestle with each time I sit down to write.
I always enjoy speaking with other writers about their own processes of creation. It differs so widely amongst novelists. Some writers work on an outline first, and then write out scene by scene, scratching off each chapter that they've already loosely plotted in their head. Others speak of writing from a stream of consciousness, where they work until they've reached the end of their story and then circle back to edit and revise the rough draft into something that will become their finished manuscript.
My mother, an artist, taught me to see the world as though it were a painting, and I draw upon the same techniques she used to create her finished canvases when I'm writing my novels. The views outside the windows of our childhood home were miniature paintings to my mother, ones which had their own color and texture that changed with every season. She encouraged me to consider both the light and shadow in an artist's charcoal drawings as well as the backstory of the artist's personal history. When we went to museums, she taught me first to look at each painting up close and then from a few steps away, thus training me to gaze at the canvas from all directions to see how certain things were revealed when one looked at it from a different angle. She was quick to point out that the artist never over-saturated the canvas, and that leaving part of the canvas bare was sometimes just as important as the areas that had pigment. Years later, when I sit down to write, I hear my mother's words in my head and they continue to guide me.
For me, each chapter is a blank canvas. I begin to craft each scene sentence by sentence, as if they are brushstrokes moving my reader through the story. I write from a visual perspective, so each scene is an artistic composition that I see inside my head and strive to then share with my readers. Painters have their own language, often drawn from nature's rich palette. A sky can be cornflower blue or the deep hue of hyacinth. Characters should never be black and white, but rather filled with varying shades of gray. Contrast is what makes a painting interesting, my mother would tell me. So, I channel these painterly ideals whenever I think about placing one character against the other; I reflect on what emerges when strength is contrasted against weakness, joy against sadness, or life against tragedy.
In the end, my advice to writers is really about encouraging more than one way to approach storytelling. Books are like any other art form, and can be created in just as many ways. For me, it is about closing my eyes and writing what I see. Once that armature is put down on paper, I build layer upon layer onto it until the world and the people who populate the story are just as I imagined them. I mentally construct the architecture of the rooms my characters inhabit, then set out to recreate them for my reader. I feel the texture of the clothes they wear just as much as I feel the weight of their emotions. Then, sentence by sentence, the novel becomes its own universe, hopefully filled with everything my mother used to tell me made a painting interesting. Rich in emotion and filled with contrast. A work that, in the end, conveys a new and original portrait from the artist's own eye.
Written by Alyson Richman             
Check out Alyson Richman's latest novel below: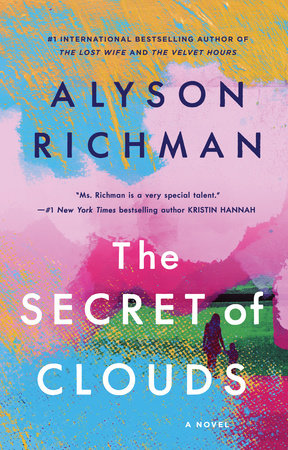 Named One of the Best 2019 Winter Books by PopSugar and Chosen as One of 9 Books to Read (or Gift!) This February by Instyle!

From the #1 international bestselling author of The Lost Wife and The Velvet Hours comes an emotionally charged story about a mother's love, a teacher's promise, and a child's heart....
 
... Read more >