Categories: Explore: "News"
We are excited to announce that Penguin Random House has become the first book publisher to sign onto the Renewable Energy Buyers' Principles, part of the Renewable Energy Buyers Alliance (REBA), which informs utilities and other suppliers what industry-leading, multinational companies are looking for when buying renewable energy from the grid. The program, which is supported by the World Wildlife Foundation (WWF), launched in July of 2014 with just 12 signatories. Penguin Random House is now the 78th company to sign.
Through our paper certification process, LED lighting program, and energy offset programs, among other programs, Penguin Random House continues to improve and implement "green" practices across our operations. Since 2014, we have already reduced our carbon emissions by 10%, and we remain committed to reducing carbon emissions by 10% by 2020 and 20% by 2025 through improvements to our company's infrastructure and energy-saving capacity.
Congratulations to Nadia Murad, who along with Dr. Denis Mukwege was awarded the Nobel Peace Prize for her work to end rape as a weapon of war.
Learn more about her story here:
The 2019 Andrew Carnegie Medals for Excellence in Fiction and Nonfiction Longlist has been announced and includes 20 books published by Penguin Random House imprints.   Established by the American Library Association in 2012, the Carnegie Medals for Excellence serve as an ALA guide to help adults select quality reading material.
Our longlisted nonfiction titles:
Our longlisted fiction titles:
View the complete longlist here.
The 2019 Carnegie Medals for Excellence six-title shortlist—three each for the fiction and nonfiction medals—will be announced on October 24.
The two medal winners will be revealed at the Reference and User Services Association's Book and Media Awards (BMAs) event at American Library Association (ALA) Midwinter Meeting in Seattle on January 27, 2019.
The wait is over! The much anticipated new novel, Bridge of Clay, from Markus Zusak, author of The Book Thief, lands on October 9, 2018. Celebrate the launch of the novel Jodi Picoult says "blew her away," and meet Markus on his tour October 9-27. See his full schedule listed here.
Haven't pre-ordered Bridge of Clay? There's still time!
WASHINGTON BLACK, a novel by Esi Edugyan, published by Knopf and Random House Audio, and THE LONG TAKE by Robin Robertson, which Knopf will publish in January in the U.S., have been selected by the judges as two of six semi-finalists for the 2018 Man Booker Prize.
Among the most coveted international prizes awarded annually for literary fiction, the nominees were chosen from titles published in the UK between October 1, 2017 and September 30, 2018.
The winner will be announced the evening of Tuesday, October 16.
Congratulations to all our longlisted and shortlisted authors and their publishers.
Click here for the complete list of Man Booker Finalists.
Congratulations to our Penguin Random House authors who have been chosen by the respective five category judges as "longlisted" semi-finalists for the 2018 National Book Awards.
Wednesday, October 10: The "shortlist" of five finalists per category will be announced.
Wednesday, November 15: The five winners will be revealed at the annual National Book Awards dinner.
See below for our semi-finalists in each category.
Fiction
Nonfiction
Poetry
Translated Literature
Young Adult Fiction and Nonfiction
Penguin Random House is #1 on the newly released Forbes list of "America's Best Midsize Employers 2018." Forbes annually recognizes and ranks U.S. employers based on an independent survey that evaluates the attitude of employees toward their own company and the public perception of the company by industry employees.
Heralding this year's list with a prominent feature article, Forbes staff writer Vicky Valet focused on Penguin Random House, noting that "the company is celebrated by its workforce for being an employer that values freedom." Madeline McIntosh commented: "People are given a great deal of ownership to make independent decisions. If you do the right thing by the books and by readers and by authors, you're rewarded by being given new challenges."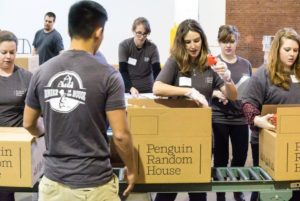 Forbes further recognized that "the entrepreneurial spirit that shapes the employee experience at Penguin Random House has proven key to the publisher's recruiting efforts, much of which focus on college campus outreach and the company's internship program. It has played an important role in retention, too. Access to online courses and a mentoring program allow Penguin Random House's 5,000 North American workers to take career development into their own hands, as do events like Company Week, an annual series that invites employees and authors to gather for days of panels, presentations and community service. This culture of empowerment—coupled with unique benefits like a sabbatical program, student loan repayment assistance and, yes, free books—helps turn entry-level hires into lifetime employees. 'So many have risen through the ranks,' says Madeline. 'I was an assistant 24 years ago, and I'm not an unusual case.'"
Penguin Random House's commitment to the communities it serves was also acknowledged, including literacy sponsorships and the more than $2 million in creative writing scholarships our company awarded to New York City public high school students over the past 25 years. Looking globally, Forbes referenced our ongoing partnerships with worldwide organizations like Save the Children, and employee volunteers who journeyed to Rwanda in January.
In addition, Penguin Random House was on Forbes' Best Employers for Diversity list for the first time this year, placing at #64 overall for both large and midsize employers.
The Forbes feature concludes with these words from Madeline: "We're not just a bunch of people who like to read. We believe books have the power not just to help people's days through entertainment or inspiration, but to really change the conversation and the culture at large."
In compiling this list, Forbes worked with market research company Statista, which surveyed 30,000 Americans working for businesses with at least 1,000 employees. All the surveys were anonymous, allowing participants to openly share their opinions. The respondents were asked to rate, on a scale of zero to 10, how likely they'd be to recommend their employer to others. Statista then asked respondents to nominate organizations in industries outside their own.
To view the complete Forbes list and article, click here.
The Man Booker Prize is one of the most influential annual international literary fiction honors, open to writers of any nationality, writing in English. Congratulations to these six books published by Penguin Random House for making the longlist!
The longlist includes 13 total titles published in the UK and Ireland between October 1, 2017 and September 30, 2018.
Learn more about our six books in the running:
Penguin Random House author Michael Ondaatje has won the Golden Man Booker Prize for his classic novel THE ENGLISH PATIENT.  This one-time prize was awarded for the best work of fiction from the last five decades of The Man Booker Prize, one of the world's most prestigious annual fiction awards, as chosen by five judges, and then voted on by the public. 
Upon receiving the news, Mr. Ondaatje said, "I am honored as well as very surprised to receive this award for THE ENGLISH PATIENT, as I was to be in the company of the other remarkable nominees. It feels the book was written so long ago! I would like to thank all who have supported me and been involved in my work over the years."
Ondaatje, published by Alfred A. Knopf, Vintage and Everyman's Library in the U.S., and McClelland & Stewart in Canada, has written several award-winning novels, as well as a memoir, a nonfiction book on film, and several books of poetry. His latest novel, WARLIGHT, was published earlier this year by Alfred A. Knopf in the U.S. and McClelland & Stewart in Canada.  Born in Sri Lanka, Ondaatje currently lives in Toronto. Read his works here.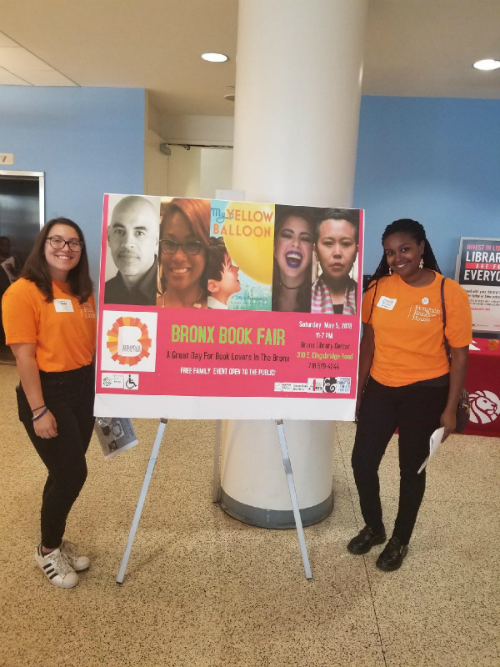 Volunteers from across Penguin Random House participated in the Bronx Book Fair on May 5th. It was a jam-packed day of events at the Bronx Library Center, with speakers such as Noëlle Santos from The Lit. Bar, as well as coaching sessions with local writers and book sales from community bookstore Word Up.  This was the first year Penguin Random House participated in the Bronx Book Fair, and we had a tremendous response to the call for volunteers!  We were so impressed by the enthusiasm and support of our employee volunteers.
Here is what some of the volunteers had to say:
 "It was great to see so many PRH employees show up excited to help their fellow book lovers!"

"Everywhere I turned at the Bronx Book Fair, there was passion–passion in the speakers, whose wealth of knowledge included everything from copyright law to fostering women's leadership; passion in the authors, booksellers, and publishers reading from their work and selling books at their booths; and passion in the event staff, whose beaming faces were #BronxProud. It was such an honor to see the rich literary culture of the Bronx in action beyond the classroom where I used to teach ELA in the Bronx, and I especially loved the slam poetry and spoken word presentation by Project X–it's heartwarming to see the youth shine a light on their fellow artists in their community!"

"The Bronx Book Fair was wonderful–the event organizers were lovely, and the day's events and panels were organized with great care. I welcomed the opportunity to get to know colleagues across other departments who I normally wouldn't connect with in my day-to-day. A personal highlight was the chance to chat with young readers/writers who came to check out the book fair–their enthusiasm was infectious!"
The Bronx Book Fair is dedicated to engaging and growing the community of poets and writers in the Bronx, and to connecting to readers and book lovers of all ages. Launched in 2013, The Bronx Book Fair, along with Bronx Book Festival and The Lit. Bar bookstore, are contributing to revitalizing book culture in the Bronx, needed especially after the 2016 closure of the Baychester Barnes & Noble.