Categories: Explore: "News"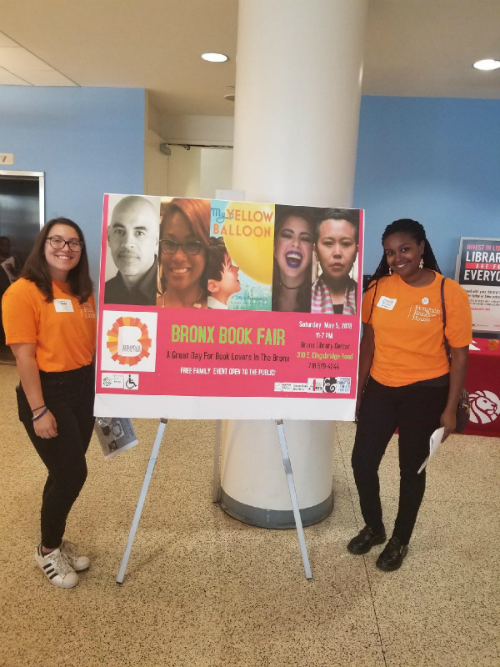 Volunteers from across Penguin Random House participated in the Bronx Book Fair on May 5th. It was a jam-packed day of events at the Bronx Library Center, with speakers such as Noëlle Santos from The Lit. Bar, as well as coaching sessions with local writers and book sales from community bookstore Word Up.  This was the first year Penguin Random House participated in the Bronx Book Fair, and we had a tremendous response to the call for volunteers!  We were so impressed by the enthusiasm and support of our employee volunteers.
Here is what some of the volunteers had to say:
 "It was great to see so many PRH employees show up excited to help their fellow book lovers!"

"Everywhere I turned at the Bronx Book Fair, there was passion–passion in the speakers, whose wealth of knowledge included everything from copyright law to fostering women's leadership; passion in the authors, booksellers, and publishers reading from their work and selling books at their booths; and passion in the event staff, whose beaming faces were #BronxProud. It was such an honor to see the rich literary culture of the Bronx in action beyond the classroom where I used to teach ELA in the Bronx, and I especially loved the slam poetry and spoken word presentation by Project X–it's heartwarming to see the youth shine a light on their fellow artists in their community!"

"The Bronx Book Fair was wonderful–the event organizers were lovely, and the day's events and panels were organized with great care. I welcomed the opportunity to get to know colleagues across other departments who I normally wouldn't connect with in my day-to-day. A personal highlight was the chance to chat with young readers/writers who came to check out the book fair–their enthusiasm was infectious!"
The Bronx Book Fair is dedicated to engaging and growing the community of poets and writers in the Bronx, and to connecting to readers and book lovers of all ages. Launched in 2013, The Bronx Book Fair, along with Bronx Book Festival and The Lit. Bar bookstore, are contributing to revitalizing book culture in the Bronx, needed especially after the 2016 closure of the Baychester Barnes & Noble.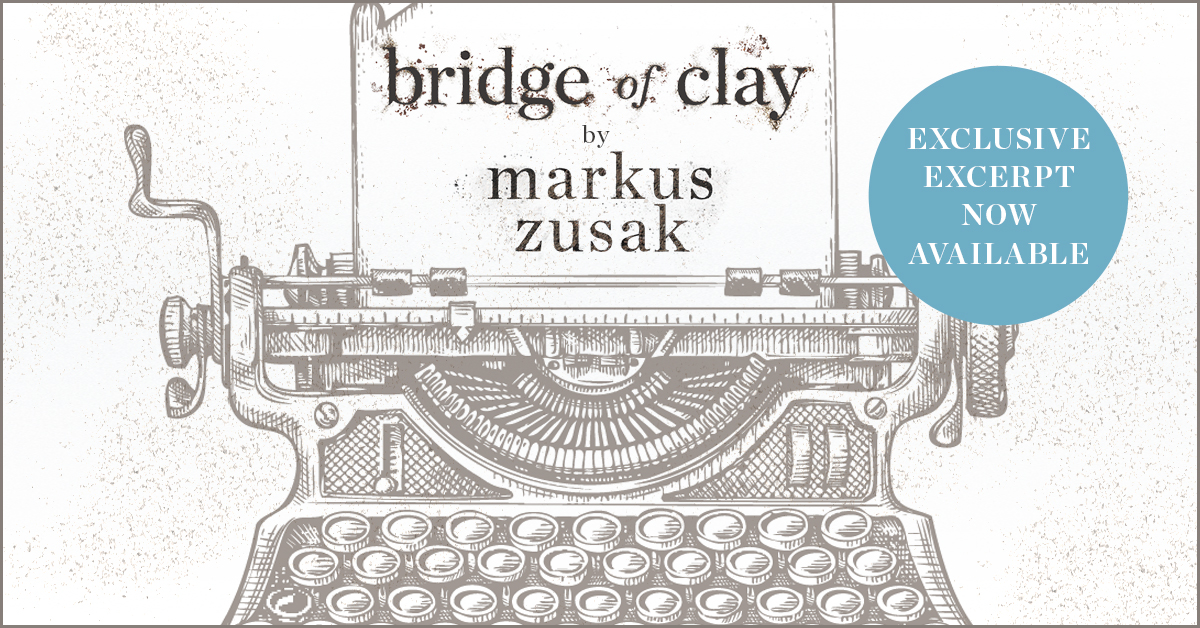 An exclusive excerpt from Markus Zusak's new novel, Bridge of Clay, is now available in anticipation of the novel's publication set for October 9, 2018. Read the excerpt at bridgeofclaybook.com/excerpt.html.
Bridge of Clay is a breathtaking story following five brothers who bring each other up in a world run by their own rules. As the Dunbar boys love and fight and learn to reckon with the adult world, they discover the moving secret behind their father's disappearance.
Markus Zusak is the masterful storyteller behind the extraordinary bestseller The Book Thief, which remains one of the most enduring stories of our time.
Find out more and pre-order your copy at bridgeofclaybook.com.
Penguin Random House mourns the loss of author, Philip Kerr, who died on Friday, March 23 in London after an eight-month battle with cancer. He is one of most distinguished modern thriller writers, known best for his Bernie Gunther novels. His debut novel, March Violets, was published over 30 years ago and introduced the character as a sardonic, hard-drinking detective tackling the dark depths of Nazi and post-war era Germany.
Several of Kerr's Gunther novels became instant bestsellers upon publication, including six New York Times bestsellers and five USA Today and Publishers Weekly bestsellers. In addition, Kerr has received several award nominations and honors. He was a three-time nominee for an Edgar Award for Best Novel, a Shamus Award nominee, and a winner of both a Barry Award and the British Crime Writers' Association's Ellis Peters Historic Crime Award. In early 2018, his novel Prussian Blue was also nominated for a Barry Award for Best Novel. His books have been published in thirty-seven territories. 
Born in Edinburgh, Scotland, in 1956, Kerr studied at the University of Birmingham. Following university, Kerr worked a
s a copywriter for several advertising agencies. In addition to his Bernie Gunther novels, Kerr wrote two nonfiction books, fifteen adult novels, and ten children's fiction books. He is admired by many, and a growing list of high-profile personalities, impressive critics and fellow writers including Lee Child, Tom Hanks, and Nick Rennison, continue to share their love for Kerr and his Bernie Gunther novels.
His most recent novel, Greeks Bearing Gifts, will be published in April 2018. Browse more of Philip Kerr's works here.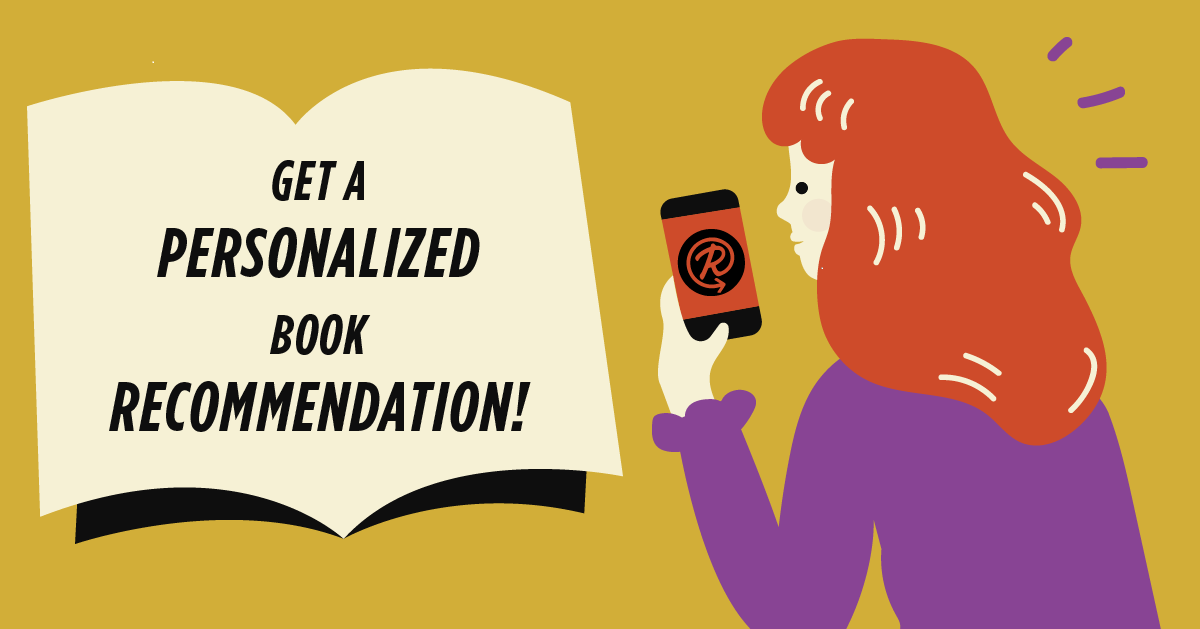 Read it Forward is pleased to introduce Read it Forward Book Recs, a chatbot that quickly and intelligently recommends your next great read via a conversational interface.
The bot can be accessed via RIF's Facebook page on desktop or mobile. Once launched (via the Send Message button on RIF's Facebook page
on desktop or by searching Read it Forward in your Messenger app on mobile), you can select several different pathways to finding your next book: Author I Like; Book I Like; Genre I Like; Surprise Me; Bestsellers; and Award Winners. After a series of additional questions designed to further narrow the selections, you are then presented with up to 18 book recommendations matching your interests. In certain instances, you are able to drill down even further into the themes of specific books or, in the case of the "Surprise Me" button, you can take a quicker path that serendipitously serves up books at random. Once you have received a set of recommendations, you are invited to look at a summary of the book, learn more about it on PRH.com, add the book to a Goodreads shelf, and share the recommendation with a friend. After the first interaction, the bot will ping you to remind you to continue discovering great books and also to encourage you to share the bot with friends. And if you choose to opt into formal notifications, you can also receive alerts when authors you like are releasing a new book, learn about author appearances in your area, and other relevant book-centric information.
Now it's your turn! Click here to launch the chatbot and please let us know what you think. Questions, comments and any troubleshooting requests can be sent to Chatbot@Readitforward.com.
We're excited to announce that Markus Zusak's new novel, Bridge of Clay, will be published October 9, 2018. This breathtaking story follows five brothers who bring each other up in a world run by their own rules. As the Dunbar boys love and fight and learn to reckon with the adult world, they discover the moving secret behind their father's disappearance.
Markus Zusak is the masterful storyteller behind the extraordinary bestseller The Book Thief, which remains one of the most enduring stories of our time.
Find out more and pre-order your copy at bridgeofclaybook.com.
We're happy to announce that Michelle Obama's memoir, Becoming, will be published November 13, 2018.
In Becoming, Michelle Obama reflects and recounts the  experiences that have shaped her. From her Chicago upbringing, her time at the White House, and her role as mother and First Lady of the United States, she tells her personal story with wit and honesty. As First Lady, Michelle Obama was known for her powerful advocacy for women and girls, her health initiatives, and her leadership in creating one of the most inclusive White Houses in history.
Said Mrs. Obama, "Writing Becoming has been a deeply personal experience. It has allowed me, for the very first time, the space to honestly reflect on the unexpected trajectory of my life. In this book, I talk about my roots and how a little girl from the South Side of Chicago found her voice and developed the strength to use it to empower others. I hope my journey inspires readers to find the courage to become whoever they aspire to be. I can't wait to share my story."
At the time of publication, Mrs. Obama will embark on a U.S. and international book tour. Information about the book is available to consumers at www.becomingmichelleobama.com.
Becoming will be published by Crown Publishing Group and available in 24 languages worldwide. Penguin Random House will donate one million books in the Obama's family's name to First Book, a nonprofit which provides new books to children in need in the U.S. and Canada.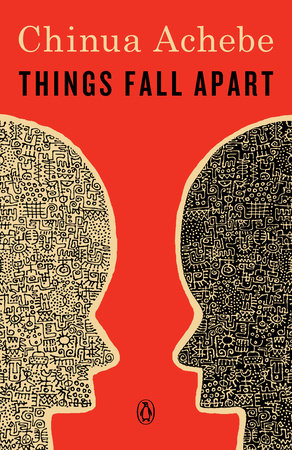 This year, we are celebrating the 60th anniversary of Chinua Achebe's classic, Things Fall Apart. The novel, first published in 1958,  has been translated into 57 languages and has sold over 20 million copies.
Things Fall Apart is the first book from The African Trilogy which tells the story of modern Nigeria over three generations, from first colonial contact to urban migration.
Chinua Achebe (1930-2013) was a Nigerian novelist and poet who is admired as the father of modern African literature. He taught at Brown University and Bard College and was the recipient of the Nigerian National Merit Award and the Man Booker International Prize for lifetime achievement.
Toni Morrison spoke of his writings, "African literature is incomplete and unthinkable without the works of Chinua Achebe."
Browse all the books included in The African Trilogy below:
The Princess Diarist was recognized as this year's Spoken World Album Grammy winner yesterday.
Penguin Random House Audio production of Carrie Fisher's memoir was read by the author and her daughter Billie Lourd, and produced by multi-Grammy-nominated Dan Zitt. Productions by Penguin Random House Audio imprints have won 14 Grammys and received 42 nominations.
The Princess Diarist is an intimate, hilarious and revealing recollection of what happened behind the scenes during the filming of the first Star Wars movie.
This particular Grammy win is an honor to Carrie Fisher's prolific achievements and longstanding legacy.
Penguin Random House mourns the loss of Ursula K. Le Guin. She died at the age of 88 in her home in Oregon.
She is admired for her fantasy and science fiction writings but has also penned numerous, well-acclaimed novels, poems, short stories, essays, and children's books. Most notably, she wrote The Left Hand of Darkness, first published in 1969, about a planet of genderless beings.
In 2000, the Library of Congress designated her a Living Legend. In addition, she has won five Hugo awards and the 2014 National Book Foundation Medal for Distinguished Contribution to American Letters.
Her writings are beloved by many, often challenging conventional narratives of power, race, and gender.  Browse more of Usula K. Le Guin's writings here.
The publishing world lost a legend and friend, Sue Grafton, #1 New York Times, USA Today and Wall Street Journal– bestselling author of the ground-breaking Alphabet Mystery series featuring beloved Private Investigator Kinsey Millhone, died on Thursday, December 28 in Santa Barbara after a two-year battle with cancer of the appendiceil. She was 77.
Ivan Held, President of G.P. Putnam's Sons said, "Everyone who worked with Sue admired her, flipped for the books, and were in awe of her 25-book creation, Kinsey Milhone.  But on top of that — we also all LOVED her.  With her wry, Kentucky accent she inspired a really deep and genuine love from everyone who worked with her in house."
Thirty-five years ago, Grafton launched one of the most acclaimed and celebrated mystery series of all time with A is for Alibi, and with it created the model of the modern female detective with Kinsey Millhone, a feisty, whip-smart woman who is not above breaking the rules to solve a case or save a life. Grafton's books have sold untold millions and are published in twenty-eight countries and in twenty-six languages—including Estonian, Bulgarian, and Indonesian. Her most recent novel, Y is for Yesterday, which published in August 2017, received with tremendous praise and debuted at #1 in the New York Times-bestseller list.
News of her passing ran in outlets throughout the country (and world) including in the New York Times, NPR's Fresh Air, Associated Press,  USA Today, Entertainment Weekly, Vanity Fair, Vulture, NPR's All Things Considered, and CNN.  The Washington Post wrote, "[Kinsey Millhone is] one of the most endearing, vivid and memorable characters in modern crime fiction … Ms. Grafton examines human character as deeply as any clues that might solve a crime. Critics noted that the stories often had an undercurrent of tender observation seldom found in the hard-boiled fiction of male writers."
 There has been an outpouring of love on social media from fans including former president Bill Clinton who tweeted, "RIP Sue Grafton. Hillary and I loved all your novels from A is for Alibi to Y is for Yesterday. We'll miss Kinsey and you. Godspeed."
Fellow authors shared their fond remembrances of Sue including Louise Penny who said, "Kinsey was a brilliant creation and a companion for many of us, for years. Thank you, Sue, for leading the way. And for always being so gracious to those of us who followed." David Baldacci wrote, "To know Sue Grafton was an honor. To call her a friend was a thrill. She was a great writer, one of our absolute best in any genre, but she was an even greater person. 2018 will be far emptier without her." And James Lee Burke who said, "Everyone liked Sue. She had a great wit and knew how to bring the house down, without ever being grandiose. Her passing is a big loss. Sue was a real trooper, one of those who sets the standard. I think her greatest gift to others is the dignity and composure and confidence and perseverance that characterized her career. I think that's a pretty good legacy to leave behind. Anyway, here's to you, Sue. You're the best." More remembrances came from the likes of  C.J. Box, Robert Crais, Daniel Silva, Eric Jerome Dickey, Harlan Coben, Lisa Scottoline, Ruth Ware. Sandra Brown, Sara Paretsky, Jeff Abbott, Laura Lippman, Faye Kellerman, Debbie Macomber, Alafair Burke, and Meg Gardiner to name a few.
Sue and Kinsey will be remembered as international icons (both adored a peanut butter and pickle sandwich and a timeless black wrap dress) and treasured by millions of readers across lines of gender, geography, age, race, and creed. As Grafton's daughter, Jamie, said in a statement on the author's Facebook Page, "the alphabet now ends at Y."
Browse more of Sue Grafton's works here.