Categories: Explore: "Random Notes"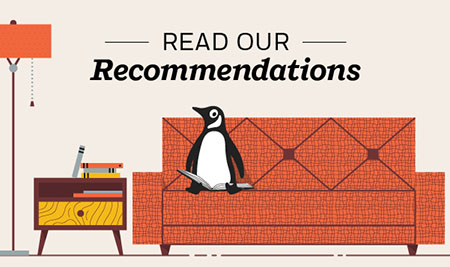 Who better to give book recommendations than the bookish experts? Penguin Random House employees are sharing their favorite reads every month. Browse below!
Kathryn, Marketing Coordinator 
Kathryn can always be found with a book (or four) in her bag. She's on a perpetual quest to find the best dumplings NYC has to offer, enjoys wearing every shade of black, and commutes to read on the subway.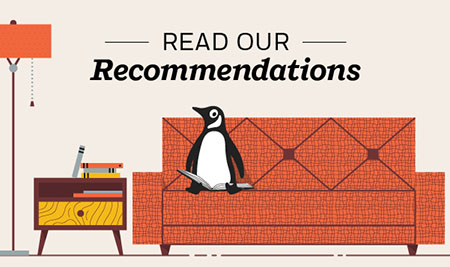 Who better to give book recommendations than the bookish experts? Penguin Random House employees are sharing their favorite reads every month.
Liz, Social Media Manager
When she's not tweeting, pinning, or posting about all things literary, Liz can be found in a museum, at a play, or stuck on the Second Avenue Subway.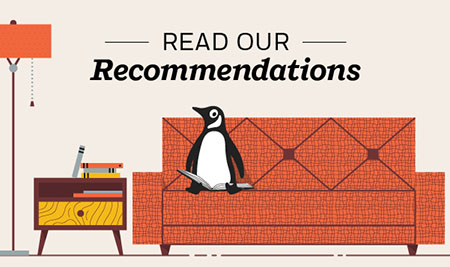 Who better to give book recommendations than the bookish experts? Penguin Random House employees are sharing their favorite reads every month.
Amy, Marketing Manager
Amy reads excellent books and watches terrible movies. In her free time, you can find her biking around Brooklyn, lolling in a park, or wandering a museum. 
 Whether you're celebrating Valentine's Day with a romantic partner, a best bud, or with the greatest love of your life (you!), we've got you covered.  Winc wine delivery club has chosen some  great book and wine pairings to cuddle up with. 
For example…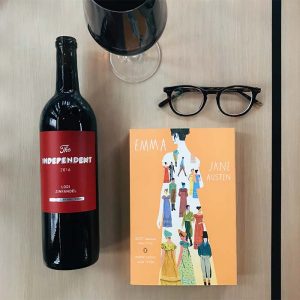 The Sweethearts

Emma: Jane Austen said, "It's such a happiness when good people get together." So, grab your sweetheart this Valentine's Day and snuggle up with Austen's classic, Emma, a sparkling comedy of love and marriage. Nothing delights Emma Woodhouse more than interfering in the romantic lives of others. And we bet nothing with delight you more than curling up with this witty, charming novel and an equally complex and delicious wine, like The Independent Zinfandel.
See all the wine and book pairings here!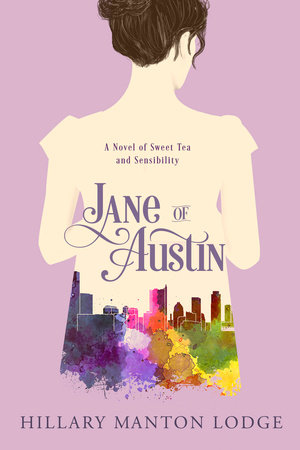 Hillary Manton Lodge is the author of the critically acclaimed Two Blue Doors series and the Plain and Simple duet. Jane of Austin is her sixth novel. In her free time, she enjoys experimenting in the kitchen, graphic design, and finding new walking trails. She resides outside of Memphis, Tennessee with her husband and two pups. She can be found online at www.hillarymantonlodge.com.
My grandmother read everything. Books about travel, antiques, architecture, mushrooms. She read murder mysteries by the stack until my grandfather passed; afterwards, her tastes veered into sweet romances, narrow paperbacks with titles like The Sophisticated Urchin and Destiny is a Flower.
But she loved the classics best, Jane Austen most of all. When I was nine, she gave me a battered paperback Penguin Classics copy of Pride & Prejudice. I didn't make much progress with at the time – I was an advanced reader, but not that advanced – so my first experiences of Austen were in film. First, with the 1940 Greer Garson and Laurence Olivier version, and later with the 1995 Andrew Davies mini-series for the BBC.
When the latter aired on Masterpiece Theater, I visited my grandparents' home every Sunday night for six weeks while we watched Jennifer Ehle and Colin Firth argue and make eyes at each other. My grandfather made us an English dinner – or rather, his interpretation of one – and asked if they were "dahn-cing yet?" As a twelve-year-old with two younger siblings, the dedicated time with my grandparents felt special and grown-up.
But it wasn't until I was an adult that I was able to read and appreciate Austen's work. As a high-schooler, the subtext of Emma flew right over my head. But as an adult – and author – I was able to see the work, craft, and wicked humor just beneath the surface. I made my way with pleasure through Pride & Prejudice, Persuasion, Sense & Sensibility, and Emma – Mansfield Park and Northanger Abbey are next on the list.
I read them in time to talk to my grandmother about the text; she passed away at the age of 100, and by then the one-two punch of dementia and hearing loss had made it difficult to converse on a specific topic for any length of time. But we were able to compare notes, and we shook our heads over what a pill Darcy could be.
A deep dive into Austen for Jane of Austin, then, felt natural. My editor gave me the title and free reign over it, and after a little consideration I reached for Sense & Sensibility – after all, my last four books had featured self-contained women who navigated the world while keeping it arm's length. Who better to buck that trend than a character modeled after Marianne Dashwood?

But updating a novel set during the early 19th Century has its challenges. For starters, there's the teeny fact that women can not only inherit both property and money, but can have jobs without being cast out of polite society. When necessary, I borrowed from other Austen novels, and gave my version of Marianne – Jane, in my own novel – depth that would have eluded the original 17-year-old character.
There were challenges, but also pleasures. And it's the pleasures that are why we revisit Austen's work so often. Her books are populated with people we know. I've met Fanny Dashwoods and Mr. Eltons and Mary Musgroves – we all have. Her stories resonate because they're inhabited by our own neighbors, parents, and co-workers.
But the familiarity of Austen's literary world should never be mistaken for simplicity. As I wrote Jane of Austin, I got stuck. A lot. And when I did, I returned to the text. Every time, there was something there. Whether it was a witty line or an insightful scene, I always found something to springboard off of and keep the story rolling.
And that's the beauty of Austen's work. There's always something there. There's wit and romance on the surface. For the deep thinker, there's sharp social commentary and character study. And no matter the novel, there's the pleasure in knowing that there will always, somewhere, be dancing.
Learn about the book here:
When I was young, Maeve Binchy was one of my favourite writers. She had this knack of creating characters who came alive. You somehow felt the people who owned the shops and arrived late for mass were real, and you knew them. I learned later from listening to interviews with Binchy that they were—at least their conversations were real. Binchy told stories of riding buses every day just to listen to snippets of conversation. On one if these bus journeys she overheard a young woman telling her friend she was going shopping for a silver wedding anniversary card for her parents. The friend marvelled that at the longevity of her parent's marriage. 'They're miserable as sin together,' she replied. 'The worse the marriage, the bigger the card.' That conversation went on to inspire Binchy's successful book, Silver Wedding. Hearing the author's story reminded me of the hundreds of missed opportunities to notice something that might just spark our next big idea every day.
Like Binchy, I grew up in Dublin. The population at the time was around a million people. But it somehow always felt more like a village than a city. I think that's because permanently curious Dubliners love to talk and exchange stories. It's not unusual to stand at a bus stop and to suddenly get into a conversation with a stranger. Within minutes you'll be hearing about where they're going or coming from and what the doctor diagnosed them with that morning.
I miss those days—the pre-smartphone era when we looked up and into each other's eyes and saw something unexpected there. Now we play pedestrian pinball as we try to avoid bumping into each other, palms up, eyes down, earbuds in, minds diverted and hearts closed. We've stopped being curious about the world outside our curated feeds. We're neglecting to nurture the very things that make us more creative and imaginative and more human. I often wonder what Steve Jobs would think if he were transported back to earth almost six years after his death. Is this what he would have wanted his 'ding in the universe' to be?
Big ideas start out as whispers in unexpected places. Sometimes they happen while you're sitting alone in a bathtub or under an apple tree. Other times they are gifted to you on a crowded bus during rush hour. It's your job to be listening out for them.
Learn more about the book here:

Acclaimed romance author Mary Balogh reflects on her writing, her influences, and the power of escaping to another time period. 
The Power of Love
I believe in love. I believe in the power and ultimate triumph of love even while the world is frequently engulfed in intolerance and hatred and violence and it seems ridiculous to hope. But we all know what happens when hatred has caused catastrophic death and destruction. People come together in a surge of unity and sympathy and generosity of spirit to those who are suffering. I have always been a writer. And what I should write has never been in question. I have to write about love and its triumph over adversity and all the outer and inner forces that would smother it if they could. I write love stories without apology and without self-doubt.
Why historical love stories?
Why historical novels, though? Perhaps the answer lies in the more common term for my type of story—historical romance. It's a lovely word, that—romance. It encompasses attraction and courtship and sex and love and yet sets an aura about them that transcends them and makes them irresistibly attractive. I don't preach love. Rather, I tell stories of love. And in order to do that well enough to draw readers in and convince them that yes, this is possible, this is how life and love can and should be, I try to hold them spellbound by the wonder—the sheer romance—of the love relationship that is developing between two people.
But again, why the historical setting? Why tell stories of another era when I am trying to make a point about life and love that is relevant today?
Readers like to be transported away from their everyday lives. They like to be taken to a different world even if they also want to read about people who are essentially like themselves. Past eras often seem more romantic than our own. Regency England, for example, can conjures marvelous visual images of fashions for both men and women that were perhaps the most attractive and sexy of any age; of stately country homes and the spacious parks surrounding them; of horse-drawn carriages bowling along the king's highway; of couples waltzing at grand balls in the light of dozens of candles in the crystal chandeliers overhead; of enchanted evenings strolling the lantern-lit walks of Vauxhall Gardens in London; of picnics and garden parties in rural surroundings; of drives in Hyde Park at the fashionable hour. The possibilities are endless, all coming with an aura of the romance of a bygone age. It is a happy illusion, of course. Most of us would not want actually to live in Regency England or any other bygone era, but we are quite happy to enjoy it from the comfort of our twenty-first century homes. That is the magic of reading.
Another attraction is that it is often easier to make sense of the past than of the present. One can look at Regency England, for example, and see a society that knew itself and the unwritten rules by which is functioned. A gentleman knew what was expected of him just as a lady knew what was expected of her. I love using such settings and deciding how much my characters will conform to expectations and how much they will assert their individuality and their personal principles if there is a conflict. I love having them act within the framework of their age without becoming mere puppets of the system. Jane Austen herself did this. Elizabeth Bennet in Pride and Prejudice maintained her integrity by refusing marriage offers from both Mr. Collins and Mr. Darcy despite the fact that a woman in her social position would normally accept any respectable offer to save herself from the social stigma of being a spinster and dependent upon her male relatives. And remember that this was a contemporary novel.
The Influence of Jane Austen and Georgette Heyer
When I read Jane Austen as a girl—and again and again as an adult—I loved her wit and wisdom and the elegance of her prose. Most of all, though, I was enchanted by the pure romance of the love stories, the quiet strength of most of her heroines and the gallant integrity of her heroes. I cannot claim she inspired me to write historicals because she was writing about her own world and her own time. What did inspire me was the work of Georgette Heyer, who wrote historicals superbly well. I will never forget my first Heyer—Frederica. I immediately fell under the spell of the romance and felt an almost overwhelming sense of nostalgia, as though I had discovered an era in which I had lived very happily once upon a time. I lapped up everything else she had written, and it did not take me long to know that I had found my own place as a writer. Heyer created her quite distinctive world based on a real historical era. I have created my own, happy to admit that I was inspired by her and influenced by Austen, who knew that world as it really was.
A Unique Voice and Vision
Every author is unique, however, even if she/he has taken inspiration from another. Each writer has an individual voice and vision. I have spent more than thirty years developing and honing my own while writing more than a hundred novels and novellas, most of them set in the Regency era. Yes, they are historicals, and yes, they are romantic. First and foremost, however, they are love stories. Or maybe that is a false distinction. Perhaps my stories are inextricably all three—romantic historical love stories. In fact, I hope they are. And perhaps they are best expressed in the words of the hero of my new book (Someone to Love, November, 2016). He is wealthy, titled, gorgeous, powerful, a bit dangerous, aloof, and self-sufficient. But when he is asked what he dreams of most in life, he admits that there is still something missing.
"Someone to love," he says.
Browse through Mary Balogh's books here and explore her Westcott series below. 
Johnny Cash's son reflects on his father, his legacy, and his poetry. 
FOREWORD: REDEMPTIONS
My father had many faces. There was much that made up the man. If you think you "know" John R Cash, think again. There are many layers, so much beneath the surface.
First, I knew him to be fun. Within the first six years of my life, if asked what Dad was to me I would have emphatically responded: "Dad is fun!" This was my simple foundation for my enduring relationship with my father.
This is the man he was. He never lost this.
To those who knew him well—family, friends, coworkers alike—the one essential thing that was blazingly evident was the light and laughter within my father's heart. Typically, though his common image may be otherwise, he was not heavy and dark, but loving and full of color.
Yet there was so much more . . .
For one thing—he was brilliant. He was a scholar, learned in ancient texts, including those of Flavius Josephus and unquestionably of the Bible. He was an ordained minister and could easily hold his own with any theologian or historian. His books on ancient history, such as Gibbon's The History of the Decline and Fall of the Roman Empire, were annotated, read, reread and worn, his very soul deeply ingrained into their threadbare pages. I still have some of these books. When I hold them, when I touch the pages, I can sense my father in some ways even more profoundly than in his music.
My father was an entertainer. This is, of course, one of the most marked and enduring manifestations. There are thousands upon thousands of new Johnny Cash fans every year, inspired by the music, talent, and—I believe hugely—by the mystery of the man.
My dad was a poet. He saw the world through unique glasses, with simplicity, spirituality, and humor. He loved a good story and was quick to find comedy, even in bleak circumstances. This is evident in one of the last songs he wrote within his lifetime, "Like the 309":
It should be a while before I see Dr. Death
So it would sure be nice if I could get my breath
Well, I'm not the crying nor the whining kind
Till I hear the whistle of the 309
Of the 309, of the 309
Put me in my box on the 309.
Take me to the depot, put me to bed
Blow an electric fan on my gnarly old head
Everybody take a look, see I'm doing fine
Then load my box on the 309
On the 309, on the 309
Put me in my box on the 309.
Dad was asthmatic and had great difficulty breathing during the last months of his life. On top of all this, he suffered with recurring bouts of pneumonia. Still, through the gift of laughter, he found the strength to face these infirmities. This recording is steeped in irony, although made mere days before his passing. His voice is weak, yet the mirth in his soul rings true.
Dad was many things, yes. He was tortured throughout his life by sadness and addiction. His tragic youth was marked by the loss of his best friend and brother Jack, who died as the result of a horrible accident when John R was only twelve. Jack was a deeply spiritual young man, kind and protective of his two-year-younger brother. Perhaps it was this sadness and mourning that partly defined my father's poetry and songs throughout his life. He was likewise defined at the end of his life by the loss of my mother, June Carter. When she passed, their love was more beautiful than ever before: unconditional and kind.
Still, it could not be said that any of this—darkness, love, sadness, music, joy, addiction—wholly defined the man. He was all of these things and none of them. Complicated, but what could be said that speaks the essential truth? What prevails? The music, of course . . . but likewise . . . the words.
All that made up my father is to be found in this book, within these "forever words."
When my parents died, they left behind a monstrous amassment of "stuff." They just didn't throw anything away. Each and every thing was a treasure, but none more than my father's handwritten letters, poems, and documents, ranging through the entirety of his life. There was a huge amount of paper—his studies of the book of Job, his handwritten autobiography Man in Black, his letters to my mother, and likewise to his first wife, Vivian, from the 1950s. Dad was a writer, and he never ceased. His writings ranged through every stage of his life: from the poems of a naive yet undeniably brilliant sixteen-year-old to later comprehensive studies on the life of the Apostle Paul. The more I have looked, the more I have understood of the man.
When I hold these papers, I feel his presence within the handwriting; it brings him back to me. I remember how he held his pen, how his hand shook a bit, but how careful and proud he was of his penmanship—and how determined and courageous he was. Some of these pages are stained with coffee, perhaps the ink smudged. When I read these pages, I feel the love he carried in those hands. I once again feel the closeness of my father, how he cared so deeply for the creative endeavor; how he cared for his loved ones.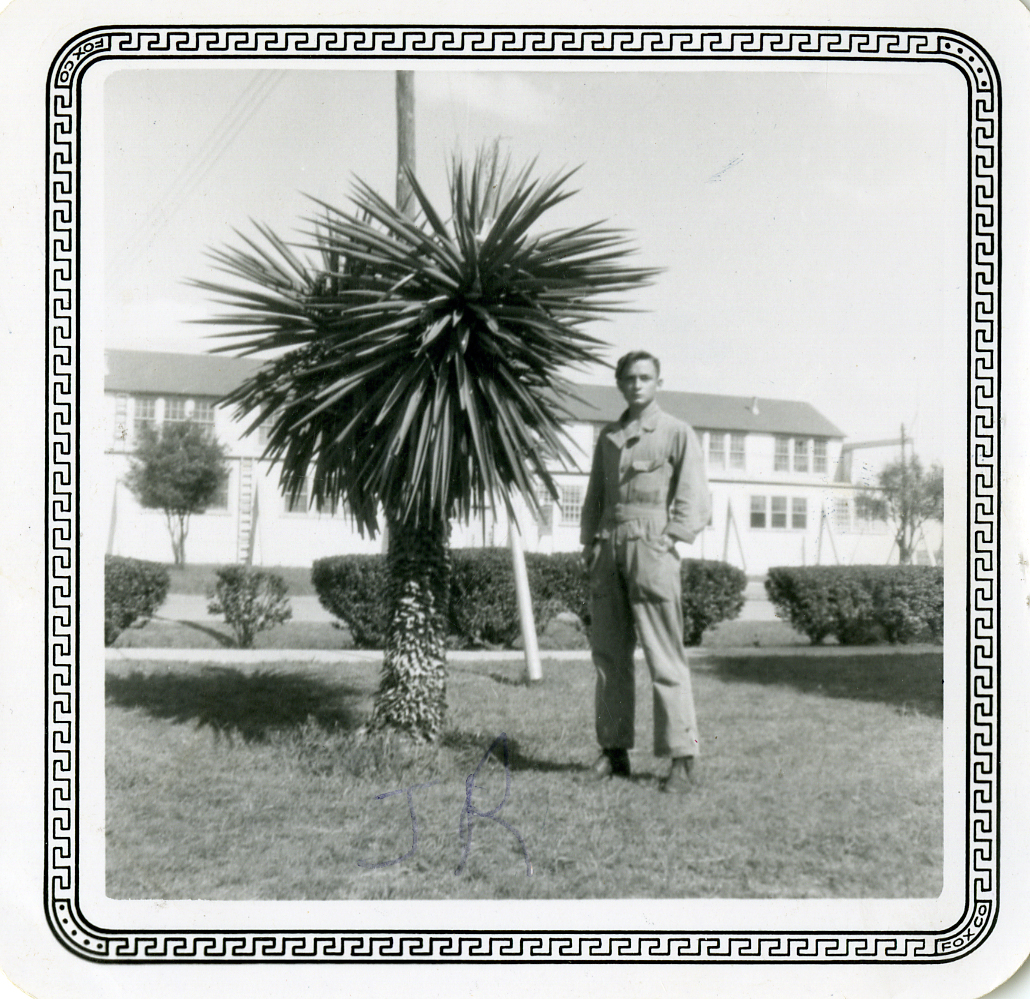 There are some of these I feel he would have wanted to be shared, some whose genius and brilliance simply demanded to be heard. I hope and believe the ones chosen within these pages are those he would want read by the world.
Finally, it is not only the strength of his poetic voice that speaks to me, it is his very life enduring and coming anew with these writings. It is in these words my father sings a new song, in ways he has never done before. Now, all these years past, the words tell a full tale; with their release, he is with us again, speaking to our hearts, making us laugh, and making us cry.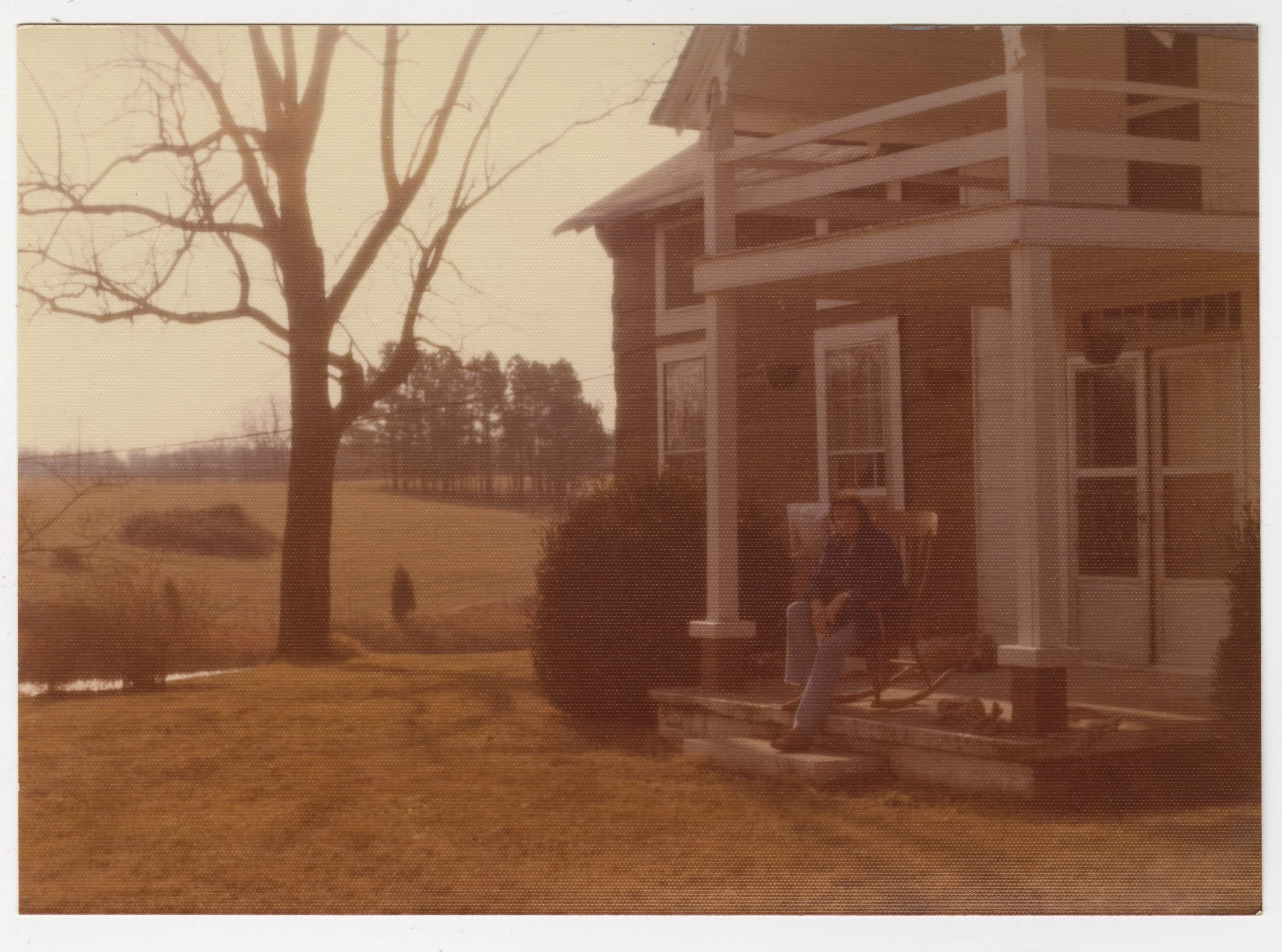 The music will endure, this is true. The music will endure, this is true. But also, the words. It is ultimately evident within these words that the sins and sadnesses have failed, that goodness commands and triumphs. To me, this book is a redemption, a cherished healing. Forever.
John Carter Cash
35,000 feet above western Arkansas, flying east . . .
Laura Bradford, author of several cozy mysteries, writes about how she came to be a baker: 
When creating a main character in what an author hopes will be a long-running series that character's motivations have to make sense. So when it came to uncovering the reason behind Winnie's (the main character in my new Emergency Dessert Squad Mysteries) passion for baking, I really only had to look to myself for the perfect answer…
I think I was only three or four when my big sister let me help make a "cake" in her EZ Bake Oven. I remember peeking in at the little pan as it baked, so excited that I'd helped. When it was done, we topped it with frosting and sprinkles and presented it to our grandfather with much pomp and circumstance. He, in turn, tossed it into his mouth and ate that entire "cake" in one bite.
If I try really hard, I can remember a pang of disappointment that he'd eaten it so fast. But what I remember most is the face-splitting smile he wore when he was done.
I'd made him smile.
With something I'd baked.
Needless to say, I was hooked on baking from that moment forward. I didn't care if it was cupcakes, brownies, cakes, pies, or cookies, I just wanted to relive that moment of utter satisfaction again and again. And I have. Many times over.
Baking has become a part of who I am in much the same way it is a part of Winnie. The only real difference is that she's made a career out of baking, and I've made a career out of writing. But because I write her, I get to be there with her as she dreams up the perfect recipe (and emergency-themed name) for a new customer. Because I write her, I get to be there as she measures and mixes. Because I write her, I'm there, right beside her, as she pulls her baked creation out of the oven. Because I write her, I get to experience the smiles her desserts bring to the faces of her customers.
And best of all, because I write her, I have yet another excuse to sit at my kitchen table, scouring cookbook after cookbook for new recipes to try. Sometimes, the picture and the list of ingredients looks and sounds perfect just the way it is. Sometimes, I imagine how it might be if I added a pinch of cinnamon or a bit of caramel, or tried it without a certain taste entirely. But generally speaking, if a recipe has all the things I like, I'll give it a whirl.
Funny thing now, though? No matter what I bake these days, I find myself trying to think what Winnie would call it if it had a spot on her Emergency Dessert Squad's menu. For instance, my kids' favorite s'more bar has become Winnie's Worry No s'More Bar (for her most stressed customers), my favorite Black & White cookies have become Winnie's Black & Blue cookies (for injured customers), my dad's favorite peach pie is now Winnie's You're A Peach pie (for someone who needs to know they're treasured). The more books I write in the series, the more desserts Winnie needs on her menu. And the more desserts Winnie needs on her menu, the more excuses I have to bake.
And just think… It all started with a smile.
So tell us, why do you bake?
Bio:
As a child, Laura Bradford fell in love with writing over a stack of blank paper, a box of crayons, and a freshly sharpened number two pencil. From that moment forward, she never wanted to do or be anything else. Today, Laura is the national bestselling author of several mystery series, including the Emergency Dessert Squad Mysteries, the Amish Mysteries, the Jenkins & Burns Mysteries, the Southern Sewing Circle Mysteries written as Elizabeth Lynn Casey, and the upcoming Tobi Tobias Mystery Series. She is a former Agatha Award nominee, and the recipient of an RT Reviewer's Choice Award in romance. A graduate of Xavier University in Cincinnati, Ohio, Laura enjoys making memories with her family, baking, and being an advocate for those living with Multiple Sclerosis.
For more information, visit: www.laurabradford.com or, for day to day stuff, you can find Laura on Facebook: https://www.facebook.com/laurabradfordauthor/  and occasionally on Twitter @bradfordauthor
Browse her books here: