Categories: Explore: "Random Notes"
Who better to give book recommendations than the bookish experts? Penguin Random House employees are sharing their favorite reads every month. Browse below!
Annysa, Manager, Diversity & Inclusion, Career Outreach, Human Resources
Annysa works closely with colleagues across the company to develop and advance strategic corporate and divisional diversity and inclusion initiatives. In addition to her husband and baby girl, her true loves include Spoken Word, traveling, home-made Dominican meals, and reading (at all possible times).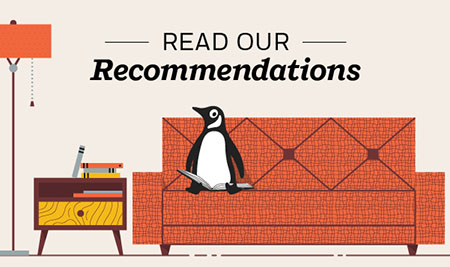 Who better to give book recommendations than the bookish experts? Penguin Random House employees are sharing their favorite reads every month. Browse below!
Sarah, Digital Sales
Sarah is a metadata manager whose personal library exceeds her shelf space. She lives in Brooklyn, where she can often be found teaching yoga and telling corny dad jokes.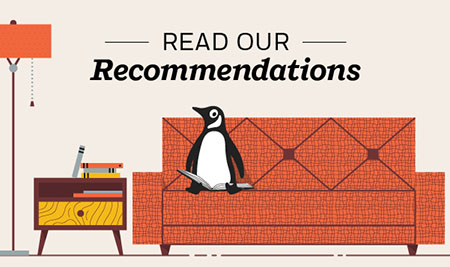 Who better to give book recommendations than the bookish experts? Penguin Random House employees are sharing their favorite reads every month. Browse below!
Christine, Director of Online Marketing
She loves reading fiction, young adult, and fantasy books and has read books while traveling to six continents (Antarctica, you're next!).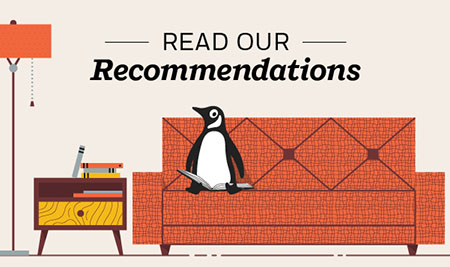 Who better to give book recommendations than the bookish experts? Penguin Random House employees are sharing their favorite reads every month. Browse below!
Kathryn, Marketing Coordinator 
Kathryn can always be found with a book (or four) in her bag. She's on a perpetual quest to find the best dumplings NYC has to offer, enjoys wearing every shade of black, and commutes to read on the subway.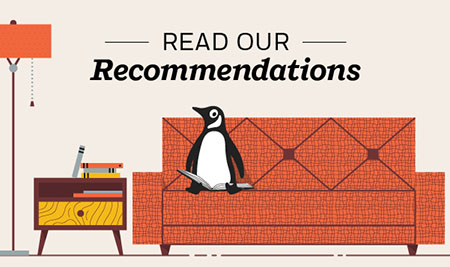 Who better to give book recommendations than the bookish experts? Penguin Random House employees are sharing their favorite reads every month.
Liz, Social Media Manager
When she's not tweeting, pinning, or posting about all things literary, Liz can be found in a museum, at a play, or stuck on the Second Avenue Subway.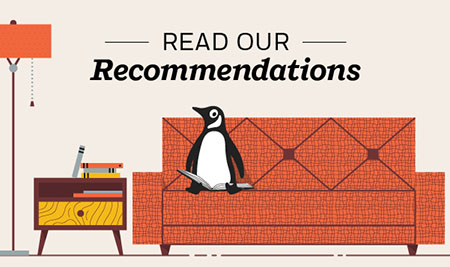 Who better to give book recommendations than the bookish experts? Penguin Random House employees are sharing their favorite reads every month.
Amy, Marketing Manager
Amy reads excellent books and watches terrible movies. In her free time, you can find her biking around Brooklyn, lolling in a park, or wandering a museum. 
 Whether you're celebrating Valentine's Day with a romantic partner, a best bud, or with the greatest love of your life (you!), we've got you covered.  Winc wine delivery club has chosen some  great book and wine pairings to cuddle up with. 
For example…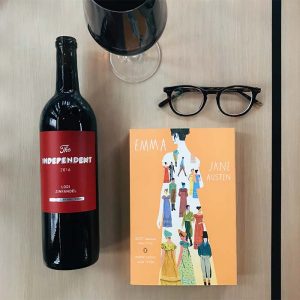 The Sweethearts

Emma: Jane Austen said, "It's such a happiness when good people get together." So, grab your sweetheart this Valentine's Day and snuggle up with Austen's classic, Emma, a sparkling comedy of love and marriage. Nothing delights Emma Woodhouse more than interfering in the romantic lives of others. And we bet nothing with delight you more than curling up with this witty, charming novel and an equally complex and delicious wine, like The Independent Zinfandel.
See all the wine and book pairings here!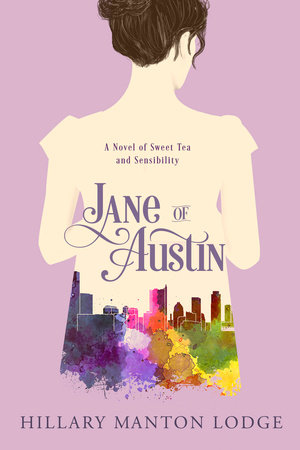 Hillary Manton Lodge is the author of the critically acclaimed Two Blue Doors series and the Plain and Simple duet. Jane of Austin is her sixth novel. In her free time, she enjoys experimenting in the kitchen, graphic design, and finding new walking trails. She resides outside of Memphis, Tennessee with her husband and two pups. She can be found online at www.hillarymantonlodge.com.
My grandmother read everything. Books about travel, antiques, architecture, mushrooms. She read murder mysteries by the stack until my grandfather passed; afterwards, her tastes veered into sweet romances, narrow paperbacks with titles like The Sophisticated Urchin and Destiny is a Flower.
But she loved the classics best, Jane Austen most of all. When I was nine, she gave me a battered paperback Penguin Classics copy of Pride & Prejudice. I didn't make much progress with at the time – I was an advanced reader, but not that advanced – so my first experiences of Austen were in film. First, with the 1940 Greer Garson and Laurence Olivier version, and later with the 1995 Andrew Davies mini-series for the BBC.
When the latter aired on Masterpiece Theater, I visited my grandparents' home every Sunday night for six weeks while we watched Jennifer Ehle and Colin Firth argue and make eyes at each other. My grandfather made us an English dinner – or rather, his interpretation of one – and asked if they were "dahn-cing yet?" As a twelve-year-old with two younger siblings, the dedicated time with my grandparents felt special and grown-up.
But it wasn't until I was an adult that I was able to read and appreciate Austen's work. As a high-schooler, the subtext of Emma flew right over my head. But as an adult – and author – I was able to see the work, craft, and wicked humor just beneath the surface. I made my way with pleasure through Pride & Prejudice, Persuasion, Sense & Sensibility, and Emma – Mansfield Park and Northanger Abbey are next on the list.
I read them in time to talk to my grandmother about the text; she passed away at the age of 100, and by then the one-two punch of dementia and hearing loss had made it difficult to converse on a specific topic for any length of time. But we were able to compare notes, and we shook our heads over what a pill Darcy could be.
A deep dive into Austen for Jane of Austin, then, felt natural. My editor gave me the title and free reign over it, and after a little consideration I reached for Sense & Sensibility – after all, my last four books had featured self-contained women who navigated the world while keeping it arm's length. Who better to buck that trend than a character modeled after Marianne Dashwood?

But updating a novel set during the early 19th Century has its challenges. For starters, there's the teeny fact that women can not only inherit both property and money, but can have jobs without being cast out of polite society. When necessary, I borrowed from other Austen novels, and gave my version of Marianne – Jane, in my own novel – depth that would have eluded the original 17-year-old character.
There were challenges, but also pleasures. And it's the pleasures that are why we revisit Austen's work so often. Her books are populated with people we know. I've met Fanny Dashwoods and Mr. Eltons and Mary Musgroves – we all have. Her stories resonate because they're inhabited by our own neighbors, parents, and co-workers.
But the familiarity of Austen's literary world should never be mistaken for simplicity. As I wrote Jane of Austin, I got stuck. A lot. And when I did, I returned to the text. Every time, there was something there. Whether it was a witty line or an insightful scene, I always found something to springboard off of and keep the story rolling.
And that's the beauty of Austen's work. There's always something there. There's wit and romance on the surface. For the deep thinker, there's sharp social commentary and character study. And no matter the novel, there's the pleasure in knowing that there will always, somewhere, be dancing.
Learn about the book here:
When I was young, Maeve Binchy was one of my favourite writers. She had this knack of creating characters who came alive. You somehow felt the people who owned the shops and arrived late for mass were real, and you knew them. I learned later from listening to interviews with Binchy that they were—at least their conversations were real. Binchy told stories of riding buses every day just to listen to snippets of conversation. On one if these bus journeys she overheard a young woman telling her friend she was going shopping for a silver wedding anniversary card for her parents. The friend marvelled that at the longevity of her parent's marriage. 'They're miserable as sin together,' she replied. 'The worse the marriage, the bigger the card.' That conversation went on to inspire Binchy's successful book, Silver Wedding. Hearing the author's story reminded me of the hundreds of missed opportunities to notice something that might just spark our next big idea every day.
Like Binchy, I grew up in Dublin. The population at the time was around a million people. But it somehow always felt more like a village than a city. I think that's because permanently curious Dubliners love to talk and exchange stories. It's not unusual to stand at a bus stop and to suddenly get into a conversation with a stranger. Within minutes you'll be hearing about where they're going or coming from and what the doctor diagnosed them with that morning.
I miss those days—the pre-smartphone era when we looked up and into each other's eyes and saw something unexpected there. Now we play pedestrian pinball as we try to avoid bumping into each other, palms up, eyes down, earbuds in, minds diverted and hearts closed. We've stopped being curious about the world outside our curated feeds. We're neglecting to nurture the very things that make us more creative and imaginative and more human. I often wonder what Steve Jobs would think if he were transported back to earth almost six years after his death. Is this what he would have wanted his 'ding in the universe' to be?
Big ideas start out as whispers in unexpected places. Sometimes they happen while you're sitting alone in a bathtub or under an apple tree. Other times they are gifted to you on a crowded bus during rush hour. It's your job to be listening out for them.
Learn more about the book here:

Acclaimed romance author Mary Balogh reflects on her writing, her influences, and the power of escaping to another time period. 
The Power of Love
I believe in love. I believe in the power and ultimate triumph of love even while the world is frequently engulfed in intolerance and hatred and violence and it seems ridiculous to hope. But we all know what happens when hatred has caused catastrophic death and destruction. People come together in a surge of unity and sympathy and generosity of spirit to those who are suffering. I have always been a writer. And what I should write has never been in question. I have to write about love and its triumph over adversity and all the outer and inner forces that would smother it if they could. I write love stories without apology and without self-doubt.
Why historical love stories?
Why historical novels, though? Perhaps the answer lies in the more common term for my type of story—historical romance. It's a lovely word, that—romance. It encompasses attraction and courtship and sex and love and yet sets an aura about them that transcends them and makes them irresistibly attractive. I don't preach love. Rather, I tell stories of love. And in order to do that well enough to draw readers in and convince them that yes, this is possible, this is how life and love can and should be, I try to hold them spellbound by the wonder—the sheer romance—of the love relationship that is developing between two people.
But again, why the historical setting? Why tell stories of another era when I am trying to make a point about life and love that is relevant today?
Readers like to be transported away from their everyday lives. They like to be taken to a different world even if they also want to read about people who are essentially like themselves. Past eras often seem more romantic than our own. Regency England, for example, can conjures marvelous visual images of fashions for both men and women that were perhaps the most attractive and sexy of any age; of stately country homes and the spacious parks surrounding them; of horse-drawn carriages bowling along the king's highway; of couples waltzing at grand balls in the light of dozens of candles in the crystal chandeliers overhead; of enchanted evenings strolling the lantern-lit walks of Vauxhall Gardens in London; of picnics and garden parties in rural surroundings; of drives in Hyde Park at the fashionable hour. The possibilities are endless, all coming with an aura of the romance of a bygone age. It is a happy illusion, of course. Most of us would not want actually to live in Regency England or any other bygone era, but we are quite happy to enjoy it from the comfort of our twenty-first century homes. That is the magic of reading.
Another attraction is that it is often easier to make sense of the past than of the present. One can look at Regency England, for example, and see a society that knew itself and the unwritten rules by which is functioned. A gentleman knew what was expected of him just as a lady knew what was expected of her. I love using such settings and deciding how much my characters will conform to expectations and how much they will assert their individuality and their personal principles if there is a conflict. I love having them act within the framework of their age without becoming mere puppets of the system. Jane Austen herself did this. Elizabeth Bennet in Pride and Prejudice maintained her integrity by refusing marriage offers from both Mr. Collins and Mr. Darcy despite the fact that a woman in her social position would normally accept any respectable offer to save herself from the social stigma of being a spinster and dependent upon her male relatives. And remember that this was a contemporary novel.
The Influence of Jane Austen and Georgette Heyer
When I read Jane Austen as a girl—and again and again as an adult—I loved her wit and wisdom and the elegance of her prose. Most of all, though, I was enchanted by the pure romance of the love stories, the quiet strength of most of her heroines and the gallant integrity of her heroes. I cannot claim she inspired me to write historicals because she was writing about her own world and her own time. What did inspire me was the work of Georgette Heyer, who wrote historicals superbly well. I will never forget my first Heyer—Frederica. I immediately fell under the spell of the romance and felt an almost overwhelming sense of nostalgia, as though I had discovered an era in which I had lived very happily once upon a time. I lapped up everything else she had written, and it did not take me long to know that I had found my own place as a writer. Heyer created her quite distinctive world based on a real historical era. I have created my own, happy to admit that I was inspired by her and influenced by Austen, who knew that world as it really was.
A Unique Voice and Vision
Every author is unique, however, even if she/he has taken inspiration from another. Each writer has an individual voice and vision. I have spent more than thirty years developing and honing my own while writing more than a hundred novels and novellas, most of them set in the Regency era. Yes, they are historicals, and yes, they are romantic. First and foremost, however, they are love stories. Or maybe that is a false distinction. Perhaps my stories are inextricably all three—romantic historical love stories. In fact, I hope they are. And perhaps they are best expressed in the words of the hero of my new book (Someone to Love, November, 2016). He is wealthy, titled, gorgeous, powerful, a bit dangerous, aloof, and self-sufficient. But when he is asked what he dreams of most in life, he admits that there is still something missing.
"Someone to love," he says.
Browse through Mary Balogh's books here and explore her Westcott series below.