Congratulations to Nadia Murad, who along with Dr. Denis Mukwege was awarded the Nobel Peace Prize for her work to end rape as a weapon of war.
Learn more about her story here:
George Saunders, famed short story writer, has won the Man Booker Prize for his first full-length novel, Lincoln in the Bardo.
From The Man Booker Prize website:
The 58-year-old New York resident, born in Texas, is the second American author to win the prize in its 49-year history. He was in contention for the prize with two British, one British-Pakistani and two American writers.
Lola, Baroness Young, 2017 Chair of judges, comments:
'The form and style of this utterly original novel, reveals a witty, intelligent, and deeply moving narrative. This tale of the haunting and haunted souls in the afterlife of Abraham Lincoln's young son paradoxically creates a vivid and lively evocation of the characters that populate this other world. Lincoln in the Bardo is both rooted in, and plays with history, and explores the meaning and experience of empathy.'
Lincoln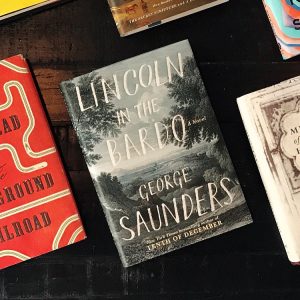 in the Bardo focuses on a single night in the life of Abraham Lincoln: an actual moment in 1862 when the body of his 11-year-old son was laid to rest in a Washington cemetery. Strangely and brilliantly, Saunders activates this graveyard with the spirits of its dead. The Independent described the novel as 'completely beguiling', praising Saunders for concocting a 'narrative like no other: a magical, mystery tour of the bardo – the "intermediate" or transitional state between one's death and one's next birth, according to Tibetan Buddhism.' Meanwhile, the Guardian wrote that, 'the short story master's first novel is a tale of great formal daring…[it] stands head and shoulders above most contemporary fiction, showing a writer who is expanding his universe outwards, and who clearly has many more pleasures to offer his readers.'
-Read the rest here.
Browse below for Saunders' rightfully beloved works:
Viking Vice President and Executive Editor Paul Slovak was honored with the  Poets & Writers 2016 Editor's Award on Tuesday night in New York.  Warm congratulations to Paul. He embodies every aspect of this award, which recognizes an individual who has "made an outstanding contribution to the publication of poetry or literary prose over a sustained period of time."  Viking Vice President and Editor in Chief  Andrea Schulz concurred — "Paul has made a substantial contribution to the Viking and Penguin lists and, indeed, to American literature, with his acuity of judgment, his passionate advocacy, and his steadfast faith in his remarkable list of writers".
Penguin Random House has been a longstanding supporter of Poets & Writers and was well-represented at this event, where Paul was surrounded by many of his closest literary colleagues from over the years, including such Viking/Penguin authors as Sue Monk Kidd, whose introductory remarks included these wonderful words: "When I started to think about how to describe my experience working with Paul, the first word that came to my mind was brilliant. Paul brings a prodigious amount of smarts to the table, and I'm not just talking about his intellect, his knowledge or his logistical thinking, I'm also talking about his very intuitive and inventive wisdom. The other word that comes to me when I think about Paul is thoughtful.  He's one of the most thoughtful people that I know, and by this I mean that he also brings a lot of sensitivity and availability and attentiveness to his authors, so his exceptional brilliance and his exceptional thoughtfulness combined with his very tranquil demeanor is just an exquisite combination. And I think it has helped my own writing to flourish, whether it's writing about something that keeps me up at night like American slavery or whether it's pursuing an idea for my next novel that is patently insane, I take comfort in knowing that Paul is there."
In accepting the Editor's Award, Paul was clearly moved, saying, in part, "I wouldn't be standing here tonight if it wasn't for the amazing authors that I've worked with over the last two decades. I feel very blessed about that; it's not a word I use very often, by the way.  To a one, they are writers who have very exuberant, distinctive voices, who are not afraid to take risks, who are interested in finding new and compelling ways of telling stories with fresh and surprising ways of imagining character … Nothing has been more gratifying to me than helping to bring these authors and their books into the world and working with them to shape their writing, and ensure that every word and every line they put to the page is exactly the right one. As all of you in this room know, publishing books that might be of permanent importance rather than ephemeral interest–to steal a line from the founding creed of Viking Press–has and will continue to be a challenge. But I feel like there has never been a better time to be an editor, I feel like there are as many great writers working today as we have ever seen and a wonderful flowering of all the communities that support them."
Ottessa Moshfegh, author of Eileen, has won the 2016 PEN/Hemingway award for debut fiction!
Her novel is a dark and gripping story of a young woman in a dismal 1960s New England town. When a mysterious stranger enters Eileen's world, her life begins spinning into chaos.
The PEN/Hemingway Award is given for a novel or book of short stories by an American author who has not previously published a full-length book of fiction.
The award ceremony will take place April 10th, 2016 at the JFK library.
Listen to our interview with Moshfegh here.
A Brief History Of Seven Killings by Marlon James is the recipient of the 2015 Man Booker Prize.
Set in Kingston, Jamaica, where the author was born, the book is a fictional history of the attempted murder of Bob Marley in 1976.
Awarded annually, the Man Booker Prize is open to fiction writers of any nationality writing in English, and published in the U.K.  It was won last year by Richard Flanagan for The Narrow Road to the Deep North.
Cheers for Marlon James!