Articles Tagged "award winner"
George Saunders, famed short story writer, has won the Man Booker Prize for his first full-length novel, Lincoln in the Bardo.
From The Man Booker Prize website:
The 58-year-old New York resident, born in Texas, is the second American author to win the prize in its 49-year history. He was in contention for the prize with two British, one British-Pakistani and two American writers.
Lola, Baroness Young, 2017 Chair of judges, comments:
'The form and style of this utterly original novel, reveals a witty, intelligent, and deeply moving narrative. This tale of the haunting and haunted souls in the afterlife of Abraham Lincoln's young son paradoxically creates a vivid and lively evocation of the characters that populate this other world. Lincoln in the Bardo is both rooted in, and plays with history, and explores the meaning and experience of empathy.'
Lincoln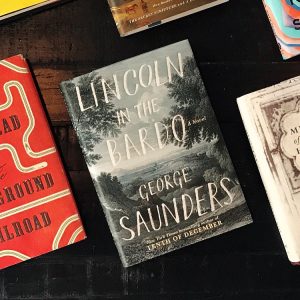 in the Bardo focuses on a single night in the life of Abraham Lincoln: an actual moment in 1862 when the body of his 11-year-old son was laid to rest in a Washington cemetery. Strangely and brilliantly, Saunders activates this graveyard with the spirits of its dead. The Independent described the novel as 'completely beguiling', praising Saunders for concocting a 'narrative like no other: a magical, mystery tour of the bardo – the "intermediate" or transitional state between one's death and one's next birth, according to Tibetan Buddhism.' Meanwhile, the Guardian wrote that, 'the short story master's first novel is a tale of great formal daring…[it] stands head and shoulders above most contemporary fiction, showing a writer who is expanding his universe outwards, and who clearly has many more pleasures to offer his readers.'
-Read the rest here.
Browse below for Saunders' rightfully beloved works:
Congratulations to Naomi Novik on winning a 2015 Nebula Award for her novel, Uprooted.
The Nebula Awards recognize outstanding novels, novellas and short stories in the science fiction and fantasy genres.
Novik's novel is an absorbing and moving introduction to a strange world, held in thrall by a cold wizard known as the Dragon. His protection of a peaceful village comes at a cost – a young woman who must serve him for ten years.
Learn more about the book here:
Ottessa Moshfegh, author of Eileen, has won the 2016 PEN/Hemingway award for debut fiction!
Her novel is a dark and gripping story of a young woman in a dismal 1960s New England town. When a mysterious stranger enters Eileen's world, her life begins spinning into chaos.
The PEN/Hemingway Award is given for a novel or book of short stories by an American author who has not previously published a full-length book of fiction.
The award ceremony will take place April 10th, 2016 at the JFK library.
Listen to our interview with Moshfegh here.
Ever wonder what Penguin Random House employees are reading? We're a bunch of professionally bookish people, so you can always count on us to have a book on hand… or thirty piled on our desks. Our Bookspotting feature shows off the range of readers behind the scenes at Penguin Random House.
Miguel, in consumer marketing, is reading Between the World and Me by Ta-Nehisi Coates.
Find out more about the book here:
We're celebrating the 40th anniversary of Roll of Thunder, Hear My Cry with a beautiful new edition of the book, out now. Regina Hayes, Editor at Large of Viking Young Readers, wrote this letter to commemorate the day.
It is hard to believe that forty years have passed since the publication of Roll of Thunder, Hear My Cry.  It seems like only yesterday that I met Mildred Taylor, when the manuscript that became her first book about the Logan family, Song of the Trees, won a contest sponsored by the Council on Interracial Books.  Mildred was interviewing the editors who had expressed interest in her manuscript, and she came to our offices at Dial, a beautiful, shy, but very composed young African-American woman. Much to my delight, she chose Dial as her publisher, and I became her editor.

After working with her on the first book, I knew Ms. Taylor had enormous talent, but I was still stunned when the manuscript for Roll of Thunder, Hear My Cry arrived: a hugely accomplished, compelling, full-fledged novel with an unforgettable cast of characters. Reading it, I had shivers up my spine.  Could it really be as good as I thought it was? But subsequent readers confirmed my judgment.  There was such excitement in the office around publication. We firmly believed that this was an important book, and our faith was justified when the Newbery committee chose Roll of Thunder, Hear My Cry as the most distinguished contribution to literature for children that year. Today. generations of readers have agreed as they embraced the Logan family saga.

To celebrate the occasion, the wonderfully talented and award-winning Kadir Nelson has agreed to create new covers, not only for Roll of Thunder, Hear My Cry, but for all nine of Mildred Taylor's books about the Logan family, which will be reissued throughout the year. Mr. Nelson's work has been featured in numerous different outlets, including The New Yorker, a United States postage stamp, a Michael Jackson album cover, and numerous award-winning children's books, and his rich, inviting paintings are the perfect complement to Mildred Taylor's heartfelt stories.

And something more to look forward to:  2017 will see publication of the final book in the saga of the Logans, which follows Cassie Logan through the years after World War II,  as she attends law school and becomes involved in the momentous years of the early civil rights movement.

I hope you will join all of us at Penguin Young Readers in the year-long celebration of a ground-breaking writer, her memorable, moving books, and forty years of courage, love, and pride.

With best wishes,
A Brief History Of Seven Killings by Marlon James is the recipient of the 2015 Man Booker Prize.
Set in Kingston, Jamaica, where the author was born, the book is a fictional history of the attempted murder of Bob Marley in 1976.
Awarded annually, the Man Booker Prize is open to fiction writers of any nationality writing in English, and published in the U.K.  It was won last year by Richard Flanagan for The Narrow Road to the Deep North.
Cheers for Marlon James!