Articles Tagged "biography"
Last night, Hamilton cleaned up at the Tony Awards, to no one's surprise. If you're looking for a deeper dive into the life of Alexander Hamilton, look no further. Ron Chernow's exhaustive biography was Lin-Manuel Miranda's muse and guide when he was writing the show. 
Another literary win was A View from the Bridge, for best revival of a play. Immerse yourself in reading Arthur Miller's intense, devastating play.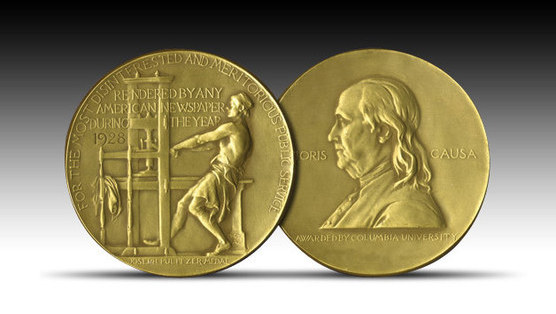 It is the centennial year of the Pulitzer Prize and the awards have just been announced. From Penguin Random House, we are proud to publish these Pulitzer Prize winners:
General Non-Fiction: Joby Warrick for Black Flags: The Rise of ISIS
History: T.J. Stiles for Custer's Trials: A Life on the Frontier of a New America
Biography or Autobiography: William Finnegan for Barbarian Days: A Surfing Life
Congratulations also to Kelly Link, whose short story collection, Get in Trouble, was a finalist for Fiction.
Click through to learn about the books and find yourself an award-winning read!
Who said reading can't be competitive? Every few months, we'll be challenging you to read a list of selected books. Print out the challenge and cross the titles off as you go. Show off how much you've read by taking a picture and tweeting @penguinrandom or Instagramming (@penguinrandomhouse) with the hashtag #challengeyourshelf.
Who said reading can't be competitive? Every few months, we'll be challenging you to read a list of selected books. Print out the challenge and cross the titles off as you go. Show off how much you've read by taking a picture and tweeting @penguinrandom or Instagramming (@penguinrandomhouse) with the hashtag #challengeyourshelf.
We know readers tend to be writers too, so we feature writing tips from our authors. Who better to offer advice, insight, and inspiration than the authors you admire? They'll answer several questions about their work, share their go-to techniques and more. Now, get writing! 
What writing techniques have you found most important or memorable?
I write during the day, print out whatever I am working on in the evening and bicycle with those pages to my favorite Japanese restaurant where I alternate between a blue pencil and chopsticks. This transfer, from screen to paper, from solitary desk to public sushi counter, gives me the sense that I'm examining my writing with 'fresh eyes.' It is, of course, only an illusion that Tim Sultan, the writer, and Tim Sultan, the reader, are not one and the same but it's an illusion that works for me. Needless to say, I am a very popular customer at this restaurant.
Is there something you do to get into a writing mood? Somewhere you go or something you do to get thinking?
Some people walk their dogs before breakfast, I walk my coffee. Each morning year-round I put on a minimal ensemble—sneakers, a t-shirt or sweater, and shorts. Never trousers as being underdressed for the weather is of the essence. It's circulation–of blood, of thoughts, of images–I'm after, not snug comfort. I descend from hearty stock that encouraged this sort of thing. I walk the half-mile to my favorite coffee shop, order a cup to go and return home through the park. I call this surveying. I survey the exercisers, the pigeon feeders, the dogs racing around with clouds of breath coming from their snouts—and I survey my life, my writing, perhaps chewing on an editorial conundrum that had me in a jam the previous day. Whatever my mind alights on. If I'm lucky, I return home with a new turn of phrase, a fresh idea, a missing word, and I take it from there. I can affirm that waking up the mind in this manner beats turning on a screen in the morning.
What's the best piece of advice you have received?
"Look forward and don't be afraid."  I found this single sentence in a notebook that belonged to my mother. She had written it to herself not long before she passed away. The page leans against the wall by my desk where I regard that message and reinterpret its meaning every day. For writing, for life.
Describe your writing style in 5 words or less.
Thoughtful, digressive, occasionally extravagant, empathetic
What are three or four books that influenced your writing, or had a profound affect on you?
Disappearances by Howard Frank Mosher
I have read it more than any other book. I have read to myself, to friends, and at my father's memorial service. I admire it like no other. For its naturalistic prose coupled with a grand imagination. If Gabriel Garcia Marquez had been a Vermonter…
Between Meals by A.J. Liebling
I think it was John Irving who once said that he always carries on him 'a flood book.' Something to read if he finds himself unexpectedly marooned. This is my flood book and more often than not, I stick a copy in my jacket as I'm going out the door in the evening. It's the sort of book one can open to any page and begin reading without feeling one has missed a beat.   
Too Loud a Solitude by Bohumil Hrabal
A short masterpiece about an underground visionary with the tenderest of souls. Elegiac without being melancholy, profound without being solemn.
Dusk and Other Stories by James Salter
Sometimes one admires most the other. Salter's style here is terse, understated, disciplined. His characters share the world with Edward Hopper's subjects. We are ultimately on our own.
Learn more about Sunny's Nights here.  
Today, December 12th, would have been Frank Sinatra's 100th birthday.
In honor of his life and music, we've put together a playlist of the some of the many beautiful songs from Sinatra.
If you're looking for a book all about Sinatra, look no further:
Ever wonder what Penguin Random House employees are reading? We're a bunch of professionally bookish people, so you can always count on us to have a book on hand… or thirty piled on our desks. Our Bookspotting feature shows off the range of readers behind the scenes at Penguin Random House.  
Shelby, in the online marketing group, is reading The Orientalist by Tom Reiss.
Show us what you're reading by using the #bookspotting hashtag!
If you're in the New York City area, don't miss the Brooklyn Museum exhibit, Basquiat: The Unknown Notebooks.  The show is on view until August 23, 2015. From their site:
Brooklyn-born artist Jean-Michel Basquiat filled numerous notebooks with poetry fragments, wordplay, sketches, and personal observations ranging from street life and popular culture to themes of race, class, and world history. The first major exhibition of the artist's notebooks, Basquiat: The Unknown Notebooks features 160 pages of these rarely seen documents, along with related works on paper and large-scale paintings.
To dive a little deeper, learn the story of Jean-Michel Basquiat's partner, Suzanne Mallouk. In Widow Basquiat by Jennifer Clement, the reader is plunged into 1980's New York City where the lovers meet for the first time. All about art, underground culture, passion and creative energy, this biography is gripping and transportive.  See below for an excerpt from the book.
"Sublime, poetic…A harrowing, beautifully told love story about two seekers colliding in a pivotal moment in history, and setting everything, including themselves, on fire."—Rebecca Walker for NPR

"Stunningly lyrical . . . Original, insightful, and engrossing. . . . While filled with pop culture anecdotes art fans might seek—Andy Warhol and Rene Ricard both make appearances, for instance—Clement's account is an honest love story above all else."—Publishers Weekly
This excerpt is from Jennifer Clement's  Widow Basquiat, the story of the short-lived, obsessive love affair between Suzanne Mallouk and Jean-Michel Basquiat. Clement is former president of PEN Mexico and is the author of three novels and several books of poetry.
THE CROSBY STREET LOFT MADNESS
She irons the clothes, folds his clothes, places them in the same order on the shelf—the red sweater is folded this way and placed above the red shirt. She places the soap at an angle on the sink and always places the towels in the same order 1-2-3. She irons one shirt five times. She makes the bed three times and irons the sheets. If a sweater fades in the wash she cries. She never speaks and only answers questions or speaks in a panicky monologue:
"My mother was a spy in the war. They took her to see a woman with transparent skin. They could see her heart beating in there and her lungs and blood. They could see her eyeballs turning. This was a military secret. Nobody knows about this. And they would give the woman food— turnips, oranges, bread—and watch it all go down into her. This was a military secret. I heard about her when I was five and I thought she must have been very beautiful like a larva, but very scared. I kept looking at my own stomach and wondering what was in there. I chewed care- fully. My mother said she was a kind of Venus or virgin."
At first Jean-Michel thinks this is funny and puts some of her words in his paintings. Then he tells her to shut up. He paints Self-portrait with Suzanne. He paints her speaking her chicken-chatter, "PTFME E a a a R M R M O AAAAAAAA."
They do coke six or seven times a day. He tells Suzanne she can only wear one dress. It is a gray shift with white checks. He tells her she can only wear one pair of very large men's shoes. He does another line of coke. Suzanne walks clunk- clunk-clunk, her feet wading in the shoes, around the loft. He tells her she can't wear lipstick anymore. He says she can only buy groceries and detergents. Then he says no, he will buy them. He does another line of coke and paints Big Shoes, a portrait of Suzanne in big shoes. He calls her Venus. He says, "Hey, Venus, come and kiss me." He says, "Venus, go get us some coke." He writes "Venus" into his paintings and says Suzanne is only with him for his money.
Jean-Michel sticks black paper over all the windows so that they won't know if it is day or night. "The day is too light," he says.
Soon Suzanne stops cleaning and Jean-Michel stays at home all day.
Suzanne finds a place to live under a small table, like a small cat that finds a hiding place. From here she watches Jean- Michel paint, sleep and do drugs. He picks up books, cereal boxes, the newspaper or whatever is around. He finds a word or phrase and paints it on his board or canvas. A few times a day he crawls under the table with Suzanne and gives her a kiss on the forehead. Sometimes he pulls her out, has sex with her, and then puts her back under the table and continues to paint.
Sometimes Suzanne weeps a little and Jean-Michel says, "Shut up, Venus. I know what it is like to be tied up and fed, with a bowl of rice on the floor, like an animal. I once counted my bruises and I had thirty-two."
Suzanne moves from under the table into a closet in the bedroom. In here there is a green trench coat, a pair of moccasins, black and pink pumps, a tin frying pan, a super­market plastic bag full of bills, two large boxes of chalk. Under one moccasin Suzanne finds a small box of birthday candles.
THEY DO NOT KNOW HOW TO DRIVE A CAR
Shortly after Suzanne moves into the Crosby Street loft Jean-Michel takes her to Italy. He is having a show at the Emilio Mazzoli Gallery in Modena. Neither Jean-Michel nor Suzanne knows how to drive a car so Jean-Michel pays to bring Kai Eric along to drive them around.
In the airplane Jean-Michel continuously gets up to do some coke in the bathroom. He says he has to finish it up before he goes through customs in Europe. He says he wants to open up the emergency door exit and jump on the clouds.
Suzanne has hepatitis. She cannot lift up her arms.
Jean-Michel sits beside her; he kisses and licks one of her arms.
"Beautiful arms," he says. "Venus, I have to paint your arms." He takes a blue marker out of his pocket and paints on Suzanne's arm. He paints her humerus, ulna, radius and carpus. He writes "animal cell" on the inside of her wrist. He draws a ring around her finger.
"Now you are my wife," he says.
Read more about Widow Basquiat here. 
Learn about the Basquiat exhibit at the Brooklyn Museum here. 
We are thrilled to announce our 2015 Pulitzer Prize winner in the Biography or Autobiography category: The Pope and Mussolini: The Secret History of Pius XI and the Rise of Fascism in Europe by David I. Kertzer.
The Pulitzer Prizes called it,
"An engrossing dual biography that uses recently opened Vatican archives to shed light on two men who exercised nearly absolute power over their realms."
Congratulations to Mr. Kertzer, his editor David Ebershoff—who has edited his third Pulitzer-winning book in as many years—and everyone at the Random House Publishing Group for this proud and defining occasion for all of us at Penguin Random House.
This is the 124th time a book published by one of our current or past imprints has been honored with a Pulitzer, a humbling accomplishment unrivaled in trade-publishing history.
Read more about The Pope and Mussolini here.