Articles Tagged "Biography & Memoir"
As Penguin Random House continues its ongoing commitment to social responsibility, today we're featuring an interview with Penguin Press Vice President and Publisher Scott Moyers.  He worked closely with world renowned environmentalist and Patagonia co-founder Yvon Chouinard on his book, Let My People Go Surfing; a 10th anniversary fully updated trade paperback edition was published by Penguin last fall.
In this interview, Scott offers insights into Mr. Chouinard's book, business philosophies, core values, and environmental activism as well as the "contagious success" of Patagonia, whose primary mission is "to use business to inspire and implement solutions to the environmental crisis."  The recent news on the Earth Setting a Temperature Record for the Third Straight Year reminds us all of the urgency of global warming and the importance of how we consider the environment.
What brought about your initial contact with Yvon Chouinard and how would you characterize the experience and process of working with him as his book editor and publisher while presenting all aspects of his life and business? 
Yvon Chouinard is powerfully inspiring because he has stubbornly refused to do anything with his business that does not advance its core mission: "to use business to inspire and implement solutions to the environmental crisis."  You can't be in partnership with him without learning that, one way or another.  I was submitted the book by his agent, Susan Golomb, in 2004 or 2005, and I knew enough about Patagonia's brand halo, as they say, and was sufficiently taken by the voice on the page, which even in proposal form had that thrilling ring of authenticity and irreverence, that I went for it, and was fortunate enough to prevail in a heated auction. But really diving off the deep end with him was something else entirely.  First, everything was slightly irreverent, and counterintuitive – what business leader calls his memoir "Let My People Go Surfing?"  Which is from the company policy that when the surf's up, employees should feel free to hit it.  And he wanted to do an oddball trim size, with all sorts of funky sidebars and a lot of art.  And he and Patagonia nudged us over to using a different kind of paper, recycled, of course.  And on and on.
But what really hit me was the story of the business itself.  Just one story for now: there came a point when Patagonia commissioned a holistic environmental impact study of their entire business.  What came back surprised and dismayed them: the worst thing they were doing to the planet was using so much factory-farmed cotton.  As you can imagine, cotton shirts, etc., make up a big chunk of the business.  What did they do? They pulled all of their cotton products, reinvented their supply chain, sourced their cotton ethically and in such a way as to catalyze environmentally responsible cotton growing more generally… in short, they used their market power to be a force for good and not ill.  And ultimately, in the long run, they were more profitable by doing so!  In the short run, of course, they had to absorb a tremendous hit to the bottom line.  Needless to say, if they were a publicly held company, this might have been impossible, even unimaginable.  Though thanks in no small part to Patagonia's example, there's been a change in consciousness, and perhaps it's less unimaginable than it was.  I hope this book has contributed to that; I think it has.
How does Let My People Go Surfing, divided into a History of Patagonia and eight Philosophies sections, best inform and inspire readers through key takeaways from this environmentally-responsible businessman/adventurer and his company? 
I think the bottom-line takeaway for your own life and work is that, in area after area – design, production, distribution, marketing, finance, HR, management, environmental stewardship – if you don't blink, if you keep fear at bay and keep your focus on the most quality for the least harm, you will be a magnet for talented, big-hearted colleagues and customers, and your story will carry.  Every time this company took a short-term hit to innovate in the direction of greater responsibility for the state and fate of the earth, the more successful they have been in the long term.
How transferable are Mr. Chouinard's approaches to business, life and the environment to other industries and individual readers? 
No one wants to leave their values at home when they come to work. Yvon Chouinard never did, and his company has been an enormous force for the good. We all are part of the problem that is the global sustainability crisis, including global warming, one way or another.  Activism and capitalism don't have to be opposed, in fact they can't be, if we're going to keep this planet of ours and all the creatures on it.
What factors were involved in the decision to produce a new edition of Let My People Go Surfing on the 10th anniversary of its first publication and what are examples of some of the most significant new content? 
Back in 2006, "sustainable business" was just emerging as a concept in mainstream terms.  Part of the good news of the past decade is that sustainability has become cooked in to the mix of business education, at the MBA level and down, and Let My People Go Surfing is widely taught.  The past decade has been a period of great growth and thus change for Patagonia, and it has also really doubled down and then some on its environmental activism, so there was so much more to tell. Yvon added a good 20% of new material to the book, including an entirely new chapter on environmental activism, and Naomi Klein has added a passionate new foreword.  There are revisions throughout the book, my favorite being that it's now in four-color and Yvon and Patagonia have added many wonderful new photographs.  One way or another, all of the additions only sharpen the point, which is that, as Naomi Klein puts it in her foreword, "This is the story of an attempt to do more than change a single corporation – it is an attempt to challenge the culture of consumption that is at the heart of the global ecological crisis."  And to have fun doing it!  Contagious fun, contagious righteousness, contagious success – that's Yvon Chouinard and Patagonia, and that'sLet My People Go Surfing, now cleaned up for the next 10 years, and then some.
Learn more about the book:
Editors get very passionate about books they work on – the Editor's Desk series is his or her place to write in-depth about what makes a certain title special. Get the real inside-scoop on how books are shaped by the people who know them best.
As Nadja Spiegelman describes early in her wonderful memoir, I'm Supposed to Protect You from All This, the book grew out of a series of conversations with her mother, Françoise Mouly. Throughout Nadja's childhood, Françoise had steadfastly deflected questions about her past with "I'll tell you when you're older." She kept her word. When Nadja emerged into adulthood, Françoise told her everything she could remember, not sparing herself the difficult emotions the recounting called up. Nadja would eventually cross the Atlantic to continue the conversation in France with her grandmother, adding Josée's story and that of Josée's mother to her ballooning research.
For me, however, the book began in a different place, when Nadja was trying to wrestle a narrative out of this overwhelming, overlapping, contradictory array of stories – not to mention each figure's conflicting interpretations and complicated responses. On her visits to New York, we'd meet for lunch, always somewhere quiet and with a large table, my apartment or the Korean place near my office, so that she could lay out her annotated transcripts and notes and the fantastically detailed storyboards she had assembled.
At moments like these, editors can feel a little like the Wizard of Oz, struggling to muster godlike pronouncements from behind a threadbare curtain of authority. I confess I wondered at moments if we were both lost. But as Nadja began to send me draft chapters, working her way through the material, it became clear to me that my author, young and wide-eyed as she was, had incredibly well-developed impulses as a writer. She knew where she was going, and she returned to the material, draft after draft, until she got it there.
Like many writers, Nadja is a creature of the night, but she took that to extremes. Sometimes when we'd Skype, well into the evening for me – editors tend to be creatures of the night too, at least when it comes to editing – she'd still be up, working, when dawn was already breaking in Paris. Sometimes we continued our conversations the next morning, though at her age, the punishing hours she was keeping did not show. But they paid off. Gradually a gorgeous, intricate narrative emerged, one that mimicked the layering and warping of memory, to powerful effect.
I have daughters of my own, a decade younger than Nadja – more or less the age Nadja was when her mother first told her her story. I came to the book not only as editor but as mother and daughter. I wondered about all the things I had never asked my mother about her past, or her mother's. I was in awe of Francoise's courage in revealing everything, and doubted that I would have the same. The book made me appreciate that we do not understand any adult until we see him or her as someone's child. I loved getting to be part of its coming into the world.
Listen to an interview with Nadja on the Beaks and Geeks podcast: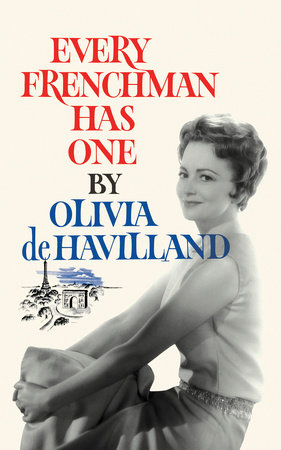 Editors get very passionate about books they work on – the Editor's Desk series is his or her place to write in-depth about what makes a certain title special. Get the real inside-scoop on how books are shaped by the people who know them best.
On a recent Saturday morning, I glanced over at my iPhone and saw the words "O de Havilland" light up my screen. A new e-mail had arrived from Paris, where Olivia de Havilland was pondering a question I'd posed earlier that week ("In the past, you've referred to the guiding philosophy behind Parisian style as 'the Paris principle;' in your opinion, what are the key tenets of that principle?") That I was discussing the timeless style of les parisiennes with the two-time Academy Award-winning actress who played Mellie Hamilton in Gone with the Wind (1939), while I, myself, was wearing sweaty tennis clothes and watching "Unbreakable Kimmy Schmidt," now strikes me as a little, well, déclassé. But even if the details of this exchange are a little embarrassing, the story of how our paths crossed perfectly captures two aspects I love about my job: discovery and serendipity.
About a year ago, I read a fascinating article about Olivia de Havilland's groundbreaking 1944 lawsuit against Warner Bros. and found myself wanting to know more. I love reading about Hollywood's Golden Age—and have always admired Miss de Havilland's work—and I assumed that she'd already written about her extraordinary life and career. After a little searching, I was surprised to learn that while she had written a book, it was a 1962 memoir about falling in love with a Frenchman and moving to Paris. That book, Every Frenchman Has One, was long out of print and very expensive to buy online, so I went to the New York Public Library to check it out. As I read, I found myself laughing out loud at her witty, candid, and completely charming stories about her skirmishes with French customs, French maids, French salesladies, French holidays, French law, French doctors, and above all, the French language.
A Francophile myself, I'd recently seen the Broadway staging of An American in Paris, and was surprised that such a wonderful book about Americans in Paris—and the lessons we can learn from the French—was so difficult to find. But as I read further, I realized that Every Frenchman Has One was about something much more profound. In her own way, Olivia de Havilland was quite brave, not only to drop everything; leave Hollywood behind; and take a chance on life, and love, in a new country, but to write so honestly about her bumpy ride as an expatriate. More than fifty years before Scarlett Johansson and Natalie Portman married Frenchmen and moved to Paris and long before celebrities revealed every detail of their lives to their followers via social media, de Havilland was sharing her gaffes and insecurities with her fans, saying, yes, even glamorous women can be embarrassed every once in a while; it's the price one pays for trading comfort for change. More than anything, though, I was struck by Miss de Havilland's wonderful writing. It exudes an effortless, timeless charm that makes it as appealing today as it was in 1962. Upon returning to the office, I learned Bennett Cerf himself had reverted the rights to Olivia in 1971, and so began my journey toward e-mailing with Olivia de Havilland about all things French on the eve of her 100th year.
I'm thrilled that Crown Archetype will put Every Frenchman Has One back in print for the first time in decade—and publish it as an e-book for the first time—on June 28th. I've also had the great honor of corresponding with Olivia on a series of questions and answers that reflect on the book, and on her sixty-plus years as an American woman in Paris. They are delightful, and will appear as a postscript to this new edition. (Her answer to my original question about her philosophy of Parisian style, by the way: "1. Discretion, 2. Discretion, 3. Discretion.").
With this reissue, I'm excited to have even a small part in celebrating the centennial birthday of one of Hollywood's greatest stars on July 1. I hope that anyone who loves Olivia de Havilland, Paris, or stories about Americans abroad will enjoy her book as much as I did.
Learn more about Every Frenchman Has One below!