Articles Tagged "contemporary romance"
Editors get very passionate about books they work on – the Editor's Desk series is his or her place to write in-depth about what makes a certain title special. Get the real inside-scoop on how books are shaped by the people who know them best.
All year a stack of books sits on my bedside tale. Books I'm reading and ones I can't wait to start. In the summer my weekend bag replaces my bedside table and the book choices shift to include more beach reads, fun, uplifting stories that often take place in locations I'd love to visit. Wendy Wax's Sunshine Beach is such a book.
Set in Florida, it's part of a series of books that feature three women whose lives were upended when they lost their life savings in a Ponzi scheme. To make a living they banded together to renovate old houses. Wendy first introduced these characters in her novel Ten Beach Road. Avery, Maddie, and Nikki were strangers who took on the challenge of restoring a ramshackle, beachfront house to recoup the money they'd been cheated out of. Avery's marriage had ended, Maddie was trying to keep her family together and Nikki was a business woman who'd lost everything—each story captivated me and it was fascinating to watch the women become best friends and renovate an older house. Without actually having to lift a hammer, I learned how to refinish floors and refurbish a chandelier.
Wendy's gutsy, funny, and very real characters resonated strongly with readers and encouraged Wendy to return to that beloved world for two more novels, Ocean Beach and The House on Mermaid Point. In each book we learn more about the three friends as their lives evolve and they fix up a new property.
In Sunshine Beach, the three friends gather in the house they renovated in Ten Beach Road and embark on the challenge of restoring an old seaside hotel just down the beach from them. They also face major life changes. Maddie's second-chance romance with her all-too-famous new boyfriend gets complicated, Avery struggles with grief over the loss of her mother, and Nikki's reluctance to commit to the man who loves her could lead her to face the biggest challenge of her life. Even the hotel seems to be against them, when their renovation uncovers a decades-old unsolved murder which might bring their lives tumbling down again…
I love these women—their stories are compelling and their friendships inspiring. Each evening, no matter how hard the day has been, they gather on the beach with drinks and appetizers (including Avery's beloved Cheez Doodles) to say the one good thing that happened that day. It's an appealing ritual, and I invite you to add Sunshine Beach to your weekend bag and join Avery, Maddie and Nikki on the beach. It'll prove to be the perfect summer escape.
Learn more about Sunshine Beach below!

We know readers tend to be writers too, so we feature writing tips from our authors. Who better to offer advice, insight, and inspiration than the authors you admire? They'll answer several questions about their work, share their go-to techniques and more. Now, get writing!  
Sparrow Beckett is the pen-name for two writers in two countries who combine forces and collaborate. Justice and Sorcha have both answered the questions below. 
What writing techniques have you found most important or memorable?
Justice: Someone once told me a good novel is made up of mostly strong, colorful nouns and verbs. As writers, we often hear the terms active writing versus passive writing. Filling a book with adverbs makes a story sound passive. So when I'm writing, I go for strong descriptive nouns and verbs.
Is there something you do to get into a writing mood? Somewhere you go or something you do to get thinking?
Sorcha: With an evil day job and a big family, I'm so busy that I'm exhilarated by every free moment to write. If I get stuck in one of my stories, I switch to one of my many others.
Justice: I get inspired from all sorts of things. Sometimes a movie, another book, or even a song I hear on the radio. When I'm feeling low on inspiration, I'll surround myself with different media and types of art. Usually something will jump out and the wheels will start turning.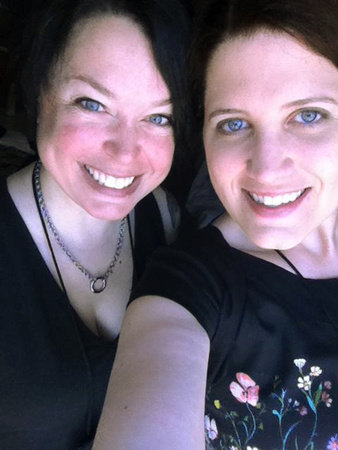 Did you always want to write? How did you start your career as an author?
Sorcha: I started writing a Black Beauty fanfic when I was seven. For Grade Ten English class, I wrote a novella, and then a novel for Grade Thirteen Creative Writing. My novel was so bad, that the publisher I submitted it to sent me a rejection with a blank space where my name was supposed to go. I quit writing after that. About two decades later, I started writing for fun. That was when I met Justice in an online group, and she introduced me to the modern world of publishing.
Justice: I was a writer before I was a writer, if that makes any sense. Writing is just in me. It's been a part of everything I've ever done, before I even realized it. So finally getting the guts to officially try writing a fiction book didn't surprise anyone. I started by self-publishing back when it was a budding development. I learned a lot and I think it better prepared me for the traditional publishing world.
What's the best piece of advice you have received?
Sorcha: Quit making excuses and write.
Justice: Find an amazing crit partner or group – the harsher the better.
What clichés or bad habits would you tell aspiring writers to avoid? Do you still experience them yourself?
Sorcha: I think stalling out of self-doubt is the biggest bad habit to avoid. Feeling like you'll never be as talented as your favorite author isn't a good enough excuse to give up. You owe it to yourself to work at it.
Justice: I have to agree with Sorcha. Self-doubt can be crippling and, unfortunately, something many authors, including myself, suffer from regularly. It's hard to stay positive among rejections and brutal reviews. I have to remind myself constantly that everyone has their own journey, comparing yourself to other authors is pointless, and that giving up just isn't an option.
What are three or four books that influenced your writing, or had a profound affect on you?
Sorcha: The Deed of Paksenarrion by Elizabeth Moon – The main character has an arc that fills me with hope and a sense of personal responsibility.
The Tiffany Aching series by Terry Pratchett – Like most of Pratchett's work, it shows human nature in a humorous yet poignant light. These books explore themes of power, respect, and responsibility.
The Jalav series by Sharon Green – Explores an interesting example of how a woman can still be strong while submitting to organic power exchange relationships.
The Steamwork Chronicles by Cari Silverwood – This series taught me to be unapologetically sexual in my work.
Justice: A Hunger Like No Other by Kresley Cole – This was the first romance I ever read. Oh the things it opened my mind to… Her mix of sexiness, humor, and adventure made reading fun for me again, and started my love of paranormal romance.
Revolution by Jennifer Donnelly – Wow, this book made me cry, made me think, and made me take an active interest in history. The writing and depth of emotion is beautiful and something I aspire to.
Forgive Me Leonard Peacock by Matthew Quick – This book gave me permission to write honestly. It is probably the most earnest, authentic book I've ever read.
Learn more about To Have and to Master here.
We know readers tend to be writers too, so we feature writing tips from our authors. Who better to offer advice, insight, and inspiration than the authors you admire? They'll answer several questions about their work, share their go-to techniques and more. Now, get writing! 
Is there something you do to get into a writing mood? Somewhere you go or something you do to get thinking?
I'm a big believer in the "writing retreat."
Sometimes writing retreats involve locking myself in a hotel room for a few days to really throw some words on the page—other times these retreats involve gathering with my writer friends in a variety of inspiring, usually beautiful places, where the word count might not be high but the camaraderie and daydreaming leads to a whole lot more writing down the road.
This is how The Deacons of Bourbon Street series came into being. Last spring, Maisey Yates, Rachael Johns, and I roomed together at the RT Convention held in New Orleans. We spent a lot more time wandering that fascinating, mysterious city than we did at the conference. When an editor (perhaps jokingly!) suggested we should write a multi-author series together since we got along so well, we jumped at the idea. New Orleans and gritty bikers seemed to go hand in hand for us, and once we settled on that premise, it seemed inevitable that we should pull in Jackie Ashenden, renowned for her dark and sexy stories, to round us out.
And all because we visited New Orleans!
After developing an idea, what is the first action you take when beginning to write?
We sent a lot of emails back and forth, since we live all over the place—Maisey and I on the west coast of the US, Rachael on the west coast of Australia, and Jackie in New Zealand. But we also spent some time on Skype. We talked a lot about biker books, about characters, about the kinds of things we liked and the sorts of stories we wanted to tell. We fashioned an overarching plot and then we decided who our characters would be within that plot. We came up with a synopsis for all four books and once that had the enthusiastic support of our agents, we settled down and wrote a chapter each to introduce our characters and stories. That was the most fun—to see all the conversations and ideas we'd thrown around come together into these four fantastic stories. All set in our decadent version of New Orleans's famous French Quarter.
How did you handle plot and character continuity across four books?
We talked a lot. Communication is key when it comes to working on multi-author projects. We discussed timing and plot points and the characters' relationships with each other endlessly. We also sent each other/the whole group the scenes where their characters appeared in our books. The goal was always to make the characters feel seamless across all the books, and to show how they all functioned as this group of sworn brothers, reunited after years in exile. I think we pulled it off, but of course, that's for readers to decide!
Is there something you do to get into a writing mood? Somewhere you go or something you do to get thinking?
I was lucky enough to write my book a few months after everyone else did. This was particularly helpful because it meant that I'd already read how the series ended and could write directly toward it—always a huge advantage! So one of the things I did to get in the writing mood was to read those other books and immerse myself in the world. Another thing I did was to curate "inspiration boards" on Pinterest. Looking at moody reference pictures (many featuring Charlie Hunnam, of course, as everyone's favorite biker inspiration Jax Teller) was another way to get myself in the right mindset. I also relied pretty heavily on a mix I made of songs that brought me into the right headspace. One in particular (Arctic Monkeys, "Do I Wanna Know?") was and is such a perfect encapsulation of my hero in this book that all I have to do is listen to that awesome opening and I'm right back there in the Priory with Ajax…
Do you ever base characters off people you know? Why or why not?
I have some family members who are more familiar with biker clubs than I am, but I didn't base any characters on them. Though I did appreciate it when they didn't laugh at me when I told them what kind of book I was writing! The truth is that reality doesn't make great fiction. Characters are always better when they're entirely themselves instead of pale imitations of real people. "Larger-than-life" makes a good story and fascinating characters. "Just like life" is something we can all do all by ourselves, without a good book. I prefer books.
Learn more about Make you Burn here.
Editors get very passionate about books they work on – the Editor's Desk series is his or her place to write in-depth about what makes a certain title special. Get the real inside-scoop on how books are shaped by the people who know them best.
The friendship between women can be one of the most significant bonds we ever experience. Our female friends sustain us through the pivotal moments of our lives; they support us in times of crisis and share in our joys. They laugh and cry with us through every exhaustively recounted detail of our daily trials and tribulations.
This is the territory that author Wendy Wax explores so winningly in her new novel, A Week at the Lake, which is at heart the story of friendship—the friendship between Emma, Mackenzie, and Serena. These three women met in college, and afterwards pursued their separate dreams—theatre, costume design, television–achieving varying degrees of fame and fortune. But every summer they would spend a blissful week together at a summerhouse on Lake George—a week filled with shared confidences; certainly much laughter, and possibly a few tears.
Why this wonderful tradition began to unravel and the three of them drift apart is a bit of a mystery, but when the story opens, Emma, Mackenzie, and Serena are about to get together for their first "week at the lake" in five years. Fate, of course, is about to take a hand… I will resist the impulse to give away the plot. Suffice it to say that this will be a week unlike any they have experienced in the past.
Wendy Wax clearly knows from personal experience what it's like to be part of a close-knit group of women. Over the years, I have often heard her refer to authors Karen White and Susan Crandall as her "BFFs". I know that these three musketeers have their own annual retreat, during which they claim to get enormous amounts of writing done, fortified by pinot noir and Talenti salted caramel gelato.
It's no wonder, then, that Wendy is able to portray her three main characters in A Week at the Lake with so much insight, affection, and humor, and make us fall in love with every one of them. In the end, there may be a little of Emma, Mackenzie, and Serena in each of us. For myself, I know that the only thing my own friends and I are missing is that gorgeous summerhouse on Lake George!
Read more about A Week at the Lake here.
Kara Cesare, Vice President & Executive Editor, Random House Group, offers insights into her work with debut novelist Bethany Chase and the newly released The One That Got Away.  Full of both humor and heartbreak, this book tells the story of one woman's discovery that, sometimes, life is what happens when you leave the blueprints behind.
Having been the editor of a broad range of bestselling, award-winning authors, from Janet Evanovich to Lisa See, what was it about Bethany Chase and The One That Got Away that captured your interest and made you want to acquire and edit her novel?
I fell into The One That Got Away immediately, and I didn't stop reading until I turned the last page, which speaks to Bethany's storytelling talent. I appreciated her gift for creating relatable, winning characters looking for love, but also searching for their place in the world. I missed the characters as soon as I finished the novel—that's how vivid they were to me, and that's when I knew I wanted to acquire such an impressive, emotional, and romantic debut. I was also very inspired by Bethany's strong aesthetics in the novel—she's an interior designer by trade and her descriptions of architecture and design are so mesmerizing.
How would you describe the editor/author process of working with Bethany and what was involved in the evolution of this title from initial manuscript to finished book?
Bethany is an incredible partner in publishing. We connected the first time we spoke about the novel, and she was open and receptive to the editorial notes I shared with her. She was very engaged in the editorial dialogue we had and was sincerely invested in making the novel as strong as it could possibly be.
Who do you feel will be most attracted to The One That Got Away and what elements of the characters and the story will resonate most powerfully with readers?
I think the premise—What would happen if you got a second chance at a love that almost was?—is really intriguing. Her opening is enticing: "Every woman has one. That name you Google at two o'clock in the morning. The intoxicating connection that somehow never solidified into anything real; that particular memory you still visit every now and then, for that guaranteed hit of pure, sugar-packed dopamine." There's an irresistible love story at the center of the novel, but there are also wonderful and poignant themes running through it about family, grief, resilience, and of creating a sense of home for yourself that I think will resonate. My hope is that the heart, wisdom, and humor that pervades this novel will appeal to readers looking for a great new voice in fiction, and that their discovery of this new talent will be one they can't wait to share with their friends!
Read more about The One That Got Away here.