Articles Tagged "cookbook"
Laura Bradford, author of several cozy mysteries, writes about how she came to be a baker: 
When creating a main character in what an author hopes will be a long-running series that character's motivations have to make sense. So when it came to uncovering the reason behind Winnie's (the main character in my new Emergency Dessert Squad Mysteries) passion for baking, I really only had to look to myself for the perfect answer…
I think I was only three or four when my big sister let me help make a "cake" in her EZ Bake Oven. I remember peeking in at the little pan as it baked, so excited that I'd helped. When it was done, we topped it with frosting and sprinkles and presented it to our grandfather with much pomp and circumstance. He, in turn, tossed it into his mouth and ate that entire "cake" in one bite.
If I try really hard, I can remember a pang of disappointment that he'd eaten it so fast. But what I remember most is the face-splitting smile he wore when he was done.
I'd made him smile.
With something I'd baked.
Needless to say, I was hooked on baking from that moment forward. I didn't care if it was cupcakes, brownies, cakes, pies, or cookies, I just wanted to relive that moment of utter satisfaction again and again. And I have. Many times over.
Baking has become a part of who I am in much the same way it is a part of Winnie. The only real difference is that she's made a career out of baking, and I've made a career out of writing. But because I write her, I get to be there with her as she dreams up the perfect recipe (and emergency-themed name) for a new customer. Because I write her, I get to be there as she measures and mixes. Because I write her, I'm there, right beside her, as she pulls her baked creation out of the oven. Because I write her, I get to experience the smiles her desserts bring to the faces of her customers.
And best of all, because I write her, I have yet another excuse to sit at my kitchen table, scouring cookbook after cookbook for new recipes to try. Sometimes, the picture and the list of ingredients looks and sounds perfect just the way it is. Sometimes, I imagine how it might be if I added a pinch of cinnamon or a bit of caramel, or tried it without a certain taste entirely. But generally speaking, if a recipe has all the things I like, I'll give it a whirl.
Funny thing now, though? No matter what I bake these days, I find myself trying to think what Winnie would call it if it had a spot on her Emergency Dessert Squad's menu. For instance, my kids' favorite s'more bar has become Winnie's Worry No s'More Bar (for her most stressed customers), my favorite Black & White cookies have become Winnie's Black & Blue cookies (for injured customers), my dad's favorite peach pie is now Winnie's You're A Peach pie (for someone who needs to know they're treasured). The more books I write in the series, the more desserts Winnie needs on her menu. And the more desserts Winnie needs on her menu, the more excuses I have to bake.
And just think… It all started with a smile.
So tell us, why do you bake?
Bio:
As a child, Laura Bradford fell in love with writing over a stack of blank paper, a box of crayons, and a freshly sharpened number two pencil. From that moment forward, she never wanted to do or be anything else. Today, Laura is the national bestselling author of several mystery series, including the Emergency Dessert Squad Mysteries, the Amish Mysteries, the Jenkins & Burns Mysteries, the Southern Sewing Circle Mysteries written as Elizabeth Lynn Casey, and the upcoming Tobi Tobias Mystery Series. She is a former Agatha Award nominee, and the recipient of an RT Reviewer's Choice Award in romance. A graduate of Xavier University in Cincinnati, Ohio, Laura enjoys making memories with her family, baking, and being an advocate for those living with Multiple Sclerosis.
For more information, visit: www.laurabradford.com or, for day to day stuff, you can find Laura on Facebook: https://www.facebook.com/laurabradfordauthor/  and occasionally on Twitter @bradfordauthor
Browse her books here:
Editors get very passionate about books they work on – the Editor's Desk series is his or her place to write in-depth about what makes a certain title special. Get the real inside-scoop on how books are shaped by the people who know them best.
At the heart of every good cookbook is a compelling story. When I got the proposal for this cookbook, I was utterly moved by Ann Ogden Gaffney's story of turning her own experience with cancer into a mission that has helped so many others.
Ann had a glamorous career in fashion when she was diagnosed with cancer the first time in 2001. She says she was lucky that time—she had surgery to remove her kidney, and then she was quickly back traveling the world. But when she was diagnosed with breast cancer several years later her, it was a much different story. She couldn't travel and she was bald. She took a hiatus from work to give herself the time to get through treatment. It turned out to be a decision that would change her life.
As a passionate home cook, Ann found that she could cope with her symptoms by listening to what her body needed and craved. As she became immersed in the world of hospitals, she realized that she could use her skills to help other patients cope in the same way, teaching them and their loved ones how to make good food that would bring comfort and nourishment as they dealt with illness. Ann started offering advice, then recipes, and then began organizing free classes.
When her own treatment was over, she discovered she had no interest in going back to client meetings to discuss the new trends in colors or skirt lengths that season. Her heart was still back in the cancer suite.
In 2007, she founded Cook for Your Life which has gone from a one-woman show to a leading nonprofit that serves patients all over the tri-state area and all over the country through their popular interactive website.
When I talked to Ann for the first time about this cookbook, I was struck by her spirit and fabulous sense of humor. And I heard her determination to create a cookbook that really addressed the unique challenges that cancer patients face head on. She told me that there was no other cancer cookbook out there that approached cooking the way that she wanted to. Some doctors give advice on nutrition (many don't). But no one tells you how to implement that advice and how to cook as your cravings, taste buds, and energy levels change dramatically during treatment. What people need are simple recipes with short ingredient lists that deliver and that really satisfy.
Ann's strong vision for the book also included its design. She felt strongly that it should look rich and beautiful, not clinical. And I agreed wholeheartedly. After all, just because someone is sick, it doesn't mean that they lose their sense of pleasure. And as Ann understands, a sense of pleasure is vital to feeling human, something so important when dealing with disease.
We were lucky to have Ann's husband Joe Gaffney, a renowned photographer, on board to shoot the food photos and the results are stunning. And the recipes are terrific. I cook out of the book quite a bit for my own family—Ann developed the recipes with cancer patients in mind, but it's the kind of simple, good, soulful food that everyone loves.
I'm proud to be working with Ann to bring her story and message to so many who need it. It's a cookbook that is as much about the healing power of food as it is about keeping a sense of self while going through the frightening and overwhelming process of treating disease. I think it will be a classic for many, many years to come.
Read more about the book here.
Wine and food pairings are all well and good, but there's no better pairing than two complementary books. Reading + Eating posts feature two titles that will inspire you to cook, read, eat, and enjoy. The gorgeous cookbook images, and handpicked recipes and quotes make for some delicious reading. 
This month, we've paired Frances Mayes' gorgeous memoir about growing up in the South with The Broad Fork, a lush cookbook from beloved chef, Hugh Acheson.
In Under Magnolia, beloved author Frances Mayes returns with a lyrical and evocative memoir of her childhood in the South. Under Magnolia is a searingly honest, humorous, and moving ode to family and place, and a thoughtful meditation on the ways they define us, or cause us to define ourselves.
"As gothic as anything Faulkner could have dreamed up, populated by characters straight out of a Flannery O'Connor story…a thorny memoir that strips away the polite Southern masks, sweet magnolias be damned. Unforgettable." – Atlanta Journal Constitution

"With perfect-pitch language, Mayes unblinkingly describes her growing-up years… One can almost taste the mushiness of 'a pot of once-green beans falling apart in salt pork'; one can almost smell the cloying scent of honeysuckle, gardenias and overripe peaches that infuse the always-too-humid air."– USAToday.com
Read more about Under Magnolia here.
The author of The Broad Fork, Hugh Acheson, is a James Beard Award-winning chef and partner of the restaurants Five & Ten, The National, and Empire South in Georgia. In this beautiful new cookbook, he focuses on seasonal produce, balance, and flavor. See below for two wonderful recipes from the book.
POACHED SHRIMP OVER RADISHES WITH SALSA VERDE
Serves 4, as an appetizer
Poached shrimp take about three minutes. Salsa verde can be made ahead. Radishes take a minute to cut up, if that. The broth assembles in a minute and is cooked for fifteen before the shrimp go in. I guess what I am saying is that I realize you're busy but this is so easy, so fast, and so impressive that you need to go and make it.
When buying shrimp, hopefully you find them fresh. But if not, shrimp are one of the few things that freeze well, so find fishmongers whom you trust and buy from them. They'll know which ones are going to put a smile on your face.
1 pound shrimp (16 to 20 count)
1 teaspoon olive oil
¼ cup dry vermouth
3 cups chicken stock
¼ pound (½ stick) unsalted butter
1 sprig fresh thyme
1 leek, white and light green parts well washed and cut into 1-inch lengths
Kosher salt
12 radishes, quartered
½ cup minced celery with leaves
¼ cup Salsa Verde
1. Peel the shrimp, leaving the tails on and reserving the shells. (Even better if you have the heads, but if you're buying head-on, buy about 1½ pounds.) Set aside.
2. In a 4-quart saucepan, heat the olive oil over medium-high heat. When the oil shimmers, add the shrimp shells (and heads if you have them) and cook for 3 minutes, until bright pink and aromatic. Add the vermouth and deglaze the pan. Add the chicken stock, butter, thyme sprig, leek, and kosher salt to taste. Bring to a boil and then simmer over low heat for 15 minutes. Strain the mixture and return the liquid to the pan over medium heat. Discard the strained solids.
3. Season the shrimp with kosher salt, and immerse them in the poaching liquid. Cover and cook for 3 minutes or until the shrimp are just cooked through.
4. Arrange the radishes and the celery in individual bowls for serving. Divide the shrimp among the bowls, and then ladle some of the poaching liquid over them. Finish each bowl with salsa verde, and serve.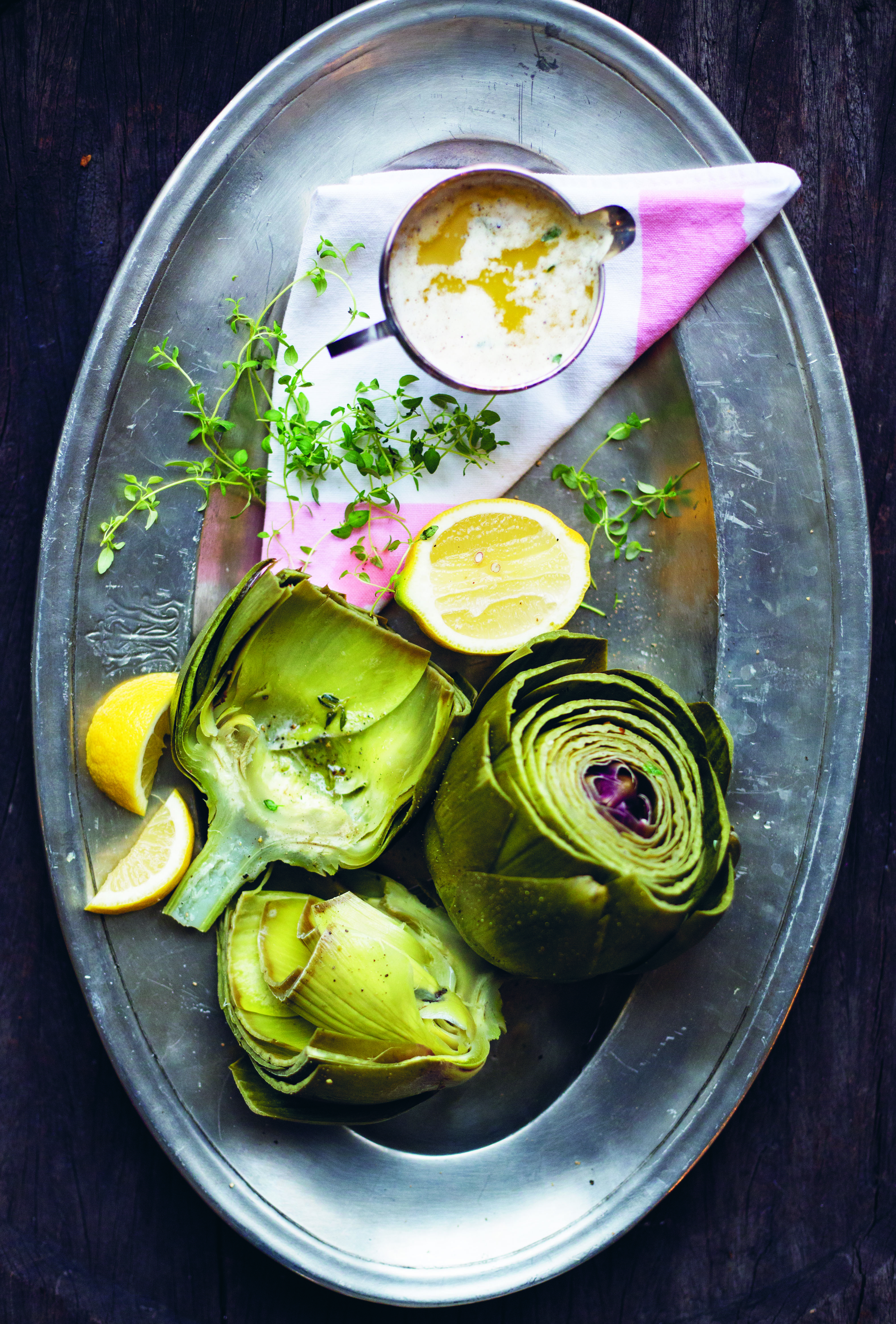 STEAMED ARTICHOKES WITH DRAWN THYME BUTTER
Serves 4, as a side
I was a wee little guy when Pops was doing a sabbatical in Palo Alto, at venerable Stanford University, but I remember eating egg rolls and artichokes with drawn butter. Now that may not have been in the same meal, but that's how my memory puts them: together. The egg rolls were (amazingly enough) homemade by my mum and the artichokes came from a couple hours south of us. Big, green, thistly orbs. And I fell for them—hook, line, and sinker. Now my kids love the hunt to get to the heart of the artichoke, scraping each leaf with their teeth and getting all they can from their beauty.
7 tablespoons unsalted butter
1 cup sliced yellow onion
1 tablespoon fresh thyme leaves
¼ cup fresh flat-leaf parsley leaves
2 large globe artichokes, top 2 inches sliced off
1 cup dry white wine
Kosher salt
1 lemon, cut into wedges
1. Place a stockpot over low heat and melt 1 tablespoon of the butter in it. Once the butter starts to foam, add the onion, half of the thyme, and the parsley, and begin to sweat the onion. While you prepare the artichokes, the onions will happily hang out over low heat.
2. Tear off the first few outer leaves from the bottom of each artichoke, as well as any attached to the stem. Using a vegetable peeler, shave the stems until you reach the white inner part. Add the artichokes to the pot, stem side up. Then add the white wine and enough water to cover the artichokes. Bring to a boil over high heat, add enough salt to make the liquid pleasantly salty, and then lower to a simmer. To keep them submerged, place a plate that's just small enough to fit inside the pot over the artichokes. Cover the pot with a lid and cook the artichokes for about 20 minutes, or until you can slide a knife into the stem with no resistance.
3. Remove the plate and then the artichokes from the liquid, and place the artichokes on a cutting board to cool. When they are cool enough to handle, use a chef's knife to carefully slice each artichoke in half, starting at the tip of the stem. This will expose the heart of the artichoke. Just above the heart you will see a fuzzy part, which is called the "choke." Using a small spoon, remove the choke. You will be left with the heart and the fleshy leaves.
4. Melt the remaining 6 tablespoons butter in a small saucepot and add the remaining thyme leaves. Once the butter is fully melted, set it aside.
5. Place the artichokes on a large platter and season with salt, to taste. Garnish with the lemon wedges. Serve with the reserved melted butter for dippin'.
Read more about The Broad Fork here.
For some, baking and cooking is a comforting and calming way to work through issues. Judith Fertig has taken this one step further with her new book, The Cake Therapist.
What can a little cake therapy do for you? When I was writing my debut novel The Cake Therapist (at the same time as my new cookbook Bake Happy), I had an "aha" moment. What if my heroine could help people solve their thorny life issues—with cake?

Cake that comforts, cajoles, gives us cajones. Cake takes us back to a sunny summer day and unlocks the door to the past. That cake.
For some more cake Therapy, and for the recipe for the beautiful Rainbow Cake, check out Judith's blog.
Another dessert expert, Linda Lomelino, has a beautiful book of cakes: Lomelino's Cakes. All the cakes within are stunning, impressive, visually beautiful and amazingly delicious desserts. See below for the full recipe for this gorgeous Pavlova.
Happy baking!
Lomelino's Cakes, p. 37 From Lomelino's Cakes
PAVLOVA
This meringue cake with chocolate, cream, raspberries, and pistachios is magnificently sticky and crispy. When the cake is finished, refrigerate it for a few minutes to make it easier to cut the layers. This cake should be made the same day it will be served.
8–10 slices
CHOCOLATE MERINGUE LAYERS
1 ¾ ounces dark chocolate (70% cocoa)
Whites from 6 large eggs
1 ¼ cups granulated sugar
3 tablespoons cocoa powder
1 tablespoon cornstarch
1 teaspoon white wine vinegar
WHIPPED CREAM FROSTING AND DECORATIONS
1 ¾ cups whipping cream
1 ¾ ounces shelled pistachio nuts (about 1/2 cup)
8 ¾ ounces raspberries
MAKING THE CHOCOLATE MERINGUE LAYERS
1. Break the chocolate into small pieces, and melt them slowly over a double boiler (see page 10) or in the microwave. Let cool.
2. Preheat the oven to 350°F.
3. Cut a piece of parchment paper the size of your baking sheet. Then, cut out or find a circle template about 6 inches in diameter. Place the circles as far apart as possible on the parchment paper without touching the edges; trace. Turn the parchment paper over, and lay it on the baking sheet. These circles will indicate the placement of your meringue.
4. In a clean, dry bowl, beat the egg whites until soft peaks form. Add the sugar gradually, and continue beating to a thick meringue. You should be able to tip the bowl without the meringue sliding out.
5. Sift the cocoa powder and cornstarch into the meringue. Add the vinegar, and blend until the batter is smooth. Add the melted chocolate, and stir gently.
6. Divide the meringue among the paper circles. The meringues might shift during baking. Put the baking sheet into the oven, and lower the heat to 250°F.
7. Bake the meringue for 60–75 minutes. The baked layers should be hard and crisp around the edges but still sticky in the center. Turn off the oven, leaving the layers in the oven with the door propped open until the oven has cooled.
MAKING THE FROSTING AND DECORATIONS
1. In a dry, clean bowl, whip the cream until it thickens.
2. Chop the pistachios. Rinse and dry the raspberries.
ASSEMBLING THE CAKE
1. Place the first cake layer on a cake plate. Spread one- third of the Whipped Cream Frosting on the top, and sprinkle on a few raspberries. Repeat with the next layer. Place the third layer on top.
2. Top the cake with the remaining Whipped Cream Frosting, and then add the remaining raspberries and all the chopped pistachios.
Wine and food pairings are all well and good, but there's no better pairing than two complementary books. Reading + Eating posts feature two titles that will inspire you to cook, read, eat, and enjoy. The gorgeous cookbook images, and handpicked recipes and quotes make for some delicious reading. 
Gabrielle Hamilton, famed chef and owner of the beloved Prune restaurant on the Lower East Side, tells her life of food and cooking in Blood, Bones & Butter. When it swept into bookstores in 2011, Anthony Bourdain called it, "Magnificent. Simply the best memoir by a chef ever. Ever."
Listen to Hamilton read from her acclaimed memoir:

Paired with the memoir is Prune, Hamilton's cookbook. It shares a name with her universally beloved restaurant and is refreshingly personal, scrappy and accessible.
 "I came to see hunger as being as important a part of a stage as knife skills. Because so much starving on that trip led to such an enormous amount of time fantasizing about food, each craving became fanatically particular. Hunger was not general, ever, for just something, anything, to eat. My hunger grew so specific I could name every corner and fold of it."
―

Gabrielle Hamilton, Blood, Bones, and Butter: The Inadvertent Education of a Reluctant Chef

Try out Hamilton's Beef Shortribs recipe from Prune! (Click image to see full size)
Dive in, get inspired, and get cooking!
If you're planning a trip to New York City, we have you covered: Fodor's New York City 2015. Happy eating!