Articles Tagged "e.l. doctorow"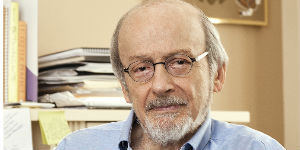 Penguin Random House deeply mourns the passing of Random House author E. L. Doctorow, who died on Tuesday at the age of 84.  Doctorow was an American master whose works of fiction, from Ragtime and The Book of Daniel to Billy Bathgate and The March, span centuries, taking readers into many eras of the American experience, and from the Great Plains to the Adirondacks, from the Deep South to New York City. In his novels and essays, Doctorow also illuminated social and political issues. In the words of Don DeLillo, "Doctorow's great topic is the reach of American possibility, in which plain lives take on the cadences of history."
Edgar Lawrence Doctorow, born in the Bronx, New York, on January 6, 1931, was named after Edgar Allan Poe, another Bronx writer. After receiving a B.A. from Kenyon College and doing postgraduate study at Columbia, he spent two years in the U.S. Army, serving in Germany. Back home, he took a job as a staff reader for Columbia Pictures and moved on in 1959 to become associate editor, then senior editor, at New American Library. He began his career at Random House as an editor at The Dial Press. In 1964 he was named editor in chief, and he published the works of Norman Mailer, James Baldwin, and others. As an author his body of work, written over the course of five decades and including novels, volumes of stories and essays, and a play, has been published in more than thirty languages.
The honors Doctorow received include the National Book Award, three National Book Critics Circle Awards, two PEN Faulkner Awards, the Edith Wharton Citation for Fiction, and the presidentially conferred National Humanities Medal. In 2009 he was shortlisted for the Man Booker International Prize honoring a writer's lifetime achievement in fiction. In 2012 he won the PEN Saul Bellow Award given to an author whose "scale of achievement over a sustained career places him  in the highest rank of American Literature." In 2013 the American Academy of Arts and Letters awarded him the Gold Medal for Fiction. In 2014 he received the Library of Congress Prize for American Fiction. He was also the Lewis and Loretta Glucksman Professor of English and American Letters at New York University.
Kate Medina, Doctorow's editor, said, "Edgar's work has always been ascendant, always steeped in the new, with original language, surprising storytelling, rigorous thought and standards of truth. Through books of great beauty and power, and characters I'll never forget, he showed us America's great flaws and its astonishing promise, and our own. Edgar was fun, even as he was holding all of us to the high standards he set for himself. To be with him was to be at one's best; to read him was to discover, again and again, the joy of reading a master."
Gina Centrello, President and Publisher of Random House, said, "Edgar Doctorow was one of the great creative minds of our time. We were honored to publish him, and his legacy will continue at Random House.  He was sharp and funny, vocal and opinionated, and he inspired readers with every book, every story, and every essay. We will all miss our author and friend dearly."
Browse through Doctorow's books here.