Articles Tagged "fairytales"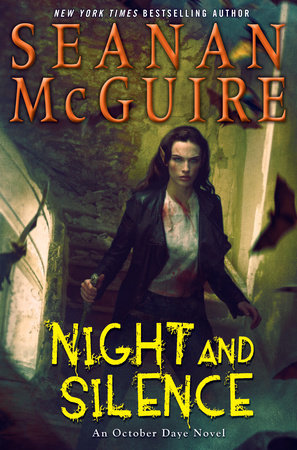 This interview was done at New York Comic Con 2018.
We sat down for a quick chat with Seanan McGuire about her October Daye Series, Thylacine's, and the Halloween when she formed the basis for an actual local legend.
Keith Rice:  The October Daye series is sitting at, like, 12 volumes now. Right?
Seanan McGuire:  Right.  13 will come out next year.
KR:  Great.  Okay. So, how would you describe it for readers who haven't had the chance to pick it up yet?
SM:  October Daye is what happens when you give a trained folklorist an urban fantasy series and no hard limits.
KR:  What was your inspiration for Toby Daye, for the character?
SM:  So, the very first book in the October Daye series, Rosemary and Rue, starts out with Toby being turned into a fish and left in a pond at the Japanese Tea Gardens in San Francisco for 14 years.  And that inspiration for that was that I got stuck on top of one of the moon bridges in the Japanese Tea Gardens. They are basically direct, straight up and down circles and I climbed one like a fool and then could not get down and was just watching this one very large Calico koi swim back and forth and thinking, gosh, that fish must have a very peaceful life.  It's not afraid it's going to die on top of this bridge.  It can do whatever it wants.  Wouldn't it suck if that fish used to be a person?  And the whole series kind of unspooled from that point of how miserable can I make this fish that is way too happy when I am frightened.
KR:  So, October Daye, the InCryptid series, they all fall pretty broadly under urban fantasy.
SM:  Really broadly, yeah.
KR:  What draws you to that niche of writing fantasy?
SM:  As I mentioned, I am a trained folklorist.  I went to the University of California Berkeley–Go Bears–for a folklore degree.  And fairytales, if you look at them in the context of the time when they were first being told, are the urban fantasy of their day.  When Little Red Riding Hood was a new story that people hadn't heard before, you probably did have a grandparent or other relative who lived on the other side of a big forest.  You probably had heard of people walking into those woods alone and getting savaged by wolves or bears or something else that lived there.  It was an immediacy in the same way that Charlene Harris's vampire books have an immediacy because there were these vampires.  They might be living next door.  There are these wolves.  They might be living in the forest between you and your grandma. So, I just really like fairytales and wanted to write today's fairytales.
KR:  So, your first novel was published in 2009 and you've been going at a dizzy pace ever since.  How do you juggle your long running series, your music, sleep?
SM:  I don't sleep much.  When "Hamilton" was big, literally every single person I have ever met in more than an immediate and casual sense, sent me a copy of "Nonstop" because they thought that was very funny.  And that I hadn't heard it 90 times by that point.  It helps that when I was making choices about my life, I said I am a better aunty than I would be a mom.  I don't want children of my own.  So, I have cats but no kids.  I also am not married at this time.  I think it's absolutely possible to maintain my level of output with children, but you have to have a spouse that'll be up for at least 50% of the child-rearing duties.  So, there are juggling acts I don't have to perform.  And that's not better or worse than anyone else's choices.  That's just–you don't want to leave me alone with the baby.  I would do something silly like assume it was a cat and just leave it on the floor with a bowl of Captain Crunch while I went off to write a novel.  I don't sleep enough.  I get yelled at a lot for not sleeping.  I don't play enough Overwatch, but I do my best.
KR:  I know you love travel.
SM:  I do.  Well, love is a strong word sometimes.
KR:  What's the one place you want to visit and haven't had the chance?
SM:  I have not yet been to Tokyo which is a little silly when you consider that Tokyo contains everything I love.  It has a Disneyland that I haven't been to.  It has Pokémon Centers and I own so many Pokémon plush that my friends joke that going into my bedroom is like stepping into the tall grass.  It has entire stores devoted to fancy dolls and I'm a fancy doll collector.  So, Tokyo is really on the big bucket list.  Second on the list is wherever in Australia I can actually finally find a live Thylacine to prove that they are still out there.
KR:  Okay.  So, last question.  We're coming up on Halloween.  What's your all-time favorite horror story?
SM:   My all-time favorite horror story?  My all-time favorite horror story is actually the one I pulled off accidentally.  I grew up very, very poor. I grew up so far below the poverty line that you couldn't see it on a clear day.  And this meant that Halloween was serious business because for Halloween I could get candy the same as the kids whose parents could afford to buy them candy.  And this means I planned for Halloween like I was planning the siege of a small fictional nation.  I drew up maps.  I would actually and creepily – and I acknowledge as an adult that this was a creepy thing for child-me to do – I would sit in the grocery store and watch to see who bought the good candy and see if I recognize them as the parents of any of my classmates, so that I could prioritize their neighborhoods.
I would generally leave the house about six p.m. and stay out until all the pumpkins were off.  And my mother was very distracted.  I had two sisters, one 6 years younger and one 7 years younger.  So, by the time I was nine my mother was not keeping a very close eye on what I did.
So, the Halloween when I was 11, I got this long white, nightgown from the Goodwill.  I painted every exposed inch of my body with talcum powder and then went over that with craft glitter.  And it turns out that while I did not quite glow in the dark. I came very, very close to glowing in the dark.  This was not good enough for me, so I mixed up some fake blood and pretty much painted myself in fake blood from the knee down and from the wrist down.  And I had flip-flops on, so it looked like I was barefoot.  So, you have this glowing white, blood-dripping figure.  And that might still have been okay except for the part where to get from the last good neighborhood, which was Bel Air Heights, back to the neighborhood where I live, which was Maclear Courts, I decided it would be a really good idea to walk through the dry storm culverts because it hadn't rained in a while.  And that would cut off four or five blocks of my trip and a good deal of traffic.
So, I went under the road, walked through the storm culvert and then popped up as if from the ground on the side of the creek that faced the Court.  And the man who had been coming around the curve up the street, saw me suddenly appear with no warning whatsoever, not looking like a small child trick or treating, but looking like the dead person from the culvert.  And he crashed his car into a tree.  And it was in the papers the next day.  This man was contesting a drunk driving charge because he hadn't been driving drunk.  He literally saw a ghost come out of the storm culvert.  And that is my favorite horror story because the kids in that neighborhood still tell it, like there's a whole urban legend now that this one storm drain is haunted by the ghost of a girl who was killed by a car.  I'm like, no, it's haunted by a candy hungry 11-year-old and a five dollar nightgown from Goodwill.
Check out Seanan McGuire's Night and Silence!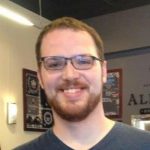 Keith Rice is a West Virginia native and a freelance writer residing in Philadelphia with his lovely, if oft exasperated wife and three cats. Keith fosters an enthusiastic appreciation for beer and scotch, collects comics, and most importantly is an avid reader and movie lover. Oh, he's a pretty big fan of sci-fi and fantasy as well. Drop him a line @Keith_Rice1.
Kirsty Logan, writes about the rich folklore that inspired her new novel, The Gracekeepers.
Growing up in Scotland was a huge influence on me when I was writing The Gracekeepers, which brings together the Scottish traditions of the sea and of the ceilidh (a social gathering with music and wild dancing) to tell the story of a circus boat in a flooded world. Scotland has a strong and vivid tradition of folklore, and much of it is based around the sea. Perhaps not surprising, as no point in Scotland is more than 66 miles from the coast! I've always loved the Scottish tales of selkies, kelpies and fairies – though my favourite as a child was 'Kate Crackernuts', which tells of a resourceful girl who gets her prince not by being beautiful and demure, but clever and bold. As well as the traditional tales, my parents told me the classic European fairytales: 'Snow White', 'Beauty and the Beast', 'Cinderella', 'Thumbelina'. I spent many happy hours poring over my mum's old book of fairytales, with its white linen cover, gold embossing and beautiful illustrations. I spent my childhood immersed in folktales, and now I'm an adult I love them more than ever.
When I was 20 and studying English Literature, I discovered the work of Angela Carter and Marina Warner – and then I learned to love fairytales in a whole new way. Gone were the pretty children's stories, to be replaced by the tales in their original, bloody, beautiful, violent glory. Some fairytales – though by no means all of them! – have happy endings, but they're hard-won.
Fairytales and folktales (and their modern retellings) have had a huge influence on my writing. The way that contemporary writers have used the traditional structures to explore identity, feminism, gender and queer issues is constantly inspiring to me, and it's something I seek to do in my own stories too. Folklore and fairytales are the well of inspiration I keep returning to – the darker and more beautiful, the better. And although I'm not so bothered about winning a prince, I still want to be as clever and bold as Kate Crackernuts.
***
In my reading I've discovered that almost every culture in the world has a version of the 'woman from the sea' story. They may be called mermaids, selkies, silkies, sirens, finfolk, nixies, or water spirits. They're especially common in places like Scotland, Ireland and Scandinavia: Northern places with a strong history of folklore and a culture very much rooted in the sea. I keep coming back to selkie stories for what it says about the modern power struggle between men and women, which – despite all the progress of women's rights over the generations – still remains unequal. Although it's an ancient tale, it's as relevant to us in the modern world as ever.
The version below is adapted from the dozens of selkie variations I've read over the years. If you're interested in exploring the legend further, the classic texts are David Thomson's The People of the Sea and Duncan Williamson's Tales of the Seal People, though almost any book of Scottish mythology will have a selkie story.
The Selkie
There was once a handsome young fisherman who could not find himself a wife. The island girls were pretty enough, but he felt something missing. Every day he took out his boat and set his lobster pots, and every night he sat alone in his cottage and watched the peat fire rise and fall.
One evening he heard soft laughter over the dunes. His footsteps silent on the sand, he crept closer. In the moonlight he saw a trio of women, all silvery hair and long limbs, dancing on the damp sand. One woman in particular captivated him. Her eyes were black as the night sea and her hair gleamed like starlight. He felt quite bewitched.
As he watched, the woman stepped over to the rocks, where sat a pile of greyish skins. They slid the skins up over their own pale limbs – and when the fisherman blinked, the women were gone, and three seals slid into the water.
The next night, the fisherman was waiting. When the women began their laughing dance, he crept to the rocks and snatched up one of the skins. He ran and hid it in a wooden box under his bed. When he returned, two of the women had disappeared, but the black-eyed selkie woman was still searching for her skin. She begged the fisherman to let her go home. But desire made him selfish. He promised that if she became his wife, he would love her and care for her and make her happy each day of her life. 'You may love me,' she replied, 'but I can never be happy here.'
They married and had seven fine children. The fisherman loved his wife, and she grew fond of him. But every night she slid from her marriage bed to stand on the shore, gazing out at the water and mourning her lost home. The fisherman lay sleepless in the empty bed, the stolen skin beneath him.
One day their youngest son was exploring the house, and found the sealskin under the bed. He brought it to his mother and asked her, what was this strange thing, so soft and smelling of the sea? The boy knew nothing of his mother's history; he was simply curious. The selkie kissed her children goodbye, slid on her true skin, and went home.
When the fisherman came back to the cottage, his children were fast asleep and stew bubbled on the fire – but his wife was gone. Fear shivered through him and he threw open the wooden box. It was empty, and with it his heart emptied too.
In time he learned to live a good life with his home and his children. But sometimes, late at night, he slid from his bed to gaze out at the water and mourn his lost love.
***
Women from the sea are often portrayed as sad and ultimately benevolent creatures – but not all of them! I've always been fascinated by mermaids – perhaps it's the influence of the fabulous and terrifying Ursula in Disney's The Little Mermaid, which I was obsessed with as a child. In Scottish folklore, mermaids are often proud and vengeful. To me, this is much more interesting than the virtuous and self-sacrificing creature from the Hans Christian Anderson story. This version is adapted from a tale in Judy Hamilton's Scottish Myths and Legends.
The Mermaid's Revenge
There was a grand house, and inside it lived a wealthy couple, and outside it was a large black rock. The rock was worn to gleaming by the generations of mermaids who slid up on it to sing every night. The last mermaid was as vengeful as she was beautiful, and every night as the moon rose, she'd slide up onto the rock and sing her lonely song. Though the sound was eerie, the couple grew to enjoy it as a lullaby. But that changed when they had a child.
The baby slept fine during the day, but as soon as the mermaid began to sing, the child opened its tiny pink mouth and cried loud enough to wake the whole island. All night the mermaid sang, and all night the baby wailed. Finally, the desperate father braved the dark and walked out along the shore to the mermaid's rock. He asked her, as politely as he could, to stop. The proud mermaid liked that not one bit. She turned her back and sang louder. Each time she was asked to stay quiet, she sang louder still.
The child's mother grew desperate and delirious from lack of sleep. One morning she gathered a pack of men and ordered them to smash the shining rock. They worked all day with pickaxes and hammers until there was nothing left but a pile of jagged black stones.
That night, the mermaid's fury was wild enough to sink ships. She opened her mouth – but instead of song, she shrieked a throatful of wild curses, prophesying the end of the family. Unseen in the nursery, the force of the sound began to rock the sleeping baby's cradle to and fro, to and fro, hard enough to shake the house. When the last note of the mermaid's terrible curse had died, the mother rushed upstairs – only to find the cradle upturned, and her child dead beneath it. Away swam the mermaid, her song made true.
***
When I first read the folktale of 'The People of the Sea', I couldn't believe how similar it was to the basis of the world of The Gracekeepers. I'd already written the book by this point, so it couldn't have been a direct influence, but the connection was undeniable. I put it down to some ingrained folk memory – or perhaps I heard the story as a small child, and although my conscious mind forgot it, the tiny beating heart of the tale stayed there inside me until I needed it.
This version is adapted from two variations of the legend in George W. MacPherson's Celtic Sea Stories.
The People of the Sea
Down in the deep green sea, where all was silence and the world was lit murky, there lived the sea people. They were a strong and ancient people, who lived in elegant marble cities – but they were not happy. The changing tides were slowly destroying their homes, and their numbers were dwindling. Each time they launched an attack above the waves, trying to win some land to make a new home, they were beaten. The people of the land were too strong.
But the sea-king was wise. He gathered his people together and explained that they must try a new approach. 'You will go ashore and join with the people of the land. You will adopt their customs and culture. But your heart will always belong to the sea.'
And so the people of the sea clambered ashore and became the people of the land. Being tall, slim and golden-haired, they married easily. They were excellent fisherfolk, strong swimmers, and sang beautiful lullabies of loss.
Not all the sea-people settled to their new way of life. They did not like the meat and bread, the sounds of the language, or the height of dizzying sky. Back they slipped into the sea.
But they had been away for too long to pick up their old lives. They could not be sea-people or land-people. So the sea-king said, 'I will make you people of both'. Although they could live in land or sea, they could stay in neither place for too long. Every seven years, they had to change: sea to land, or land to sea. Some of their children loved the sea, and grew into great navigators or sailors; some loved the land, and became great sculptors or farmers. And what happened to the people who chose to stay under the sea? Well, perhaps they live there still.
Read more about The Gracekeepers here.