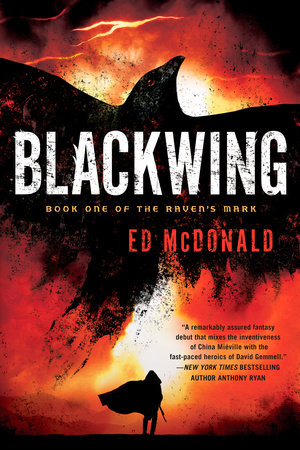 ED MCDONALD
Welcome to the Misery, a blasted land that resulted from the fallout of a magical super-weapon built by a living god who has since disappeared. Here walks Captain Galharrow of Blackwing, bounty hunter and secret agent of a living god. Facing traitors, flesh-eating monsters, reluctant heroes and willing villains, Galharrow and his band of cut-throats must save the Republic from the horror of the Deep Kings and their endless army of the dead.
McDonald throws you straight into the action, and some of his creations are really quite disturbing. The pace is fast, the fight scenes extremely realistic and the dialogue sharp and often witty. This is a book with heart, that despite its violence is really about the power of love and friendship. It's not grimdark, it's grimheart.
The sequel, Ravencry, is, if anything, even better! I'm avidly looking forward to Crowfall, the final book in the Raven's Mark trilogy, which is scheduled for release in June 2019.
ANNA SMITH SPARK
The Empires of Dust lie dreaming, but their dream is about to become a nightmare as Marith, disowned prince-turned-mercenary, sets events in motion that will unleash a storm of war across an entire continent.
This is a truly extraordinary book, literary in a way that almost demands that it be read out loud. Some people's prose is poetic, but Smith Spark's is positively operatic. This is a bleak and bloody story of lust and addiction, regicide and madness, that feels partly like a Greek tragedy and partly like a black metal opera. I have honestly never read a grimdark fantasy quite like this before.
The Tower of Living and Dying, the second in the Empires of Dust trilogy is equally magnificent in its mythological tone.
NICHOLAS EAMES
This was a really fun read, with a great story driven by Eames's very particular brand of humor. It's like what you might end up with if Joe Abercrombie and Terry Pratchett sat down to write a book together while listening to Spinal Tap and early Black Sabbath on endless repeat.
The humor is absolutely on point, mixing classic rock analogies with gentle pokes at the fantasy genre in general, and yet this is far more than just a funny book. There's a really engaging story here, and moments of surprising tenderness.
The sequel, Bloody Rose, is on my to-read list.
ANNA STEPHENS
The Red Gods are rising, and no one is safe. Godblind is among the grimmest of grimdark fantasy, written in a style reminiscent of George R R Martin's A Game of Thrones. The growing sense of despair as the story progresses and everything goes from bad to worse to oh-so-much worse is almost stifling in its intensity. One character in particular is dragged bodily across one of the most brutal character arcs I think I've ever read, and it's extremely well done. And then there's THAT scene, the one with the hammer…
Dark and bleak yet utterly compelling, this may not be a book for the squeamish but it's definitely a thrill-ride for all grimdark fans.
The sequel, Darksoul, has just been released.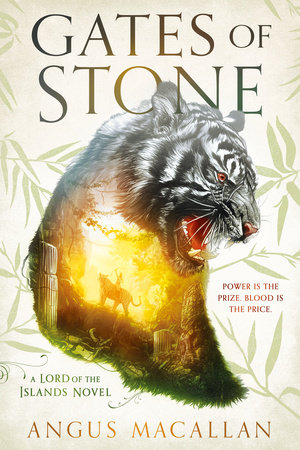 ANGUS MACALLAN
This is the one that is forthcoming, and you have a treat in store here!
A ferocious emperor's daughter who will not be denied her birthright, an indolent prince forced to take a stand for the first time in his life, and an ancient and terrifying sorcerer with the power to destroy the world all collide in the lush, tropical islands of a fantasy world reminiscent of ancient Indonesia.
With its tense political drama and rip-roaring action on both land and on the high seas of a fresh and believable Asian-inspired setting, Gates of Stone reads like a collaboration between Joe Abercrombie and James Clavell.
Add feuding sorcerers and a queen who would eat Cersei Lannister for breakfast, and you have a truly fantastic fantasy debut. Angus Macallan is a compelling new voice in epic fantasy, and this is definitely a book to pre-order right now.
---