Articles Tagged "fiction"
It is with sadness that we share that prolific military fiction author William E. Butterworth III, known the world over as W.E.B. Griffin, died on Tuesday, February 12. He was 89. 
William E. Butterworth III was the #1 bestselling author of over 250 books, the majority of them published by G. P. Putnam's Sons, with over 50 million copies in print in more than ten languages, including Hebrew, Chinese, Japanese, and Hungarian. As W.E.B. Griffin, he was the author of 61 epic novels in seven series: The Corps, Brotherhood of War, Badge of Honor, Men at War, Honor Bound, Presidential Agent, and Clandestine Operations.  Known for his historical accuracy, richly drawn characters, thrilling adventure, crackling wit, and astute aptitude for the heart and mind of a military hero, Griffin delighted readers for decades with his electrifying novels about the military, police, spies, and counterspies. Under other pseudonyms, he wrote over 100 other books, both for adults and children, including twelve of the thirteen M*A*S*H novels.
He has been praised as "a writer of true virtuosity and talent" (Fort Worth Star-Telegram), "a truly impressive storyteller" (Midwest Book Review), and "unrivaled" in the realm of military fiction (Ralph Peters, author of Cain at Gettysburg and Lines of Fire). "If God is truly in the details, then Griffin must be the pop of police procedurals," wrote Publishers Weekly. As The Philadelphia Inquirer put it simply, "Griffin has the knack."
His passion for writing about the military and other branches of law enforcement carried him through his distinguished career. "Nothing honors me more than a serviceman, veteran, or cop telling me he enjoys reading my books," he said.
W.E.B. Griffin grew up in the suburbs of New York City and Philadelphia. He began an illustrious military career in 1946, when he enlisted in the United States Army. After basic training, he received counterintelligence training at Fort Holabird, Maryland. He was assigned to the Army of Occupation in Germany and ultimately to the staff of then-Major General I.D. White, Commander of the U.S. Constabulary. In 1951, Griffin was recalled to active duty for the Korean War, interrupting his education at the Philipps University of Marburg an der Lahn, Germany.
Among his many awards for service, Griffin was the recipient of the 1991 Brigadier General Robert L. Dening Memorial Distinguished Service Award of the U.S. Marine Corps and the 1999 Veterans of Foreign Wars News Media Award, which was presented at the 100th National Convention in Kansas City. He has been vested into the Order of St. George of the U.S. Armor Association and the Order of St. Andrew of the U.S. Army Aviation Association.
A longtime resident of both Alabama's Gulf Coast and Buenos Aires, Argentina, Griffin is survived by his four children, including son Bill Butterworth IV, his co-writer on 21 novels.
This article was written by Francesca Hornak and originally appeared on Signature Reads.
This year, with the deadline for my second novel in sight, plotter's block descended. Plotter's block is different from writer's block. Writer's block, as I see it, is when you have a story but the words aren't flowing or behaving. Plotter's block is when you're itching to write, perhaps you're already writing — except you have no story. Nothing to reel your readers in. All you have is a jumble of settings, characters, conflicts, scenes. Nothing, in short, that is actually going to hold that blurb. The tricky thing is that actively searching for ideas can feel contrived, and paralyzing. So there's definitely a case for putting everything on hold, while your subconscious chews things over. But if you're as impatient as I am, you'll want to help your subconscious out in the meantime. These, then, are the three places I look for stories (without telling myself I'm looking).
Read the local news
Unlike the global or national news, local papers are mines of small-scale human-interest stories. And these stories, the family feuds, the individual tragedies, the community uprisings and the everyday heroes, are exactly the material a novelist needs. It worked for me, anyway. The plot I've ended up with for my second novel is based on a story in my local rag about 'Patient X' — a mysterious man who had been lying unconscious and unidentified in hospital, for thirty days. The paper's focus was on the man: Who was he, and how could someone go un-missed 'in one of the most connected cities in the world'? My focus is going to be on the patient's neighbors, who find him, call him an ambulance, and are then brought together by the puzzle he presents.
Conversations with strangers
Everyone has something for your novel, if you let them talk. Case in point: after I'd found Patient X, I met someone at a wedding who told me about a strange man in her very bourgeois street in West London. His house, which he has apparently lived in since birth, looks derelict with boarded up windows. He barely speaks to anyone (although you can faintly hear him playing the violin through those window boards). But every morning he goes to the local tube station, collects a load of free papers, and delivers one to every house on the street. Immediately I thought of Patient X, and what great details these would be for the local 'loner' — possibly even details the plot could twist or hinge on. Then there was the man I sat beside on a plane who told me how his mother, sick of making packed lunches every morning, hit on batch-freezing industrial quantities of sandwiches every few months instead. He and his siblings would then get these frozen sandwiches — usually only half defrosted — in their lunchboxes. Admittedly it didn't spark a whole novel, but something in its muted, suburban madness really appealed to me. And unlike a friend or relative, a stranger is unlikely to find out you plundered their life. If they do, you've obviously written a bestseller.
Existing stories
If you're really stuck, it's worth considering any myths, parables, or fairy tales that caught your imagination as a child. I've always loved the story of The Prodigal Son — I like the way its themes of sibling rivalry and unconditional parental love are so enduring, and the fact that everyone behaves badly or rashly at some point. I used it to structure my first novel Seven Days of Us, because I knew I wanted to write a family story about one rebellious sister and one who was very attached to her parents. The key to making this method feel fresh and inspiring, I think, is to reverse one aspect of the existing story. In my case, the 'errant' sibling was off doing good deeds, rather than squandering her inheritance, while the stay-at-home sibling was very frivolous. I don't see any shame in this tactic — apparently there are only about seven stories in the world anyway, so it's no wonder we all get plotter's block from time to time. Good luck.
Plotter's Block / Photo by Kelly Sikkema on Unsplash
Congratulations to Nadia Murad, who along with Dr. Denis Mukwege was awarded the Nobel Peace Prize for her work to end rape as a weapon of war.
Learn more about her story here:
Congratulations to our Penguin Random House authors who have been chosen by the respective five category judges as "longlisted" semi-finalists for the 2018 National Book Awards.
Wednesday, October 10: The "shortlist" of five finalists per category will be announced.
Wednesday, November 15: The five winners will be revealed at the annual National Book Awards dinner.
See below for our semi-finalists in each category.
Fiction
Nonfiction
Poetry
Translated Literature
Young Adult Fiction and Nonfiction
This article was written by Karen White and originally appeared on Signature Reads.
I always get a little squirmy when I'm asked to give advice on writing. I mean, what makes me an authority on the subject? Sure, I've written a bunch of books, but the only "training" I've had in my chosen vocation is the thousands of books I've read in my lifetime so far.
I'd like to think that despite not having a lot of experience or knowledge about the whole writing thing when I started, surely I've learned something along the way. And I have.
In that vein, here are a few nuggets of wisdom I've gleaned in my nearly twenty years of being a published author. No, I haven't figured out the magic formula that will grant a writer instant success. But I have accumulated a nice list of what not to do if you're planning on having a career as a writer.
Do not spend all your writing time making excuses as to why you can't write instead of actually writing. Excuses will not write a book. Finding the perfect time to finally start a book is like choosing the right time to move to another country and start a new life. There will never be a perfect time, as there will always be reasons why the timing isn't optimal. If you have a burning desire to write a book (or move to another country), make it a priority. The rest will fall into place, and you'll be a lot happier with yourself.
Do not take to heart everyone else's writing style/advice/methods before you've given yourself a chance to figure out your own. Writing is incredibly personal. There are as many writing techniques and styles as there are writers. It's what gives us our individual writer's voice. It's precious and unique and you need to own it and not dilute it with external influences before you've given it a chance to sprout. If I'd listened to all the well-meaning advice when I started (don't write in first person, never start a sentence with "and," outline everything before you write the first sentence), I would never have written my first book.
Do not surround yourself with naysayers. For whatever reason, there will always be people in our lives who will attempt to discourage us from our pursuits. Either family members, friends, or other writers will have negative things to say about our talent (or lack thereof). Don't listen to them. It's always easier to be a critic than the warrior fighting the battle. Just remember that it's not about them. Your writing is between you and the words on the page. And nobody else.
Do not wait until the muse strikes before you sit down to write.This one always makes me laugh. I would have written exactly three pages in my entire career if this were true. In my previous life in the business world, I don't imagine I would have lasted in any job very long if my attitude had been that I'd only show up for work when I felt like it. There are usually about a million other things I'd rather be doing than gluing myself to my chair and getting to work. Since I consider writing my career and not just a hobby, I treat it with respect.
Do not say my family/job/life isn't conducive to writing a book.News flash: unless you're independently wealthy and your family is entirely self-sufficient, this will never change. I wrote my first books in my SUV at the football field and horse barn while my children practiced. My husband traveled about ninety percent of the time for his job so I was basically a single mom for most of the week. Instead of chatting with the other mothers, or reading a magazine, or napping, I used that time to write. There are pockets of time in each of our lives that we can prioritize as writing time. Expect to let go of a few things (binge watching on Netflix, hanging out on Facebook, sleeping in on weekends) to find the time. But the time is there if you're willing to make your writing happen.
Do not expect that the hard work is over after you sell your first book. It's only just beginning. To prepare yourself for your writing career, start thinking about your next book as soon as you send your first book proposal to prospective agents and editors. You've got momentum so make the most of it.
Writers write. It's what we do. We turn off the negative voices, we create the time and the place, and we write. To borrow words from Nike, Just Do It.
Writing/Photo by Lubomyr Myronyuk on Unsplash
This article was written by Christina Dalcher and originally appeared on Signature Reads.
A quick Google search for 'writing advice' tells me there can't be much left that hasn't already been said. Nobel Prize winners offer tips. Forty experts tell beginners what to do. Bestselling authors give us insight into their creative processes. And so on, ad infinitum. Then there's that perfect book, half craft, half writer's memoir: Stephen King's On Writing. If I could only have one how-to manual on my shelf, it would be that one.
Where does this leave us, then? What guidance can I, a debut novelist and writer of flash fiction, possibly offer the world, or the emerging writer? I've thought about it over and over, and finally came up with two words:
Be fearless.
We know writing takes work, and skill, and talent, and perseverance. There's the old 'Butt-in-the-chair, honey!' mandate (with its cute acronym) — a writer's corollary to the athlete's 'Just Do It' mantra. You want to run? Run. You want to write? Write. There's something so plainly tautological about it all. And there can be beauty in tautologies.
But I think fearlessness is the single quality we as writers need to cultivate, and I mean this in multiple ways.
We need the bravery to pour our emotions out, spilling ink onto paper with a little of our own blood mixed in. That's no small trick. We need the courage to send our words into the world, knowing that once we do, a part of us is gone, floating in the public sphere, no longer under our control. If one accepts Roland Barthes' notion that the author is dead, we authors must embrace the concept that we're killing some portion of ourselves the minute our work leaves us. And, of course, we need the self-esteem and thick, carapace-like skin to hang on and persist when the inevitable rejections hit our inboxes. Believe me, they will hit — hard. A bland form rejection from an agent or editor can carry all the pain of bludgeon to the face, a direct smack to our very soul. Everyone who writes, or who wants to write, requires a ring fighter's determination, a Rocky-esque willingness to go the distance, and to keep going.
Being fearless also takes us in new directions, allowing us to experiment with previously unknown forms, new characters, and diverse points of view. One of my favorite things about writing flash fiction — tightly condensed stories often under 500 words — is exactly this: Within the space of a day, I can be a cranky old man on a front porch in Mississippi, a young housewife, or a sneaky feline. Fearlessness is a gift, a license to try something different and liberate ourselves from any habitual ruts. And it need not be limited to our writing lives. We can extend it to our whole lives: to our relationships with ourselves and others, to our careers (and the changing thereof), and to how we interact with the world.
Finally, we need to forge some armor of another sort — the kind that protects us from dissatisfied readers. It's useful to remember that old John Lydgate saying about not being able to please everyone all of the time. Every once in a while, our words may not even reach the point of unpleasing, instead inspiring far less positive reactions. Still, they're our words and our thoughts, and we have to steel ourselves against ugly feedback. (Hint: read your reviews, or not. Then go back to doing what you do.)
When I teach writing classes, the very first thing I tell my students is to prepare for rejection and failure. Both are going to happen, sometimes much more frequently than we'd wish. The rejection and failure aren't the focus, though; it's what we do afterwards that counts. And what we, as creators, should do afterwards is simple: get up and do it all over again.
Would I call myself fearless? Would I use that label? I don't know; I haven't walked through the world with a superhero cape on my back. I do know that others have said this about me, starting with my first professor in graduate school twenty years ago. That man is gone now, and I can't pick up the phone and say, "Hey, guess what? I believe you." So instead, I write, a little or a lot every day, and try to live up to the descriptor. I try to fear nothing, even when that seems impossible.
Maybe you were expecting a writer's user manual. A list of do's and don'ts full of perennial tips like 'show, don't tell' and 'avoid adverbs.' Something along those lines. But the best advice I can give, and — in my mind — the only advice worth its salt, is encapsulated in two words.
Be fearless.
Then sit back and watch what happens. I have a feeling what happens will be good.
Be Fearless/Photo by Evan Kirby on Unsplash
Penguin Random House author Michael Ondaatje has won the Golden Man Booker Prize for his classic novel THE ENGLISH PATIENT.  This one-time prize was awarded for the best work of fiction from the last five decades of The Man Booker Prize, one of the world's most prestigious annual fiction awards, as chosen by five judges, and then voted on by the public. 
Upon receiving the news, Mr. Ondaatje said, "I am honored as well as very surprised to receive this award for THE ENGLISH PATIENT, as I was to be in the company of the other remarkable nominees. It feels the book was written so long ago! I would like to thank all who have supported me and been involved in my work over the years."
Ondaatje, published by Alfred A. Knopf, Vintage and Everyman's Library in the U.S., and McClelland & Stewart in Canada, has written several award-winning novels, as well as a memoir, a nonfiction book on film, and several books of poetry. His latest novel, WARLIGHT, was published earlier this year by Alfred A. Knopf in the U.S. and McClelland & Stewart in Canada.  Born in Sri Lanka, Ondaatje currently lives in Toronto. Read his works here.
Camille Perri, author of the delightful new romantic comedy novel When Katie met Cassidy answered a few questions about New York, new love, and more.
So much loving detail is given to clothing in this novel – can you tell me a little about how you present your main characters?
I like clothes. I like fashion; particularly men's fashion. Both my father and my grandmother on my mother's side were tailors, so I think it's in my blood. In terms of fiction writing, clothing serves as an efficient and fun method of characterization. You can not know a single thing about someone—a stranger who steps into a restaurant, let's say—but their clothing tells you so much about them before they even open up their mouths to speak. Clothing reveals what a character is trying to project, as well as what they're giving away about themselves without even realizing it: their socioeconomic class; their confidence level; their vulnerabilities.
For Cassidy, the clothing she chooses to wear is of utmost importance because it functions as a reflection of her gender identity. Everything she puts on has been curated. Her clothes are her armor. Katie, on the other hand, is always deliberating about what to wear. Depending on where she's going and which version of herself she wants to accentuate, her clothing varies greatly. I think of Katie's many costume changes as a reflection of the way she's still trying on different versions of herself in this novel. She's still searching for what feels right, which version of herself is the most authentic.
This book is such a joyful, fun depiction of two women falling in love – that's still pretty rare. Are there any books or movies with romantic relationships that meant a lot to you?
My favorite lesbian romance of all time is the 1999 movie But I'm a Cheerleader, starring Natasha Lyonne and Clea DuVall. RuPaul is also in it, so is the brilliant Melanie Lynskey. It's a satirical comedy about a cheerleader who is sent to conversion therapy camp to cure her lesbianism. It's one of the smartest, funniest movies I've ever seen. The magic of this film is that it's so much fun to watch as it tackles the complexity of hetero-normativity and the social construction of gender.
Do you have a favorite romantic comedy?
Everything Nora Ephron. My novel isn't called When Katie Met Cassidy for nothing! But shh…my favorite Nora Ephron rom-com isn't When Harry Met Sally—it's You've Got Mail.
What I love about all of Ephron's romantic comedies though is the way they're more than just love stories. They also function as reflections of something specific going on in American culture at the time they were made. YGM, for example, is more than a simple feel-good story about two people in an online romance who are unaware that they're business rivals. It's also about how romance was changing with advances in technology, and how chains of mega bookstores were putting beloved independent shops out of business at alarming rates. I guess I like a little bit of social commentary with my romantic comedies. And nobody did that better than Nora Ephron.
Katie grew up pretty sheltered and has always thought of herself as straight. Why did you want someone new to dating women as one of your protagonists?
I liked the idea of someone who has never before been romantically attracted to a woman, and who's never considered herself anything but straight and "normal," to suddenly have to rethink her assumptions. Most of us who identify as LGBTQ at one time thought of ourselves as straight, too. That process of opening oneself up to a different path is very interesting to me and ripe for good storytelling.
Part of the issue for Katie, too, goes beyond her surprise at her attraction to Cassidy; it's also that Katie is someone who very much needs to be liked. She yearns to be approved of. It's difficult for her to risk upsetting her parents, or to accept that if she's out with Cassidy, some people will look at her differently, in a way that may not be as approving as she's accustomed to. That's what I wanted to write about because part of coming to terms with being read as gay is adjusting to the fact that there will be some people out there who aren't going to like you, no matter how hard you try, solely because of this one aspect of your personhood.
You previously worked as a books editor for Cosmopolitan and Esquire – what would surprise the average reader to know about that kind of job?
I think the average reader would be surprised by how many Readers with a capital "R" and book lovers work at those magazines. The people behind even the glossiest of magazines are, for the most part, smart and socially aware and many of them are doing their best to provide a service—a social good—even as they're under a tremendous amount of pressure to put out a product that remains popular and profitable.
What novels have you especially loved lately?
I've enjoyed the recent hardcover releases The Wife by Alafair Burke; Sunburn by Laura Lippman; The Favorite Sister by Jessica Knoll, and in paperback, Julie Buntin's Marlena.
You obviously have a lot of love for New York – are there any bars or restaurants that feel like home?
I'm big on coffee shops. Fortunately I live in Brooklyn where there are many to choose from. When I lived in Williamsburg, I basically lived in a coffee/pie shop called The Blue Stove. That's were I wrote most of my first novel, The Assistants. I've since moved to the Brooklyn Heights/Downtown Brooklyn area and have set up shop at a wonderful café called Swallow in Cobble Hill. It only took a few months for most of the staff to know me by name. I leave them no choice!
Check out When Katie Met Cassidy here: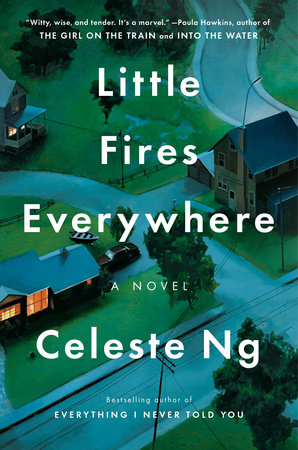 Ever wonder how a book makes it from the author's mind to a reader's shelf? We've we delved deep into two very different books before: But What If We're Wrong? by Chuck Klosterman and Gemina by Amie Kaufman and Jay Kristoff.
This time, we're so excited to host an interview series all about Little Fires Everywhere, the second book by Celeste Ng. Her first book, Everything I Never Told You, was a smash hit and ever since fans have been waiting with bated breath.
This final post in the series features a podcast interview with Celeste Ng all about her book, and the designer responsible for the beautiful cover, Jaya Miceli.  
Listen to Celeste talk about family, secrets, empathy, and activism: 

A Q&A with the designer behind Little Fires Everywhere's beautiful cover art: 
Did you interact with Ng when planning your design?
I worked closely with the art director, Darren Haggar. We bounced around ideas and tried to figure out a mood/setting that would best capture the closeness and secrets in this particular town. I came across Amy Bennett's artwork and we both felt we'd hit upon something.
What were some ideas for this book that you didn't end up using?
Some of the ideas were very abstract and some were too specific to the book. I painted some tudor homes. 
What is your favorite part of your job? What's the hardest?
I love reading the manuscripts. The hardest part is creating a cover that fits the tone of the book and that is also visually striking.
How has your approach to designing covers changed over time? What did you most want this cover to convey?  
I was especially pulled into Ng's book. I really loved the compellingly intricate and complex storyline and characters. The hard part is the process. I do a lot of art/photo research and sometimes create my own illustrations or hand-lettering, which can all take time. For this particular cover, finding Amy Bennett's artwork was a perfect fit for Ng's book. The evening hues, the aerial view of winding roads and the light in the homes, the idyllic sweet suburban street. You know that all can't be right here. 
Thank you so much for following along with The Life of A Book! Be sure to grab a copy of Little Fires Everywhere, especially now you know all the behind-the-scenes work that has shaped it.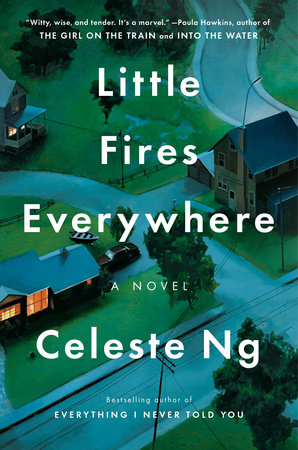 Ever wonder how a book makes it from the author's mind to a reader's shelf? We've we delved deep into two very different books before: But What If We're Wrong? by Chuck Klosterman and Gemina by Amie Kaufman and Jay Kristoff.
This time, we're so excited to host an interview series all about Little Fires Everywhere, the second book by Celeste Ng. Her first book, Everything I Never Told You, was a smash hit and ever since fans have been waiting with bated breath.
In the coming weeks, we'll interview different people who have been a major part of making the book: a marketer, the book designer, a sales representative, and finally, Celeste herself!
This week's interview is with Assistant Director of Publicity at the Penguin Press, Juliana Kiyan.
What do you think is special or unique about LITTLE FIRES EVERYWHERE? Why will readers want to get their hands on it?
I think I can only start with its author, the wonderful Celeste Ng. She's an incredibly thoughtful and keen observer, expert craftsman, and indefatigable worker. These qualities all shine through in Little Fires Everywhere, but it's just as important to note that she embodies them off the page as well. (I'd be shirking my duties if I didn't say to check her out at @pronounced_ing!) She's been a terrific partner to all of us at Penguin Press and PRH since the early days of Everything I Never Told You, and it's a thrill to be a part of this next step in her long career. Celeste is a bona fide talent, and Little Fires Everywhere is a seriously unputdownable read.
How did you market this book differently from Everything I Never Told You?
Launching a second novel is a very different process from a debut. With a debut, the goal is to introduce a new literary voice to a wide audience and persuade people to take a chance on the book. We were fortunate to achieve this with Everything I Never Told You, as readers from all over were just as taken with Celeste's gorgeous writing and the Lee family as we were. With a second novel, we certainly want to reach the fans of the first book and expand upon that, while also making it clear this isn't Everything I Never Told You 2.0. The reasons why you fell in love with the first book are in the DNA in Little Fires Everywhere, but this is a wholly new story. In terms of publicity, the first item on my check list was easy, thankfully: people were eager to read the new book! Celeste's profile has risen since her first book published, and many were looking forward to her next work.
How would you describe your job and how you worked on this book to a layman? What are some of the steps you take when you first start working on a title?
Ultimately my job is to help get a book out into the wider world in ways that compel readers to check it out and hopefully buy it. As a publicist, I work on connecting with media and with booksellers. On the media front, we aim to secure reviews and interviews with outlets that people know and trust and that have a wide reach. We line up as much media as we can at publication in order to get the book in front of a wide range of potential readers, and we continually build on those opportunities from there. With booksellers, we plan events that bring the author out to different parts of the country to connect directly with fans and customers. Booksellers are among a book's earliest readers, and it's incredibly exciting to hear from a bookseller who fell in love with a book and is eager to support it by hosting an event, by handselling, by writing a staff recommendation. My colleagues and I pursue all these avenues and more to, essentially, get the word out.
With a beloved author like Celeste, this was all a lot of fun. We began working on the publicity and marketing campaigns for Little Fires Everywhere relatively early, maybe about nine or ten months before publication in earnest. We had a rich foundation from our experiences with her first book, and we laid out our top goals and priorities. Early on in the year, Celeste visited the office, and that was the first of many productive discussions we've had as a team. It's hard to believe we're finally at publication.
Describe the book in one sentence.
Through the lens of the placid suburb of Shaker Heights and a deeply human cast of characters, Little Fires Everywhere is a finely observed examination of privilege and identity, words and action, secrets and belonging, and what it means to be a mother.
How closely do you work with the editor, art department, etc. when working on a title?
We all work very closely together. Both Little Fires Everywhere and Everything I Never Told You were true team efforts from beginning to end. The publicity and marketing generally come in closer to the book's pub date, but in the case of Little Fires Everywhere it was all hands on deck from the day of acquisition. We all loved the first book and couldn't wait to dive in right away. Celeste's editor, Ginny Smith Younce, and I have spoken and emailed more about this book than either of us could ever count—we always want to make sure we're on the same page. Same with our marketing team: Matt Boyd, Caitlin O'Shaughnessy, and Grace Fisher. Marketing and publicity are very intertwined, and it's important that we connect regularly since our efforts play off of and benefit each other.  Marketing is also doing the crucial job of working with sales to make sure booksellers and accounts have everything they need as we approach publication. We're all on Team Celeste and proud by association.
Anything else you think would be interesting for readers to know?
If it ever comes up in casual conversation, perhaps ask Celeste about her former career as a miniaturist. She is a fountain of information when it comes to teeny tiny physical recreations of objects from everyday life.
Tune in next week for the next interview in this series, and learn more about the book below: