Articles Tagged "fiction writing"
Food is one of my top five favorite things in the world. Maybe even the top three. But if I have to be honest, it's probably in the top two. That says a lot about me. Likewise, food can be used to say a lot about your characters.
What's for Dinner?
Do you know what your characters eat? Does the reader know?
Food can be more than sustenance. It can be used as a tool, a prop, something to show instead of tell. The main characters in my first novel, My Lovely Wife, live in a gated community, eat organic food, and use almond milk instead of the real thing. When one of them chooses to eat something like a hot dog, there's a reason for it. Food can be used not only to show a person's character, but also their state of mind.
Do they eat when they're stressed, or not eat at all? Or do they eat different foods? All of this can say a lot about a character.
Something to Do
Funny thing about characters … they have to do things. Eating can be a big part of that, but it doesn't have to be fluff.
Imagine two characters meet at a coffee shop to discuss a topic integral to your story. Maybe one lost a job, or their spouse is having an affair, or maybe they're having an all-out war with a neighbor. The dialogue may be the most important part of this scene, but it doesn't have to be the only important part.
For example, if both characters order the same thing — say, medium lattes — that's hardly notable. Or if what they order isn't mentioned at all, it becomes irrelevant.
But what if one character orders a plain black coffee, and the other orders a jumbo cinnamon roll with an extra-large salted caramel mocha? And which ordered which? Does the one with the problem order the food, or is it the one who has to listen? Either way, the scene just became a lot more interesting.
Cook or Burn
The preparation of food is as important as the consumption of it … or so my friends tell me. I do not cook, not ever, and anyone who knows me is grateful for that.
If I said the same thing about character, it would tell you something. The same applies to characters who cook all their food from scratch, using only ingredients from the farmer's market. Or maybe your character's idea of cooking involves pre-made sauces and pre-cooked meat, because they don't have the time to make homemade marinara sauce.
Kitchens are places where people gather in life and in books, so use the location to your advantage.
To Drink or Not to Drink
Alcohol has at least as many uses as food, if not more. Going out for a drink is another thing for your characters to do. Bars are also where people meet, flirt, and — as often happens in fiction — decide and plan to commit crimes. How much or how little a character drinks, and what they drink, can tell the reader a lot.
But that's not all alcohol can do. Characters can change when they're drunk. The shy become bold, the calm become angry, and the happy start to cry. Some drink to the point of blacking out, only to find themselves in a mess the next morning.
Or picture this scenario: A group of colleagues go out drinking after work. As the night wears on, and the group becomes more intoxicated, people start to flirt. They start to say things they shouldn't. Maybe they gossip about their boss and other co-workers. Secrets are revealed, embellished, repeated.
One of the characters — let's say a man — goes to the bar to get another drink. He orders a club soda with lime. Unlike his colleagues, he hasn't been drinking at all. He's just pretending to be as intoxicated as they are.
Now it's not just a night out, it's something deceitful — maybe even sinister. Alcohol can do all of that, if used properly.
Enough is Enough
This is not to say food can be used to show everything, nor should it. While I'd like to spend the majority of my time eating bonbons and bacon cheeseburgers, I don't. Neither should your characters.
Food is one example of how everyday activities and needs can be effectively used in fiction. It's not the only thing. It may not even be the most interesting thing. It's just one of the many tools available to tell your story.
Check out Samantha's book here: 
In-flight magazines are my weakness. It doesn't matter how many books I've brought with me to read or how much work I have to do, on a plane I always end up reading the in-flight magazine, at least for the first leg of the journey.
A few years ago, the article that caught my interest was one about making your own luck. I'm of Irish heritage so luck is a big deal for me. I pick up pennies, toss salt over my shoulder, have a horseshoe hanging in my house somewhere — you get the picture — so I was intrigued. The long and short of the article was that the people who are statistically luckier than the rest are the ones who are paying attention to the world around them. Hmm.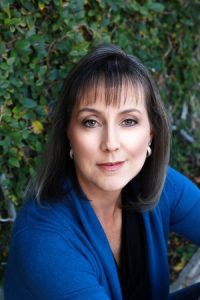 Fast forward a few months, I arrived in New York City to meet with my editor. I was there on other business but wanted to pop in and see where the magic behind the books happens. The visit was…peculiar. Offices were half packed, people were clearly moving around, and there was a sense of unease in the air the likes of which I had lived through once before during the recession as a librarian in Phoenix. In this case, my publisher had recently merged with another. It was clear that big changes were happening.
Normally, I would have been reassured by an "everything's fine" and a smile, but this time I knew better because I was paying attention. When the opportunity presented itself, I asked my editor directly what else she thought I might write besides traditional mysteries, since I now feared they were going to go the way of the Dodo. She observed that if I took all of the dead bodies out of my mysteries what I really had going on was romantic comedy and that she would be delighted if I would give that a go. So I did.
Well, after thirty mysteries in five different series, I had a rhythm going with the whole dead body, red herrings, multiple suspects, and you turn yourself around sort of writing hokey pokey. A straight romantic comedy with no dead body? Huh. Come to find out those dead bodies really move a plot along.
I frequently hear people say that writing romance is easy. Yeah, no. I'm a child of the 80's, one of the original latch key kids, who was raised on after school specials and sitcoms. I am incapable of having a problem that lasts longer than twenty-two and a half minutes because I run out of coping skills at the commercial break. Trying to write a one-hundred-thousand-word novel with legit conflicts between the hero and heroine that do not involve finding a dead body at any point? Oh, man, I had to dig deep. I had to raise my game. This was really hard!
Thankfully, the one mainstay I have is humor. Whether in life or in fiction, if I am not laughing I am tapping out — probably all of those sitcoms are to blame. Either way, I write the punch lines to the laugh track in my head, and I know it's going well when I snort-laugh while writing. I've finished three romantic comedies now, and some commonalities have come to light in the fictional worlds, both mystery and romance, that I create. The characters are quirky, the settings cozy, the humor is on point, and the relationships are heartwarming, whether my characters are solving a crime or falling in love. When I stepped back and could see my voice working in both genres, it made me realize I could write successfully in any genre that caught my interest. Look out science fiction/ fantasy, here I come!
I'll be doing a lot of flying in the next year and, believe me, I'm going to be reading the in-flight magazine and paying attention.
Check out Jenn's books here: 
Every writer is asked, "Where do you get your ideas?" Writers create people and worlds in a way that hints of magic, making things seemingly real that didn't exist before. This mystery intrigues readers, who enjoy the final result but wonder how it came about.
I suspect every writer has his or her own pathway to creation. One of the best explanations I ever read, and the one that comes closest to what happens to me, was described by C.S. Forster (author of the Horatio Hornblower novels) in his autobiography Long Before Forty. He said various random ideas would come to him, some stronger than others. He would let them rest — he compared it to sinking a log into water and then pulling it up later to see if moss was growing on it. If there was, it was a viable idea.
A writer has many ideas but only a few take root and grow. For every one of my eight novels, I must have had ten other tentative novels that didn't 'grow.'
Readers, editors, and friends often make suggestions; those are treated to the 'log submersion' test; sometimes these bear fruit and sometimes not. My Nero novel came about from a casual question at dinner: "Have you ever thought about the emperor Nero?" My Henry VIII novel came from a trip I made to Hampton Court, where I was struck with the realization that everyone knew about Anne Boleyn but few knew about his fifth wife, Catherine Howard. My Helen of Troy novel came about because I wanted to see what it would be like to be the most beautiful woman in the world. Ideas and inspirations can come from all quarters; they come best when I am not actively searching for them.
Ray Bradbury said all writers should write a thousand words a day. That seems a little extreme to me — that's about five pages. But I do think the better advice is 'keep the pilot light lit.' You should write something on your project every day just to sustain it in your mind, to keep it alive. Email and Facebook don't count. If you really want to be superstitious about it, make sure to write at least a paragraph on your work on New Year's Day because the folklore is that whatever you do on New Year's Day you will continue to do all year long. Conversely, whatever you don't do, you won't do all year long.
It helps to keep a log of when you wrote and how much you wrote; otherwise you forget and in planning a new project, you tend to overestimate the amount you actually can do at a reasonable pace. I can normally do about twenty-five pages a week. That's one hundred pages a month. Others, of course, can write more or less.
Drafts — ah, drafts! That's such an individual choice. Some people write best what they write first, and subsequent drafts get paler and paler and dwindle away in power. Other people write sprawling first drafts that have to be corralled and pounded into shape. The only rule is, please know which category you are in!
Ideally some time should elapse before you start editing your work. Let it sit — this is sometimes called 'the icebox method.' Then you can read it in a more detached manner.
Some people — like me — have a hard time editing their own work. I see it from the beginning as if it is a fixed thing rather than still in progress. (Along the same line, I have trouble visualizing the furniture in a room in any other arrangement.) If you have this problem, enlist the help of a friend whose reading tastes are like yours.
The first feedback I get tends to make me nervous, but apparently even Stephen King suffers from this, as he awaits his wife's first read-through. It is the first time anyone has seen our 'darling' besides us, and of course to us she is beautiful, but what if she isn't to anyone else?
This is as good a time as any for me to say I have heard the advice 'read through your manuscript and every time you see a phrase that is fine and lovely, strike it through.' That seems silly to me — why shouldn't it be fine and lovely? You are not writing a newspaper, but a work of art. Would you follow the advice to open your closet and take your most flattering clothes out, leaving only the dull ones?
Finally, the most useful advice I can give is to develop the ability to sit still and see a project through, and to ruthlessly avoid the distractions that can derail the project. It is hard — it feels like entering a monastery sometimes, but in the end you will thank yourself.
Check out Margaret's books here: 
This article was written by Jayne Ann Krentz and originally appeared on Signature Reads.
Give the same plot to ten different writers and you will get ten very different stories. No two will sound alike. Why? Because every author brings a unique voice to the craft of writing. Voice is everything when it comes to telling a story.
It isn't clever plot twists or deep character insights or detailed descriptions that draw a reader back again and again to a particular writer — it's the writer's voice. Just to make things even more complicated, the truth is that no two people respond to a writer's voice in exactly the same way. Some readers will never be compelled by your voice. With luck, others will fall in love with it.
Voice is hard to define because it's a mix of so many things — your core values, your world view, your personality, your sense of optimism or cynicism or despair or anger or bitterness or hope — all those things are bound up in your storytelling voice.
And then there's the craft aspect.
You can write successfully for your entire career without giving a moment's thought to your voice. But just as knowing and understanding your core story can be extremely useful at various points in your career, so, too, is having a clear sense of your voice. If you comprehend its strengths and weaknesses, you will be able to figure out how to sharpen it and make it more powerful.
How do you identify your writing voice? Here's a simple exercise: Write a scene from start to finish. It should be a scene that is infused with the emotions, themes, or conflicts that compel you as a writer.
It is helpful to think of scenes as short stories. They have a beginning that engages the reader, a middle in which emotional and often physical action takes place, and an endpoint that either resolves the narrative or provides a cliffhanger that leads into the next scene.
Give your scene to a couple of people to read. These should be people you trust. Make it clear that you do not want a writing critique. You are not interested in their opinion of your characters or your plot. You want one response, and one only, to the following question: "What is your emotional takeaway from that scene?"
Did you make your reader's pulse kick up? Did you arouse curiosity? Anger? Sympathy? Did you scare your reader? Did you make that reader want to know what happens next? Your goal is to identify the single strongest emotion that the reader experienced while reading your scene. That response will help you analyze the strengths and weaknesses of your voice. The worst possible reaction from a reader is no emotional reaction at all. There is nothing that will kill a writing career faster than storytelling that bores the reader.
Put the most engaging elements of your voice on display in the very first sentence of your book. Readers will not give you a few pages or a couple of chapters to get the story going. You must draw the reader into your world from the very first sentence, and you do that with your voice.
Listen to your writing voice. It will tell you what kinds of stories you will write with the most power. Once you have figured out your voice, do everything you can to strengthen it and make it more compelling.
Voice is your superpower. Discover it.
Photo by Elijah O'Donnell on Unsplash
This article was written by Elyssa Friedland and originally appeared on Signature Reads.
Lately I've been thinking about the difficult balance an author needs to strike between writing what we are familiar with, and therefore helping to unsure an authentic voice, and creating characters totally apart from ourselves in settings we may never have visited.
The former might seem easier and the safer route to go. "Write what you know;" it's a familiar refrain and popular advice given to aspiring writers. But even that can be fraught with difficulty. In writing characters, places, and events from our own lives, we can all too easily fall into the trap of sharing too much detail. When setting a novel in New York City, where I live, it's critical that I don't mention every restaurant and boutique name that I frequent. When I find myself writing more of a guidebook to New York City than a novel, I ask myself: Is that extra detail propelling the story forward? If not, it should be cut. I certainly don't want to limit the audience for my books to readers who live within a ten-mile radius of me looking for a great hat store.
On the other hand, there is value in sharing the nooks and crannies of a setting we know intimately well. It is the ultimate way to invite the reader to join us in the pages. Reading fiction is nothing if not an escape, and the more specificity provided, the more easily a reader can Photoshop themselves into the novel and feel the humid air, taste the freshly picked tomato, and smell the lavender — whatever atmosphere the writer is trying to suck the reader into comes alive the more detail we give.
A quick anecdote. In my latest novel, The Intermission, a critical scene takes place at a Chinese restaurant on First Avenue called Wa Jeal. This would be a case of providing too much in the minutia department. It didn't matter that it was on First Avenue and it certainly didn't matter what the restaurant was called. The only upshot of providing that detail were the numerous texts I got from local friends: Is Wa Jeal really good? What do you order there? Do they deliver? Yeah… you get the idea.
Setting is not the only trap where writing what you know can lead to extraneous detail. Too often we as writers like to share experiences from our former professions — probably because we are scarred by them. There are a lot of lawyers-turned-writers and much as we may want to tell our readers about the gloom and doom of law firm life, from the tedious document review at three A.M. to the hours spent waiting in the printing office for four-hundred page contracts to be bound, we need to remember: there's a reason we switched gears. Being a lawyer was boring! And so is writing about it.
In The Intermission, I attempted to strike a nice balance between writing what I knew and writing what I wanted to know about. I refused to make either of my husband and wife pair attorneys. Instead, I made Jonathan a hedge funder — a world that is somewhat elusive to me but is prevalent in my hometown of New York City. For Cass, I decided to put her in the world of Broadway marketing. I love theater but knew very little about the behind-the-scenes making of a show. So I was able to bring my passion for the stage to the novel but also explain the mechanics of marketing a show in outsider-not-insider terms.
Likewise with the plot. Half the novel is set in New York, but half the story is in Los Angeles. I've visited LA many times but don't know it nearly as well as my hometown. Having a split-setting kept my overflow details in check. I needed to make sure LA came alive just as much as New York did in the book.
Not overwriting what I know continues to be a struggle I face as a writer, but I'm certainly aware of the pitfalls. And I welcome reader feedback on the subject, as that is truly the test of whether I'm striking the proper balance.
Photo by Kelly Sikkema on Unsplash
This article was written by Carolyn Hart and originally appeared on Signature Reads.
In Ghost on the Case, Bailey Ruth Raeburn, an emissary from Heaven's Department of Good Intentions, returns to earth to help a young woman who receives a terrifying phone call demanding ransom for her sister. What can Susan Gilbert do? What will she do? What is going to happen to her sister?
My hope is the action scene lures readers to follow Bailey Ruth. I won't reveal the peaks and valleys in Ghost on the Case to avoid spoiling readers' enjoyment. Instead, I will illustrate suspense by using the framework of Spooked, a short story that introduces 12-year-old Gretchen Gilman, the protagonist of Letter from Home, my WWII novel from Berkley.
I use the following techniques to create suspense: action, empathy, threat, tension, puzzle, danger, deadline, challenge, and surprise.
Gretchen works in the family café in a small town on Highway 66 in northeastern Oklahoma in the summer of 1943.
Action: The dust from the convoy rose in plumes. Gretchen stood on tiptoe, waving, waving.         
A soldier leaned over the tailgate of the olive drab troop carrier. The blazing July sun touched his crew cut with gold. He grinned as he tossed her a bubble gum. "Chew it for me, kid."
Empathy: Gretchen turns away, thinking of her brother Jimmy, a Marine in the South Pacific, her mother who works at the B-24 plant in Tulsa, and the troop convoy as she walks toward her grandmother's café.
She still felt a kind of thrill when she saw the name painted in bright blue: Victory Café… There was a strangeness in the café's new name. It had been Pfizer's Café for almost twenty years, but now it didn't do to be proud of being German…
Empathy and threat: Now the reader has a personal stake in Gretchen, understands there is pain and uncertainty in her life. Her grandmother avoids speaking in the café because of her strong German accent.
In the café, Gretchen sets to work, cleaning, serving food. Customers include Deputy Sheriff Carter. We learn Carter likes to do crossword puzzles and thinks about money. In another booth two military officers from nearby Camp Crowder discuss the Spooklight, a famous and mysterious light that mysteriously appears after dark among the rolling hills. The Army uses night searches for the Spooklight to train troops.
Gretchen's grandmother brings out a fresh apple pie.
Threat: One of the customers jokingly accuses her of buying sugar on the black market.
"Lotte, the deputy may have to put you in jail if you make any more pies like that."
Grandmother is upset, explains the pies are made with honey. One of the officers speaks to her in German. The deputy turns hostile.
Tension: He glowered at Grandmother. "No Heinie talk needed around here . . ."         
Gretchen takes trash to an incinerator. As it burns, she climbs a tree. She sees Deputy Carter enter the cemetery. He looks around surreptitiously.
Puzzle: Back by the pillars, the deputy made one more careful study of the church and the graveyard. He pulled a folded sheet of paper from his pocket and knelt by the west pillar . . . She leaned so far forward her branch creaked.         
Danger: The kneeling man's head jerked up… The eyes that skittered over the headstones and probed the lengthening shadows were dark and dangerous.
The deputy hides the paper in the pillar. After he leaves, Gretchen finds the paper, reads and replaces it. The message leads her late that night to an abandoned zinc mine. She watches the deputy and a soldier unload an Army truck and hide gasoline tins in the mine.
Deadline: She overhears plans to sell the gasoline Thursday night.
The next day she asks her grandmother what it means when people talk about gasoline on the black market. Lotte explains how important gas is, why it's rationed, and that even a little bit can make a big difference in the war. Gretchen thinks about her brother fighting in the Pacific. She asks Lotte who catches people in the black market.
Challenge: ". . . I don't know," she said uncertainly. "I guess in the cities it would be the police. And here it would be the deputy. Or maybe the Army."
Gretchen thinks about the deputy and about the Army searching for the Spooklight. At the café that afternoon, she asks the young officer if they are still searching for the Spooklight. He says yes and she tells him she's heard the light has been seen at the old Sister Sue zinc mine.
Gretchen enlists the help of a friend, Millard, whose brother Mike is in the 45th fighting in Italy. They put pie tins in the trees near the mine to reflect flashlight and draw the soldiers.
Challenge: . . . she moved out into the clearing. "What's wrong?"
He was panting. "It's the Army, but they're going down the wrong road. . . . They won't come near enough to see us."
Surprise: Suddenly a light burst in the sky . . . Then came another flash and another . . .
Millard lobs lighted clumps of magnesium with his sling shot and draws the Army to the mine where the tins are found, along with a crumpled crossword puzzle in the deputy's handwriting which Gretchen took from a café booth. The puzzle leads to his arrest and the arrest of a sergeant in the motor pool.
No one ever knew about Millard and Gretchen's efforts, but Gretchen didn't mind. The final sentence links the reader to Gretchen: What really mattered was the gas. Maybe now there would be enough for Jimmy and Mike.
Readers offered action, empathy, threat, tension, puzzle, danger, deadline, challenge, and surprise will keep turning the pages.
Cover detail from Ghost on the Case by Carolyn Hart
We know readers tend to be writers too, so we feature writing tips from our authors. Who better to offer advice, insight, and inspiration than the authors you admire? They'll answer several questions about their work, share their go-to techniques and more. Now, get writing! 
After developing an idea, what is the first action you take when beginning to write?
Usually when I sit down (or often, stand up) to write, I start by re-reading and editing the previous day's work. That gets me back into the world of the book. Then I just carry on with the story from where I left off. I am a somewhat disorganized writer. I don't write outlines or think too far ahead when writing a first draft. I write fast first drafts that I finish in three to ten months, and then spend a couple of years editing. I often think of scenes as puzzle pieces or quilting squares, shuffling them around until they make sense. I do, however, often write a basic timeline so I can remember when pivotal events happen and how old everyone is. But the story itself emerges only when I am actually writing. Often I have no idea where the plot is heading until it emerges from my fingers. For this reason, I am a serious rewriter. I write at least a dozen drafts of each book. Much of the structure, plotting, and pacing emerges in later drafts. I think of my first drafts as skeletons, and each successive draft as layering on muscle, veins, fat, skin, hair, etc. Until it is a fully living book.
Is there something you do to get into a writing mood? Somewhere you go or something you do to get thinking?
One thing I learned fairly early on is that I cannot afford to wait to be in the right mood. For me, writing needs to be a daily discipline, like exercise. I do it no matter what mood I am in. The hardest part is getting myself to the computer and shutting off the Internet. Once I open the document and start working, I am suddenly in the mood. Work inspires work. Also, when you have a small child and the various diplomatic obligations that come along with being an ambassador's wife, you write in every unscheduled moment, whenever those moments are.
Did you always want to write? How did you start your career as an author?
I have kept a journal since the day I learned how to write, but I never thought of myself as a writer until graduate school. I majored in theater in college and worked for several years as an actor. But eventually I became frustrated with the limited roles available to women. I wanted to play paleontologists and astrophysicists but ended up playing ingénues and prostitutes. It got old. I began writing some of the things I wished my characters would say and decided to go back to school. After getting an MFA in fiction writing and an MS in journalism, I worked in newspapers and magazines for years before finally writing my first book. I don't think that first book would have happened, however, had I not taken an enormous risk by moving to Yemen to take over a newspaper. From the moment I accepted that job, I think I knew I was going to have a lot to write about!
What's the best piece of advice you have received?
One evening in 1992 I was sitting in a bar in Bainbridge Island, Washington with a friend who is a brilliant and prolific composer. I was going on and on about various ideas I had for short stories, and he said, "You know, there comes a time when you have to stop talking about what you are going to do and start doing it." I went straight home that night and wrote a short story. I still think about that conversation twenty years later. It gets me into the chair (or standing in front of the computer—I often write standing up).
What clichés or bad habits would you tell aspiring writers to avoid? Do you still experience them yourself?
Don't wait to feel inspired. If you're serious about writing you should be writing every day. Treat it like any other job. Schedule time for it, even if you only have a half hour a day.
Turn off the Internet. Check Twitter and Facebook after you write, not before. I indulge in this bad habit too often. I write best when I schedule specific times of day to check social media. If you need to do research online, make notes in your draft of things to look up later, when you are done writing.
Don't ever send out a first draft. While there are a few writers out there who produce genius first drafts, most of us do not. Rewrite, rewrite, and rewrite your story until you feel you have absolutely taken it as far as you can. Then get a writer you trust to edit it. Rewrite some more. Take at least a day between drafts so that you can approach your work with fresh eyes.
Do you ever base characters on people you know? Why or why not?
Yes. But though real people often provide the initial spark or inspiration, the characters swiftly take on a life of their own. Ultimately I don't think any of the characters I create resemble the people who originally inspired them except in the most superficial of ways. I observe the people around me with the eyes of a journalist, noting quirks and interesting phrases. There is so much rich material just floating around. The imagination takes off from there.
Read more about The Ambassador's Wife here.