Editors get very passionate about books they work on – the Editor's Desk series is his or her place to write in-depth about what makes a certain title special. Get the real inside-scoop on how books are shaped by the people who know them best.
Among the victims of the terrorist attacks in Paris last November 13 was a young mother named Hélène Muyal-Leiris. That night, she went to the Bataclan concert hall, while her husband, Antoine Leiris, stayed at home, looking after their 17-month old son, Melvil.
Three days after the attacks, Antoine wrote an open letter addressed directly to the terrorists who had murdered his wife, which he published on Facebook. You may have read it at the time. It was titled "You Will Not Have My Hate" and within days had been shared millions of times and reported on across the world. "Victim's Husband Tells Terrorists, 'I Will Not Give You the Gift of Hate'," read the headline in the New York Times.
Afterwards, Antoine continued to write about caring for his son alone and burying Hélène. His account of the days and weeks following the attack was soon published in France as book with the same title, You Will Not Have My Hate. When I was sent the manuscript by the French publisher, I read it with tears in my eyes, and more than once, as I worked with the translator, Sam Taylor, I felt overcome by Antoine's bravery and kindness. His words of grief are startlingly simple and direct, which made the translation process quite straightforward. There were only a handful of instances where Sam and I had some uncertainties about the best phrasing in English (and every time Sam found the ideal solution).
Like his letter, Antoine's book has received passionate gratitude the world over. It will be published in 24 languages and is already a bestseller in multiple countries. This success is because the book is extraordinary, full of heartbreak and sorrow, but also love and hope. It is inspiring. Antoine describes one of the letters he received after he published his open letter, in which a stranger wrote to him, "You are the one who was hurt, and yet it is you who give us courage."
I think there's a tendency to consider something that has been published as a book as completed, as the past. But it has been less than a year since the attacks in Paris. For those of us who weren't directly affected, the events have perhaps already been displaced in our memories, pushed to one side as horror has struck again and again. In Orlando, San Bernardino, Nice, Baghdad, and elsewhere. It can seem like we barely have time to mourn one attack before another happens.
But You Will Not Have My Hate reminds us sharply of the inconceivable pain of such tragedies. It is both a private story and a universal one. Both a love letter and farewell. To read it is to grieve for a stranger with all one's heart.
Editors get very passionate about books they work on – the Editor's Desk series is his or her place to write in-depth about what makes a certain title special. Get the real inside-scoop on how books are shaped by the people who know them best.
As Nadja Spiegelman describes early in her wonderful memoir, I'm Supposed to Protect You from All This, the book grew out of a series of conversations with her mother, Françoise Mouly. Throughout Nadja's childhood, Françoise had steadfastly deflected questions about her past with "I'll tell you when you're older." She kept her word. When Nadja emerged into adulthood, Françoise told her everything she could remember, not sparing herself the difficult emotions the recounting called up. Nadja would eventually cross the Atlantic to continue the conversation in France with her grandmother, adding Josée's story and that of Josée's mother to her ballooning research.
For me, however, the book began in a different place, when Nadja was trying to wrestle a narrative out of this overwhelming, overlapping, contradictory array of stories – not to mention each figure's conflicting interpretations and complicated responses. On her visits to New York, we'd meet for lunch, always somewhere quiet and with a large table, my apartment or the Korean place near my office, so that she could lay out her annotated transcripts and notes and the fantastically detailed storyboards she had assembled.
At moments like these, editors can feel a little like the Wizard of Oz, struggling to muster godlike pronouncements from behind a threadbare curtain of authority. I confess I wondered at moments if we were both lost. But as Nadja began to send me draft chapters, working her way through the material, it became clear to me that my author, young and wide-eyed as she was, had incredibly well-developed impulses as a writer. She knew where she was going, and she returned to the material, draft after draft, until she got it there.
Like many writers, Nadja is a creature of the night, but she took that to extremes. Sometimes when we'd Skype, well into the evening for me – editors tend to be creatures of the night too, at least when it comes to editing – she'd still be up, working, when dawn was already breaking in Paris. Sometimes we continued our conversations the next morning, though at her age, the punishing hours she was keeping did not show. But they paid off. Gradually a gorgeous, intricate narrative emerged, one that mimicked the layering and warping of memory, to powerful effect.
I have daughters of my own, a decade younger than Nadja – more or less the age Nadja was when her mother first told her her story. I came to the book not only as editor but as mother and daughter. I wondered about all the things I had never asked my mother about her past, or her mother's. I was in awe of Francoise's courage in revealing everything, and doubted that I would have the same. The book made me appreciate that we do not understand any adult until we see him or her as someone's child. I loved getting to be part of its coming into the world.
Listen to an interview with Nadja on the Beaks and Geeks podcast:  

Jess in Random House Ad/Promo is reading Lilac Girls by Martha Hall Kelly
Find out more about the book here: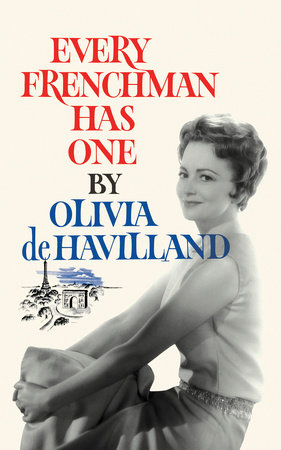 Editors get very passionate about books they work on – the Editor's Desk series is his or her place to write in-depth about what makes a certain title special. Get the real inside-scoop on how books are shaped by the people who know them best.
On a recent Saturday morning, I glanced over at my iPhone and saw the words "O de Havilland" light up my screen. A new e-mail had arrived from Paris, where Olivia de Havilland was pondering a question I'd posed earlier that week ("In the past, you've referred to the guiding philosophy behind Parisian style as 'the Paris principle;' in your opinion, what are the key tenets of that principle?") That I was discussing the timeless style of les parisiennes with the two-time Academy Award-winning actress who played Mellie Hamilton in Gone with the Wind (1939), while I, myself, was wearing sweaty tennis clothes and watching "Unbreakable Kimmy Schmidt," now strikes me as a little, well, déclassé. But even if the details of this exchange are a little embarrassing, the story of how our paths crossed perfectly captures two aspects I love about my job: discovery and serendipity.
About a year ago, I read a fascinating article about Olivia de Havilland's groundbreaking 1944 lawsuit against Warner Bros. and found myself wanting to know more. I love reading about Hollywood's Golden Age—and have always admired Miss de Havilland's work—and I assumed that she'd already written about her extraordinary life and career. After a little searching, I was surprised to learn that while she had written a book, it was a 1962 memoir about falling in love with a Frenchman and moving to Paris. That book, Every Frenchman Has One, was long out of print and very expensive to buy online, so I went to the New York Public Library to check it out. As I read, I found myself laughing out loud at her witty, candid, and completely charming stories about her skirmishes with French customs, French maids, French salesladies, French holidays, French law, French doctors, and above all, the French language.
A Francophile myself, I'd recently seen the Broadway staging of An American in Paris, and was surprised that such a wonderful book about Americans in Paris—and the lessons we can learn from the French—was so difficult to find. But as I read further, I realized that Every Frenchman Has One was about something much more profound. In her own way, Olivia de Havilland was quite brave, not only to drop everything; leave Hollywood behind; and take a chance on life, and love, in a new country, but to write so honestly about her bumpy ride as an expatriate. More than fifty years before Scarlett Johansson and Natalie Portman married Frenchmen and moved to Paris and long before celebrities revealed every detail of their lives to their followers via social media, de Havilland was sharing her gaffes and insecurities with her fans, saying, yes, even glamorous women can be embarrassed every once in a while; it's the price one pays for trading comfort for change. More than anything, though, I was struck by Miss de Havilland's wonderful writing. It exudes an effortless, timeless charm that makes it as appealing today as it was in 1962. Upon returning to the office, I learned Bennett Cerf himself had reverted the rights to Olivia in 1971, and so began my journey toward e-mailing with Olivia de Havilland about all things French on the eve of her 100th year.
I'm thrilled that Crown Archetype will put Every Frenchman Has One back in print for the first time in decade—and publish it as an e-book for the first time—on June 28th. I've also had the great honor of corresponding with Olivia on a series of questions and answers that reflect on the book, and on her sixty-plus years as an American woman in Paris. They are delightful, and will appear as a postscript to this new edition. (Her answer to my original question about her philosophy of Parisian style, by the way: "1. Discretion, 2. Discretion, 3. Discretion.").
With this reissue, I'm excited to have even a small part in celebrating the centennial birthday of one of Hollywood's greatest stars on July 1. I hope that anyone who loves Olivia de Havilland, Paris, or stories about Americans abroad will enjoy her book as much as I did.
Learn more about Every Frenchman Has One below!

Read it Forward is running an amazing sweepstakes! Enter for a chance to win a trip for two to Paris!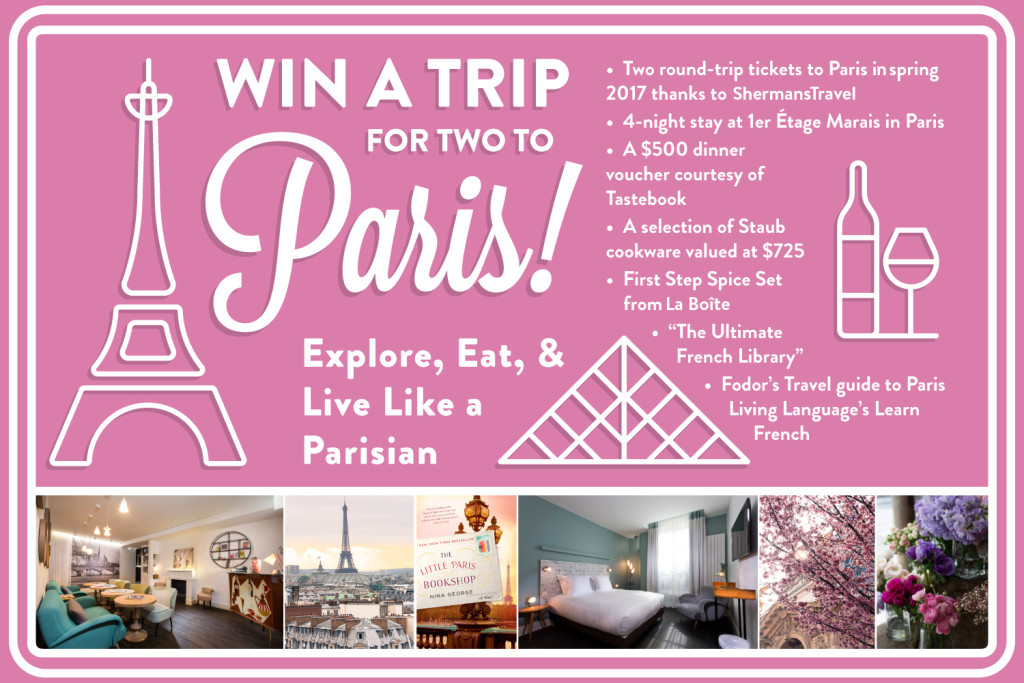 To celebrate the paperback publication of the international bestseller The Little Paris Bookshop by Nina George, we want you to experience spring in Paris!
Click here to enter before 11:59 PM (EST) on April 30th. Don't miss your chance!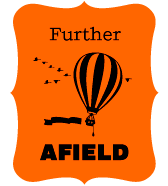 Further Afield features are from our greater Penguin Random House family. We pick interesting articles to keep you updated on genre-specific news, interviews, and more. 
Feeling anxious? Discouraged? Lovesick? Let The Book Apothecary prescribe the perfect book for you. Inspired by Monsieur Perdu in the best selling The Little Paris Bookshop, the apothecary will recommend books good for what ails you.
"With all due respect, what you read is more important in the long term than the man you marry, ma chère Madame." – Monsieur Perdu, The Little Paris Bookshop
"The Little Paris Bookshop is an enchantment. Set in a floating barge along the Seine, this love letter to books – and to the complicated, sometimes broken people who are healed by them – is the next best thing to booking a trip to France."—Sarah Pekkanen, author of Catching Air
Get your recommendations here!
We know readers tend to be writers too, so twice a month, we'll feature writing tips from our authors. Who better to offer advice, insight, and inspiration than the authors you admire? They'll answer several questions about their work, share their go-to techniques and more. Now, get writing! 
Do you ever base characters on people you know?
All the time! And I think you'd be hard-pressed to find a writer who wouldn't say the same thing. But. Even if you do base a character on a person you know, that person becomes changed in small or large ways to accommodate the story you are trying to tell. So in the end, a real person becomes a made-up person. That's the way it works for me in fiction, anyway.
How would you recommend creating and getting to know your characters?
For some writers, characters just come to them, though they are usually vague at first, ill formed.  As the writer keeps on with the story,  the characters reveal more and more about themselves.
There are times, though, when a character comes out of nowhere, fully formed; I love when that happens. HOW it happens, I have no idea. It's like finding a four- leaf clover.
Some writers are very meticulous about keeping notebooks, compiling details that will go into making up a character, and so by the time they start writing, the character is pretty much determined: how he looks and acts and says is less of a surprise.
If you want to write, you need to find out what methods work best for you. It's always best for me when it's FUN writing a character, even the obnoxious ones–in fact, the obnoxious ones might be the most fun to write.
How is writing historical fiction different from other fiction?
I think what's most important in historical fiction is that it feels like the story is actually taking place in whatever time you set it. People need to talk a certain way, have certain ways of doing things, have certain expectations of each other, certain moral codes. Clothes need to be right. Food. The political and social climate. You take on a lot of responsibility when you write historical fiction. You have a contract with a reader that you will take them somewhere else in time; you don't want them feeling like they're seeing behind the curtain. It's much harder than contemporary fiction!
Is there something to do to get in the writing mood?
Yes. Write.
I don't mean to sound flip with this answer. It seems to be true that if you just get that first sentence down, another will want to follow. That said, I'm almost always in the mood to write; it's what I love doing most. I think if writing is an awful chore for you, if you have to trick yourself into sitting down and putting down lines, you might be better off in another line of work. Even if you're a good writer, if you don't like doing it, what's the point?
What is your writing style, in five words or less?
Intimate.
Read more about The Dream Lover here.