Articles Tagged "golden globes"
With the Golden Globes coming up, it's time to check out all the books that have been adapted to nominated television shows and films. Keith Rice for Word and Film, dives in:
The best drama category highlights a wide swath of films covering a wider array of topics. "Spotlight," which is based on a series of Pulitzer Prize-winning articles from the Boston Globe that uncovered a pattern of sexual abuse and cover-ups by the Boston Archdioceses, is possibly the early favorite. However, there is strong competition on the adaptation front with "Carol," "The Revenant," and "Room" as contenders for the prize. "Carol" is based on the novelThe Price of Salt by Patricia Highsmith. "The Revenant" is inspired by true events and adapted from the novel of the same name by Michael Punke – although despite its quality, the film may prove too brutal for anything other than a nod. "Room" is based on the novel of the same name by Emma Donoghue. The nominees this year have really upped the game – and it could be anyone's win at this point.
Read the rest of the article on Word and Film here.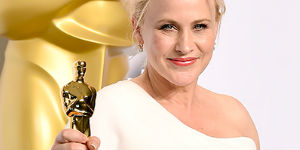 Patricia Arquette, Academy Award, Golden Globe and Emmy award-winning actress, is writing a memoir about her unconventional family, being a single mother at the age of 20, and her experience as a woman in Hollywood.  Susan Kamil, Publisher of Random House, who will edit the book, announced the world rights deal on Wednesday.
"Patricia Arquette is a remarkable woman," noted Susan Kamil, "and the instant empathy audiences feel when they see her work on screen is completely evident on the page. The material I read is revelatory and deeply moving. Not a surprise from an actress of such nuance and intelligence."
A fourth generation actor, whose eclectic and celebrated career has spanned the last three decades, Arquette is the great-granddaughter of vaudeville performers and granddaughter of the late comedian Cliff Arquette, who was best known for his character Charley Weaver, a character he created for "The Jack Paar Show".   Her late father, the journeyman actor Lewis Arquette, was credited by Patricia in her Screen Actors Guild Award acceptance speech for Boyhood as the person who "taught me to approach work with compassion and gratitude."
Ms. Arquette said,  "Over the years, the public has come to know aspects of me through my roles in film and television. Writing a memoir will be a new and intimate artistic journey for me, and I hope to bring to it the same honesty I have always sought to bring to my work as an actor."