Articles Tagged "illustration"
Editors get very passionate about books they work on – the Editor's Desk series is his or her place to write in-depth about what makes a certain title special. Get the real inside-scoop on how books are shaped by the people who know them best.
Meg Leder, Executive Editor, Penguin Books, takes us inside the world of adult coloring books, one of the hottest segments in publishing.  She edits "The Queen of Coloring,"Johanna Basford, whose newest title, Magical Jungle, is published by Penguin Books on August 9.
In your view, what accounts for the adult coloring book craze and what separates Johanna Basford from the adult coloring book artist pack?
I think the adult coloring book craze has taken hold for several reasons: (1) It's a welcome respite from the world of computer screens. Coloring is a distinctly physical activity, and there's something imminently relaxing about putting marker or colored pencil to paper, instead of spending time with screens. (2) It's an inherently democratic hobby. All you need is a book and a coloring tool—you don't need to spend a lot of money on supplies or time learning skills. (3) And I think it speaks to something a lot of us did when we were kids—we loved it then, so it makes sense we'd love it now, especially with the more intricate designs!
I think New York Magazine dubbed Johanna the "Queen of Coloring" for a number of reasons. She was one of the first people out there to invite adults into the coloring book realm. She's got a marvelous artistic vision—she's so exceptionally talented at creating intricate work that inspires colorists. And she's also extremely generous, both as a person and as a creator. She's said a number of times that she just starts the masterpieces, and her fans finish them. I think that generosity shows in her art and resonates with all her fans.
 Watch Joanna Basford's "Magical Jungle – An Inky Expedition & Coloring Book" video:
How did you come to acquire and edit your first adult coloring book and how did the process compare with how you work with Johanna on her books?
When I was at Perigee, I acquired my first two coloring books at roughly the same time: Outside the Lines by Souris Hong, and Color Me Girl Grush by Mel Elliott. Rather than the fact that they were coloring books, what drew me to both of these was the subject matter (street art and Ryan Gosling, respectively!) and the fact that they expanded notions of creativity. And then, luckily, they both really benefitted from the adult coloring book craze timing-wise.
In the years since, the coloring book audience has become a lot more opinionated and sophisticated about what they want in a coloring book, so with Johanna's titles, we've spent a lot of time with our amazing production team looking at paper weight, opacity, etc. When I worked on those first two books, I never imagined that several years down the line, I'd be spending as much time talking about the merits of white vs ivory paper as I do now. But we want to keep those colorists happy!
In addition to adult coloring books, what are a couple of the upcoming books you are editing that are of most interest and what do you hope will distinguish them?
I'm publishing a book called Carry This Book from Broad City's Abbi Jacobson this fall. It's a marvelous illustrated book detailing the contents of real people's and fictional characters' bags. It's one of the most wonderfully weird and weirdly wonderful projects I've worked on since I started publishing, and I think readers will be really intrigued by this glimpse into the way Abbi's mind and creative process work. Abbi's a spectacularly creative and cool person, and it shows on the page.
I'm also really excited about two other books I have coming out this fall:   Tree of Treasures: A Life in Ornaments and The Wasp That Brainwashed the Caterpillar. The former is a gift book that explores the way ornaments tell the stories of our lives, and the latter looks at all the strange animals that evolution has created, including the antechinus, whose males have so much sex during their three-week mating session that runaway testosterone levels make them bleed internally, go blind, and drop dead! I love that my list at Penguin has room for such a wide spectrum of books, and my hope is that readers will enjoy reading them as much as I loved editing them.
Explore some adult coloring books here!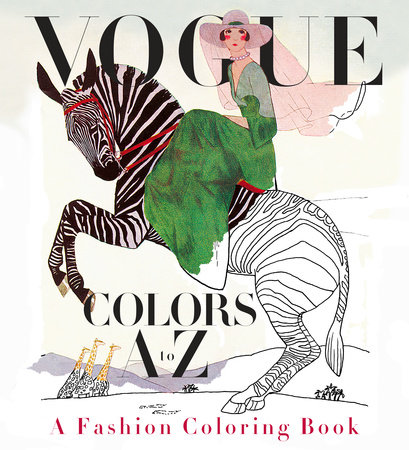 Adult coloring books have taken the world by storm. Here, Andy Hughes, (Vice President and Director of Production and Interior Design, Knopf Doubleday Publishing Group) takes us behind the scenes of the new Vogue Colors A-Z.
The Vogue coloring book is my first foray into the making of what's become a publishing phenomenon. I've been producing books for Alfred A. Knopf publishing for nearly 40 years, during which time, I've handled every genre of book, including massive, sumptuous coffee table Vogue books (Vogue Living, World of Vogue, Vogue Weddings), so I welcomed the opportunity and challenge to figure out how to put together a typically lower-priced interactive consumer book coupled with the prestige of the Vogue brand.
When the idea was introduced to me in December 2015, it was soon apparent that reconstructing full-color vintage Vogue cover images into outline form would be a difficult challenge. Valerie Steiker, the Vogue Editor who conceived and assembled the project, sent Knopf's editor, Shelley Wanger, four sample images at my request for testing. The alphabetical architecture of the book meant 26 images; when I studied them all, some of the covers were rendered simply with large mono-colored elements, others with the shadowing of garments with folds or the translucency of a diaphanous silky material, and the rest elaborated with rich details of texture and pattern. The goal of retaining the readability of the images, without the assistance of color, shading, and texture, was my immediate concern and challenge to figure out.
The first task was to de-colorize the image and delete the tonal gradations of the art. I had a pre-press vendor handle this in Photoshop, instructing them to retain as much of the skeletal outlines of the images as possible. But, the resulting image file retained just a soft, fuzzy outline, and many of the details got diminished in this filtering process. It was apparent that the services of an artist-illustrator would be needed to re-draw the art to enhance the line and embellish the image to suggest volume and delineate areas of detail for the colorist to fill in. A young, fashionable colleague of mine suggested her aunt, Cecilia Lehar, who did just this sort of inking. So, I wrote Cecilia, who years ago had coincidentally worked on Vogue patterns for 11 years, and worked on an exhibition, 250 years of Fashion, for the Philadelphia Museum of Art. I reviewed her portfolio, and asked her to prepare a line art version of the four pieces I had de-colorized. Her initial work was excellent: faithful to the original, yet now as a line rendering that could be successfully filled in with colors.
From that moment on, for the next month, it was meetings at Vogue and in my office to review the ensuing progress of Cecilia's re-work of all the illustrated covers and incidental art throughout. In the book, each cover appears on the right side page of a spread, faced on the left page with the letter of the alphabet that corresponds to some element or theme of the cover image. Initially, the Vogue Deputy Design Director, Alberto Orta, chose a period-appropriate "Deco" border motif surrounding the letter of the alphabet, dramatic with contrasting black and white panels. We realized quickly that any solid filled-in area needed to be "emptied" to only an outline so another element of the book could be filled in with color by the book's owner. And, each letter is further decorated by drawings evocative of the letter and cover image, which also needed to be re-drawn as line art. So, as the book took form, we added more and more colorable areas.
The book also includes a six-page barrel gatefold insert, perforated for removal from the book, comprised of 21 appareled models, consecutively arranged, representing the years 1912-1932. Again, each figure required re-drawing and refinements making them suitable for coloring. The cover of this paperback book features six-inch flaps (more figures to color!), and printed on the verso side of the cover, an array of the same decorative drawings that punctuate each letter within the book.
Manufacturing a book equal to the quality of Vogue's historical covers required extensive research to identify the ideal paper to print on. The paper's brightness, opacity and surface smoothness were all considered carefully, and finally, a 120-pound text (aka 65-pound cover) Accent Opaque paper was deemed perfect, but the next challenge was to make sure paper this thick could be folded well on the press equipment available for the large quantity of books being printed and the tight schedule we were dealing with. Press tests were conducted—luckily successful—though pushing at the limits of the equipment's capabilities. Another embellishment to the book was including thumbnail-sized reproductions of the original covers (color elements are very uncommon in coloring books). Their reproduction was critical, and including these references of the original art allowed Valerie the opportunity to identify the cover images' creators along with fascinating anecdotes, which further elevates Vogue Color A-Z above other coloring books by adding fashion history, wit, and a challenge to this book's colorist to match the original artwork.
Read below to learn more about the book!