With the Golden Globes coming up, it's time to check out all the books that have been adapted to nominated television shows and films. Keith Rice for Word and Film, dives in:
The best drama category highlights a wide swath of films covering a wider array of topics. "Spotlight," which is based on a series of Pulitzer Prize-winning articles from the Boston Globe that uncovered a pattern of sexual abuse and cover-ups by the Boston Archdioceses, is possibly the early favorite. However, there is strong competition on the adaptation front with "Carol," "The Revenant," and "Room" as contenders for the prize. "Carol" is based on the novelThe Price of Salt by Patricia Highsmith. "The Revenant" is inspired by true events and adapted from the novel of the same name by Michael Punke – although despite its quality, the film may prove too brutal for anything other than a nod. "Room" is based on the novel of the same name by Emma Donoghue. The nominees this year have really upped the game – and it could be anyone's win at this point.
Read the rest of the article on Word and Film here.
Star Wars: The Force Awakens is opening in theaters on December 18th, and everyone's talking about it.
To celebrate, we made a whole Star Wars page! You can browse through your favorite series, find kids books for the younger fans, and find new ones to tide you over before the movie.
For the Star Wars lover in your life, check out our gift list here.
And last but not least, you can enter for a chance to win several Star Wars kids! Enter here!
In The Knockoff, by Lucy Sykes and Jo Piazza, Imogen Tate is a highly accomplished fashion editor at the top of her game, in spite of the fact that she is a bit tech-challenged (she's barely mastered e-mail). Eve Morton is her ambitious assistant at Glossy magazine. When Imogen returns from a leave of absence, Eve has taken over and is determined to turn the beautiful pages of Glossy into an app.
Imogen has to reinvent herself in ways she never imagined as she struggles to re-gain control of the magazine. Office politics have never been quite so stylish.
Lucy Sykes is the former fashion director of Marie Claire and Rent the Runway. Jo Piazza is the Managing Editor of Yahoo Travel. It's a co-author match made in heaven: The Knockoff is filled with insider dish on the worlds of fashion and tech.
Here are a few of their favorite things to do, see, and read–offline as well as online.
LUCY AND JO'S FAVORITE THINGS
Jo's Favorites
1. Favorite sites and apps
I travel so much that most of my favorite sites and apps are things I can use on the go. I use Buddhify to meditate on the road.
I am an NPR addict so I have the WNYC app, but then I individually have the This American Life and The Moth apps, which I listen to constantly while I travel.
My favorite hotel booking app is Hotel Tonight for last minute booking (and I am almost always last minute). I use City Maps to get around in a new place and I am obsessed with the Go Pro app.
2. Favorite offline things to do with friends
Yoga, cooking dinner, skiing.
Also…seeing how long we can go without looking at our phones.
3. Favorite books about women in the workplace
The play All About Eve inspired so much of The Knockoff that we have to mention it here (in addition to the movie).
Sheryl Sandberg's Lean In
I am obsessed with Girl Boss right now. I think Sophia Amoruso is my spirit animal.
I also love Kelly Cutrone's If You Have to Cry Go Outside
4. Favorite movies about women in the workplace
I remain obsessed with the movie Working Girl (Oh the shoulder pads!)
9 to 5 (obviously)
Baby Boom (First time I girl-crushed on Diane Keaton!)
Legally Blonde
The Devil Wears Prada
Lucy's Favorites
1. Favorite sites and apps
My Flybarre App is friendly, quick, and simple. It makes working out seem easy!
My Instagram is right up there–being a visual person and having the attention span of a gnat, it gives me a jolt of excitement 4 or 5 times a day. Does that sound naughty?
Netflix is so amazing. I get into bed and put my headphones on and I am off on a fascinating bizarre creepy story while my boys watch boring football–perfect!
2. Favorite offline things to do with friends
I adore Flybarre an amazing super hectic sexy boot camp/ballet class–all the rage in NYC. I have taken all my friends and my husband!
I adore cooking for a dinner party, totally from scratch, once a week. I call it farm stand to table, as I buy everything from Farmer Harry down the road. I also love to buy vintage cocktail glasses and old silver. Lots of white flowers and candles are my tricks to making a pretty table.
Hanging with my family–all the cousins, aunties and uncles and grandparents. Watching my elder son become a passionate sportsman and a good guy. Seeing my young son playing the part of Lysander was a first, and making fairy cakes with him –and eating all the mixture first.
3. Favorite books about women in the workplace
All About Eve (Well, the play is as good as a book–it's so sharp, timeless and true!
4. Favorite movies about female friendships/women in the workplace
Legally Blonde
All About Eve (My total all time fave–Marilyn Monroe has a bit part–one of her first roles!)
Mildred Pierce (Both the original and remake are fantastic.)
The Help
Mad Men (Technically not a movie, but it so often feels like one!)
Follow Lucy and Jo on Instagram : @lucysykesrellie, @jopiazza12
Read more about The Knockoff here.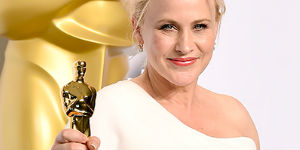 Patricia Arquette, Academy Award, Golden Globe and Emmy award-winning actress, is writing a memoir about her unconventional family, being a single mother at the age of 20, and her experience as a woman in Hollywood.  Susan Kamil, Publisher of Random House, who will edit the book, announced the world rights deal on Wednesday.
"Patricia Arquette is a remarkable woman," noted Susan Kamil, "and the instant empathy audiences feel when they see her work on screen is completely evident on the page. The material I read is revelatory and deeply moving. Not a surprise from an actress of such nuance and intelligence."
A fourth generation actor, whose eclectic and celebrated career has spanned the last three decades, Arquette is the great-granddaughter of vaudeville performers and granddaughter of the late comedian Cliff Arquette, who was best known for his character Charley Weaver, a character he created for "The Jack Paar Show".   Her late father, the journeyman actor Lewis Arquette, was credited by Patricia in her Screen Actors Guild Award acceptance speech for Boyhood as the person who "taught me to approach work with compassion and gratitude."
Ms. Arquette said,  "Over the years, the public has come to know aspects of me through my roles in film and television. Writing a memoir will be a new and intimate artistic journey for me, and I hope to bring to it the same honesty I have always sought to bring to my work as an actor."