We are excited to announce that Penguin Random House has become the first book publisher to sign onto the Renewable Energy Buyers' Principles, part of the Renewable Energy Buyers Alliance (REBA), which informs utilities and other suppliers what industry-leading, multinational companies are looking for when buying renewable energy from the grid. The program, which is supported by the World Wildlife Foundation (WWF), launched in July of 2014 with just 12 signatories. Penguin Random House is now the 78th company to sign.
Through our paper certification process, LED lighting program, and energy offset programs, among other programs, Penguin Random House continues to improve and implement "green" practices across our operations. Since 2014, we have already reduced our carbon emissions by 10%, and we remain committed to reducing carbon emissions by 10% by 2020 and 20% by 2025 through improvements to our company's infrastructure and energy-saving capacity.
The 2019 Andrew Carnegie Medals for Excellence in Fiction and Nonfiction Longlist has been announced and includes 20 books published by Penguin Random House imprints.   Established by the American Library Association in 2012, the Carnegie Medals for Excellence serve as an ALA guide to help adults select quality reading material.
Our longlisted nonfiction titles:
Our longlisted fiction titles:
View the complete longlist here.
The 2019 Carnegie Medals for Excellence six-title shortlist—three each for the fiction and nonfiction medals—will be announced on October 24.
The two medal winners will be revealed at the Reference and User Services Association's Book and Media Awards (BMAs) event at American Library Association (ALA) Midwinter Meeting in Seattle on January 27, 2019.
WASHINGTON BLACK, a novel by Esi Edugyan, published by Knopf and Random House Audio, and THE LONG TAKE by Robin Robertson, which Knopf will publish in January in the U.S., have been selected by the judges as two of six semi-finalists for the 2018 Man Booker Prize.
Among the most coveted international prizes awarded annually for literary fiction, the nominees were chosen from titles published in the UK between October 1, 2017 and September 30, 2018.
The winner will be announced the evening of Tuesday, October 16.
Congratulations to all our longlisted and shortlisted authors and their publishers.
Click here for the complete list of Man Booker Finalists.
Penguin Random House is #1 on the newly released Forbes list of "America's Best Midsize Employers 2018." Forbes annually recognizes and ranks U.S. employers based on an independent survey that evaluates the attitude of employees toward their own company and the public perception of the company by industry employees.
Heralding this year's list with a prominent feature article, Forbes staff writer Vicky Valet focused on Penguin Random House, noting that "the company is celebrated by its workforce for being an employer that values freedom." Madeline McIntosh commented: "People are given a great deal of ownership to make independent decisions. If you do the right thing by the books and by readers and by authors, you're rewarded by being given new challenges."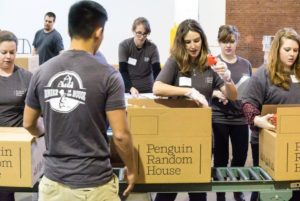 Forbes further recognized that "the entrepreneurial spirit that shapes the employee experience at Penguin Random House has proven key to the publisher's recruiting efforts, much of which focus on college campus outreach and the company's internship program. It has played an important role in retention, too. Access to online courses and a mentoring program allow Penguin Random House's 5,000 North American workers to take career development into their own hands, as do events like Company Week, an annual series that invites employees and authors to gather for days of panels, presentations and community service. This culture of empowerment—coupled with unique benefits like a sabbatical program, student loan repayment assistance and, yes, free books—helps turn entry-level hires into lifetime employees. 'So many have risen through the ranks,' says Madeline. 'I was an assistant 24 years ago, and I'm not an unusual case.'"
Penguin Random House's commitment to the communities it serves was also acknowledged, including literacy sponsorships and the more than $2 million in creative writing scholarships our company awarded to New York City public high school students over the past 25 years. Looking globally, Forbes referenced our ongoing partnerships with worldwide organizations like Save the Children, and employee volunteers who journeyed to Rwanda in January.
In addition, Penguin Random House was on Forbes' Best Employers for Diversity list for the first time this year, placing at #64 overall for both large and midsize employers.
The Forbes feature concludes with these words from Madeline: "We're not just a bunch of people who like to read. We believe books have the power not just to help people's days through entertainment or inspiration, but to really change the conversation and the culture at large."
In compiling this list, Forbes worked with market research company Statista, which surveyed 30,000 Americans working for businesses with at least 1,000 employees. All the surveys were anonymous, allowing participants to openly share their opinions. The respondents were asked to rate, on a scale of zero to 10, how likely they'd be to recommend their employer to others. Statista then asked respondents to nominate organizations in industries outside their own.
To view the complete Forbes list and article, click here.
Artemis, a near-future thriller by Andy Weir, author of the # 1 New York Times bestseller and international blockbuster The Martian, will be published November 14, 2017.
Said Andy Weir, "I'm really excited about Artemis. I got to do the science-dork stuff I love, but this time with a much more complex and character-driven plot. It's a big stretch for me, but I think it came out well. Hopefully the readers will agree."
An adrenaline-charged crime caper that features smart, detailed world-building based on real science and the charm that makes Weir's writing so irresistible, Artemis introduces a protagonist every bit as memorable asThe Martian's Mark Watney: Jasmine Bashara, aka Jazz. Jazz is just another too-smart, directionless twenty-something, chafing at the constraints of her small town and dreaming of a better life.  Except the small town happens to be named Artemis—and it's the first and only city on the moon.
Life on Artemis is tough if you're not a rich tourist or an eccentric billionaire, and Jazz is decidedly not a member of either category.  She's got debts to pay, her job as a porter barely covers the rent, and her budding career as a smuggler isn't exactly setting her up as a kingpin, much to her disappointment. So when the chance at a life-changing score drops in her lap, Jazz can't say no, even though she's sure there's more to the setup than meets the eye. And indeed, pulling off the perfect crime is just the first of Jazz's problems as she finds herself in the middle of a conspiracy for control of Artemis itself.
As first reported by Tracking-Board.com, movie rights to Artemis have been acquired in a preempt by 20th Century Fox and New Regency, with Simon Kinberg and Aditya Sood, two of the producers of The Martian, attached to produce for Genre Films. Starring Matt Damon and directed by Ridley Scott, The Martian was nominated for seven Oscars and won both the Best Picture and Best Actor awards at the Golden Globes. The movie has grossed more than $630 million worldwide.
Hailed as a new science-fiction classic,The Martian book has sold more than three million copies in North America, spending over a year and a half on the New York Times bestseller list since its February 2014 publication by Crown. To date, the book has been published in forty languages worldwide.
Learn more about the book here;
It's been an amazing year for reading, and the The New York Times Book Review editors have selected some of their favorites.
Check out some of the most loved books of the year:
At Sunday's American Music Awards, Zayn Malik won the New Artist of the Year award!
Learn more about this beloved up-and-comer through his new book:
"This book is my diary of a period that I would like to share with you all. I hope that there are things in the book that contextualise some of the moments and memories we have all shared together. There are things I address in the book that are very personal to me, things that I have never told anyone, things I still find hard to talk about. It's a part of a journey I'm still on."—ZAYN
Penguin Random House authors Ron Chernow, James McBride, Elaine Pagels, Abraham Verghese and Isabel Wilkerson are among the recipients of this year's National Humanities Medals, and our author Sandra Cisneros is among the recipients of the National Medal of Arts, it was announced this week by President Barack Obama. These prestigious awards will be personally presented by the President in a special White House ceremony on Thursday, September 22.  The ceremony will be streamed live.

Our authors were recognized by the National Endowment for the Arts and the National Endowment for the Humanities as follows:
The National Endowment for the Arts and the National Endowment for the Humanities were established by Congress in 1965 as independent agencies of the federal government. To date, the NEA has awarded more than $5 billion to support artistic excellence, creativity, and innovation for the benefit of individuals and communities.
Penguin Random House Creative Writing Awards is a wonderful program that presents scholarships to NYC high school seniors.
Since 1994, more than two million dollars have been awarded to students and their schools by Random House, and now Penguin Random House, through this awards competition.
Congratulations to this year's first place winners:
Katelyn Sasson of Edward R. Murrow High School for Poetry;
Jason Lallijee of Townsend Harris High School for Fiction & Drama;
Roberta Nin Feliz of Manhattan Center for Sciences and Mathematics forMemoir;
David Ortiz of Marta Valle High School for Graphic Novel;
and Devin Johnson of Thomas A. Edison Career Technical High School, the recipient of the $10,000 Maya Angelou Scholarship Award for Spoken Word Poetry.
Read more about the awards here.
Last night, Hamilton cleaned up at the Tony Awards, to no one's surprise. If you're looking for a deeper dive into the life of Alexander Hamilton, look no further. Ron Chernow's exhaustive biography was Lin-Manuel Miranda's muse and guide when he was writing the show. 
Another literary win was A View from the Bridge, for best revival of a play. Immerse yourself in reading Arthur Miller's intense, devastating play.