Artemis, a near-future thriller by Andy Weir, author of the # 1 New York Times bestseller and international blockbuster The Martian, will be published November 14, 2017.
Said Andy Weir, "I'm really excited about Artemis. I got to do the science-dork stuff I love, but this time with a much more complex and character-driven plot. It's a big stretch for me, but I think it came out well. Hopefully the readers will agree."
An adrenaline-charged crime caper that features smart, detailed world-building based on real science and the charm that makes Weir's writing so irresistible, Artemis introduces a protagonist every bit as memorable asThe Martian's Mark Watney: Jasmine Bashara, aka Jazz. Jazz is just another too-smart, directionless twenty-something, chafing at the constraints of her small town and dreaming of a better life.  Except the small town happens to be named Artemis—and it's the first and only city on the moon.
Life on Artemis is tough if you're not a rich tourist or an eccentric billionaire, and Jazz is decidedly not a member of either category.  She's got debts to pay, her job as a porter barely covers the rent, and her budding career as a smuggler isn't exactly setting her up as a kingpin, much to her disappointment. So when the chance at a life-changing score drops in her lap, Jazz can't say no, even though she's sure there's more to the setup than meets the eye. And indeed, pulling off the perfect crime is just the first of Jazz's problems as she finds herself in the middle of a conspiracy for control of Artemis itself.
As first reported by Tracking-Board.com, movie rights to Artemis have been acquired in a preempt by 20th Century Fox and New Regency, with Simon Kinberg and Aditya Sood, two of the producers of The Martian, attached to produce for Genre Films. Starring Matt Damon and directed by Ridley Scott, The Martian was nominated for seven Oscars and won both the Best Picture and Best Actor awards at the Golden Globes. The movie has grossed more than $630 million worldwide.
Hailed as a new science-fiction classic,The Martian book has sold more than three million copies in North America, spending over a year and a half on the New York Times bestseller list since its February 2014 publication by Crown. To date, the book has been published in forty languages worldwide.
Learn more about the book here;
It's been an amazing year for reading, and the The New York Times Book Review editors have selected some of their favorites.
Check out some of the most loved books of the year:
At Sunday's American Music Awards, Zayn Malik won the New Artist of the Year award!
Learn more about this beloved up-and-comer through his new book:
"This book is my diary of a period that I would like to share with you all. I hope that there are things in the book that contextualise some of the moments and memories we have all shared together. There are things I address in the book that are very personal to me, things that I have never told anyone, things I still find hard to talk about. It's a part of a journey I'm still on."—ZAYN
Penguin Random House authors Ron Chernow, James McBride, Elaine Pagels, Abraham Verghese and Isabel Wilkerson are among the recipients of this year's National Humanities Medals, and our author Sandra Cisneros is among the recipients of the National Medal of Arts, it was announced this week by President Barack Obama. These prestigious awards will be personally presented by the President in a special White House ceremony on Thursday, September 22.  The ceremony will be streamed live.

Our authors were recognized by the National Endowment for the Arts and the National Endowment for the Humanities as follows:
The National Endowment for the Arts and the National Endowment for the Humanities were established by Congress in 1965 as independent agencies of the federal government. To date, the NEA has awarded more than $5 billion to support artistic excellence, creativity, and innovation for the benefit of individuals and communities.
Penguin Random House Creative Writing Awards is a wonderful program that presents scholarships to NYC high school seniors.
Since 1994, more than two million dollars have been awarded to students and their schools by Random House, and now Penguin Random House, through this awards competition.
Congratulations to this year's first place winners:
Katelyn Sasson of Edward R. Murrow High School for Poetry;
Jason Lallijee of Townsend Harris High School for Fiction & Drama;
Roberta Nin Feliz of Manhattan Center for Sciences and Mathematics forMemoir;
David Ortiz of Marta Valle High School for Graphic Novel;
and Devin Johnson of Thomas A. Edison Career Technical High School, the recipient of the $10,000 Maya Angelou Scholarship Award for Spoken Word Poetry.
Read more about the awards here.
Last night, Hamilton cleaned up at the Tony Awards, to no one's surprise. If you're looking for a deeper dive into the life of Alexander Hamilton, look no further. Ron Chernow's exhaustive biography was Lin-Manuel Miranda's muse and guide when he was writing the show. 
Another literary win was A View from the Bridge, for best revival of a play. Immerse yourself in reading Arthur Miller's intense, devastating play.
Congratulations to Naomi Novik on winning a 2015 Nebula Award for her novel, Uprooted.
The Nebula Awards recognize outstanding novels, novellas and short stories in the science fiction and fantasy genres.
Novik's novel is an absorbing and moving introduction to a strange world, held in thrall by a cold wizard known as the Dragon. His protection of a peaceful village comes at a cost – a young woman who must serve him for ten years.
Learn more about the book here:
George Hodgman's bestselling  memoir Bettyville is being developed into a dramedy series by Paramount Television. Oscar winner Shirley MacLaine and Tony winner Matthew Broderick are attached to star, it was reported by Deadline Hollywood. The adaptation is being written by John Hoffman (Looking, Grace and Frankie), who will serve as executive producer and showrunner on the potential series.  Hodgman will also executive produce, alongside Archer Gray's Anne Carey and Amy Nauiokas (The Diary of a Teenage Girl). The project is currently being shopped to networks.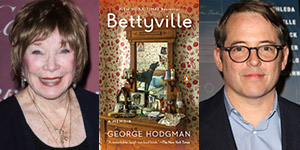 Bettyville follows George Hodgman (Broderick) after he leaves Manhattan for his hometown of Paris, Missouri to care for his aging mother Betty (MacLaine). He expects to be away for only a few weeks, but life conspires to keep him there, armed with not much more than a (mostly) willing heart, a broken past to sort out, and two irascible personalities: his own, and Betty's. The funny and heartbreaking memoir chronicles the mother-son journey, capturing truths about family, identity, and our current American landscape.
Learn about the book here.
This Wednesday (4/20), Universal Pictures released the first official trailer for the highly anticipated movie adaptation of the #1 bestselling novel by Paula Hawkins, The Girl on the Train . The trailer offers a glimpse of Emily Blunt in the role of Rachel Watson as we see the dark themes of Hawkins' psychological thriller come to life.
The haunting trailer has been shared by many media outlets and continues to spread quickly across social media platforms, furthering the book's widespread popularity.
Read about the book here: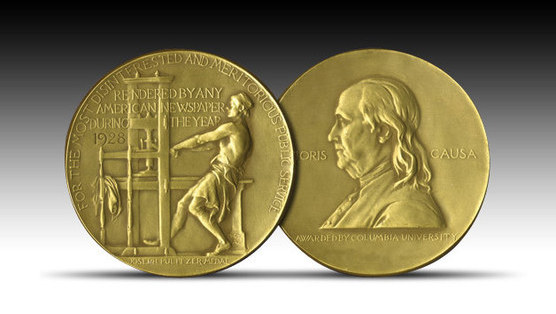 It is the centennial year of the Pulitzer Prize and the awards have just been announced. From Penguin Random House, we are proud to publish these Pulitzer Prize winners:
General Non-Fiction: Joby Warrick for Black Flags: The Rise of ISIS
History: T.J. Stiles for Custer's Trials: A Life on the Frontier of a New America
Biography or Autobiography: William Finnegan for Barbarian Days: A Surfing Life
Congratulations also to Kelly Link, whose short story collection, Get in Trouble, was a finalist for Fiction.
Click through to learn about the books and find yourself an award-winning read!