Articles Tagged "romantic"
 Whether you're celebrating Valentine's Day with a romantic partner, a best bud, or with the greatest love of your life (you!), we've got you covered.  Winc wine delivery club has chosen some  great book and wine pairings to cuddle up with. 
For example…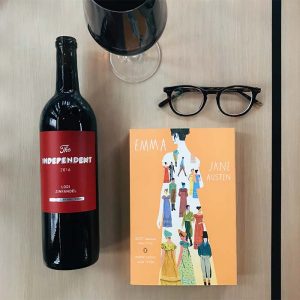 The Sweethearts

Emma: Jane Austen said, "It's such a happiness when good people get together." So, grab your sweetheart this Valentine's Day and snuggle up with Austen's classic, Emma, a sparkling comedy of love and marriage. Nothing delights Emma Woodhouse more than interfering in the romantic lives of others. And we bet nothing with delight you more than curling up with this witty, charming novel and an equally complex and delicious wine, like The Independent Zinfandel.
See all the wine and book pairings here!
Unlucky in love? Aziz Ansari goes deep into the contemporary dating world in his new book, Modern Romance. With his coauthor, noted sociologist, Eric Klienenberg, Ansari looks at the social science of dating with his signature sense of humor.
Read more about Modern Romance here.
Let's play Bingo! We'll be featuring printable, themed Bingo cards seasonally. If you've read a book that matches a trope on one of the squares, cross it off. If you cross off any five squares in a row, that's Bingo! Take a photo and tweet @penguinrandom or post to Instagram with the hashtag #bingoreads. Tell us some of the books you liked! We'll feature the books we read, the books you read, and challenge staff members to play.  
(click image to see full size and print out)