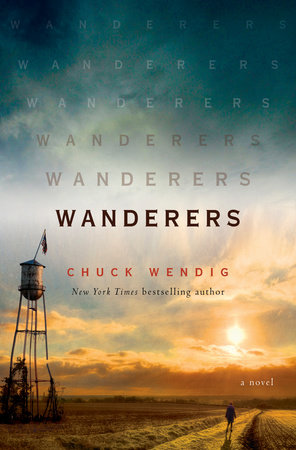 This interview was done at New York Comic Con 2018.
We caught up with Chuck Wendig, author of the Star Wars Aftermath Trilogy, to chat about Star Wars, Cantina Bartenders, and, of course, sandwiches.
Keith Rice: Can you share what you are working on now with us?
Chuck Wendig: Sure, sure. I have a stand-alone in 2019, in July, with Del Rey – who published me for Star Wars. I guess we can call it a sci-fi/horror epic kind of thing. Think of it as a little bit of Stephen King, a little bit of Station Eleven, a little bit of The Stand, with a vein of Michael Crichton throughout.
KR: You're speaking my language.
CW: Good, good! It's epic. It's a big book. I think in manuscript form, it's almost 1200 pages. It's called Wanderers, and I am very excited about that. Then this weekend [October 6th, 2018], I have the premiere of "You Might Be the Killer" on Syfy which I wrote with Sam Sykes. We randomly tweeted back and forth this slasher/serial killer story, we improved it and it got optioned for film. So, the lead characters are Sam and Chuck and Chuck is being played by Alyson Hannigan – of all the things in the world.  That's happening, just proving that 2018 is truly the dumbest timeline.
KR: You wrapped up the Aftermath Trilogy last year, how would you describe the series for readers who haven't picked up it yet?
CW: Aftermath is a new trilogy set between the end of Return of the Jedi and the beginning of The Force Awakens. It takes us up to and includes the Battle of Jakku. And it's about that sort of slow collapse of the Empire and the rise of the new Republic. And it sort of has a vibe in there that speaks to the Nazi hunters after World War II who tracked down all the Nazi war criminals across world. There is a group that takes on the task of finding some of the fallen Imperials and they get caught up in all of the dynamics with the new Republic and falling Empire.
KR: What was it like taking on such a pivotal time in the Star Wars universe?
CW: Awesome. It was amazing. It was great. I really don't know what to say beyond that.  Like I have no complaints other than the surprise that they let me do it.
KR: What was the process like coming into something as well-established as Star Wars?
CW: It wasn't just that Star Wars is so well-established because in some ways it wasn't, and that sounds strange given what we know about Star Wars. But Star Wars, after it was picked up by Disney, was a cleaner slate than it was five years previously. So, that actually allowed me more freedom in many ways than if we had been constrained by 100, 200, 500 books and other properties. The TV shows, films, and one or two books were able to kind of inform what we did. But of course the other trick was because we were building into The Force Awakens, there were issues there with secrecy about what they could tell and what they couldn't tell. For instance, we had the character of Temmin Wexley in Aftermath who eventually becomes Snap Wexley – Snap being a nickname – in The Force Awakens.  It was sort of like playing chess with someone that you can't see. So, you're always trying to figure out what you're allowed to do and what you're not allowed to do, so it's kind of a neat process of discovery.
KR: What made you want to take on the Cantina Bartender for A Certain Point of View?
CW: I was always fascinated because we didn't really get a good sense of why droids were a problem until the "Clone Wars" – you know the films and the "Clone Wars" show. This guy seem to hate them; he was very mad at droids. So, I thought this is a good opportunity to connect those two eras, but obviously there is some grave distrust with droids that has been sewn across the galaxy and this guy is real salty about it.
KR: So you've been crazy busy since the debut of your first novel. Between novels, comics, your blog, sandwich making …
CW: Yeah, sandwich making, that's really taking over [laughs].
KR: How do you balance everything?
CW: I am fortunate in that this is my full time job, so all of my time is there to devote. I mean, outside of like my son and my wife and whisk(e)y, and also sandwiches. I have a lot of time to devote to doing this stuff. Mostly it's just trying to strategize going forward, having a long plan forward and a long tail behind that sort of keeps me going.
KR: So mostly it's just …
CW: Having time to strategize, going forward, and having a long plan forward and a long tail behind me and that sort of keeps me going.
KR: Okay, so I have ask how did the Wendigo come about?
CW: There was an article in the New York Times that I think was just like "bleh."  You know the New York Times will do things like "Wow, let's make guacamole out of peas," and everyone's like "bleh." And I'm on board with the "bleh," but I also feel like you should keep an open mind about things. They were like "a new, cool sandwich is this old sandwich with peanut butter and pickles."  I mean, my grandmother used to eat this sandwich. And then I was like "that sounds sort of disgusting." But, then I thought, "well, maybe it's not, though."  When you think about Thai food it has that sort of sourness and then the peanut sauce. Eh, yeah, I thought it could kind of work. So, I try it and it was delicious. Then I was discussing it with other people, and they were asking "what if mayo was involved" because mayo is food lube. Really its only function is helping food slide down your gullet.  Peanut butter can be a little forbidding, so I added the mayo.  Then I was like, "well, this does need bacon because why not." It really becomes almost like a Thai sandwich. You got all these taste factors going into it. Really, you know, that's where it was. I put it out there and people were like "you're disgusting" and I'm like "well, try it" and they're like "well, that's disgustingly delicious!" Yep.
Check out Chuck Wendig's Wanderers, out in July 2019!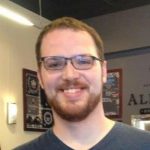 Keith Rice is a West Virginia native and a freelance writer residing in Philadelphia with his lovely, if oft exasperated wife and three cats. Keith fosters an enthusiastic appreciation for beer and scotch, collects comics, and most importantly is an avid reader and movie lover. Oh, he's a pretty big fan of sci-fi and fantasy as well. Drop him a line @Keith_Rice1.
This interview was done at New York Comic Con 2018.
We caught up with Sylvain Neuvel to discuss the Themis Trilogy, alien languages, and a bit of cosplay.
Keith Rice:  All right, so Only Human came out in May and it closes out the Themis Files trilogy.  How does it feel to be done?
Sylvain Neuvel:  Weird.  It's very weird.  Finishing that book was an emotional moment.  There was  a lot of crying involved in the last chapters, just knowing that I might never see these characters again. And it's kind of stupid, because they were there, they will always be there.  They're in the books, they exist.  But it was strange, and also Sleeping Giants was my first novel, so I've spent my entire writing career in that universe.  Getting out of it is a scary thing, though it's also exciting.
KR:  Did you envision the story as trilogy when you started or did that come about – –
SN:  Well, originally, I thought it might be more of an open series, but It's a rarer thing in publishing nowadays to have just a like a real open-ended series like, say, James Bond.
KR:  Sure.
SN:  And so, well, quickly I figured out it would be a trilogy and I kind of knew how I wanted it to end, so I went for it.
KR:  Given that do you plan to go back into the world of Themis Files at any point? Is that something you've thought about?
SN:  I would love to someday.  There are other things I want to do.  I'm working on something now and so it's nice to take a break and just let the story do its thing.  I'm not there [on revisiting Themis Files].  But if people want it, if there's a demand for it, I'd love to come back to it someday.
KR:  How would you describe the Themis Files to readers that haven't had a chance to pick it up yet?
SN:  It's a strange one to describe.  It's science fiction but it's also very grounded, it happens here, and the format is, I think, as important to the experience as the story itself.  It's told in the form of interviews, between a mysterious interviewer and the main characters of the book.  So, it's pretty much three books of nothing but dialogue. It's a very different reading experience than what most people would be used to.  In terms of story it's like everything I do, it is grounded in science fiction. Book one is a search for giant metal body parts buried underground by an unknown civilization thousands of years ago.  And it has a lot to do with first contact, but it's also an exploration of what it means to be human.  Human nature in general, or what makes you you and not me, and identity, and other themes that are very human.  So, even though there is alien life involved, it's very much about us and not them.
KR:  Your take on aliens was one of the more fascinating aspects for me.  They aren't that different from us.
SN:  No.
KR:  What led you to that?
SN:  Well, there's advantages in making aliens closer to us, there's a reason why, you know, every alien on a TV show, you know has at least two arms and legs, because we can hire an actor to do it.  This particular case I wanted them to be among us.  So, they had to be hiding in plain sight, it's kind of difficult if you're a giant amoeba or big blob of goo.
KR:  And I know you're a linguist as well.  Do you have any plans to dive into a language for any of your books?
SN:  Well, Only Human does have some alien language bits in there.
KR:  True, but I meant on a larger, or I guess more Tolkien-esque scale?
SN:  Actually, I did write grammar and a lexicon.
KR:  Oh?
SN:  Well, I know that I'm a freak and I couldn't just improvise those like ten lines [laughs].  So, I pretty much wrote the whole language just so I could put those two lines in the book.  Someday I'd like to share that lexicon and grammar with the world. For example, they could read the dedication at the end of the trilogy, which is in the language.
KR:  I know you're a big cosplay fan and we are at NYCC.
SN:  Yeah.
KR:  What's your favorite or your best costume?  One that you've put together?
SN:  That I made? I will say my Grandizer robot costume.  It was super fun.
KR:  I imagine the proportions were a bit tricky on that one.
SN:  Yeah, I mean, I made a Vader costume that I spent about a year on, but with Vader you have a costuming group, you can go with references online, you can know which actual parts of what were used to make it.  It gets tons of references, so you know things basically down to the millimeter. With Grandizer you're looking at an anime made in the 70's.  If you look at the show, in one scene, you'll have say, seven spikes on his fist, and in another scene you'll have nine and in another there'll be three.  Because the guys drawing it, they're just going super-fast. Plus there were a lot of technical challenges.  He has a tiny head, so, I managed to get the proportions better.  I realized that with a head so little my costume shoulders are about at my chin level, and I see through the mouth of the robot so the head can be higher, and it makes it more proportional, plus I have to build it from scratch.  There's no references, no nothing. So, it was a lot molding, and sculpting, and fiberglass.  It was a lot of fun to make.
KR:  Sounds like it.
SN:  Yeah.
KR: I'm going to put you on the spot just a little bit.  If you had to recommend three novels , three books, for fans of the Themis Files what would they be?
SN:  Well if you're in it for the giant robots, Mecha Samurai Empire by Peter Teiryas just came out and it's actually pretty fantastic.  It's book two of a series, but it's more of a standalone novel. If you're in it for the science, because there's a lot of it in the Themis Files, I really like the The Flicker Men by Ted Kosmatka. It's based on a simple sci-fi premise, but I really wish I'd come up with it.  I was jealous of the idea.  It's a great, great book.  Similarly, Quantum Night by Robert Sawyer is another book with tons of science. Sawyer sort of researches everything.  He has a bibliography at the end if you want further reading on brainwaves and all sorts of interesting things.   The Gone World, by Tom Sweterlitsch, it's a great book. It's really a great book.  I was kind of wary at first because it involves time travel and it's not usually my favorite, but it's so well done, I think everyone should read it.
Check out Sylvain Neuvel's Only Human!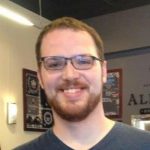 Keith Rice is a West Virginia native and a freelance writer residing in Philadelphia with his lovely, if oft exasperated wife and three cats. Keith fosters an enthusiastic appreciation for beer and scotch, collects comics, and most importantly is an avid reader and movie lover. Oh, he's a pretty big fan of sci-fi and fantasy as well. Drop him a line @Keith_Rice1.
This interview was done at New York Comic Con 2018.
We sat down with Peter Tieryas to talk about Mecha Samurai Empire, alternate history, and what to eat when fighting Nazis.
Keith Rice:  So Mecha Samurai Empire just came out, what can you tell us about it?
Peter Tieryas:  So, it is a book about giant Mechas fighting big Nazi monsters.  And it's a very personal story in that it's about being Asian-American, and sort of growing up in a place where, literally, on the other side of the continent there is a group of people who want to see their destruction solely based on their ethnicity.  Anyone who doesn't fit the Aryan Nazi mold should be eliminated.  How do you grow up in that world, right?  Like, what is your view of the world when you're acutely aware of your race.  And that became the central metaphor.  The best alternate history gives us a different context and a different view of our own world. There's a lot of entertainment, there's a lot of action, but also, hopefully there are deeper questions about identity, about ethnicity, and about diversity.  It's also loosely inspired by Man in the High Castle.
KR:  Okay, so this is set in the world of The United States of Japan?
PT:  Yep.
KR:  What led you to expand on that world?
PT:  When I wrote The United States of Japan, I had a deep desire to sort of explore World War II from the Asian side. Growing up I heard all these stories about World War II from the Asian side.  Just really fascinating things.  And when I came to America there was nothing about this perspective, just no information available. It was always focused on more of the European side, you know?  Like what happened with the Nazis, and General Eisenhower and Hitler. I kind of challenge people, how many generals do you know on the Asian side?  Who were fighting the Chinese, who were fighting for the Philippines, right?  Even on the American side, for the average person, there's very little actually known about World War II.  What battles do you know about? I had this desire to tell a story about that.  So when I wrote it, it was very structured.  It takes place over a couple of days it's a roller coaster.  You just start and it keeps on going.  But when I was finished, I kind of wanted to know more about the world.  What happens after those days are, right?  What do people eat, how do people hang out, what's day-to-day life in that alternate history like?  That reminded me – that's what I really wanted to know about in  Man in the High Castle as well.  What is this world about?
Mecha Samurai Empire initially began as an attempt to just explore the world and see what it's about.  The very first thing I wrote was the alternate history Pledge of Allegiance, which is like, "I pledge Allegiance to the United States of Japan, and to the Empire for…"  When I first wrote that, it kind of became a guiding philosophy for me.  So, you'll see, it's like America, and it'll feel very familiar, but at the last minute there'll be a little twist and where you're like, "Whoa, this is a completely different world."  They completely distorted or misinterpreted, or reinterpreted what we view as certain ideas and philosophies. That, to me, was really fascinating. So, for example, one idea that came up is that they look at The Great Gatsby, which was written in the twenties, and it was an indictment of that era, right. But in normal history, after World War II there was the boom, and everything recovered and America became a behemoth.  In the alternate history of The United States of Japan, America lost, so there was never that boom.  So, they look at Fitzgerald as almost a prophet of the end of the America.  It's stuff like that, those weird little details.
KR:  Okay, so there are a lot of moving parts under the hood here.  You've got alternate history, there's gaming, there's mecha. What were your biggest influences coming into this story?
PT:  There's a bunch, but I think the biggest from a story-telling perspective was Hideo Kujima.  He did Metal Gear Solid, Zone of the Enders, but what fascinated me about Metal Gear, was that despite the title, it's not really about metal gear.  It's about the people involved, and how they're going to use metal gear.  That, to me, was really  important when I was writing about the mechas.  When you watch a really good mecha movie, if it's just about the action, the first minute is really exciting.  Then after a while you start going, "Oh, I'm used to this."  And it almost becomes boring.  It's like mecha porn.  Or you just become so inured to it. What really differentiates it is if you care about the characters.  And I think with Metal Gear, you go find a boss and the boss has this very strong personality and you remember their personality as you're fighting them. In the same way I wanted these characters to be memorable.  So that's where I spent a lot of time – just really focusing on the character interactions.  What does each battle mean? The way they fight, how does that represent who they are?
I also took a little bit of inspiration from "Mike Tyson's Punch-Out!!" – the original game- because each of those characters had so much personality.  So, there's a character named Honda.  He has big bushy eyebrows that he moves.  And for people who know "Mike Tyson's Punch Out!!" they know when he does the his hurricane charge, he actually takes four steps.  So, they actually analyze this mecha data, and they realize, "Oh, every time he does that charge he takes four steps," They use that to beat him.  And in a little ironic twist, the "Punch Out" referee is Mario, right, he's Italian.  in the Axis world, Germany and Japan are at odds with each other, but Italy always plays the peacemaker.  In the mecha tournaments, there's an Italian guy who's the peacemaker. That's a nod to Mario and "Punch Out".  From a literary perspective, obviously Phillip K. Dick, that just goes without saying.  Cordwainer Smith is another one, I just love his storytelling.  Rieko Kodama is another.  She did "Phantasy Star II." It was one of my very first exposure to science fiction, through that video game.  Where it's actually about a Utopia that's really cool and amazing, and then the whole Utopia starts falling apart, and then you find out at the end that humans are the bad guys.
KR:  Right.
PT:  That's one of the very few instances – in a movie, book, or whatever – that I can remember, where the villains are ultimately humans.
KR:  Are you planning to explore more of Mac's story, or moving on to something else within the world of United states of Japan? 
PT:  Yeah, so I actually turned in the first draft of the next book to my editor.  It's a completely different story, completely new characters.  It is following the aftermath of the Berkeley massacre, and the whole battle.  It's basically a revolution takes place within the United States of Japan.
KR:  What three books would you recommend for fans of Mecha Samurai Empire? 
PT:  I would say Sleeping Giants is a big one.  I really like the works by Project Itoh.  He did the adaptation of "Metal Gear Solid IV", but also Project Harmony and Genocidal Organ. Those are just really great.  But between those three, maybe I'd say Genocidal Organ. It really stands out.  And then, while I don't know if it is necessarily connected to the United States of Japan and Mecha Samurai Empire but, Cameron Hurley's work. I really love her work, Apocalypse Nyx is great. And then obviously Man in the High Castle, but, you know, that goes without saying.
KR: I'm going out on a limb and assuming you're a gamer.
PT:  Yep.
KR:  What are you playing right now?
PT:  We recently had a baby, so I've had to stop.  But the last game that I played was "Spec Ops: The Line.".  That was an intense experience.  That was, just, like, wow, you know?  Just the world-building and everything.
KR:  And that twist is just killer.
PT:  Yeah, yeah.  I think I finished it the week before our baby came.  "Persona V" was the big one I played before that.  That just took forever but I really wanted to enjoy it. I actually played through with my wife.  I was very influenced by "Persona".  What I love about the world-building in "Persona" is that you have to save the world and everything's going to chaos, but you can also go find a really good ramen, or you can go on a date at a carnival. I love that.  So, in Mecha Samurai Empire, there are food excursions.  Sure, there are Nazis, but you still have to eat, right?
Check out Peter Tieryas' Mecha Samurai Empire!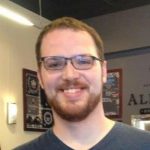 Keith Rice is a West Virginia native and a freelance writer residing in Philadelphia with his lovely, if oft exasperated wife and three cats. Keith fosters an enthusiastic appreciation for beer and scotch, collects comics, and most importantly is an avid reader and movie lover. Oh, he's a pretty big fan of sci-fi and fantasy as well. Drop him a line @Keith_Rice1.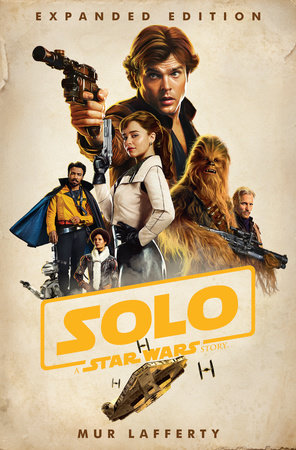 This interview was done at New York Comic Con 2018 and has been lightly edited and condensed for clarity.
We sat down with Mur Lafferty for a quick chat about Solo: A Star Wars Story, what it was like writing a film novelization, and the not-so-complex motivations of Han Solo.
Keith Rice: Okay, so Solo: A Star Wars Story, was that your first novelization of a film?
Mur Lafferty:  Yes, yes it was.
KR: What was the process like?
ML:  Well I was flown out to San Francisco to Lucasfilm, I had basically the day with the script and then I went home and started writing.  I came up with a couple of additional scene ideas, and those had to be cleared through Lucasfilm. There was a delay on the deadline of the book which was great for me because I got to see the movie and was able to then tweak whatever I had gotten maybe a little wrong, which helped, because there were a couple of things I'd read in the script that I couldn't quite picture. It was pretty amazing.
KR: Can you talk a little bit about some of the new content you explored?
ML:  (SPOILER ALERT – Skip this section if you haven't seen "Solo") The movie starts out with Han Solo running away from a deal gone bad.  So, I decided I wanted to write that deal.  Backup, say, fifteen minutes, and that's when the story starts.  We see Han Solo trying to cheat the people he's selling the coaxium to so he can steal some of it for himself.  Of course that goes very poorly and then he steals the speeder.
I also expanded the scene of him at the academy, working with the Navy.  And probably my favorite scene that I added was L3 merging with the Millennium Falcon from her point of view.  Finally, I threw in this crazy idea to put an epilogue in there about what happened to all the coaxium they stole, where Enfys Nest took it, and Lucasfilm actually approved it, which shocked me to my core! I'm like, okay.  I asked for all of this, all the toys in the world, and they delivered.
KR: So, you added canon, basically. That's amazing.
ML:  Yeah, so I got to write the epilogue with Saw Gerrera and Jyn and Enfys Nest.
KR: What I does it feel like taking on an iconic characters like Hans Solo?
ML:  It was intimidating, but he's –  I mean, let's be honest, he's not a complicated character as an adult, and so he's not a complicated character as a young man.  He's, you know… "I'm gonna try to ride my bike down this hill, okay the brakes failed, so lets make the best of it, and turn when we need to turn and okay, we're going faster now, I just want to try not to crash."  I mean, that's pretty much how he approached everything in his life.  And so, just making that a little more naive and a little bit more willing—and removing some of the bitterness of his adult life—that's how I wrote it.
KR: How do you find a balance between your podcasting and your writing?
ML:  I usually do not podcast as much as I intend to. So, writing is the priority.  And luckily because the shows are about writing, my listeners understand.  Because when I tell them I actually have a book due and podcasts aren't going to be coming as often, they understand because they're writers, or they want to be.  Honestly, podcasting doesn't take that much time.  It's all the other things, procrastination, or the things that demand you time from home, or deciding that ten minor emails are more important that your daily writing or something. That's what I struggle with.  It's not a time thing, it's a priorities thing. If I can dedicate an hour or two hours a week to podcasting I'd be fine. It's just finding those two hours among the maelstrom of procrastination and stuff that is my constant struggle.
KR: If you could take on another Star Wars character, who would you want to write?
ML:  Completely different from Solo?  Gosh, so many.
KR: Who's your top three?
ML:  I really want to write some young Finn stories.  I want to know, I mean, something had to happen in his youth that gave that spark of, "I got to get out of here," kind of thing.  Gosh, I don't know.  Everyone I think of has already been done by very good authors, and, you know, Leia's one of my favorite characters of all time but there's been a lot of stuff told about her.
KR: Yeah.
ML:  I guess I'm just going towards the newer ones.  I have to say, Enfys Nest, I love her. I think that there are so many stories you can tell about her.  And I think are a lot of stories you could tell about Qi'ra, after she went to take on the Crimson Dawn.  I think a lot of people – I'm going on a tangent here – I think a lot of people were very confused by Qi'ra's actions. I heard somebody say she was betraying Han.  And I didn't see that at all. She never ever, ever, said she would go with him.  She never promised anything.  He just assumed and went off on his own little fantasy world. But I would love to follow her and see a little bit more of her reasoning behind things.
I guess my top three would be Enfys Nest, Qi'ra and Finn.
KR:  What's your current favorite podcast?
ML:  I'm not listening to podcasts right now. I feel awful, I feel awful.
KR:  No, don't.
ML:  There's so many amazing podcasts I hear about now, but I usually use my audio time to listen to books.
KR:  How about this.  If you had to pick a podcast to introduce someone to podcasts, what would you recommend? 
ML:  Let's see.  A friend of mine, Rob Walsh, who now works at Libsyn, Liberated Syndication, one of the first podcast hosts, he did a podcasts called podCast 411, where he'd talk about all the news in podcasting.  And that was pretty cool to watch.  For children's podcasting one of the first people who did that was Grant Baciocco, was Radio Adventures of Dr. Floyd.  He took, just, a very small scripted radio show-type format and made it for kids.  It was very funny and really clever.  Gosh, and you know for fiction, Scott Sigler I believe is still doing a lot of fiction and a lot of keeping up with everything.  He's putting out a lot of content as well as his books.
Check out Mur Lafferty's Solo!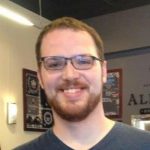 Keith Rice is a West Virginia native and a freelance writer residing in Philadelphia with his lovely, if oft exasperated wife and three cats. Keith fosters an enthusiastic appreciation for beer and scotch, collects comics, and most importantly is an avid reader and movie lover. Oh, he's a pretty big fan of sci-fi and fantasy as well. Drop him a line @Keith_Rice1.
This interview was done at New York Comic Con 2018.
We caught up with Delilah Dawson for a quick chat about Kill the Farm Boy, fantasy tropes, Spam Musubi, and drinking with Kevin Hearne.
Keith Rice: you have Kill the Farm Boy out now, and No Country for Old Gnomes is coming out next year?
Delilah Dawson:  Yeah – –
KR:  So, what can you tell us about The Tales of Pell.
DD:  Tales of Pell are like if The Princess Bride got in a car crash with Discworld.  It's all about flipping fantasy tropes in a loving way, playing with the tropes of Dungeons and Dragons and what happens when a group of heroes gets together.  Kevin Hearne and I came up with the idea at an airport barbecue restaurant in Houston.  He wanted to do an anthology and I was there for it, and then we realized that took a lot of math and author herding.  We're like, what if we just wrote the book together? Then you each only have to write half a book, which is a really good deal for us.  It's all about playing with fantasy tropes. There's a dark lord but his only magic is that he can make bread in various kinds of crusty goodness.  There is a fighter in a chainmail bikini because her real armor is on hold for layaway, which is why she needs the money. There is a bard who is also kind of a bunny rabbit, and the hero turns out to be a goat, because guess what happened to the farm boy?
KR:  What was it like writing something like Phasma, and then moving on to this kind of farcical fantasy?
DD:  It was refreshing. Phasma, we call it the "Mad Max" of Star Wars.  It's kind of unrelenting, violent, soul-crushing, it is a sharp book.  And then you move into the Tales of Pell, which is all light-hearted, fun, jokey, a couple of fart jokes. So, it was very freeing, and in troubled times it was really nice to come home and get an email and it's this hilarious chapter from Kevin Hearne who is really funny.  And it's all about being lighthearted and loving, and the good guys win.  It was really nice. You know, you come back from a big fight and it's like that refreshing sip of ale.
KR:  After writing Phasma are there any other Star Wars characters you'd like a crack at? 
DD:  The great thing about the current Del Rey Star Wars editing team is that they seem really great at matching authors to the characters, the stories that a given author would really be great at telling.  So, I feel like anything they ask me to do, it would be because they thought I would be the best person to write that particular story. I would be totally down for it.  Phasma is great.  Violent women are kind of my modus operandi.  And, you know, same with Bezine Netal in The Perfect Weapon.  The original pitch for that was female James Bond in space.  I was totally there for it. So, yeah, I would love anything that was offered me. You know, I really want to know what happens to Cardinal and to Phasma.  Although I know what happened to Phasma, but we don't know about "Episode 9." Cardinal and Bezine Netal are kind of my babies and I want to make sur that their okay.  And if they're not ok, I want to make sure that they go out with guns a-blazing.
KR:  How was the experience co-writing with Kevin Hearne?
DD:  It's like going to the bar with your best friend and laughing your butt off.  Those stories, we did the outlining and story-breaking when we were at a Con together.  We would just go bar-hopping.  No Country for Old Gnomes, that was on Frenchman Street in New Orleans, we'd go into one bar, get a drink, listen to the music, look at the art on the walls and different things would make its way into the book.  And then for The Princess Beard, we were in Seattle and I had never had Spam Musubi, and I was like, "Kevin, we have to go get Spam Musubi."  We ended up with these two foot-tall hurricanes.  And we're like, "Oh, and it's a book that's got some piracy in it!" So, it was very fitting.  So, just a little bit of, "Oh, buddy, you know what would be fun, ooh, yeah that's a really good idea, let's do that." [Laughs]  We giggle a lot.
KR:  What was the inspiration for Kill the Farm Boy. 
DD:  Kevin [Hearne] came up with it, it was his idea for an anthology and I said we should make it into just a book we write together.  I think the actual inspiration was just the trope of, kind of, every fantasy novel ever – a poor white boy from nowhere special suddenly discovers he's the chosen one with secret powers and is the scion of a generation. We were, like, "Oh, my God, stop."  Like, we love "Star Wars", but Luke was pretty whiny at the beginning. Let's accept it and he could've died at any moment. So, we were like, well what if we start off with a farm boy anointed as the chosen one and then he kicks it?  Who picks up and carries the torch of that quest?  How do the people come together to do the right thing?  It was all about lovingly playing with the Dungeons and Dragons sort of dungeon party trope, to tell a more current story that is feminist, that is LGBTQ inclusive, that is diverse, it's not all just a bunch of white awesome people.  We just really wanted to tell a more kind of fairytale fantasy.
KR:  You write Lady Castle and Sparrowhawk for Boom. 
DD:  Yeah, pretty much anything that's a portmanteau or two words thrown together, I will write.
KR:  What's your process like writing comics versus writing fiction? 
DD:  100% different.  When I write a book, I mean, granted, properties like Star Wars are very different – you work with committee of people, there are outlines involved – but writing a book for me at home is just, I do what I want, and then I turn it in, and an editor helps make it better. With comics, the idea in the pitch has to be something that would lend itself to a very visual story, and you have to describe the world-building.  You also have to think about length and pacing in a different way. A comic is usually 22 pages, and the ones I've written have been four or five-issue arcs, so each issue has to have its own small story that has an ending and then they all have to contribute to the overall arc.  It takes a little bit more advanced planning.  There's also this wonderful surprise of, you write your pages, you edit them, you get them right, and then one day art just falls in your lap and your like, "Oh my God, this is the thing that I dreamed up except better."  Because the artists are the heroes of comics.  They do all the heavy lifting.  All mad props to them.  They take our ideas and our words and just make them gorgeous.  You don't really get that with novels.  You get to see one cover that you might or might not like, but in comics you're usually involved in the art, and it shows up and it's like seeing your dreams made real.
KR:  Okay, so, if you could pick three books to recommend for fans of Kill the Farm Boy what would they be?
DD:  Books for fans of Kill the Farm Boy?  Wow, hmmm, it's more like, "if you like this book, then you would like Kill the Farm Boy."
KR:  Let's go with that.
DD:  So, Good Omens, Discworld, The Princes Bride. If you liked my Lady Castle stuff, if you like Monty Python. All that sort of stuff would lead you into Kill the Farm Boy.  But, I haven't really read anything as kind of silly and playful as it in a long time.
Check out Delilah Dawson's Kill the Farm Boy!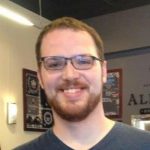 Keith Rice is a West Virginia native and a freelance writer residing in Philadelphia with his lovely, if oft exasperated wife and three cats. Keith fosters an enthusiastic appreciation for beer and scotch, collects comics, and most importantly is an avid reader and movie lover. Oh, he's a pretty big fan of sci-fi and fantasy as well. Drop him a line @Keith_Rice1.
Artemis, a near-future thriller by Andy Weir, author of the # 1 New York Times bestseller and international blockbuster The Martian, will be published November 14, 2017.
Said Andy Weir, "I'm really excited about Artemis. I got to do the science-dork stuff I love, but this time with a much more complex and character-driven plot. It's a big stretch for me, but I think it came out well. Hopefully the readers will agree."
An adrenaline-charged crime caper that features smart, detailed world-building based on real science and the charm that makes Weir's writing so irresistible, Artemis introduces a protagonist every bit as memorable asThe Martian's Mark Watney: Jasmine Bashara, aka Jazz. Jazz is just another too-smart, directionless twenty-something, chafing at the constraints of her small town and dreaming of a better life.  Except the small town happens to be named Artemis—and it's the first and only city on the moon.
Life on Artemis is tough if you're not a rich tourist or an eccentric billionaire, and Jazz is decidedly not a member of either category.  She's got debts to pay, her job as a porter barely covers the rent, and her budding career as a smuggler isn't exactly setting her up as a kingpin, much to her disappointment. So when the chance at a life-changing score drops in her lap, Jazz can't say no, even though she's sure there's more to the setup than meets the eye. And indeed, pulling off the perfect crime is just the first of Jazz's problems as she finds herself in the middle of a conspiracy for control of Artemis itself.
As first reported by Tracking-Board.com, movie rights to Artemis have been acquired in a preempt by 20th Century Fox and New Regency, with Simon Kinberg and Aditya Sood, two of the producers of The Martian, attached to produce for Genre Films. Starring Matt Damon and directed by Ridley Scott, The Martian was nominated for seven Oscars and won both the Best Picture and Best Actor awards at the Golden Globes. The movie has grossed more than $630 million worldwide.
Hailed as a new science-fiction classic,The Martian book has sold more than three million copies in North America, spending over a year and a half on the New York Times bestseller list since its February 2014 publication by Crown. To date, the book has been published in forty languages worldwide.
Learn more about the book here;
Comic Con is a huge event for readers and authors – we were on the scene to capture signings, panels, Q&As and more. See below for videos from SDCC. 
Panelists include author Chuck Wendig (Star Wars: Aftermath) and more artists, and editors from Del Rey, Disney-Lucasfilm Press, Marvel, and others discuss their upcoming stories and the future of Star Wars publishing. Moderated by Lucasfilm's Michael Siglain.
Suvudu writer Matt Staggs was on the scene to interview some of your favorite authors. Read his interview with Chloe Neill (author of the Chicagoland Vampires novels, the Dark Elite novels and the Devil's Isle novels) here.
Looking at the Many-Worlds theory
Author Blake Crouch discusses Everett's Many Worlds aka multiverse theory, which inspired his new book Dark Matter. http://bit.ly/2afZ6ei
Bestselling author Patrick Rothfuss (Kingkiller Chronicle) tells stories, answers audience questions, and discusses all things strange with interviewer Hank Green.
Indra Das is the author ofThe Devourers, talks with Matt Staggs about werewolves, fantasy, and more. Read the whole interview here.
What does it take to make the jump from page to screen, and back again? Authors explore the journey of stories from page to screen and even stage, and vice versa. Featuring Ransom Riggs (Tales of the Peculiar), James Dashner (The Maze Runner), Melissa de la Cruz (The Isle of the Lost), Scott Westerfeld (Uglies, Zeroes), Ben H. Winters (Underground Airlines), and Comic-Con special guest Peter David. Moderated by Anthony Breznican (Entertainment Weekly).
Sabaa Tahir, author of An Ember in the Ashes, talks Roman history, her second book, A Torch Against the Night, and meeting her fans. Read the whole interview here.
Find more videos here and here.
Check out Suvudu's full San Diego Comic Con 2016 coverage here.
Check out some of the books from the featured authors here:
Congratulations to Naomi Novik on winning a 2015 Nebula Award for her novel, Uprooted.
The Nebula Awards recognize outstanding novels, novellas and short stories in the science fiction and fantasy genres.
Novik's novel is an absorbing and moving introduction to a strange world, held in thrall by a cold wizard known as the Dragon. His protection of a peaceful village comes at a cost – a young woman who must serve him for ten years.
Learn more about the book here: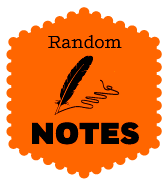 Happy May 4th! Today let's celebrate Star Wars by going further into the universe and reading. Check out our Star Wars page here and browse below for some selected books to add to your to-be-read list.
These are just a few of our Star Wars books – check out the page to find more.
Star Wars: The Force Awakens is opening in theaters on December 18th, and everyone's talking about it.
To celebrate, we made a whole Star Wars page! You can browse through your favorite series, find kids books for the younger fans, and find new ones to tide you over before the movie.
For the Star Wars lover in your life, check out our gift list here.
And last but not least, you can enter for a chance to win several Star Wars kids! Enter here!