The publishing world lost a legend and friend, Sue Grafton, #1 New York Times, USA Today and Wall Street Journal– bestselling author of the ground-breaking Alphabet Mystery series featuring beloved Private Investigator Kinsey Millhone, died on Thursday, December 28 in Santa Barbara after a two-year battle with cancer of the appendiceil. She was 77.
Ivan Held, President of G.P. Putnam's Sons said, "Everyone who worked with Sue admired her, flipped for the books, and were in awe of her 25-book creation, Kinsey Milhone.  But on top of that — we also all LOVED her.  With her wry, Kentucky accent she inspired a really deep and genuine love from everyone who worked with her in house."
Thirty-five years ago, Grafton launched one of the most acclaimed and celebrated mystery series of all time with A is for Alibi, and with it created the model of the modern female detective with Kinsey Millhone, a feisty, whip-smart woman who is not above breaking the rules to solve a case or save a life. Grafton's books have sold untold millions and are published in twenty-eight countries and in twenty-six languages—including Estonian, Bulgarian, and Indonesian. Her most recent novel, Y is for Yesterday, which published in August 2017, received with tremendous praise and debuted at #1 in the New York Times-bestseller list.
News of her passing ran in outlets throughout the country (and world) including in the New York Times, NPR's Fresh Air, Associated Press,  USA Today, Entertainment Weekly, Vanity Fair, Vulture, NPR's All Things Considered, and CNN.  The Washington Post wrote, "[Kinsey Millhone is] one of the most endearing, vivid and memorable characters in modern crime fiction … Ms. Grafton examines human character as deeply as any clues that might solve a crime. Critics noted that the stories often had an undercurrent of tender observation seldom found in the hard-boiled fiction of male writers."
 There has been an outpouring of love on social media from fans including former president Bill Clinton who tweeted, "RIP Sue Grafton. Hillary and I loved all your novels from A is for Alibi to Y is for Yesterday. We'll miss Kinsey and you. Godspeed."
Fellow authors shared their fond remembrances of Sue including Louise Penny who said, "Kinsey was a brilliant creation and a companion for many of us, for years. Thank you, Sue, for leading the way. And for always being so gracious to those of us who followed." David Baldacci wrote, "To know Sue Grafton was an honor. To call her a friend was a thrill. She was a great writer, one of our absolute best in any genre, but she was an even greater person. 2018 will be far emptier without her." And James Lee Burke who said, "Everyone liked Sue. She had a great wit and knew how to bring the house down, without ever being grandiose. Her passing is a big loss. Sue was a real trooper, one of those who sets the standard. I think her greatest gift to others is the dignity and composure and confidence and perseverance that characterized her career. I think that's a pretty good legacy to leave behind. Anyway, here's to you, Sue. You're the best." More remembrances came from the likes of  C.J. Box, Robert Crais, Daniel Silva, Eric Jerome Dickey, Harlan Coben, Lisa Scottoline, Ruth Ware. Sandra Brown, Sara Paretsky, Jeff Abbott, Laura Lippman, Faye Kellerman, Debbie Macomber, Alafair Burke, and Meg Gardiner to name a few.
Sue and Kinsey will be remembered as international icons (both adored a peanut butter and pickle sandwich and a timeless black wrap dress) and treasured by millions of readers across lines of gender, geography, age, race, and creed. As Grafton's daughter, Jamie, said in a statement on the author's Facebook Page, "the alphabet now ends at Y."
Browse more of Sue Grafton's works here.
This article was written by Carolyn Hart and originally appeared on Signature Reads.
In Ghost on the Case, Bailey Ruth Raeburn, an emissary from Heaven's Department of Good Intentions, returns to earth to help a young woman who receives a terrifying phone call demanding ransom for her sister. What can Susan Gilbert do? What will she do? What is going to happen to her sister?
My hope is the action scene lures readers to follow Bailey Ruth. I won't reveal the peaks and valleys in Ghost on the Case to avoid spoiling readers' enjoyment. Instead, I will illustrate suspense by using the framework of Spooked, a short story that introduces 12-year-old Gretchen Gilman, the protagonist of Letter from Home, my WWII novel from Berkley.
I use the following techniques to create suspense: action, empathy, threat, tension, puzzle, danger, deadline, challenge, and surprise.
Gretchen works in the family café in a small town on Highway 66 in northeastern Oklahoma in the summer of 1943.
Action: The dust from the convoy rose in plumes. Gretchen stood on tiptoe, waving, waving.         
A soldier leaned over the tailgate of the olive drab troop carrier. The blazing July sun touched his crew cut with gold. He grinned as he tossed her a bubble gum. "Chew it for me, kid."
Empathy: Gretchen turns away, thinking of her brother Jimmy, a Marine in the South Pacific, her mother who works at the B-24 plant in Tulsa, and the troop convoy as she walks toward her grandmother's café.
She still felt a kind of thrill when she saw the name painted in bright blue: Victory Café… There was a strangeness in the café's new name. It had been Pfizer's Café for almost twenty years, but now it didn't do to be proud of being German…
Empathy and threat: Now the reader has a personal stake in Gretchen, understands there is pain and uncertainty in her life. Her grandmother avoids speaking in the café because of her strong German accent.
In the café, Gretchen sets to work, cleaning, serving food. Customers include Deputy Sheriff Carter. We learn Carter likes to do crossword puzzles and thinks about money. In another booth two military officers from nearby Camp Crowder discuss the Spooklight, a famous and mysterious light that mysteriously appears after dark among the rolling hills. The Army uses night searches for the Spooklight to train troops.
Gretchen's grandmother brings out a fresh apple pie.
Threat: One of the customers jokingly accuses her of buying sugar on the black market.
"Lotte, the deputy may have to put you in jail if you make any more pies like that."
Grandmother is upset, explains the pies are made with honey. One of the officers speaks to her in German. The deputy turns hostile.
Tension: He glowered at Grandmother. "No Heinie talk needed around here . . ."         
Gretchen takes trash to an incinerator. As it burns, she climbs a tree. She sees Deputy Carter enter the cemetery. He looks around surreptitiously.
Puzzle: Back by the pillars, the deputy made one more careful study of the church and the graveyard. He pulled a folded sheet of paper from his pocket and knelt by the west pillar . . . She leaned so far forward her branch creaked.         
Danger: The kneeling man's head jerked up… The eyes that skittered over the headstones and probed the lengthening shadows were dark and dangerous.
The deputy hides the paper in the pillar. After he leaves, Gretchen finds the paper, reads and replaces it. The message leads her late that night to an abandoned zinc mine. She watches the deputy and a soldier unload an Army truck and hide gasoline tins in the mine.
Deadline: She overhears plans to sell the gasoline Thursday night.
The next day she asks her grandmother what it means when people talk about gasoline on the black market. Lotte explains how important gas is, why it's rationed, and that even a little bit can make a big difference in the war. Gretchen thinks about her brother fighting in the Pacific. She asks Lotte who catches people in the black market.
Challenge: ". . . I don't know," she said uncertainly. "I guess in the cities it would be the police. And here it would be the deputy. Or maybe the Army."
Gretchen thinks about the deputy and about the Army searching for the Spooklight. At the café that afternoon, she asks the young officer if they are still searching for the Spooklight. He says yes and she tells him she's heard the light has been seen at the old Sister Sue zinc mine.
Gretchen enlists the help of a friend, Millard, whose brother Mike is in the 45th fighting in Italy. They put pie tins in the trees near the mine to reflect flashlight and draw the soldiers.
Challenge: . . . she moved out into the clearing. "What's wrong?"
He was panting. "It's the Army, but they're going down the wrong road. . . . They won't come near enough to see us."
Surprise: Suddenly a light burst in the sky . . . Then came another flash and another . . .
Millard lobs lighted clumps of magnesium with his sling shot and draws the Army to the mine where the tins are found, along with a crumpled crossword puzzle in the deputy's handwriting which Gretchen took from a café booth. The puzzle leads to his arrest and the arrest of a sergeant in the motor pool.
No one ever knew about Millard and Gretchen's efforts, but Gretchen didn't mind. The final sentence links the reader to Gretchen: What really mattered was the gas. Maybe now there would be enough for Jimmy and Mike.
Readers offered action, empathy, threat, tension, puzzle, danger, deadline, challenge, and surprise will keep turning the pages.
Cover detail from Ghost on the Case by Carolyn Hart
We know readers tend to be writers too, so we feature writing tips from our authors. Who better to offer advice, insight, and inspiration than the authors you admire? They'll answer several questions about their work, share their go-to techniques and more. Now, get writing!
Did you always want to write? How did you start your career as an author? 
Yes. As a child, when people used to ask me what I wanted to be when I grew up, I would say I wanted to be an authoress (that word certainly dates me, doesn't it?). I used to fill notebooks with stories. When I grew up, of course, I discovered that I needed to eat so became a high school English teacher. Then I got married and had children. There was no time to write. I took a year's leave of absence following the birth of my third child and worked my way through a suggested Grade XI reading list. It included Georgette Heyer's Frederica. I was enchanted, perhaps more than I have been with any book before or since. I read everything she had written and then went into mourning because there was nothing else. I decided that I must write books of my own set in the same historical period. I wrote my first Regency (A Masked Deception) longhand at the kitchen table during the evenings and then typed it out and sent it off to a Canadian address I found inside the cover of a Signet Regency romance. It was a distribution centre! However, someone there read it, liked it, and sent in on to New York. Two weeks later I was offered a two-book contract.
What's the best piece of advice you have received?
 Someone (I can't even remember who) at a convention I attended once advised writers who sometimes sat down to work with a blank mind and no idea how or where to start to write anyway. It sounded absurd, but I have tried it. Nonsense may spill out, but somehow the thought processes get into gear and soon enough I know if what I have written really is nonsense. Sometimes it isn't. But even if it is, by then I know exactly how I ought to have started, and I delete the nonsense and get going. I have never suffered from writers' block, but almost every day I sit down with my laptop and a blank mind.
What clichés or bad habits would you tell aspiring writers to avoid? Do you still experience them yourself? 
You don't have to know everything before you start. You don't have to know the whole plot or every nuance of your characters in great depth. You don't have to have done exhaustive research. All three things are necessary, but if you wait until you know everything there is to know, you will probably never get started. Get going and the knowledge will come—or at least the knowledge of what exact research you need to do.
Do you ever base characters off people you know? Why or why not?
Never consciously. I wouldn't want anyone to recognize himself or herself in my books. However, I have spent a longish lifetime living with people and interacting with them and observing them. I like my characters to be authentic, so I suppose I must take all sorts of character traits from people around me. And sometime yes, I suddenly think "Oh, this is so-and-so."
What are three or four books that influenced your writing, or had a profound affect on you?
All the books of Georgette Heyer would fit here. She was thorough in her research and was awesomely accurate in her portrayal of Georgian and Regency England. At the same time she made those periods her own. She had her own very distinctive voice and vision. When I began to write books set in the same period, I had to learn to do the same thing—to find my own voice and vision so that I was not merely trying to imitate her (something that never works anyway).
Learn more about the book below:
We know readers tend to be writers too, so we feature writing tips from our authors. Who better to offer advice, insight, and inspiration than the authors you admire? They'll answer several questions about their work, share their go-to techniques and more. Now, get writing!
Is there something you do to get into a writing mood? Somewhere you go or something you do to get thinking?
I find that I do my best work at the beginning of the day, but I'm rarely in a writing mood when I sit down.  I'm usually somewhat sleep-deprived, and I always have a long list of other responsibilities calling my name.
But if I can get myself into my chair with a cup of coffee, and start reading the last few days' work, I find myself making a few changes here and there.  Then I'm adding a few new sentences at the end, and before I know it, several hours have passed, I've written a few new pages, and I'm in a pretty good mood.
When I fall out of that flow, I get up and go for a walk, make another cup of coffee, and sit back down in my chair, just for another minute or two, and that's another few hours gone, and some more sentences stacked up to reread tomorrow.
Which is a long way of saying that the best way for me to get into a writing mood is to sit down and start writing.  And if I do it every day, it all gets easier.
What's the best piece of advice you have received?
The painter Chuck Close said, "Amateurs sit and wait for inspiration, the rest of us just get up and go to work."
He didn't say it to me, but I consider this good advice for anyone doing creative work.  Don't wait for inspiration.  Learn to cultivate it.  Write your own writer's manual.  Find the tools and mindset that help you move forward when things get difficult.  Because things almost always get difficult.  That's not necessarily a sign that the work is bad, it's just a part of the process.  Learning to understand and manage your own process is, for me, the secret to creative life.
I'm still working on it, by the way.  But I've found that when I show up and do the work on a daily basis, inspiration will eventually perch on my shoulder and begin to whisper in my ear.
What clichés or bad habits would you tell aspiring writers to avoid? Do you still experience them yourself?
I love the beautiful distractions of the world – television and movies, video games, the internet in general.  But I try really hard to avoid them, because they don't help me become a better writer.  They subtract hours from my day.  And a writer's main currency is time.  Time to daydream, time to walk and think, time to sit and do the work.
Reading good books is one distraction that will help you become a better writer.  And writing – that's the thing – writing is what will really make you a better writer.  Write bad stories until you begin to write so-so stories, which might, if you keep at it, turn to writing good stories.  So put down your phone and keep at it.
This is not a new idea, nor one exclusive to writing fiction.  The way to get good at playing the piano is to play the piano.  And play, play, play.
I tell myself this every day.
What are three or four books that influenced your writing, or had a profound effect on you?
Cormac McCarthy' Border Trilogy (All the Pretty Horses, The Crossing, and Cities of the Plain) had an enormous influence on me.  I love his prose, his use of place as character, and his vivid descriptions of character in action, but the most powerful effect of reading those books was that they freed me up to write about what really interested me.  At the most fundamental level, these are cowboy novels.  The fact that they also rank among the best of American literature somehow made genre distinctions irrelevant.
Elmore Leonard had a profound influence on me as well.  There are a few of his books I really love – Freaky Deaky, Stick, Glitz, Bandits.  But I love his dialogue, his humor, his small-time hustlers, and the economy of his prose.  He does a lot with a little, over and over.
The Writer's Chapbook is a collection of bits and pieces of writers' interviews culled from The Paris Review – a long list of great writers.  The book is organized by topic, so no matter what problem I'm having, I can find far better writers who've had the same problem.  It makes me feel better.   In addition to dipping in and out, I've also read it cover to cover about ten times in the last ten years.  I found it used in a clunky old cloth-covered hardback that makes me smile just to hold it in my hand.
Ask me this question next week and I'd probably give you a different list.
Learn more about the book below:
Off the Grid, the sixteenth Joe Pickett novel by New York Times bestselling author C.J. Box, is being published by G.P. Putnam's Sons on March 8.  Strong advance buzz has been building for this book, which revolves around how terror is found – and fought – in the wild expanses of Wyoming.  Game warden Joe Pickett, his best friend Nate Romanowksi, and Joe's daughter Sheridan are embroiled in multiple plot lines that unfurl with urgency, harrowing suspense and surprising twists. 
The Joe Pickett character entered the literary world in 2001 and a reviewer for The New York Times once wrote, " … Box introduced us to his unlikely hero … a decent man who lives paycheck to paycheck and who is deeply fond of his wife and his three daughters. Pickett isn't especially remarkable except for his honesty and for a quality that Howard Bloom attributes to Shakespeare – the ability to think everything through for himself."  Fellow Penguin Random House author Lee Child has called Box "one of today's solid-gold, A-list, must-read writers."
Read on for a Q&A with C.J. Box. 
C.J.  Box agreed to respond to the following questions for Igloo:
 Sixteen novels in, what do you think accounts for the wealth of themes, storylines and characters that have kept your Joe Pickett series fresh and filled with surprises?
Although the first Joe Pickett novel (Open Season) was written as a one-off at the time, the characters, themes, location, and style introduced in that book provided a great framework for the series to grow.  I've never had to regret the foundation laid in that book.  Also, because the books take place in real time the characters mature and change from book to book.  For example, Joe Pickett's daughter Sheridan is seven years old in Open Season and now 22 in Off the Grid.  Because the characters get older and benefit (or not) from previous situations in the books I think that helps keep the series fresh.  Plus, since each book includes a theme or controversy unique to the story (endangered species, alternative energy, the ethics of hunting, or in the case of Off the Grid — domestic terrorism) they are all stand-alones in their own way.
A lot of your longtime fans will be happy that your character Nate Romanowski features prominently in Off the Grid.  From a writer's standpoint, what is involved in making Nate so interesting and unpredictable?
 Unlike just about every other character in the series, Nate Romanowski is based on a friend of mine although I've exaggerated (Thank God) his personality. The buddy I grew up with was a big blonde middle linebacker who later went on to join the military and special forces.  He took me falconry hunting and through him I was introduced to the very strange and fascinating world of falconers and the mindset that goes with it.  And, of course, Nate carries one of the largest handguns in the world and he's good with it.
For a reader coming to your Joe Pickett novels for the first time, which  of your backlist titles, from Open Season onward, would you recommend they check out first and why?
Tough question, since in their way each book stands alone.  No reader would be hopelessly lost starting with any book in the series.  Of course, those who've read them all say it's important to start with OPEN SEASON so the reader can experience Joe's family growing and changing, and I probably lean that direction.  But there are certain books —Winterkill,  Free Fire,  Breaking Point, andOff the Grid   – that I think could be good entry points into the series.
Find out more about C.J. Box's books below.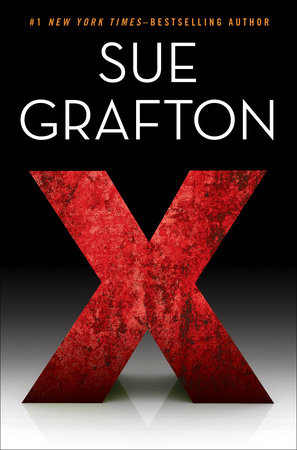 On the occasion of Marian Wood Books' publication of X, Sue Grafton's 24th Kinsey Millhone Mystery, we are pleased to present Vice President and Publisher Marian Wood. As Grafton's longtime editor, she agreed to answer three questions involving her work with Grafton. Marian admits, "These questions brought sort of a walk down memory lane: 34 years of memories, to be exact. Foolishly, I went to my bookshelves and picked up A is for Alibi and began reading, and couldn't stop."
What initially attracted you to Sue Grafton's writing style and her approach to the mystery novel form?
Well, although Sue never writes the same novel twice and her books consistently surprise me, rereading "A" brought back that incredible rush I had on my first reading. Here was an original voice: tough, funny, smart, without an ounce of self-pity but also without any superhero ego. From the first I knew she was a serious stylist, that her characters were fully formed and she was using genre the way earlier mystery writers (the men who gave us noir) had: to make telling points about the (largely corrupt) world their characters moved in. Be it Raymond Chandler or Ross Macdonald, their protagonists were loners, honest but flawed (and usually, unlike Kinsey, very heavy drinkers), who took on cases the way a knight errant might take on causes. The world Kinsey navigates is not as corrupt as theirs, but it is often just as twisted and dangerous.
In "A," Kinsey tells us she is 32, twice divorced, no kids, no pets, no houseplants. In short, she is independent and alone. What we learn as the series progresses is that she is also nobody's sidekick. Unlike so many female characters in the mysteries that preceded her appearance, she is not a loyal helpmate or willing employee or second banana. Now, how refreshing is that? And when she finds herself in serious danger, she is tough enough to fight her way out—even when it means killing or maiming her attacker. But it bothers her that she has to. So in addition to being tough and honest, she has a conscience. Mayhem for mayhem's sake is not on her resume. Her novels also do not depend on technology or gadgets for their denouements. Brains and determination are what matter. There are no James Bond gimmicks, and no saviors in white hats to come to Kinsey's rescue.
Through Kinsey, Sue is able to wrestle with some very current social ills. She doesn't preach, but she does observe. And her intelligence in these matters raises the books to another level. You won't find her giving facile answers to homelessness, but you will find her pointing out all sides of the problem. How you take this is your call as a reader. Sue is not here to convert you—but she wants readers to understand the human toll such problems take. And she is not here to solve our social problems. She can't tell us how to stop the abuse of elders, for example. But she can, in horrible detail, show you how it happens.
Perhaps this makes the books sound "heavy." They are hardly that. One of the very great attractions of Sue Grafton's writing is just how clever (both witty and funny) Kinsey is and how tellingly Sue leads her characters into crazy (but all too real) human interactions. And a large part of her success in doing this is that she has such a terrific grasp of the human condition, which is another reason her characters resonate long after you've finished the book.
How would you describe the nature of your editor/author process when working with Sue Grafton and how has it evolved over the years?
Our relationship is based on trust and mutual respect. Sounds corny, but it's true. There may have been a few bumps early on because Sue bore some real scars from her years of working with Hollywood know-it-alls ("They all seemed to be barely out of high school," she has said). Books, however, are not movies, and editing is a matter of supporting the writer not taking over her book. (Some of you may know of instances of editors taking credit for the quality of their writer's book. Personally, if the writing was that bad to begin with, I'd want no part of it.) With Sue, as the years and books progressed, our working relationship, never problematic to begin with, became a sheer delight. Sue is a professional and a dedicated craftswoman. I like to think the same applies to her editor.
There have been a few occasions during the writing when the plot line seems temporarily to stall out. Sue says dreaming often resolves a knotty plot line, and I say that what cannot be resolved in dreams is usually a relatively easy fix that a trusted reader can suggest. Mostly that first reader is her husband, Steve Humphrey. As someone who was long-married to a writer, I know the pitfalls that can happen when a spouse is called upon to read, but in the 34 years I've known them, their working relationship has been nothing short of miraculous.
What has contributed to the popularity of the Kinsey Millhone character and the series, and what elements in the new novel, X, do you feel will resonate most strongly with readers?
Sue never runs in place. I have read many writers who begin a series wonderfully and then, at about book 4 or 5, stall out. The books become padded, the plots are listless, the characters repeat themselves. Not so Sue. In fact, Sue brings a freshness and originality to each new book. Even those instances in which she needs to reintroduce a character from an earlier book or reprise some earlier plot line–so that a reader coming new to the series need not begin with "A"—are deftly handled and, for the veteran reader, often contain welcome new information. I think the reason the series continues to appeal so strongly is that Sue takes her writing very seriously. To turn in a listless effort would be to cheat her readers—and herself.
The second part of your question is harder to answer because it would give away much of the plot of X. Let me just say this: There are three extraordinary plot lines in X. The reader will initially be hard pressed to know which is the prime plot, which secondary. But all are supremely interesting. One is outrageous—but many of us will be familiar with the neighbors from hell and, in its own way, it is very comic. Another is a complex scam that has grown out of the broken marriage of two hot-tempered people who should have taken the time to cool down. And the third? It is the harrowing story of a vicious sociopathic serial killer who has left a trail of dead women going back nearly thirty years. The victims have either been declared suicides or they have simply vanished. The killer is at large, and Kinsey is in his sight lines. Dark, chilling, and clever, X is also infinitely wise in the matter of human misbehavior—or why we are often our own worst enemy.
Read more about X here.