Articles Tagged "short fiction"
George Saunders, famed short story writer, has won the Man Booker Prize for his first full-length novel, Lincoln in the Bardo.
From The Man Booker Prize website:
The 58-year-old New York resident, born in Texas, is the second American author to win the prize in its 49-year history. He was in contention for the prize with two British, one British-Pakistani and two American writers.
Lola, Baroness Young, 2017 Chair of judges, comments:
'The form and style of this utterly original novel, reveals a witty, intelligent, and deeply moving narrative. This tale of the haunting and haunted souls in the afterlife of Abraham Lincoln's young son paradoxically creates a vivid and lively evocation of the characters that populate this other world. Lincoln in the Bardo is both rooted in, and plays with history, and explores the meaning and experience of empathy.'
Lincoln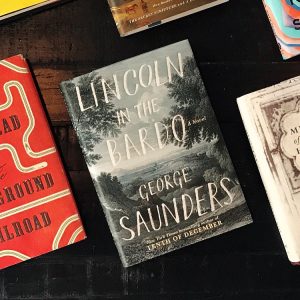 in the Bardo focuses on a single night in the life of Abraham Lincoln: an actual moment in 1862 when the body of his 11-year-old son was laid to rest in a Washington cemetery. Strangely and brilliantly, Saunders activates this graveyard with the spirits of its dead. The Independent described the novel as 'completely beguiling', praising Saunders for concocting a 'narrative like no other: a magical, mystery tour of the bardo – the "intermediate" or transitional state between one's death and one's next birth, according to Tibetan Buddhism.' Meanwhile, the Guardian wrote that, 'the short story master's first novel is a tale of great formal daring…[it] stands head and shoulders above most contemporary fiction, showing a writer who is expanding his universe outwards, and who clearly has many more pleasures to offer his readers.'
-Read the rest here.
Browse below for Saunders' rightfully beloved works:
Editors get very passionate about books they work on – the Editor's Desk series is his or her place to write in-depth about what makes a certain title special. Get the real inside-scoop on how books are shaped by the people who know them best.
As Maeve Binchy's publisher and editor, we worked on every one of books together. She was a natural born storyteller whether she was writing a full length novel such as her first, Light a Penny Candle or her last, A Week in Winter. But Maeve was also a short story writer. Working as a columnist at the Irish Times honed her talents in setting up a story with a beginning, middle and end. But in her way, she could pack a whole novel in a 3,500 word short story. She was once asked "how long is a short story?" and her answer was: "It's a bit like asking how long is a piece of string." In other words, tell the story. And check out The Maeve Binchy Writer's Club where she details how she asked herself nine questions before she set out to write any short story. Maeve wrote a lot of them, and now seemed like the time to share these with the world. What a treat it would be for all of Maeve's considerable and loyal fans. Gordon Snell, Maeve's husband, was on board.
The first task was pulling altogether the short stories with the help of her UK publisher, her agent and her husband. We read every short story she ever wrote… maybe 100, maybe more.
Some of her short stories have already been collected into books (I am thinking of "The Lilac Bus," for example). Others were published in magazines or newspapers, mostly in the UK. Some were written for charity auctions and even as gifts for friends. Which stories should we include? How would they be organized?
I was hoping that the organization of the stories could drive a narrative of life because after all, that's what Maeve wrote about. Once the stories made the final cut, there was only one way I could go about it: I printed them all out—yes, on paper, this was not a job for the computer. I read and reread them, made a few notes, and then put them on my dining room table, trailed some onto the floor, and covered the couch with stories. I would move stories from place to place physically. I added colored paper to help sort out themes as they emerged. Maeve always wrote about relationships and love, about lousy friends, about family, and jobs, and holidays that changed people's lives. After reading and sorting and crying and laughing, it was clear that the stories fell into natural categories: "Friends and Enemies," "Love and Marriage," "Your Cheating Heart," "Relatives and Other Strangers," "Work and No Play," and "Holidays"… And a book was created: A Few of the Girls.
So grab a copy and spend some time with Maeve … I think I'll join you. I can never get enough of Maeve's humor and wisdom. And if you want a taste of one of her perfect short stories, there is Vintage's e-short "Dusty's Winter" that won't disappoint.
Listen to an excerpt of A Few of the Girls from Penguin Random House Audio here! 
Read more about Maeve Binchy's book below.