Articles Tagged "veronica speedwell"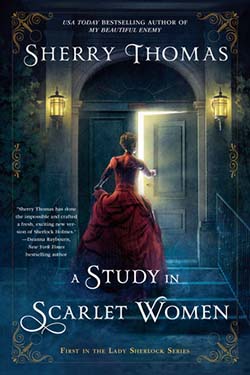 Mystery fiction is a young genre. In the English language, the first mystery novels are only about 150 years old. While those stories are historical fiction to us, they were very much contemporary to their original audience—the first Sherlock Holmes readers knew exactly what a gasogene was and probably had pocket lanterns themselves. Same goes for Agatha Christie and Dorothy L. Sayers: Even though their earliest books depict a world from almost a century ago, they were writing about the world they were living in.
And they reflected the prevailing mores and attitudes of their day. Whereas in the historical mysteries that we are reading now, even though the stories themselves could be set a millennium ago, the mores and attitudes the authors ponder are those of our own day.
The most notable female sleuth Agatha Christie created, for her own era, is an elderly spinster. In Ariana Franklin's Mistress of the Art of Death, set almost 800 years before Miss Marple, the heroine, Adelia Aguilar, is a trained medical examiner. Miss Marple, presumably, has never been in any kind of compromising situation. Adelia Aguilar bears a child out of wedlock—her lover has been appointed a bishop by King Henry II and therefore can't marry her—and carries on with barely a second thought.
Miss Marple would have been shocked—Victorian morality is a potent thing. Even I am shocked—and then I have to remind myself that women's lives weren't always as restricted as they were during the Victorian times.
Which makes it all the more interesting that historical mysteries set during the Victorian and Edwardian era, especially those featuring female protagonists, are determined not to be bound by those constraints. Laurie R. King's Mary Russell had no interest in what others thought of her. Deanna Raybourn's Veronica Speedwell, an expert lepidopterist, tells readers up front that she conducts discreet affairs when she is overseas gathering rare species of butterflies and then basically ghosts those lovers when she leaves!
It's a comment on the pressures, overt and subtle, women still face today that they rebel so hard as fictional historical characters.
When I decided to write a gender-bending Sherlock Holmes story, the first choice I had to make was how my Lady Sherlock would deal with all the strictures on her life that her male counterpart never had to think about. The first book in the series very much revolves around her bid for freedom and what happens when that bid goes wrong.
And now Charlotte Holmes will join a proud sisterhood of strong, cool-under-pressure women who use their wits to save the day.
Learn more about Thomas' books below!