Whether you're celebrating Valentine's Day with a romantic partner, a best bud, or with the greatest love of your life (you!), we've got you covered.  Winc wine delivery club has chosen some  great book and wine pairings to cuddle up with. 
For example…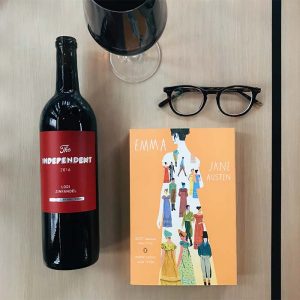 The Sweethearts

Emma: Jane Austen said, "It's such a happiness when good people get together." So, grab your sweetheart this Valentine's Day and snuggle up with Austen's classic, Emma, a sparkling comedy of love and marriage. Nothing delights Emma Woodhouse more than interfering in the romantic lives of others. And we bet nothing with delight you more than curling up with this witty, charming novel and an equally complex and delicious wine, like The Independent Zinfandel.
See all the wine and book pairings here!
There's no denying that books and wine make a great pair (looking at you #bookstagram 👀). And what better way to enjoy both than with friends? We've teamed up with Winc to remind you just how easy it is to kick off that book club you've been meaning to start:
Step 1: Have a book club brainstorm. Think about what kind of books you'd like to read and how often you'd like your book club to meet.
Step 2: Once you've hammered out the details, invite some friends! Give your friends an overview of what they can expect –monthly meetups, discussion questions, and plenty of snacks and wine, of course!
Step 3: Select a book! Whatever book you select, make sure it's long enough to encourage a good discussion, but short enough for people to finish on time.
Step 4: Get busy reading! Reading a chapter or two] a night before bed is not only be a great way to wind down, but will also help you chip away at the book in time.
Step 5: Gather! As the founder of a book club, you may enjoy hosting the first meeting. But, though you might have started the club, you don't have to host every meetup. Change locations and take turns hosting amongst members.
Step 6: Let the discussion flow. There are no rules once everyone gathers, but it can be helpful to have a discussion guide to spark conversation. Come up with your own focus questions as a group or use a reading group guide. And don't forget the wine to fuel conversation!
Check out Winc.com for a complete guide on how to start a book club and, of course, for plenty of wine delivery recommendations! 🍷