Whether you're celebrating Valentine's Day with a romantic partner, a best bud, or with the greatest love of your life (you!), we've got you covered.  Winc wine delivery club has chosen some  great book and wine pairings to cuddle up with. 
For example…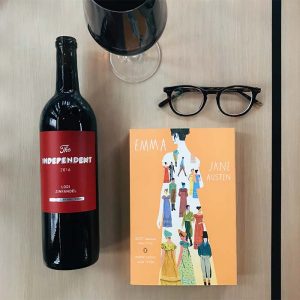 The Sweethearts

Emma: Jane Austen said, "It's such a happiness when good people get together." So, grab your sweetheart this Valentine's Day and snuggle up with Austen's classic, Emma, a sparkling comedy of love and marriage. Nothing delights Emma Woodhouse more than interfering in the romantic lives of others. And we bet nothing with delight you more than curling up with this witty, charming novel and an equally complex and delicious wine, like The Independent Zinfandel.
See all the wine and book pairings here!
There's no denying that books and wine make a great pair (looking at you #bookstagram 👀). And what better way to enjoy both than with friends? We've teamed up with Winc to remind you just how easy it is to kick off that book club you've been meaning to start:
Step 1: Have a book club brainstorm. Think about what kind of books you'd like to read and how often you'd like your book club to meet.
Step 2: Once you've hammered out the details, invite some friends! Give your friends an overview of what they can expect –monthly meetups, discussion questions, and plenty of snacks and wine, of course!
Step 3: Select a book! Whatever book you select, make sure it's long enough to encourage a good discussion, but short enough for people to finish on time.
Step 4: Get busy reading! Reading a chapter or two] a night before bed is not only be a great way to wind down, but will also help you chip away at the book in time.
Step 5: Gather! As the founder of a book club, you may enjoy hosting the first meeting. But, though you might have started the club, you don't have to host every meetup. Change locations and take turns hosting amongst members.
Step 6: Let the discussion flow. There are no rules once everyone gathers, but it can be helpful to have a discussion guide to spark conversation. Come up with your own focus questions as a group or use a reading group guide. And don't forget the wine to fuel conversation!
Check out Winc.com for a complete guide on how to start a book club and, of course, for plenty of wine delivery recommendations! 🍷
Editors get very passionate about books they work on – the Editor's Desk series is his or her place to write in-depth about what makes a certain title special. Get the real inside-scoop on how books are shaped by the people who know them best.
There are several things that are most thrilling to a book editor. First and foremost is the discovery of true talent. Everything else
extends from that. Next on the list is when other people throughout the company respond to that talent positively and excitedly. When strong enough, that response not only becomes electric, it becomes unstoppable. At its most exciting it becomes a tidal wave of appreciation for a book or a writer. Next, of course, is the validation that comes from a wider audience – The bookstore buyers, managers and sales people and then, finally, actual real people who make the final judgment on the book.
Over the course of my lengthy career, I have brought in a lot of
great talent and some major stars. That is satisfying in its own right.
But it does not compare to the discovery of a writer who is fresh,
unknown, who is to be revealed. I have never seen a response to an unknown talent like the one I have seen for Stephanie Danler's Sweetbitter. It started with my read where, after only 20 pages, I realized I was not just reading a well-written novel, I was reading something special, spectacular.
Claudia Herr, who became the line editor and helped shape and refine the novel with Stephanie, was the next reader and the first person to come into my office. She was, literally, trembling and said she had never been so excited after reading a submission. We went about trying to build a consensus but we did not have to try very hard. The manuscript swept through Knopf, through all the layers and every department. Never before had I gotten emails or phone calls saying things such as, "You must buy this book," or "We have to publish this!"

We met with the author and Ms. Danler was at least as
impressive as her wonderful prose. Although there are obvious
autobiographical elements in her first novel it was immediately clear
that she had many more books in her ­ she was an author, not just someone who had written a terrific first novel.
The thrill has continued every step of the way. The wild enthusiasm within the Knopf group turned into equally strong support from reviewers and bookstores and consumers. Right from the beginning, we thought that Stephanie Danler had written a novel that had a chance to become iconic, to really be that over-used cliché: "the voice of a generation." It is starting to look as if we all might be right.
What did we see in this book from the moment the manuscript
was submitted? We saw an elegant and eloquent use of language; the author's descriptions of food made us hungry; her descriptions of sensual cravings stirred us; writing about the turmoil of being young brought us all back to our youth, or for those who were still young, it was like having their own lives being thrown back at them at the speed of light. The book made us all see ourselves in different ways, no matter our age or our sex. It also made us see outside of ourselves. It made us see the narrator's very specific world as well as the world at large in new and startling ways. This is what talent does. This is what Sweetbitter is about to do to readers all over the world.
Learn more about the book below!