Articles Tagged "writers"
Penguin Random House Creative Writing Awards is a wonderful program that presents scholarships to NYC high school seniors.
Since 1994, more than two million dollars have been awarded to students and their schools by Random House, and now Penguin Random House, through this awards competition.
Congratulations to this year's first place winners:
Katelyn Sasson of Edward R. Murrow High School for Poetry;
Jason Lallijee of Townsend Harris High School for Fiction & Drama;
Roberta Nin Feliz of Manhattan Center for Sciences and Mathematics forMemoir;
David Ortiz of Marta Valle High School for Graphic Novel;
and Devin Johnson of Thomas A. Edison Career Technical High School, the recipient of the $10,000 Maya Angelou Scholarship Award for Spoken Word Poetry.
Read more about the awards here.
The 2015 National Book Award winners were announced last evening. Today we celebrate the winners and the finalists, all of whom wrote groundbreaking, touching, beautiful books.
Adam Johnson, author of Fortune Smiles, a collection of stories, won the prize for Fiction.
National Book Foundation: In the process of writing your book, what did you discover, what, if anything, surprised you?
Johnson: Because I research a lot, the surprising joy of discovery is always central to my writing. I love to fashion entire worlds in my stories—these I try to adorn with details gleaned from the real world and the emotions of life lived. In researching the title story, for example, I was both troubled and inspired to hear North Korean defectors describe the regime-sponsored crimes they had to participate in. It wasn't until I'd delivered hundreds of UPS packages in the Louisiana heat that I knew where my character in "Hurricanes Anonymous" would sleep that night. And it's not until you descend to the lower levels of a Stasi prison that you begin to understand what must exist at the heart of a story like "George Orwell Was a Friend of Mine."
Start reading an excerpt here.
Ta-Nehisi Coates, author of Between the World and Me, won the prize for Nonfiction.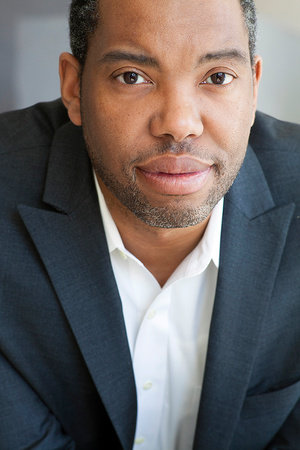 National Book Foundation: In the process of writing your book, what did you discover, what, if anything, surprised you?
Coates: I discovered how hard it was to make the abstract into the something visceral. My goal was to take numbers and stats and make people feel them with actual stories. It was to take scholarship and make it literature.
Start reading an excerpt of the book here.
See Coates read in a video here.
Robin Coste Lewis, author of Voyage of the Sable Venus, won the prize for Poetry. 
"Robin Coste Lewis's electrifying collection is a triptych that begins and ends with lyric poems considering the roles desire and race play in the construction of the self. The central panel is the title poem, "Voyage of the Sable Venus," a riveting narrative made up entirely of titles of artworks from ancient times to the present—titles that feature or in some way comment on the black female figure in Western art. Bracketed by Lewis's autobiographical poems, "Voyage" is a tender and shocking study of the fragmentary mysteries of stereotype, as it juxtaposes our names for things with what we actually see and know" – National Book Foundation 
Be sure to check out the winning books below, and discover your next award-winning read!