Articles Tagged "writers on writing"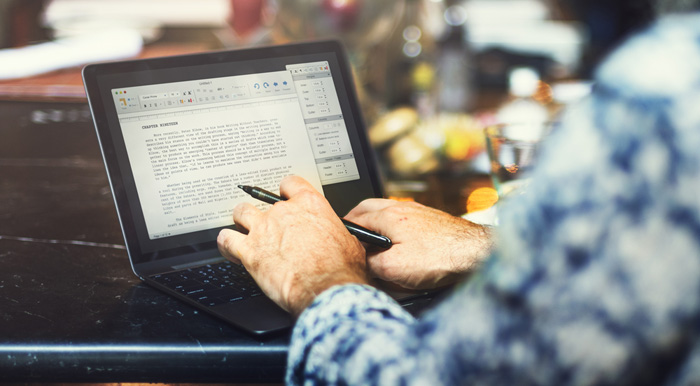 This article was written by Abbi Waxman and originally appeared on Signature Reads.
In my opinion, most writing advice focuses on totally the wrong thing: The wordy bit. Thinking about what you're going to write and how to say it — sure, yeah, that's important. Characters, motivations, yes, yes, yes. But there are other challenges bedeviling today's writer, and several of them are misleadingly trivial and oft overlooked. I'll tackle those instead, because "misleadingly trivial" is an excellent band name. Here are five pieces of writing advice no one tells you.
1. Wear Layers
You'd be surprised how much body temperature affects your work. Think of yourself as a racehorse; too cold and you'll pull a muscle, too hot and you'll get all lathery and need a really short guy to take you outside and walk you around in circles. Consider your environment, dress accordingly, then add two layers. Coffee shops are often overly air conditioned, presumably to stop writers from moving in permanently. It hasn't stopped me, but then, I'm a highly trained professional.
2. Dress Loose
I don't know about you, but when I'm working I either type like a dervish, caressed by the muse and happily pounding away, or curled up in the chair like a pinched worm, wondering whether it's too late to train as a veterinary nurse. For this reason — and also the general reason that life is too short for non-elasticated waistbands — wear comfortable clothing with plenty of room. You may need to assume one of the classic writer's positions: The Hunch, The Self-Hug, The Horrified Stare, or The Forehead-Desk Pose, and non-stretch fabrics will restrict your creative flow.
3. Bring Snacks
I personally like small snacks I can pop in my mouth while making vital author-type choices (is he frowning? glaring? frowning? glaring?). I favor nuts, because they're high in some better thing whilst being low in some other, worse thing, and I particularly favor pistachios, because I can shell a load of them at once while making tougher choices (is the character dead? is he alive? dead? alive? both??) and then eat the resultant pile of little green nuggets during the lesser decisions (see original parentheses). Popcorn is okay, although sometimes I lose concentration because I'm fishing those little translucent kernel covers out of my aging teeth. I've flirted with M&Ms and other small chocolate items, but it turns out I have this weird allergy wherein if I eat pounds and pounds of chocolate my body gains weight. I think it's just me; you're probably fine.
4. Your Butt is your Achilles heel.
Writing isn't a particularly dangerous job, let's be honest. Over-caffeination is an ever-present threat, but when was the last time a writer got harpooned or ripped asunder by a giant threshing machine … while writing? Not recently. However, the literary career does take a physical toll. Non-ergonomic seating can lead to painful Gluteus Numbeous, or Neckus Stiffus, not to mention more poetically named afflictions such as Creaky Scapula, Notetaker's Neck or, worst of all, Mangle Wrists.  This is not a modern problem: Charles Dickens had a shocking case of Peripheral Plume Disease and Henry David Thoreau took all those walks around Walden Pond in order to stop his ankles from seizing up.* Take frequent rests, lie down as much as possible, and keep a bag of frozen peas at the ready. That's my advice.
5. The Final and Most Important Piece of Writing Advice: When in Doubt, Nap.
Writing is hard. Often you can't think of what to say, or who should say it, or what the other guy should say back to the first guy, and you end up with your hands in your pockets watching YouTube videos about dog rescues rather than getting anything done. You know what's a better use of your time? Sleeping. Lie down, cover yourself with your softest blanket in your favorite color, and gently lower those eyelids to a count of three. When you wake up you'll either have a solution to your problem, or just be closer to bedtime, and that's a win in anyone's book.
In a nutshell, that's the best advice I can give: Wear layers, dress comfortably, maintain appropriate snack levels, watch your posture, and nap whenever possible. Keep all that in mind and the actual writing-down-the-words part will be no problem at all.
*Neither of these things is true, but wouldn't it be great if they were?
Writer typing article © Rawpixel.com/Shutterstock