Categories: Explore: "Writing Tips"
I frequently say that the most predictable part of my writing process is how unpredictable it is. As a writer, I'm a "pantser" — someone who drafts without plotting a great deal. Instead of utilizing an outline as I write, I favor following where the story takes me with a general idea of the book's conclusion. The journey is different for each book I write, and I frequently find surprises along the way. However, as unpredictable as penning the first draft of my novel is, my revision process never varies, and that reliable system is a source of great comfort as I hone my novel.
Once I've finished the first draft of my manuscript, I implement my tried and true system. I always start with a revision pass on my computer. Since I often take months to write the initial draft, I read through the entire manuscript with the aim of getting a holistic view of the book. I'll frequently discover that something I wrote when I started the book needs to be tweaked to fall in line with where the story took me later on. This revision pass helps me gain a better sense of how the overall story is working and whether any plot holes exist or character development is needed. I'm also fixing obvious flaws that jump out at me.
After I've reacquainted myself with the book and tweaked the plot and characters as necessary, I print out a hard copy and pull out my red pen. For me, this is where the magic happens. There's something about editing your work in print that really helps you polish your writing. I spend a lot of time at this stage working on sentence structure, word choice, and adding layers and depth to the story.
When I've finished this second pass, I email the updated manuscript to my e-reader. I've found that I am much more likely to catch typos, mistakes, and awkward phrasing when I change the medium with which I view my book. If I'm used to looking at it a certain way, it's easy to skip over things, but with variety, it feels fresh each time I revise. At this level, I'm mainly doing the never-ending typo search as well as cleaning up any awkward phrasing. I'll also look for any formatting issues that jump out at me that make the manuscript less readable in a digital format, like unwieldy paragraphs.
Following these three revision passes, I usually take a step back and decide if I'm happy with the book, or if it needs more tweaking. The digital pass really informs that decision, because it's the draft when I truly read the book as a reader would. If there are still things that are pulling me out of the story, or something isn't working for me, I'll restart the revision process and go through each step again. Some books only need three revision passes before I'm comfortable sending them to my editor (and then we start the editorial process); others need nine or more revision passes. The goal is to reach the point where I'm not making significant changes at the e-reader stage.
Because I often start writing a book with a skeleton of an idea and I love the freedom of being able to explore the direction in which my characters and plot take me, the structure of my revision process really works as a safety net. Whenever I feel stuck in the drafting process or realize something isn't working in the book, I push through with the knowledge that the revision process will provide an opportunity to make the book shine. Whether you're a plotter or a pantser like me, I recommend taking the time to revise your work across different mediums. It offers a fresh perspective — and you'll be surprised what you find!
Check out Chanel's books here: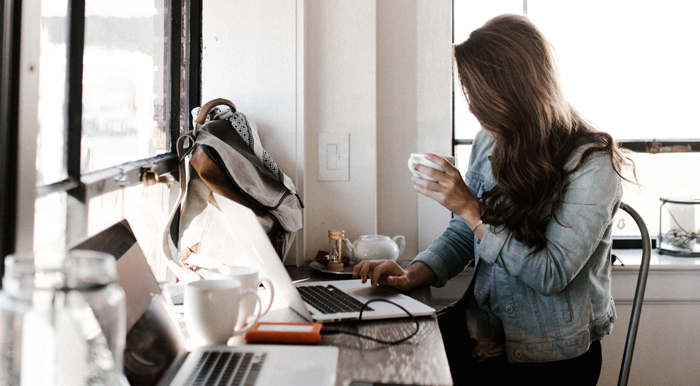 This article was written by Lorraine Berry and originally appeared on Signature Reads.
As writers, we can be our own worst enemies. We may have dozens of reasons why we are not writing.  Sometimes, these barriers may feel insurmountable, but James Clear argues in Atomic Habits that those barriers can be breached through a series of one percent changes to our habits. "The most practical way to change who you are is to change what you do," he says, and he offers a series of small steps to developing a writing habit.
Clear provides methods that help pinpoint those habits that are ineffective, and a large variety of tactics to create effective habits that will change what we do. His book contains clear instructions on how to develop writing as a habit, one that will feel as automatic as brushing your teeth or that first cup of coffee in the morning.
Here are five effective habits.
Habit #1: In order to encourage inspiration to strike, set up a time to meet with it.
James Clear cites a British study that showed that those who write down specific times when they will practice their new habit have the highest success rate. For writers, creating such an "implementation intention" would involve writing down a sentence that looks like this: "I will write for (period of time) at (time of day) at (location)." So, for example, "I will write for 30 minutes at 3 p.m. at the kitchen table." By sitting down each day at 3, you accustom your brain to this new habit. Once your brain can count on you to keep your new habit, you may find that new ideas and inspiration are waiting for you.
Habit #2: If writing is important to you, create an environment that encourages you to write.
Our environment can create barriers to practicing our new habits. If your habit is to sit on the sofa to watch TV, and you had intended to write while sitting on the sofa, then the TV may prove to be too big a temptation. Instead, choose a place to write that isn't associated with another habit. If you live in a tiny space with few options, then designate a specific place to write. It doesn't have to be a different room. In a studio apartment, you may decide to use a different chair or to set up a small writing corner. You will attach writing to that particular place, so if you're in that space, your brain will expect you to write. Environmental clues can be used to help reinforce your new habit.
Habit #3: Create temptations that reward you for your new habit of writing.
Habits are developed because our brain has a dopamine-driven feedback loop. It is the anticipation of the reward that causes the release of dopamine that makes us feel good. In fact, anticipation releases more dopamine than actually doing the thing we craved or wanted. You can use a habit you already have (getting up early, taking the dogs for a walk, drinking coffee in the morning) to attach the habit you are trying to develop to a reward that your brain anticipates. In this way, the habit you are developing is sandwiched between a daily habit you do anyway, and is followed by something you want. Clear provides readers with methods for identifying both the already established habits and also the things that individuals consider to be rewards. His system might look something like this:
After (current habit), I will (habit I need to develop).
After (habit I need to develop), I will (habit I want).
So, if you walk your dog every day after breakfast, and you need to write, but you also want to spend time on social media, you could do this:
After I walk the dog, I will write for 30 minutes.
After I write for 30 minutes, I will go on social media.
If going on social media has kept you from writing, this creates a system where social media is the reward you use to encourage yourself to write.
Habit #4: Make it easy to practice the habit of writing.
Wasting time is easy: we carry distractions in our pocket or give it pride of place in our living rooms. If we want to develop the practice of writing, we have to remove barriers to our practice. One way is to prime your environment with cues to your habit. So, if your intention is to write in the morning at the kitchen table, before you go to bed at night, lay out your writing implements —laptop or pen and paper. I take it further by making writing easier all the time: I carry a small notebook in my purse, have one in my car's glove box, and leave several throughout my house. This way, it's as easy to write as it is to pick up the phone.
Habit #5: Start with the Two-Minute Rule for new habits and continue from there.
Maybe you're afraid that you'll fail in some way because your committed writing time is too long. Clear suggests creating a ritual and following the Two Minute Rule as a way to prime yourself for your new habit. If your goal is to write at night, you can help to cement the habit into your head by attaching it to a ritual of your choosing, whether that's a cup of herbal tea or changing into comfy clothes.  Each evening, as you engage in the ritual, your brain will anticipate that you are about to sit down and write. Your ritual primes your habit. Next, write for two minutes. If you feel done, stop. Clear argues that two minutes is usually enough to get past any initial resistance.
Clear has filled Atomic Habits with hints like these that enable us to change the habits we dislike and replace them with habits that show who we are. In order to be a writer, you must develop the habit of writing, even if it's one word at a time. As Margaret Atwood reminds us, "A word after a word after a word is power."
Writing at the table © Andrew Neel/Unsplash.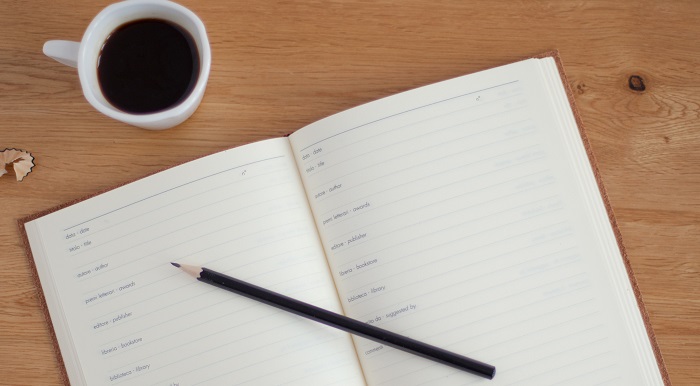 This article was written by Ryder Carroll and originally appeared on Signature Reads.
When I was young, I loved looking at ancient astrological maps that seemed more like celestial bestiaries than effective means of navigation. The skies were teeming with terrifying ancient creatures ranging from giant scorpions, to centaurs, to beasts whose names have been long forgotten. Each born from man's attempt to make sense of the breathtaking chaos of light that revealed itself on the darkest nights. Most cultures developed long elaborate stories that buried their heroes and demons in the stars, all to make some sense of the world around them.
If you've ever stared up at a night sky, clear of clouds or city lights, you can't help but architect your own existential explanations just to cope with the shimmering abyss. It's estimated that each year, 100 billion stars are born and die in the observable universe. That's 247 million a day! Yet, even in this age of Google Maps, stars continue to serve as a fundamental way to understand our place.
Stars have safely guided explorers across the hungry depths of alien oceans for centuries. But how? It all started by jotting down what we saw, one star at a time until it began to make sense. We found patterns, and identified relationships. From centaurs to quasars, each generation refined their knowledge and understanding to better help contextualize the stars as they related to us.
Writing can feel very much like setting out on a journey into the unknown. But rather than stars, we're reliant on the glittering constellation of ideas scattered across the vast darkness of our minds. Buried somewhere up there are parts of all the stories we will ever tell. It's important that we figure out a way to makes sense of our thoughts, and it starts with cataloging them, one thought at a time.
Be it for the next story, or the last, journaling can serve as a form of mental cartography. Your journal can be a mental atlas, which can be referenced as you set sail or when you get lost at sea. Like stars, thoughts can be used as waypoints. Stories are simply sequences of curated thoughts, which are plotted out to guide your audience safely through your tale. Without them, there are only dark shoreless oceans. 
The beauty of keeping some kind of journal is that it can live in a vacuum. It simply serves as a repository for ideas, waiting to be used. Some are hesitant to journal because they're only aware of long-form journaling, which can seem time consuming. True, but the process of drawing your ideas out by hand can be an incredibly effective practice to capture and refine your thoughts. 
If you're not convinced it's worth the effort, short-form journaling is a perfect alternative – or addition to – long-form journaling. In both cases, the point is to cultivate a map of your thoughts and insights. Isn't there an app for that? Sure, but writing your ideas out by hand will make them seem far more tangible and real. This practice also allows you to capture ideas in all their many forms. A nascent idea could begin as an image or a shape. 
Notebooks have stood the test of time as the ultimate traps for capturing thoughts, no matter how exotic. Over time, they become maps. Like stars, ideas without maps, no matter how bright, remain meaningless. And, like stars, ideas fade. There really is nothing more frustrating than losing a brilliant thought before you had the chance to find its purpose. Each thought has the promise of functioning as your north star, so be sure you keep track of it. 
Photo by Hope House Press – Leather Diary Studio on Unsplash
This article was written by Jayne Ann Krentz and originally appeared on Signature Reads.
Give the same plot to ten different writers and you will get ten very different stories. No two will sound alike. Why? Because every author brings a unique voice to the craft of writing. Voice is everything when it comes to telling a story.
It isn't clever plot twists or deep character insights or detailed descriptions that draw a reader back again and again to a particular writer — it's the writer's voice. Just to make things even more complicated, the truth is that no two people respond to a writer's voice in exactly the same way. Some readers will never be compelled by your voice. With luck, others will fall in love with it.
Voice is hard to define because it's a mix of so many things — your core values, your world view, your personality, your sense of optimism or cynicism or despair or anger or bitterness or hope — all those things are bound up in your storytelling voice.
And then there's the craft aspect.
You can write successfully for your entire career without giving a moment's thought to your voice. But just as knowing and understanding your core story can be extremely useful at various points in your career, so, too, is having a clear sense of your voice. If you comprehend its strengths and weaknesses, you will be able to figure out how to sharpen it and make it more powerful.
How do you identify your writing voice? Here's a simple exercise: Write a scene from start to finish. It should be a scene that is infused with the emotions, themes, or conflicts that compel you as a writer.
It is helpful to think of scenes as short stories. They have a beginning that engages the reader, a middle in which emotional and often physical action takes place, and an endpoint that either resolves the narrative or provides a cliffhanger that leads into the next scene.
Give your scene to a couple of people to read. These should be people you trust. Make it clear that you do not want a writing critique. You are not interested in their opinion of your characters or your plot. You want one response, and one only, to the following question: "What is your emotional takeaway from that scene?"
Did you make your reader's pulse kick up? Did you arouse curiosity? Anger? Sympathy? Did you scare your reader? Did you make that reader want to know what happens next? Your goal is to identify the single strongest emotion that the reader experienced while reading your scene. That response will help you analyze the strengths and weaknesses of your voice. The worst possible reaction from a reader is no emotional reaction at all. There is nothing that will kill a writing career faster than storytelling that bores the reader.
Put the most engaging elements of your voice on display in the very first sentence of your book. Readers will not give you a few pages or a couple of chapters to get the story going. You must draw the reader into your world from the very first sentence, and you do that with your voice.
Listen to your writing voice. It will tell you what kinds of stories you will write with the most power. Once you have figured out your voice, do everything you can to strengthen it and make it more compelling.
Voice is your superpower. Discover it.
Photo by Elijah O'Donnell on Unsplash
This article was written by Francesca Hornak and originally appeared on Signature Reads.
This year, with the deadline for my second novel in sight, plotter's block descended. Plotter's block is different from writer's block. Writer's block, as I see it, is when you have a story but the words aren't flowing or behaving. Plotter's block is when you're itching to write, perhaps you're already writing — except you have no story. Nothing to reel your readers in. All you have is a jumble of settings, characters, conflicts, scenes. Nothing, in short, that is actually going to hold that blurb. The tricky thing is that actively searching for ideas can feel contrived, and paralyzing. So there's definitely a case for putting everything on hold, while your subconscious chews things over. But if you're as impatient as I am, you'll want to help your subconscious out in the meantime. These, then, are the three places I look for stories (without telling myself I'm looking).
Read the local news
Unlike the global or national news, local papers are mines of small-scale human-interest stories. And these stories, the family feuds, the individual tragedies, the community uprisings and the everyday heroes, are exactly the material a novelist needs. It worked for me, anyway. The plot I've ended up with for my second novel is based on a story in my local rag about 'Patient X' — a mysterious man who had been lying unconscious and unidentified in hospital, for thirty days. The paper's focus was on the man: Who was he, and how could someone go un-missed 'in one of the most connected cities in the world'? My focus is going to be on the patient's neighbors, who find him, call him an ambulance, and are then brought together by the puzzle he presents.
Conversations with strangers
Everyone has something for your novel, if you let them talk. Case in point: after I'd found Patient X, I met someone at a wedding who told me about a strange man in her very bourgeois street in West London. His house, which he has apparently lived in since birth, looks derelict with boarded up windows. He barely speaks to anyone (although you can faintly hear him playing the violin through those window boards). But every morning he goes to the local tube station, collects a load of free papers, and delivers one to every house on the street. Immediately I thought of Patient X, and what great details these would be for the local 'loner' — possibly even details the plot could twist or hinge on. Then there was the man I sat beside on a plane who told me how his mother, sick of making packed lunches every morning, hit on batch-freezing industrial quantities of sandwiches every few months instead. He and his siblings would then get these frozen sandwiches — usually only half defrosted — in their lunchboxes. Admittedly it didn't spark a whole novel, but something in its muted, suburban madness really appealed to me. And unlike a friend or relative, a stranger is unlikely to find out you plundered their life. If they do, you've obviously written a bestseller.
Existing stories
If you're really stuck, it's worth considering any myths, parables, or fairy tales that caught your imagination as a child. I've always loved the story of The Prodigal Son — I like the way its themes of sibling rivalry and unconditional parental love are so enduring, and the fact that everyone behaves badly or rashly at some point. I used it to structure my first novel Seven Days of Us, because I knew I wanted to write a family story about one rebellious sister and one who was very attached to her parents. The key to making this method feel fresh and inspiring, I think, is to reverse one aspect of the existing story. In my case, the 'errant' sibling was off doing good deeds, rather than squandering her inheritance, while the stay-at-home sibling was very frivolous. I don't see any shame in this tactic — apparently there are only about seven stories in the world anyway, so it's no wonder we all get plotter's block from time to time. Good luck.
Plotter's Block / Photo by Kelly Sikkema on Unsplash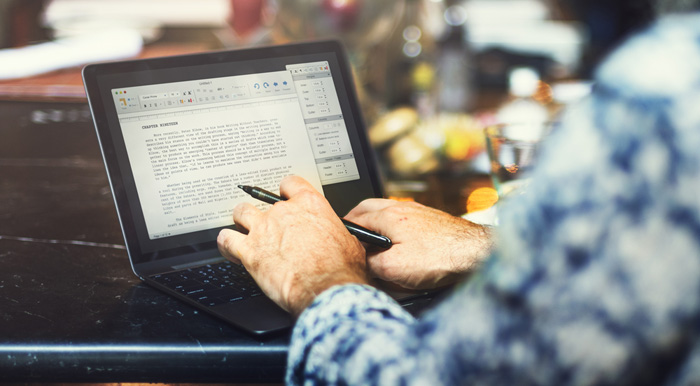 This article was written by Abbi Waxman and originally appeared on Signature Reads.
In my opinion, most writing advice focuses on totally the wrong thing: The wordy bit. Thinking about what you're going to write and how to say it — sure, yeah, that's important. Characters, motivations, yes, yes, yes. But there are other challenges bedeviling today's writer, and several of them are misleadingly trivial and oft overlooked. I'll tackle those instead, because "misleadingly trivial" is an excellent band name. Here are five pieces of writing advice no one tells you.
1. Wear Layers
You'd be surprised how much body temperature affects your work. Think of yourself as a racehorse; too cold and you'll pull a muscle, too hot and you'll get all lathery and need a really short guy to take you outside and walk you around in circles. Consider your environment, dress accordingly, then add two layers. Coffee shops are often overly air conditioned, presumably to stop writers from moving in permanently. It hasn't stopped me, but then, I'm a highly trained professional.
2. Dress Loose
I don't know about you, but when I'm working I either type like a dervish, caressed by the muse and happily pounding away, or curled up in the chair like a pinched worm, wondering whether it's too late to train as a veterinary nurse. For this reason — and also the general reason that life is too short for non-elasticated waistbands — wear comfortable clothing with plenty of room. You may need to assume one of the classic writer's positions: The Hunch, The Self-Hug, The Horrified Stare, or The Forehead-Desk Pose, and non-stretch fabrics will restrict your creative flow.
3. Bring Snacks
I personally like small snacks I can pop in my mouth while making vital author-type choices (is he frowning? glaring? frowning? glaring?). I favor nuts, because they're high in some better thing whilst being low in some other, worse thing, and I particularly favor pistachios, because I can shell a load of them at once while making tougher choices (is the character dead? is he alive? dead? alive? both??) and then eat the resultant pile of little green nuggets during the lesser decisions (see original parentheses). Popcorn is okay, although sometimes I lose concentration because I'm fishing those little translucent kernel covers out of my aging teeth. I've flirted with M&Ms and other small chocolate items, but it turns out I have this weird allergy wherein if I eat pounds and pounds of chocolate my body gains weight. I think it's just me; you're probably fine.
4. Your Butt is your Achilles heel.
Writing isn't a particularly dangerous job, let's be honest. Over-caffeination is an ever-present threat, but when was the last time a writer got harpooned or ripped asunder by a giant threshing machine … while writing? Not recently. However, the literary career does take a physical toll. Non-ergonomic seating can lead to painful Gluteus Numbeous, or Neckus Stiffus, not to mention more poetically named afflictions such as Creaky Scapula, Notetaker's Neck or, worst of all, Mangle Wrists.  This is not a modern problem: Charles Dickens had a shocking case of Peripheral Plume Disease and Henry David Thoreau took all those walks around Walden Pond in order to stop his ankles from seizing up.* Take frequent rests, lie down as much as possible, and keep a bag of frozen peas at the ready. That's my advice.
5. The Final and Most Important Piece of Writing Advice: When in Doubt, Nap.
Writing is hard. Often you can't think of what to say, or who should say it, or what the other guy should say back to the first guy, and you end up with your hands in your pockets watching YouTube videos about dog rescues rather than getting anything done. You know what's a better use of your time? Sleeping. Lie down, cover yourself with your softest blanket in your favorite color, and gently lower those eyelids to a count of three. When you wake up you'll either have a solution to your problem, or just be closer to bedtime, and that's a win in anyone's book.
In a nutshell, that's the best advice I can give: Wear layers, dress comfortably, maintain appropriate snack levels, watch your posture, and nap whenever possible. Keep all that in mind and the actual writing-down-the-words part will be no problem at all.
*Neither of these things is true, but wouldn't it be great if they were?
Writer typing article © Rawpixel.com/Shutterstock
This article was written by Laura Furman and originally appeared on Signature Reads.
As the series editor who chooses the stories in the annual O. Henry Prize Stories, I read hundreds of short stories every year. I also have the benefit and pleasure of asking each year's twenty winners to write a short piece about how and why they wrote their stories. Along with my own experience as a short story writer, I'm in a good position to ponder a question often posed by aspiring writers: What are the essential elements of a good short story?
As I set out to answer that question, however, I found myself instead enumerating what is not essential.
The first thing you should set aside is any explicit or guiding notion of what your story is "about." Readers often ask writers what their stories mean, but if the writer has a ready answer, that is a problem. A good writer knows where and when the first hint of a story appeared, and how she wrote it. She knows what the process was from draft to finish – but a story's "meaning" is often as much a mystery to writer as to reader, and that's as it should be.
Writing a short story is an intuitive activity driven by the writer's wonderful subconscious and it's as far from meaning as dreaming is from being awake. Conscious logical planning will get you from Point A to Point B in the shortest time but the subconscious excels at fortuitous invention. A writer must learn to trust the startling images and characters that come up in the course of composition. Her subconscious, if she trusts it, will guide her through the beginning, background, and development to the ending, which is often the most difficult part to write, and to understand.
The next most important thing is grasping the particular demands of this form. In bringing to life the world of a short story, it is crucial to know what to leave out. Despite some superficial resemblance to the novel, the short story differs from it in important ways; a story must draw the reader in without attempting to imitate the enveloping completeness or epic sweep of a novel. A short story also isn't a song or a poem, forms that express their world of meaning through extreme compression and abstraction. Some very terse stories do resemble a poem or song, for example Michael Parker's "Stop 'n' Go" in The O. Henry Prize Stories 2018. Whatever its length, though, and however elaborate or simple its language, the short story is rooted in its own unique deployment of quotidian details, which must feel real and convincing.
In all stories, even the most starkly written, the story's world must be recognizable, however eccentric or fantastical or hyper-realistic it may be. Characters sit on uncomfortable chairs or walk on graveled paths, and the reader must be able to sit on those chairs and walk on those paths. Frequent O. Henry winner William Trevor's conflicted Irish and English characters feel as real and important to the fond reader as her own friends. The main character in Jo Ann Beard's "The Tomb of Wrestling," in The O. Henry Prize Stories 2018, confronts an intruder who means her harm, and the reader is as terrified as she is.
The thousands of decisions a writer makes in editing a story boil down to trusting the reader to make connections. That trust dominates the writer's decisions as she moves from draft to draft and decides what the reader needs in order to understand plot, sequence, setting, and character – without spelling out those elements. Explaining is unnecessary when the story is right; in fact, too much explanation feels to the attentive reader like an annoying interruption, a breaking of the spell. Never underestimate your reader's intelligence.
At a magical point, the writer's subconscious inventions connect with the reader's intelligence and emotions, and the reader understands why the story ends where it does; how the ending is an illuminated version of the beginning; that the story's secret has been revealed without words. The trust that has guided the writer to get rid of all but the right details has paid off and the reader has everything she needs to make the story's meaning her own.
Photo by Da Kraplak on Unsplash
This article was written by Alexa Martin and originally appeared on Signature Reads.
When I first started writing what is now Intercepted, my debut novel, I did it hidden in my basement with the intention of never letting it see the light of day, but as I kept writing — and, let's be honest, deleting — I grew more interested in the craft, and more interested in what made the authors I admire stand out from the rest. One thought kept popping into my head over and over again: writing voice.
Yes, the term "writing voice" may seem like a simple enough concept on the surface, but what does it really mean?
As writers, there are so many things we consider as we put our words onto paper: filter words, dialogue tags, adverbs, and even show. Am I a plotter or a planner? Where does my manuscript belong in terms of genre and sub-genre? What in the world is a query letter? All of these questions can be answered concisely, but when it comes to voice, the explanation becomes more complex.
Voice can be a combination of your writing tone, sentence structure, patterns, and perspective. It is a stamp on your writing that makes your work personal and recognizable, so much so that your audience can identify a sample of writing as yours without ever seeing your name. As a debut author, that seems like a daunting task, but it makes all the difference in how you will be received as a writer. Presently, in the world of publishing, there are so many talented authors saturating the market that standing out amongst the crowd can seem almost impossible. This is one of the reasons why voice is so important.
For me, discovering my voice started well before the thought of writing a book ever crossed my mind. I blogged; it was not a popular one by any means, unless you ask my mother or best friend. It was just a means to stay in touch with friends and family and update them on the happenings in my life. However, as I continued to write my blogs, the comments from readers started to influence the way I wrote. I would get a thrill when someone would reach out to me and tell me how hard he or she laughed at my latest post. Even better was when I'd get an email from a reader stating how much they wanted to get together and have a drink after reading one of my posts.
After a while, I knew what I wanted my readers to feel when they read my words. I wanted my stories to be relatable and fun. I wanted my readers to feel like they were having a night out with friends. And that feeling of relatability transferred into my writing style once I finally became brave enough to start my manuscript.
Even if you don't blog, there's no way in this day and age that you aren't writing to someone at some point during your day. And while I'm not sure anybody wants to read a book of tweets or Facebook statuses, you are still using writing to get your point across. Another great way to hone in on your voice is to grab a notebook or open a word document and go wild. Just write whatever your heart desires. A quick google search will yield you tons of writing prompts if that's what you need to get your juices flowing.
Sit down and ask yourself what kind of author you want to be. Decide what experience you want your reader to have. Ask yourself what you can bring to the story that nobody else can.
Most importantly, be yourself. Find inspiration from your favorite authors and allow it to guide you when developing your style. Part of being a writer is being a reader. Knowing what draws you to an author is crucial in creating your own voice. Everyone has an influence, just don't lose your voice trying to emulate someone else.
As writers, we all might be a little crazy to do what we do, so make sure you're doing it in a way that makes you happy. Whether you're writing a romantic comedy, thriller, or memoir, remember that yourstory is important and your voice is needed.
Writing/Photo by Aaron Burden on Unsplash
This article was written by Karen White and originally appeared on Signature Reads.
I always get a little squirmy when I'm asked to give advice on writing. I mean, what makes me an authority on the subject? Sure, I've written a bunch of books, but the only "training" I've had in my chosen vocation is the thousands of books I've read in my lifetime so far.
I'd like to think that despite not having a lot of experience or knowledge about the whole writing thing when I started, surely I've learned something along the way. And I have.
In that vein, here are a few nuggets of wisdom I've gleaned in my nearly twenty years of being a published author. No, I haven't figured out the magic formula that will grant a writer instant success. But I have accumulated a nice list of what not to do if you're planning on having a career as a writer.
Do not spend all your writing time making excuses as to why you can't write instead of actually writing. Excuses will not write a book. Finding the perfect time to finally start a book is like choosing the right time to move to another country and start a new life. There will never be a perfect time, as there will always be reasons why the timing isn't optimal. If you have a burning desire to write a book (or move to another country), make it a priority. The rest will fall into place, and you'll be a lot happier with yourself.
Do not take to heart everyone else's writing style/advice/methods before you've given yourself a chance to figure out your own. Writing is incredibly personal. There are as many writing techniques and styles as there are writers. It's what gives us our individual writer's voice. It's precious and unique and you need to own it and not dilute it with external influences before you've given it a chance to sprout. If I'd listened to all the well-meaning advice when I started (don't write in first person, never start a sentence with "and," outline everything before you write the first sentence), I would never have written my first book.
Do not surround yourself with naysayers. For whatever reason, there will always be people in our lives who will attempt to discourage us from our pursuits. Either family members, friends, or other writers will have negative things to say about our talent (or lack thereof). Don't listen to them. It's always easier to be a critic than the warrior fighting the battle. Just remember that it's not about them. Your writing is between you and the words on the page. And nobody else.
Do not wait until the muse strikes before you sit down to write.This one always makes me laugh. I would have written exactly three pages in my entire career if this were true. In my previous life in the business world, I don't imagine I would have lasted in any job very long if my attitude had been that I'd only show up for work when I felt like it. There are usually about a million other things I'd rather be doing than gluing myself to my chair and getting to work. Since I consider writing my career and not just a hobby, I treat it with respect.
Do not say my family/job/life isn't conducive to writing a book.News flash: unless you're independently wealthy and your family is entirely self-sufficient, this will never change. I wrote my first books in my SUV at the football field and horse barn while my children practiced. My husband traveled about ninety percent of the time for his job so I was basically a single mom for most of the week. Instead of chatting with the other mothers, or reading a magazine, or napping, I used that time to write. There are pockets of time in each of our lives that we can prioritize as writing time. Expect to let go of a few things (binge watching on Netflix, hanging out on Facebook, sleeping in on weekends) to find the time. But the time is there if you're willing to make your writing happen.
Do not expect that the hard work is over after you sell your first book. It's only just beginning. To prepare yourself for your writing career, start thinking about your next book as soon as you send your first book proposal to prospective agents and editors. You've got momentum so make the most of it.
Writers write. It's what we do. We turn off the negative voices, we create the time and the place, and we write. To borrow words from Nike, Just Do It.
Writing/Photo by Lubomyr Myronyuk on Unsplash
This article was written by Christina Dalcher and originally appeared on Signature Reads.
A quick Google search for 'writing advice' tells me there can't be much left that hasn't already been said. Nobel Prize winners offer tips. Forty experts tell beginners what to do. Bestselling authors give us insight into their creative processes. And so on, ad infinitum. Then there's that perfect book, half craft, half writer's memoir: Stephen King's On Writing. If I could only have one how-to manual on my shelf, it would be that one.
Where does this leave us, then? What guidance can I, a debut novelist and writer of flash fiction, possibly offer the world, or the emerging writer? I've thought about it over and over, and finally came up with two words:
Be fearless.
We know writing takes work, and skill, and talent, and perseverance. There's the old 'Butt-in-the-chair, honey!' mandate (with its cute acronym) — a writer's corollary to the athlete's 'Just Do It' mantra. You want to run? Run. You want to write? Write. There's something so plainly tautological about it all. And there can be beauty in tautologies.
But I think fearlessness is the single quality we as writers need to cultivate, and I mean this in multiple ways.
We need the bravery to pour our emotions out, spilling ink onto paper with a little of our own blood mixed in. That's no small trick. We need the courage to send our words into the world, knowing that once we do, a part of us is gone, floating in the public sphere, no longer under our control. If one accepts Roland Barthes' notion that the author is dead, we authors must embrace the concept that we're killing some portion of ourselves the minute our work leaves us. And, of course, we need the self-esteem and thick, carapace-like skin to hang on and persist when the inevitable rejections hit our inboxes. Believe me, they will hit — hard. A bland form rejection from an agent or editor can carry all the pain of bludgeon to the face, a direct smack to our very soul. Everyone who writes, or who wants to write, requires a ring fighter's determination, a Rocky-esque willingness to go the distance, and to keep going.
Being fearless also takes us in new directions, allowing us to experiment with previously unknown forms, new characters, and diverse points of view. One of my favorite things about writing flash fiction — tightly condensed stories often under 500 words — is exactly this: Within the space of a day, I can be a cranky old man on a front porch in Mississippi, a young housewife, or a sneaky feline. Fearlessness is a gift, a license to try something different and liberate ourselves from any habitual ruts. And it need not be limited to our writing lives. We can extend it to our whole lives: to our relationships with ourselves and others, to our careers (and the changing thereof), and to how we interact with the world.
Finally, we need to forge some armor of another sort — the kind that protects us from dissatisfied readers. It's useful to remember that old John Lydgate saying about not being able to please everyone all of the time. Every once in a while, our words may not even reach the point of unpleasing, instead inspiring far less positive reactions. Still, they're our words and our thoughts, and we have to steel ourselves against ugly feedback. (Hint: read your reviews, or not. Then go back to doing what you do.)
When I teach writing classes, the very first thing I tell my students is to prepare for rejection and failure. Both are going to happen, sometimes much more frequently than we'd wish. The rejection and failure aren't the focus, though; it's what we do afterwards that counts. And what we, as creators, should do afterwards is simple: get up and do it all over again.
Would I call myself fearless? Would I use that label? I don't know; I haven't walked through the world with a superhero cape on my back. I do know that others have said this about me, starting with my first professor in graduate school twenty years ago. That man is gone now, and I can't pick up the phone and say, "Hey, guess what? I believe you." So instead, I write, a little or a lot every day, and try to live up to the descriptor. I try to fear nothing, even when that seems impossible.
Maybe you were expecting a writer's user manual. A list of do's and don'ts full of perennial tips like 'show, don't tell' and 'avoid adverbs.' Something along those lines. But the best advice I can give, and — in my mind — the only advice worth its salt, is encapsulated in two words.
Be fearless.
Then sit back and watch what happens. I have a feeling what happens will be good.
Be Fearless/Photo by Evan Kirby on Unsplash