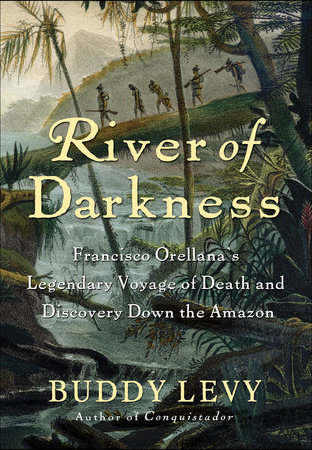 River of Darkness
Francisco Orellana's Legendary Voyage of Death and Discovery Down the Amazon
By Buddy Levy

By
Buddy Levy
Best Seller
Praise
Praise for River of Darkness:

"River of Darkness immediately takes its place as the definitive book on one of the great voyages into the unknown of all time, Orellana's accidental first descent of the Amazon. Not only is it a solid contribution to the scholarly literature on Amazonia, but it is a riveting and irresistible read, narrative history of a literary quality rarely encountered that compares with Alan Moorehead's great books on the Nile. Bravissimo !" — Alex Shoumatoff, contributing editor, Vanity Fair; publisher DispatchesFromTheVanishingworld.com,
and author of In Southern Light, The Rivers Amazon, and The World is Burning

"In River of Darkness, Buddy Levy proves that the scariest stories are the true ones.  Filled with fascinating details and the terror that comes with exploring something for the very first time, this is history coming back to life."
– Brad Meltzer, Bestselling author of The Book of Fate and The Inner Circle
 
 
"Buddy Levy is one of those rare and gifted authors whose books are virtual time machines that effortlessly transport us back through centuries.  In River of Darkness, we participate in one of history's signal explorations, Francisco Orellana's descent of the Amazon River. We see blood, smell smoke, hear screams of joy and agony.  Levy's impeccably researched book is at once harrowing adventure and revealing history. Better than any in recent memory, River of Darkness sheds new light—and reveals the darkest aspects—of the Conquistadors' brave and bloody New World forays."
-James M. Tabor, Author of Blind Descent:  The Quest to Discover the Deepest Place on Earth.
 
Back to Top